Growing up in an Indian household, stroganoff didn't cross my plate many times, but I'll admit I wish it had! This keto beef stroganoff is creamy, tender and extremely satisfying. You can whip it up and serve it on it's own or on top of cauliflower rice for a quick, delicious dinner!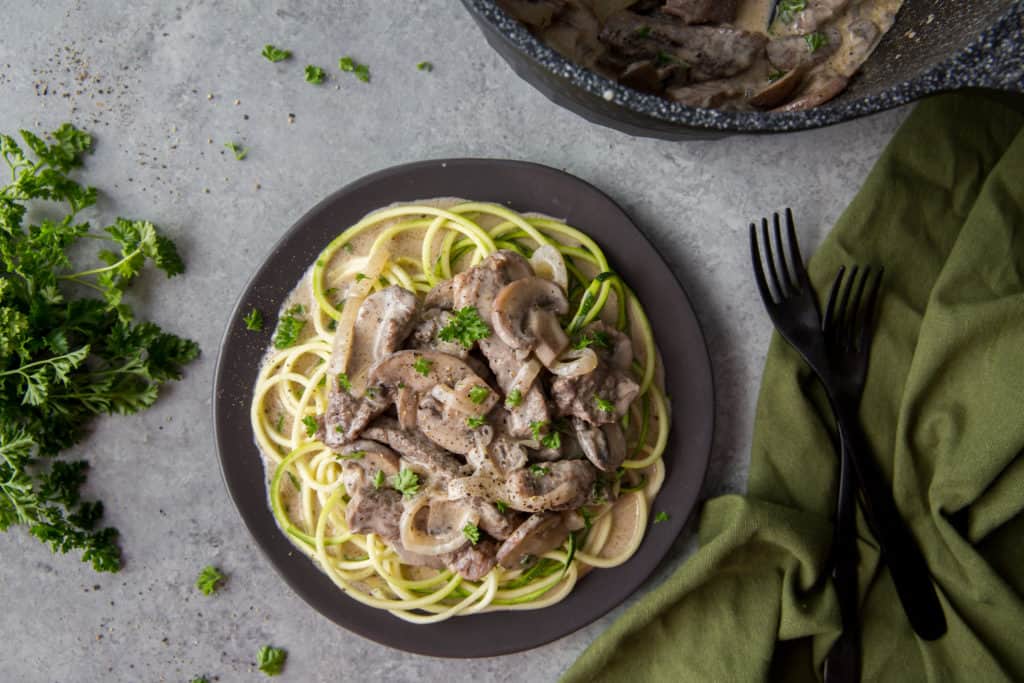 Easy Keto Dinners
Now that I'm a working mom I totally understand the exhaustion that comes with working and parenting. More nights than we'd like to admit we find ourselves looking for a quick, but nutritious meal we can make during the week.
If you can relate (we know you can), then I'm here to tell you that you can check both boxes, quick and nutritious with the recipes on our food blog. Some of our go-tos are:
What Ground Beef Is Keto?
Well, you're in luck when it comes to ground beef because no matter the percentage (90, 85, 80 or 75%) you'll find it's all great on a keto diet. People tend to gravitate towards the higher fat percentage, and we always use and recommend 80/20 because it is more filling and nutrient dense!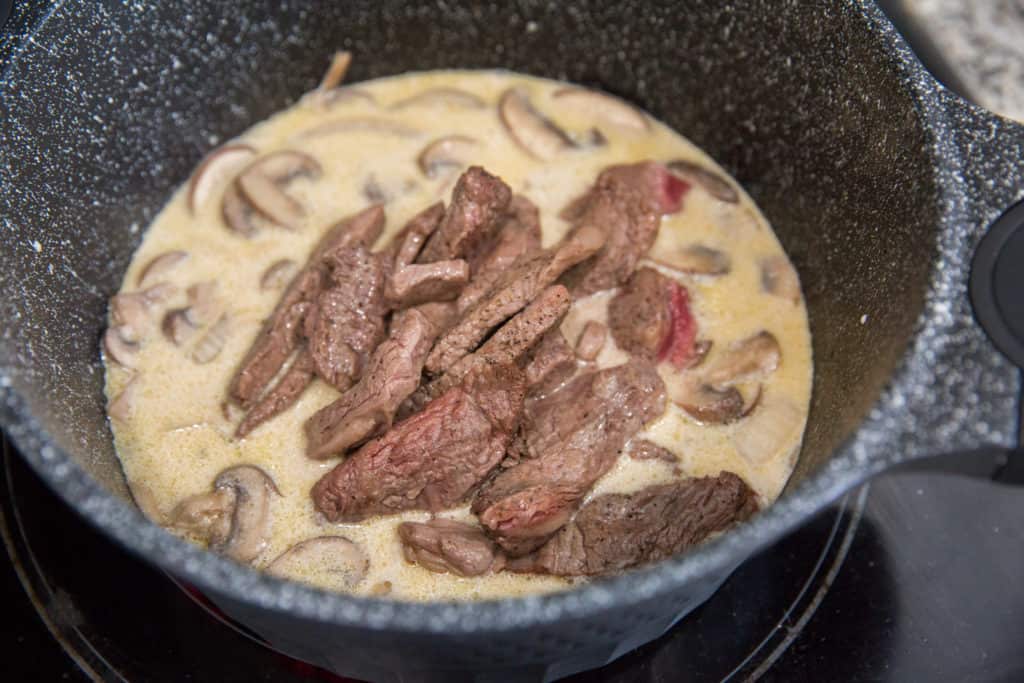 An important aspect to consider when cooking ground beef that is high in fat is that it will drain off when cooking in a skillet or using it to make something like meatloaf. You'll want to make sure you add it to your meal or use it up by cooking eggs or veggies, which is what we often do.
Is Sour Cream Keto?
If I could scream it from the top of my roof, I would. Sour cream is 100% keto and I eat it almost every day! It's a delicious way to add fat to a high protein meal and works great in casserole and skillet dishes like this keto beef stroganoff.
Tip: a lot of people struggle to eat liver, which is very nutrient dense and great for you, but if you top your cooked liver with a dollop of sour cream I promise you'll love it!
The Best Noodle Replacements!
Stroganoff is traditionally served with egg noodles, but that's not an option when you're on a low carb or keto diet. So, what are some filling alternatives? i'll be honest, nothing really holds a true comparison to pasta except for pasta, but there are some decent options.
Zucchini Noodles: you can blanch or steam them and serve the stroganoff right on top as a pasta alternative.
Cauliflower Rice: more filling than zucchini and can be mixed right into the meat and sauce to complete the meal!
Miracle Noodles: made of konjac fiber and almost zero calorie as a pasta alternative.
Keto Beef Stroganoff
This easy keto beef stroganoff is made with thinly sliced ribeye, tender mushrooms and onions, and creamy sauce for a quick weeknight meal. You can make a double batch and meal prep it for the week, which is one of our favorite ways to cook these days. As busy parents we want something quick, nutritious and delicious, and this keto beef stroganoff checks all those boxes!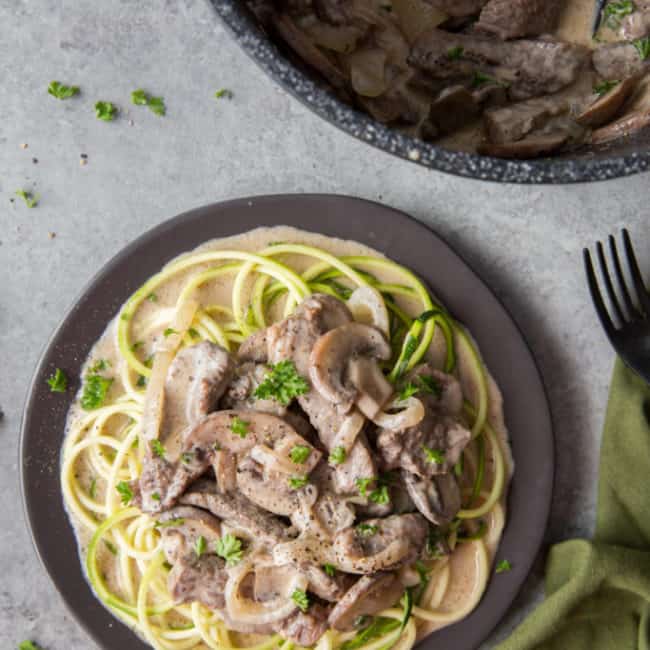 Keto Beef Stroganoff
This easy keto beef stroganoff combines thinly sliced ribeye, and tender mushrooms and onions in a rich cream sauce!
Total Time 30 minutes
Servings 6 servings
Calories per serving 301kcal
Prep Time: 10 minutes
Cook Time: 20 minutes
Instructions:
Heat a 1 tbsp oil in a large skillet over medium-high heat.

Season the sliced steak with salt and pepper and place it in the hot skillet, searing on all sides for 1 minute until browned. Sear in batches if necessary/skillet is not big enough to hold all the meat in an even layer.

Transfer the seared steak to a bowl and set aside.

Reduce the heat to medium and add the butter. Once melted, add the sliced onion, cooking for 1 minute before adding the sliced mushrooms. Add a pinch of salt and saute for 8-10 minutes, stirring occasionally, until all moisture has been released from the mushrooms and onions are soft and golden.

Add beef broth and scrape up any browned bits from the bottom of the pan.

Once the broth has thickened slightly, mix a few tablespoons of hot broth with sour cream in a separate small bowl. Add the mixture to the broth and vegetables and stir to incorporate.

Taste and season as necessary. Continue to cook and allow the broth to thicken, then add the steak back to the skillet and simmer until warmed and fully cooked through, about 4-5 minutes.

Serve over blanched zoodles or steamed cauliflower rice and garnish with chopped parsley and freshly cracked black pepper, if desired.

Serve immediately and enjoy!

Best stored in an air tight container in the fridge up to 5 days.
Notes
Net Carbs: 2g per serving
Yields: 6 servings
Nutrition Facts
Keto Beef Stroganoff
Amount Per Serving
Calories 301 Calories from Fat 225
% Daily Value*
Fat 25g38%
Carbohydrates 3g1%
Fiber 1g4%
Protein 17g34%
* Percent Daily Values are based on a 2000 calorie diet.