Rice paper is a popular alternative to flour wraps since it has fewer carbs and calories. But is rice paper keto?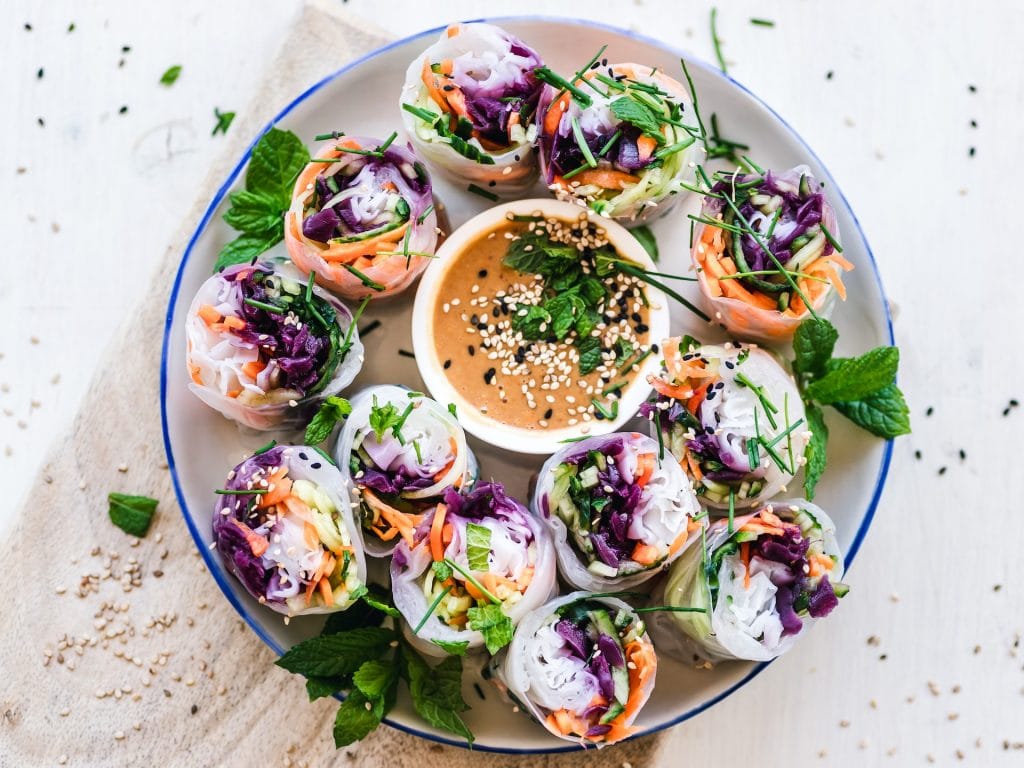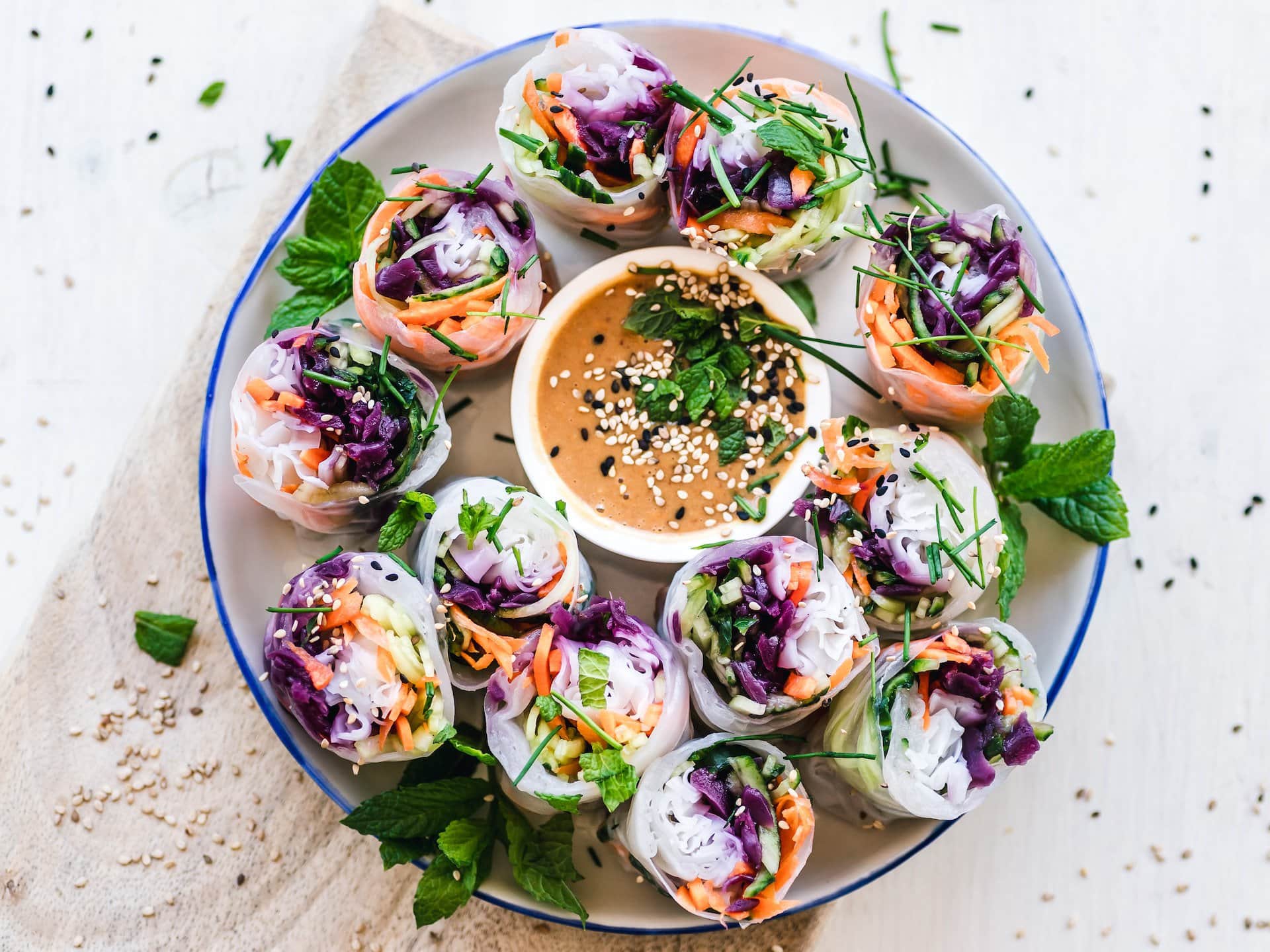 Below, we'll go through everything you need to know about eating rice paper on keto. We'll look at the carb content, micronutrient profile and some yummy alternatives.
Can I Eat Keto Rice Paper Rolls?
You can't eat rice paper rolls on a ketogenic diet because it contains 8.4 grams of carbs per serving. The fiber content is low, clocking in at only 0.1 grams, giving you a net carb count of 8.3 grams. Eating two or three rice paper rolls can quickly knock you out of ketosis.
Rice paper wrappers are also impractical from a micronutrient standpoint since it provides zero fat-soluble nutrients. It has trace amounts of sodium, calcium and iron, but it's so little that it won't affect nutrient density.
What Is Rice Paper Used For?
The most common reason why people use rice paper is to make wraps. Although it isn't keto, it's still lower in carbs and calories than traditional flour wraps. Rice paper has 8.4 grams of carbs and 35 calories, while regular wraps have 35 grams of carbs and 200 calories.
If you've ever eaten in a Vietnamese restaurant, you've probably eaten a rice paper wrapper before. It's thin and translucent, so you can see everything inside.
Rice paper wraps are also versatile compared to other health wraps, making it an attractive option for those starting their health journey. You can use it to wrap anything from chicken to vegetables and even meat.
Carbs In Rice Paper
A rice paper roll has 8.4 grams of carbs, so it's unsuitable for keto dieters. Rice paper also has a fiber content of 0.1 grams, so it won't bring the net carb count down by much.
Carbs In Spring Rolls
Fortunately, low-carb spring rolls are a keto-friendly alternative to rice paper as one serving only contains 2.4 grams of net carbs. So if you're looking to spice up your keto diet, consider these yummy yet easy-to-make recipes:
Keto sushi
Spicy ahi poke
Keto pad thai
Keto Sushi
If you're like me, you probably missed sushi when transitioning to keto. Luckily, we've developed a tasty keto sushi recipe you can try at home. It's super easy to prepare since the total prep time is 20 minutes and you only need a few ingredients:
One nori wrapper
One cup of chopped cauliflower
A half of a medium avocado
1.5 ounces of cream cheese
¼ cup of cucumber
One tablespoon of coconut oil
Soy sauce or keto peanut sauce for dipping (optional)
One serving has 4.23 grams of carbs and 11 grams of fat, so you can eat multiple sushi rolls without interfering with ketosis.
Toss your cup of chopped cauliflower in a food processor and process until it has the consistency of rice.
Next, heat some coconut oil over a medium to high flame and add your cauliflower rice. Let this cook for five to seven minutes or until the cauliflower is slightly brown. Remove the brazed cauliflower from the pan and set it aside.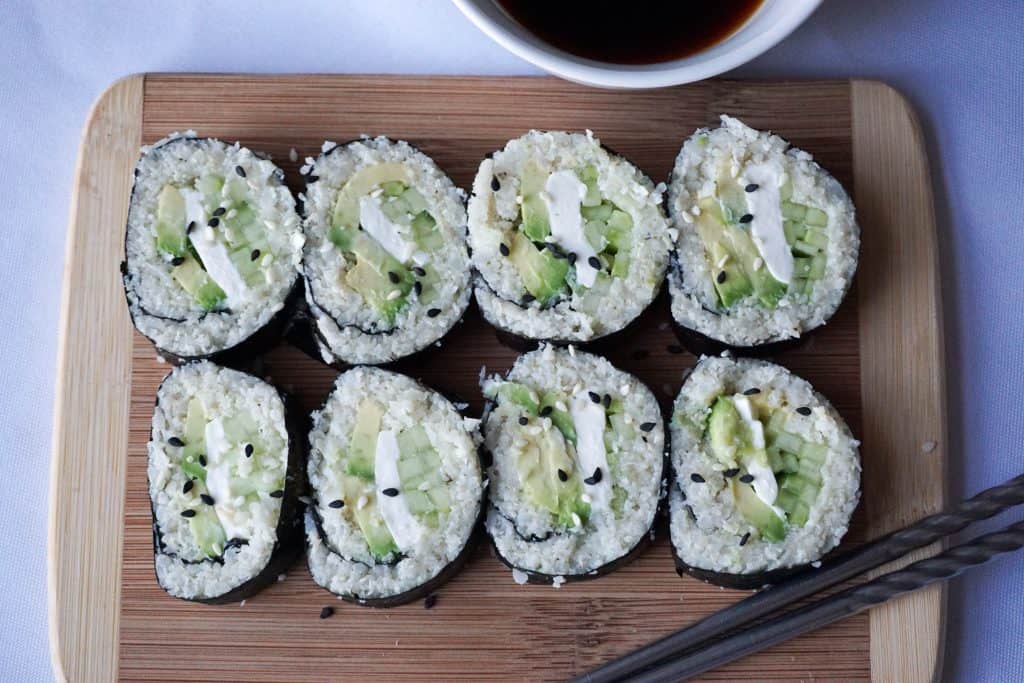 Lay some plastic wrap on a flat, dry surface and place your nori wrapper on top. Spread your cauliflower on your nori wrap but leave some space on the edges.
Now comes the fun part: Lay your avocado, cream cheese and cucumber on the edge closest to you and roll your plastic wrap and nori. Make sure to not roll your plastic wrap inside your sushi, but remove it as you roll. The last step is to cut and enjoy!
Pro tip: Start cutting in the middle, so the pressure doesn't push your rice out of the sides.
Spicy Ahi Poke
Spicy ahi poke is a traditional Hawaiian meal that requires zero cooking. The best news is that it only contains 10 grams of carbs per bowl, so it won't kick you out of ketosis.
I like the flexibility that spicy ahi poke offers. It works well as a main dish when you have friends and family over, or as a quick snack to keep you going between meals.
This spicy ahi poke recipe requires the following ingredients:
Three ounces of spring mix salad
Four ounces of ahi tuna, diced
Three ounces of firm tofu, chopped into large chunks
¼ medium cucumber, peeled and diced
⅙ large avocado, diced
⅛ medium white onion, diced
Seaweed (optional)
A half an ounce of macadamia nuts, roughly chopped
You'll also need these ingredients for your spicy sauce:
Three tablespoons of mayonnaise
One teaspoon of sesame oil
Two teaspoons of sriracha
Two teaspoons of liquid aminos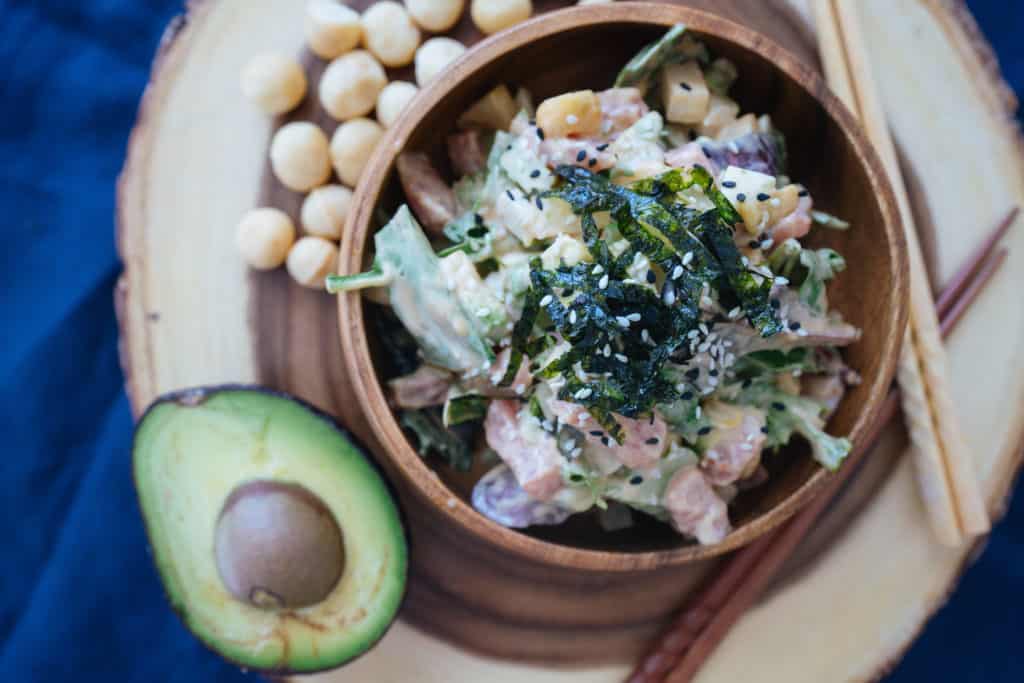 To get started, break your spring leaves into smaller pieces and toss them in a large bowl with cucumber, tuna, avocado, onion and nuts. Set this mixture aside and prepare your spicy sauce.
All you have to do is combine your mayo, sesame oil, sriracha and liquid amino in another bowl and pour it over your salad mixture. You could even add some rice vinegar or lime juice for extra flavor. The last step is to place some tofu in a poke bowl, pour your salad and sauce on top, and dig in!
Keto Pad Thai
I'm a big fan of keto pad thai because it keeps you full for hours, which is perfect when intermittent fasting.
Although regular pad thai isn't keto since it contains rice noodles, we've swapped out the rice noodles for shirataki noodles as it has zero carbs.
To prepare this keto pad thai, you'll need to gather:
An eight ounce packet of Tofu Shirataki Fettuccine
A four ounce chicken thigh
One large egg
One tablespoon of coconut oil
¼ cup of carrots (optional)
¼ cup of green bell peppers
¼ cup of onion
¼ cup of peanuts
Two tablespoons of green onions
You'll also need a few ingredients for your sauce:
One tablespoon of liquid aminos
One tablespoon of rice wine vinegar
One teaspoon of erythritol
A half a teaspoon of chili garlic sauce
Start by draining your shirataki noodles and setting them aside. Turn your stove to medium heat, and thinly slice your onions, carrots and peppers.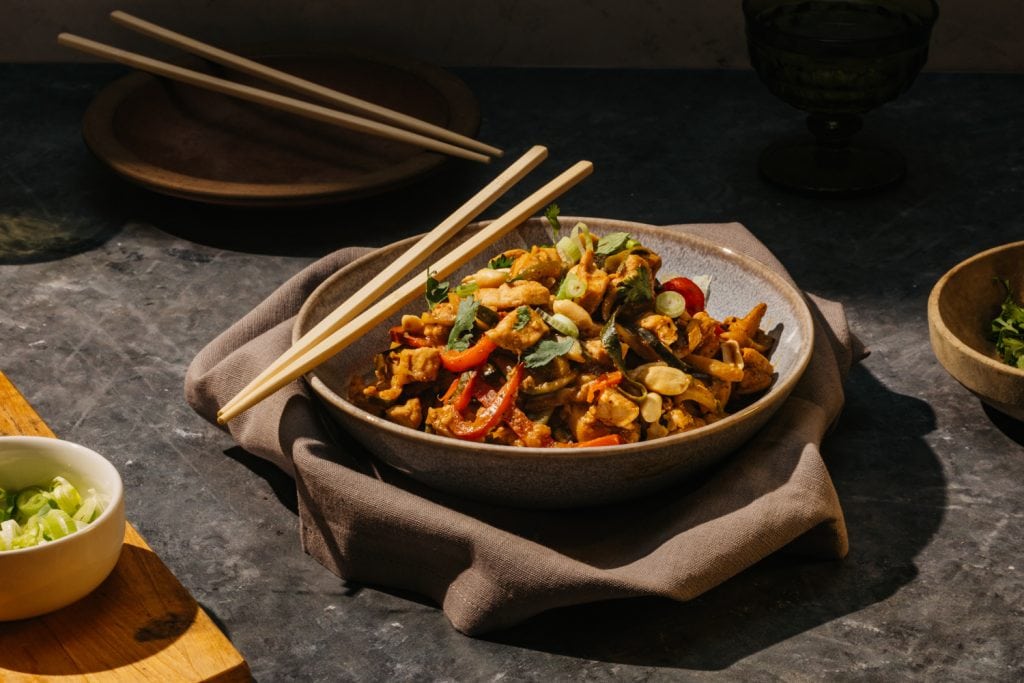 Cut your chicken thigh into long strips and pop it into the pan. Once your chicken is thoroughly cooked, add your vegetables for three to five minutes. Crack an egg into the same pan and scramble it for another few minutes before adding your noodles.
Lastly, combine all the ingredients with your sauce, transfer this mixture into a bowl, and serve!
Final Thoughts On Eating Rice Paper On A Low-Carb Diet
I suggest avoiding rice paper on keto because the high carb content will inhibit ketosis. However, spring roll wraps are a tasty and low-carb alternative. One wrap only contains 2.4 grams of net carbs.
So if you're looking to introduce new keto meals into your diet, consider our keto sushi, spicy ahi poke and keto pad thai recipes.
Written By