Infrared sauna use is becoming increasingly popular as more individuals realize its benefits. Infrared waves heat your body directly, improving the quality of your sleep and positively impacting every area of your life.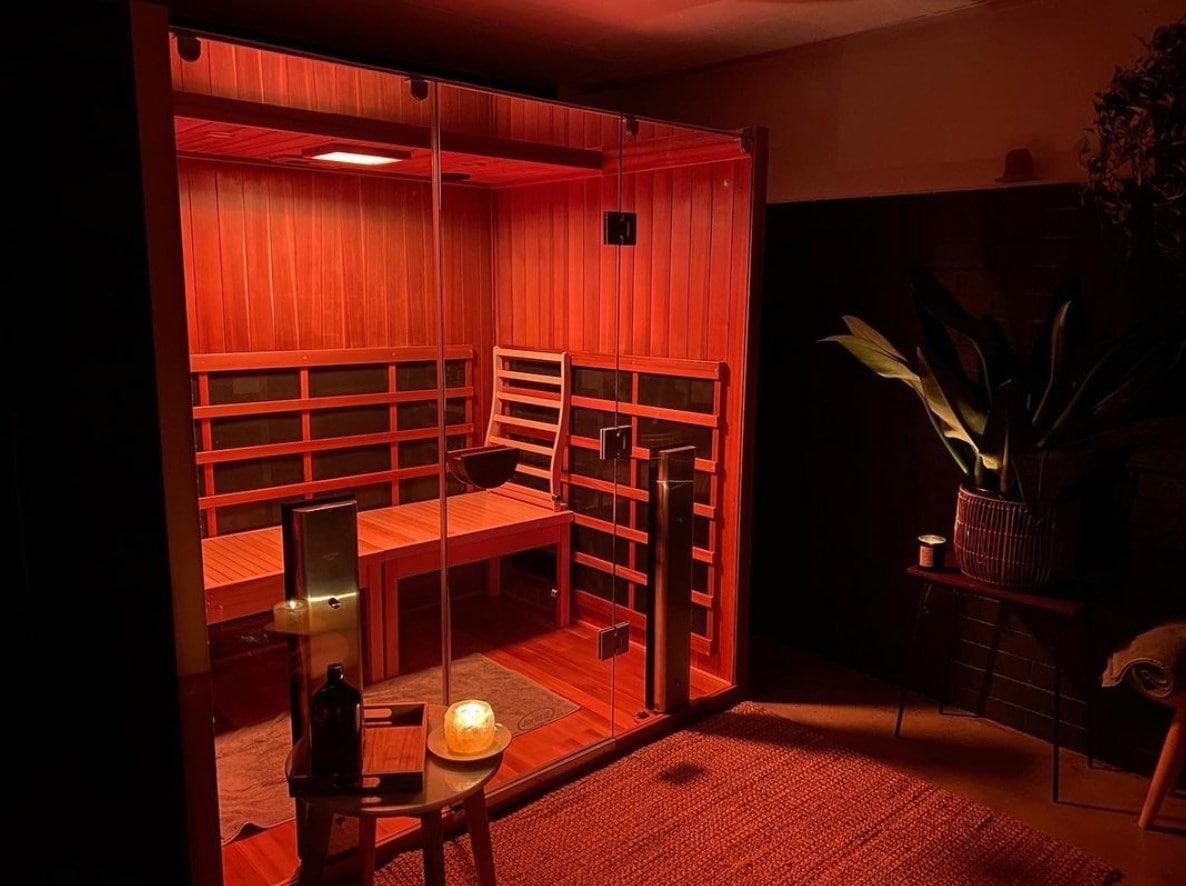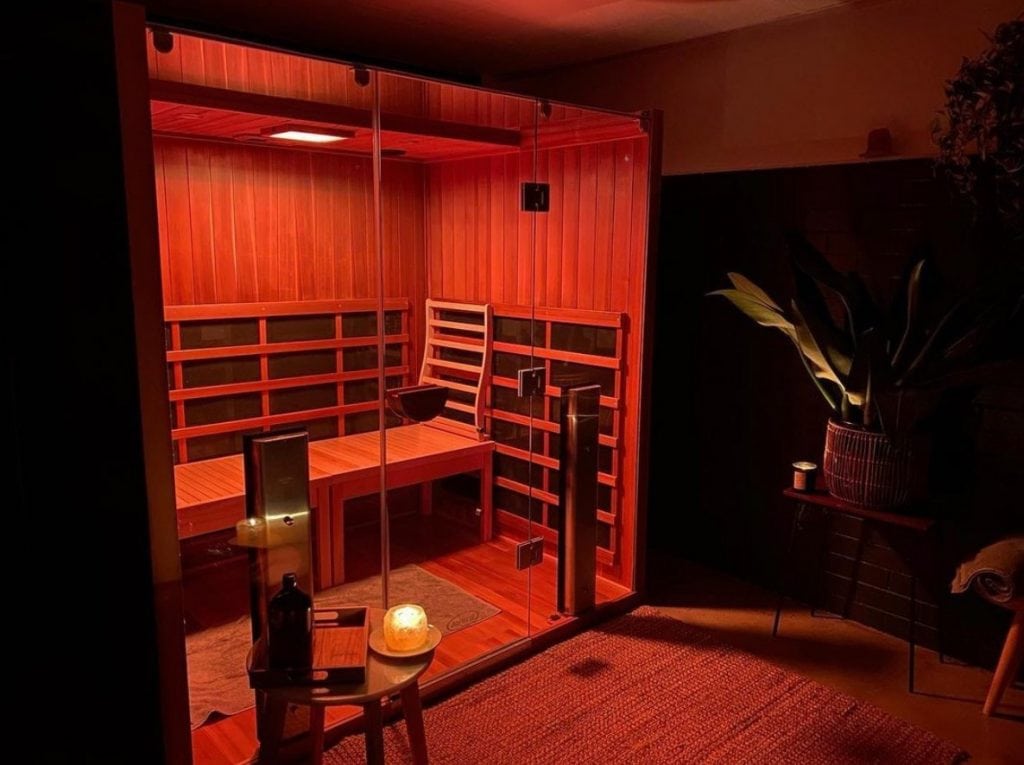 But what is the best temperature for infrared saunas?
This post looks at the best temperature ranges for each type of sauna like infrared, traditional, portable and steam saunas. I'll also cover the top sauna thermometers to ensure accurate readings.
Best Infrared Sauna Temperature
Instead of heating the air like traditional saunas, infrared saunas work by using red light and infrared energy to raise your core body temperature. This way, it can operate at a lower temperature while providing the same benefits as a dry sauna.
Several studies showed infrared sauna benefits using temperatures between 120 to 140 degrees Fahrenheit. 
This doesn't sound like much, but infrared sauna use at this temperature range can:
Better your sleep quality
Make weight loss easier
Clear up you skin
Improved blood circulation
Relief joint pain
You might not even sweat after sitting in an infrared sauna if you're used to dry saunas. This makes it a better option for anyone looking to experience health benefits without the heavy breathing and foggy vision.
Best Traditional Sauna Temperature
A study that followed over 2,300 Finnish men for two decades found that sitting in a sauna at 174 degrees Fahrenheit for 20 minutes reduced all-cause mortality by 40 percent.
So if you're using a traditional dry sauna, 174 degrees Fahrenheit seems to be the ideal sauna temperature.
However, this hot air can be uncomfortable for those new to sauna use. So select a desired temperature that's comfortable for you, and work your way up to 174 degrees Fahrenheit.
Keep in mind that these men sat in the sauna for 20 minutes. If you're in a rush and don't have time for 20 minute sessions, you'll want to increase the temperature to accommodate the shorter length.
But a hotter sauna doesn't always equal more health benefits. Sitting in a 190 to 200 degree Fahrenheit sauna won't offer many additional benefits compared to a 174-degree sauna, and it can get uncomfortable, negatively affecting your sauna experience.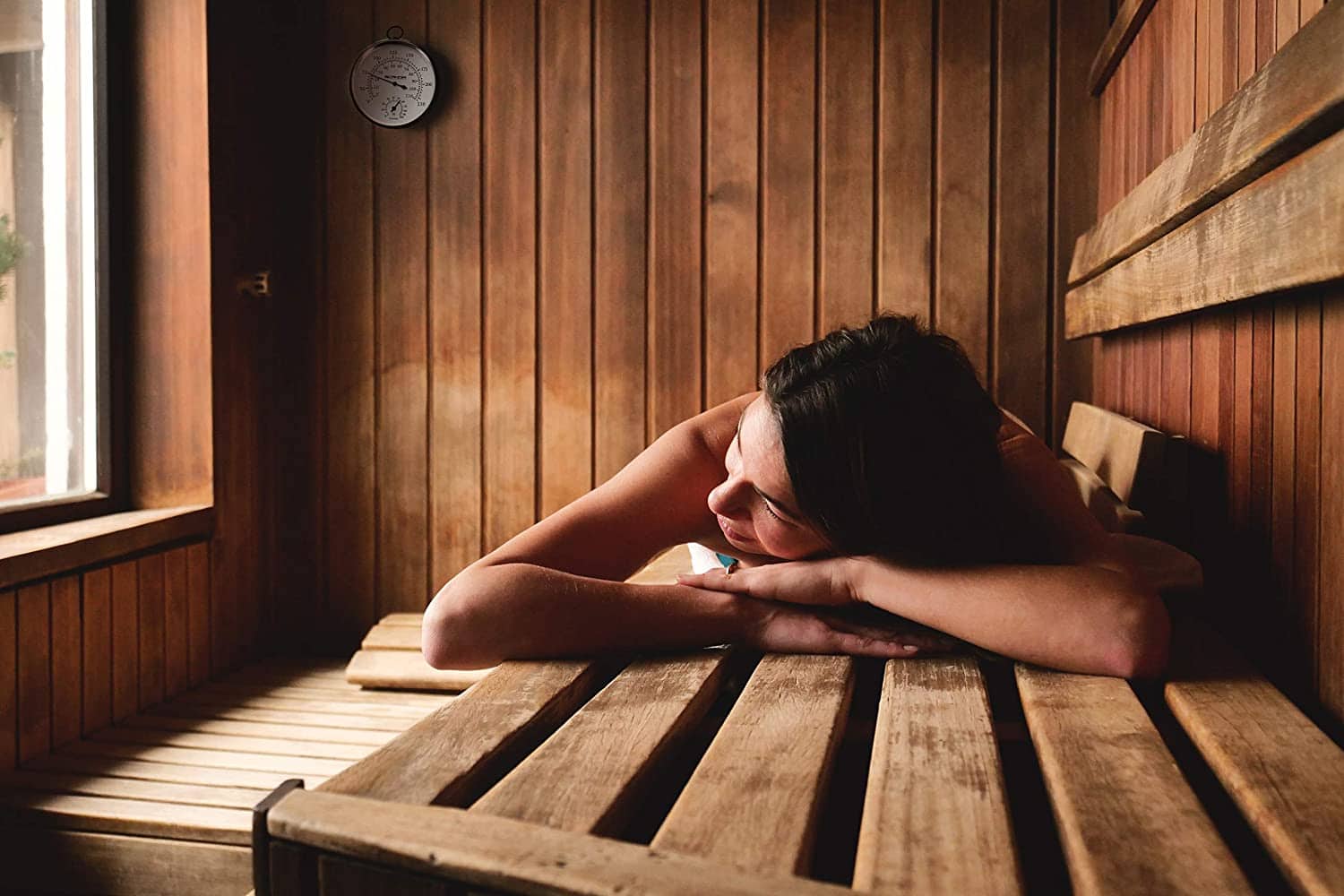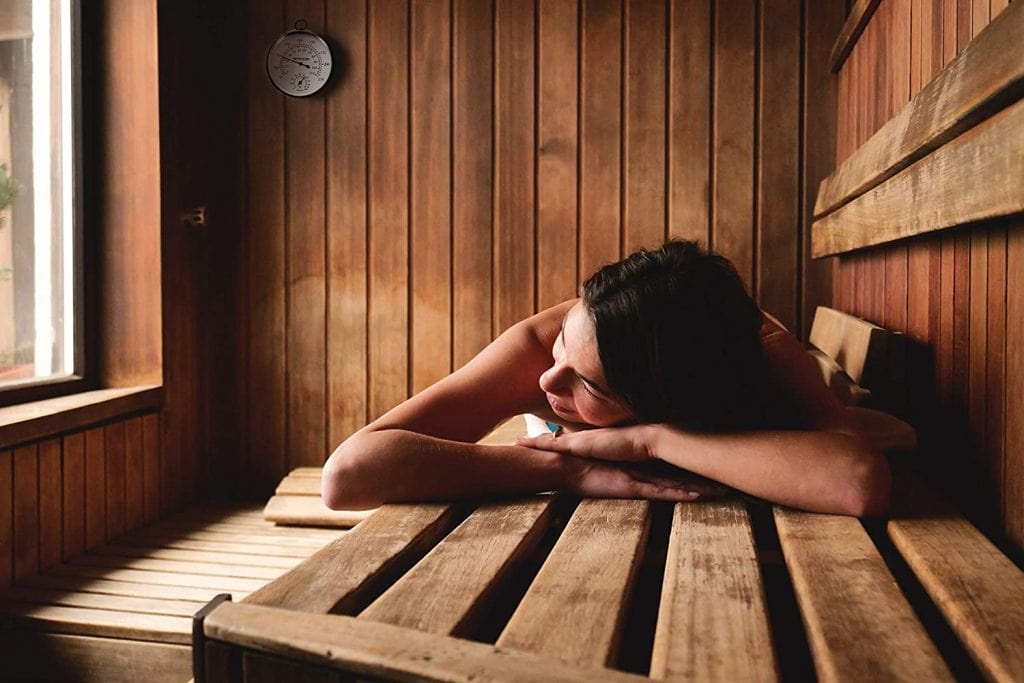 Best Portable Sauna Temperature
Depending on the type of portable sauna you have, the temperature ranges from 100 degrees to 160 degrees Fahrenheit.
But since the light and heat panels are so close to you in portable saunas, you won't be able to go as high as a larger unit. The sweet spot for most infrared and traditional portable saunas is 130 degrees Fahrenheit. During this range, you still experience the health benefits without being uncomfortable.
It's best to find what works for you because as your body becomes resistant to heat therapy, you'll be able to use higher temperatures.
Best Steam Sauna Temperature
Dry saunas go up to 200 degrees Fahrenheit, while steam baths don't have to be as hot because it's sealed, and the humidity creates the sensation of heat. They only work at temperatures ranging from 100 to 120 degrees Fahrenheit.
Although you might sweat more in a wet sauna, you aren't getting as much heat compared to a traditional setup. So what is the best temperature for steam rooms?
Use your steam sauna at 120 degrees Fahrenheit because the high humidity makes the room feel hotter than it actually is.
Steam saunas also offer unique benefits compared to a smoke sauna. When you're sitting in a steam room, you breathe in the hot steam which warms your mucus membranes. This relieves sinus and other breathing issues.
Now that we know the best temperature for different saunas types, let's look at the most accurate sauna thermometers.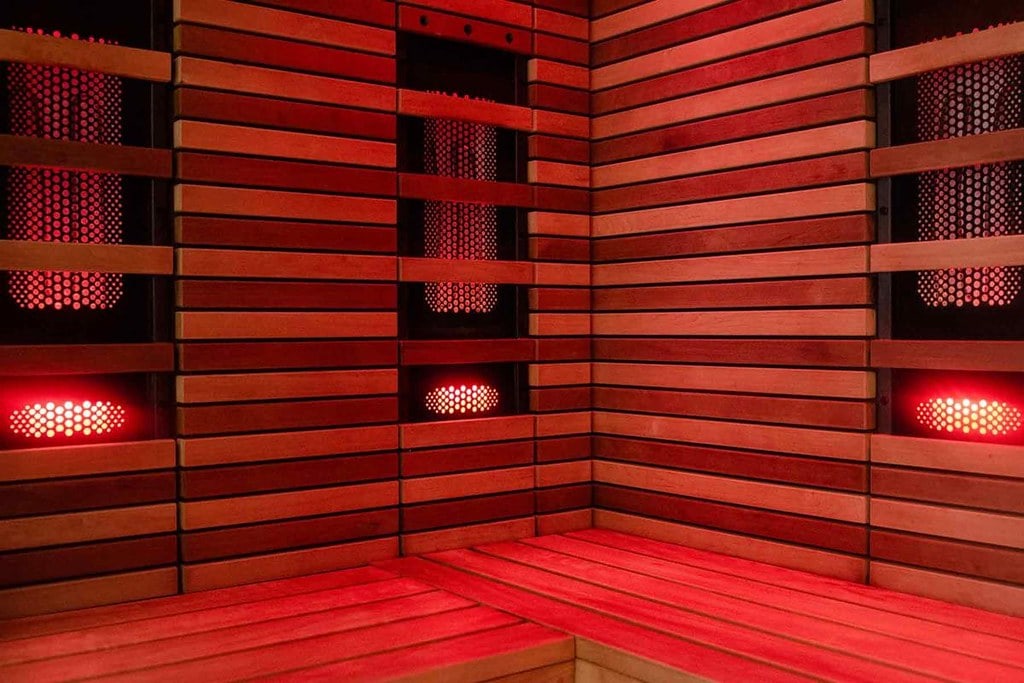 The Top 4 Home Sauna Thermometers In 2022
Consider these sauna thermometers for an accurate temperature reading:
Bjerg Instruments sauna thermometer
Scandia sauna thermometer and hydrometer
Bjerg Instruments Finnish-style thermometer
Natome digital thermometer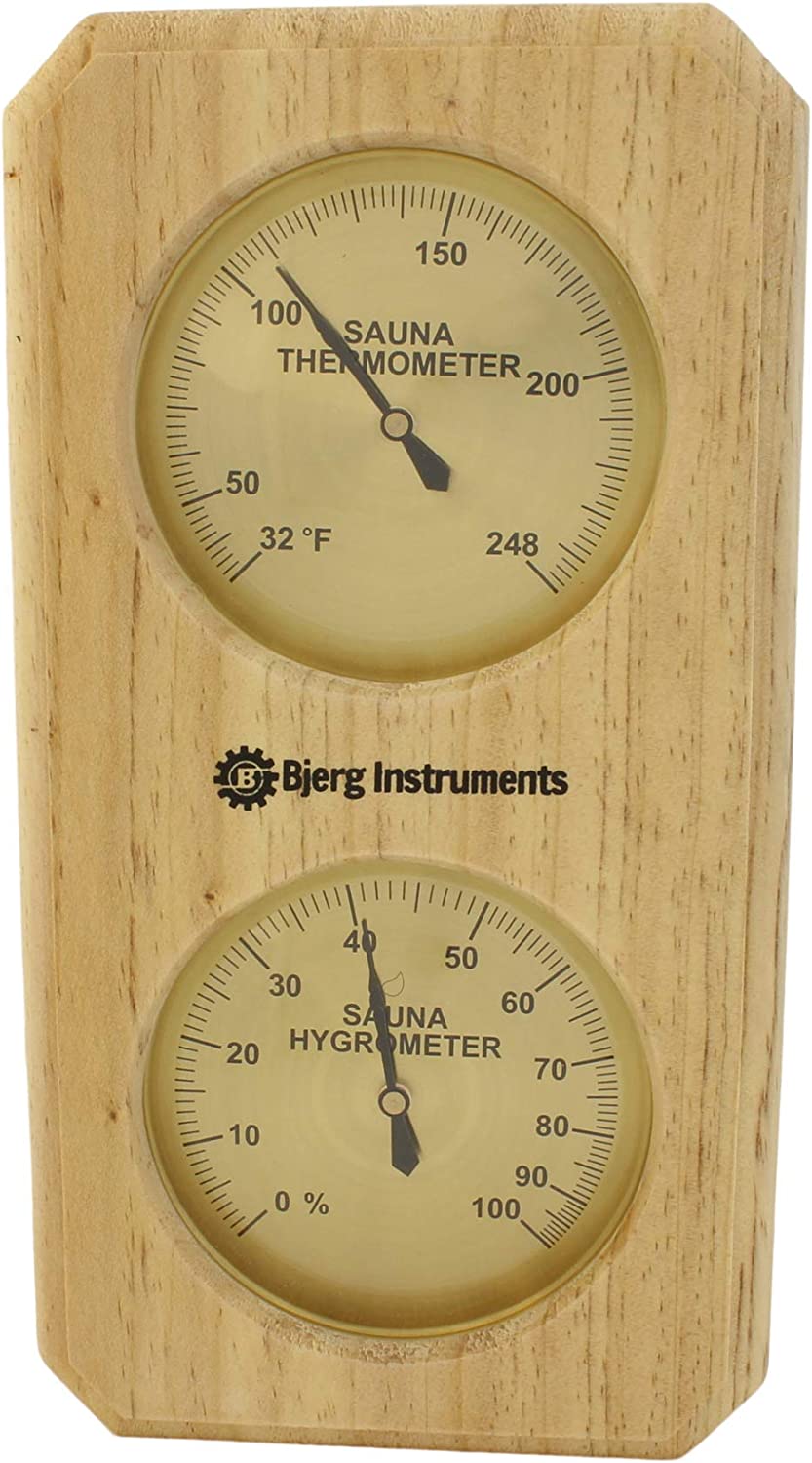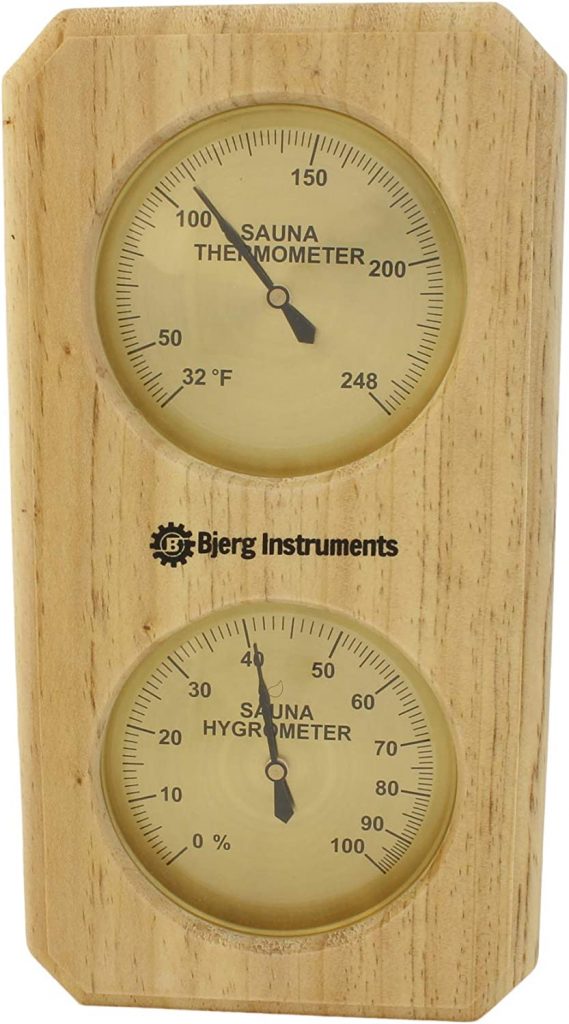 The Bjerg Instruments sauna thermometer is a two-in-one device that offers a thermometer and a hygrometer. This hygrometer measures humidity levels which is helpful if you have a steam bath.
The pinewood is also heavy-duty so if your thermometer falls, it won't break.
Here are the dimensions of the Bjerg thermometer and hygrometer:
10 inches long
5.25 inches wide
1.25 inches thick
You'll find two dials. The dial on top measures temperature, ranging from 32 to 248 degrees Fahrenheit. So it doesn't matter how hot or cool your sauna is, you'll be able to get an accurate reading with the Bjerg.
Below the temperature gauge is a hygrometer. It ranges from zero to 100 percent humidity. Both dials are large and easy to read, even if it's in a room full of steam.
The Bjerg also uses pinewood, ensuring your device lasts a long time while giving your sauna interior that classic wooden feel.

The Scandia sauna also measures temperature and humidity, but unlike the Bjerg, it's simply a round face with a few dials inside.
This thermometer measures radiant heat in Fahrenheit and Celcius, so you won't have to do conversions while sitting in your home sauna. It ranges from 50 degrees to 230 degrees Fahrenheit, and in Celsius, this is between zero and 110 degrees.
I like that the Scandia isn't bulky. If you have an infrared sauna blanket, feel free to bring it in with you during sessions for convenient temperature readings.
The ring on top allows for easy placement in your sauna, contributing to a sleek interior look.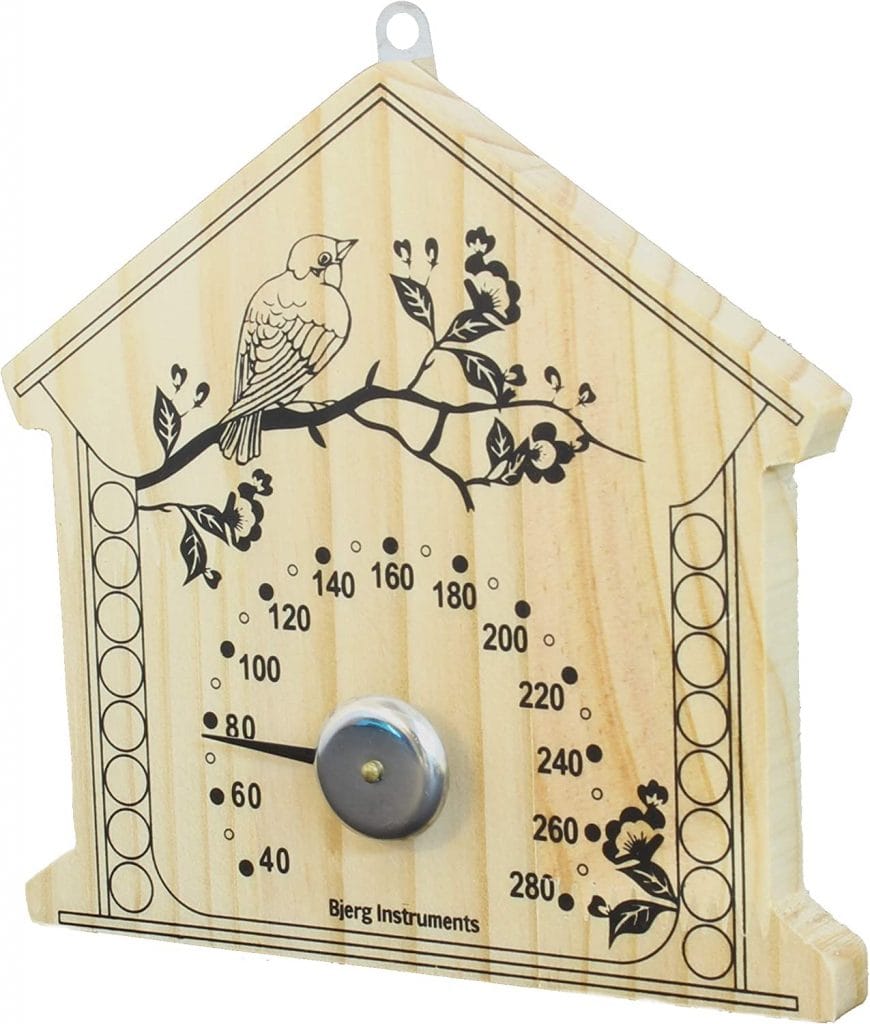 This Finnish-styled thermometer is a popular option amongst heat therapy enthusiasts because it's shaped like a house. It also has a beautiful design of a bird sitting on a branch so you can hook it on the wall and impress friends and family.
It ranges from 40 degrees to 280 degrees Fahrenheit and uses an analog interface. The only drawback is that it doesn't read temperatures in degrees Celsius. So this might not be a practical choice if you're living outside the United States.
Like the Scandia thermometer, it's portable. You can use it while lying in a sauna blanket, and if you're traveling, pop it in your suitcase for convenient storage.

Consider this heavy-duty digital Natome if you're not a big fan of analog thermometers. It comes in three different colors:
Black
White
Wood
The dimensions are 3.15 inches long, 2.76 inches wide and 0.83 inches thick.
The interface is straightforward and you won't have to strain your eyes to read the digits. You'll find temperatures in both Celsius and Fahrenheit and it even shows the time, which is useful when tracking the length of sauna sessions.
If you're using this Natome in a poorly lit environment, click the light button, and the screen shines a bright light, allowing you to see the time and temperature.
Final Thoughts On The Best Temp For Sauna
An infrared sauna session is an effective tool for taking your health to the next level because the infrared heat improves your immune system, blood pressure, energy levels and sore muscles.
If you're confused about what is the correct temperature for your infrared sauna, start at 120 degrees Fahrenheit and work your way up. Steam saunas are also best at lower temperatures because the humidity provides a strong heat sensation.
For traditional dry saunas, multiple studies show that 174 degrees Fahrenheit is the optimum temperature because it the intense heat reduces all-cause mortality by 40 percent.