We have made the impossible happen with the Healthy Sweet Potato Casserole Thanksgiving side dish! You won't believe what we used to create not only the perfect color, but also consistency and taste. We also top it off with a perfectly balanced pecan, cinnamon syrup so you won't feel like you're missing out on anything this year! Watch me make it below and share this incredible side dish with your family.
Our Favorite Thanksgiving Recipes
This has by far become my favorite Thanksgiving recipe. We use cauliflower and pumpkin puree to replicate the taste and color of a sweet potato casserole, and boy do we hit it spot on. I'm more of a crumble topping woman, but Matt suggested a syrup and I'm so glad he did! You can use the syrup just like gravy so you can use a little or a lot. Some of our other favorite Thanksgiving recipes are our cranberry sauce, and pumpkin cheesecake bites! No matter your craving we've got you covered, and we always have more to come!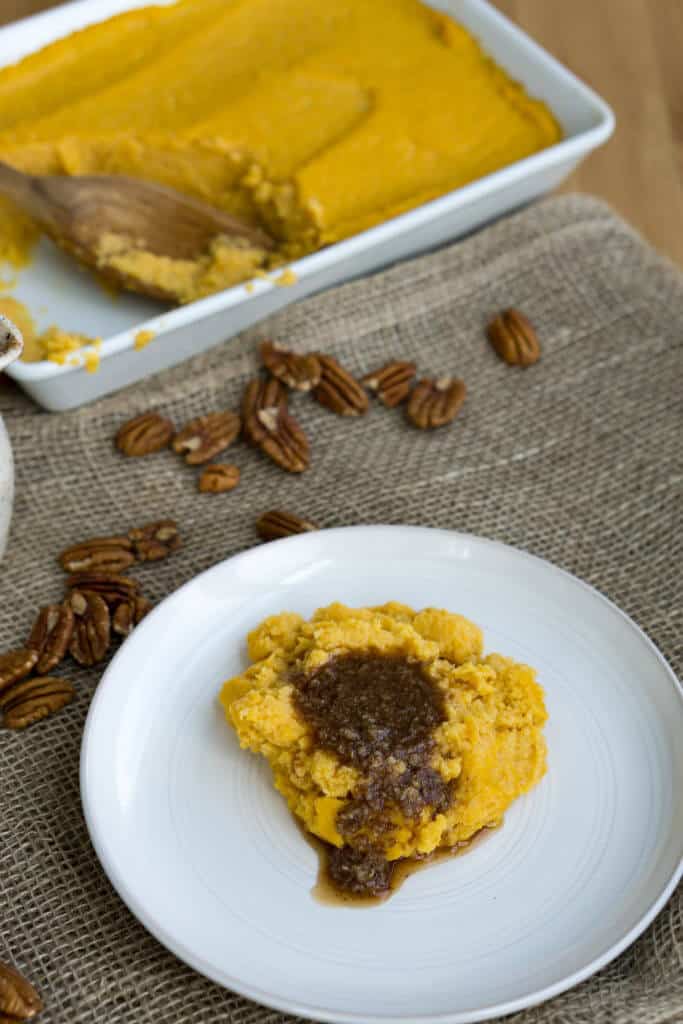 Healthy Casseroles For Thanksgiving!
Casseroles are not only be one of the easiest dishes to make, but are also always a win at the dinner table every time! Combining all the ingredients and transferring to a casserole dish before baking to perfection seems easy enough, especially on one of the busiest days of the year, Thanksgiving! This sweet potato casserole is an absolute must this year, but we also highly recommend our low carb green bean casserole for some color and additional veggies!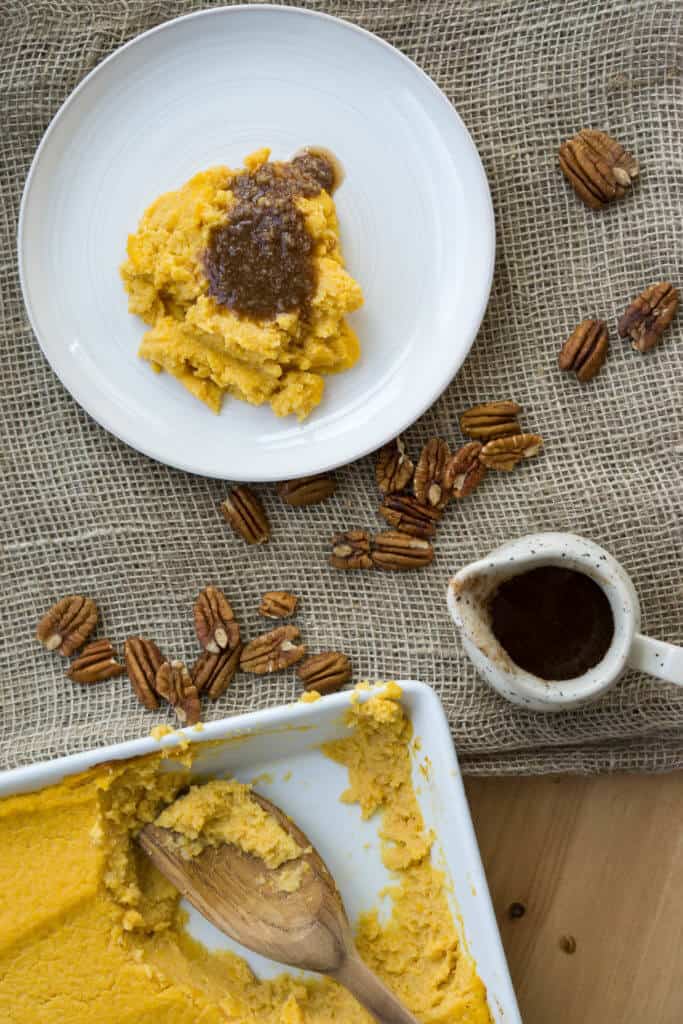 Healthy Sweet Potato Casserole with Pecan Sauce
We decided to put this recipe out as early as possible since you might be as skeptical as Matt was at first. Now you have enough time to make a small test batch to see if it's serve worthy (and trust us, we don't put out recipes that aren't serve worthy) prior to Thanksgiving. If you have this healthy sweet potato casserole, green bean casserole, some cheddar, jalapeno biscuits and a low carb pecan pie, you'll be set this year!

Nutrition – Casserole (1 serving)Calories: 80Fat: 5.7gProtein: 2.7gCarbs: 5.3g Fiber: 1.7g Net Carbs: 3.6gRecipe can be quickly added to MyFitnessPal – Search "KetoConnect – Healthy Sweet Potato Casserole"
Nutrition – Syrup (1 serving)Calories: 170Fat: 19gProtein: 1.2g Carbs: 1.6gFiber: 1.2gNet Carbs: 0.4gRecipe can be quickly added to MyFitnessPal – Search "KetoConnect – Pecan Cinnamon Syrup"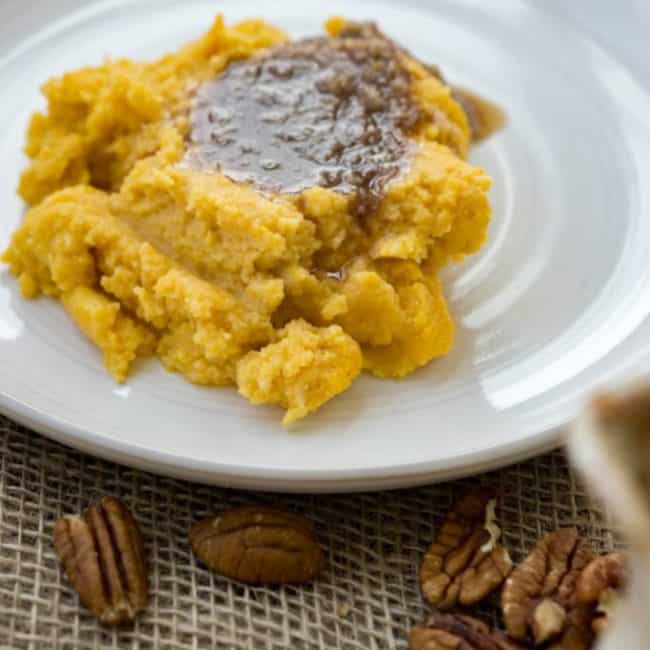 Healthy Sweet Potato Casserole
Total Time 50 minutes
Servings 10 servings
Calories per serving 80kcal
Prep: 25 minutes
Cook: 25 minutes
Instructions:
Preheat the oven to 400 degrees.

Chop the head of cauliflower into florets and put inside a large saucepan. Add water to submerge all the cauliflower and bring to a boil. Cook through for 20 minutes in total, until the cauliflower is fork tender.

Drain the cauliflower and add it to a processor. If your processor is small you may need to puree it in batches. As you pulse the cauliflower will work its way up the sides at which point you should stop, take off the lid and push it back down using a spatula. Do this 2-3 times until smooth.

Once all the cauliflower is smooth add in the pumpkin and pulse until combined and uniform in color and consistency.

Add the eggs, melted butter, erythitol, salt and vanilla extract and pulse until smooth and everything is combined.

Pour all the mixture into a 9x13 casserole dish and bake for 20 minutes.
Notes
Net Carbs (Casserole): 3.6g    /    Net Carbs (Syrup): 0.4g
Nutrition Facts
Healthy Sweet Potato Casserole
Amount Per Serving
Calories 80 Calories from Fat 51
% Daily Value*
Fat 5.7g9%
Carbohydrates 5.3g2%
Fiber 1.7g7%
Protein 2.7g5%
* Percent Daily Values are based on a 2000 calorie diet.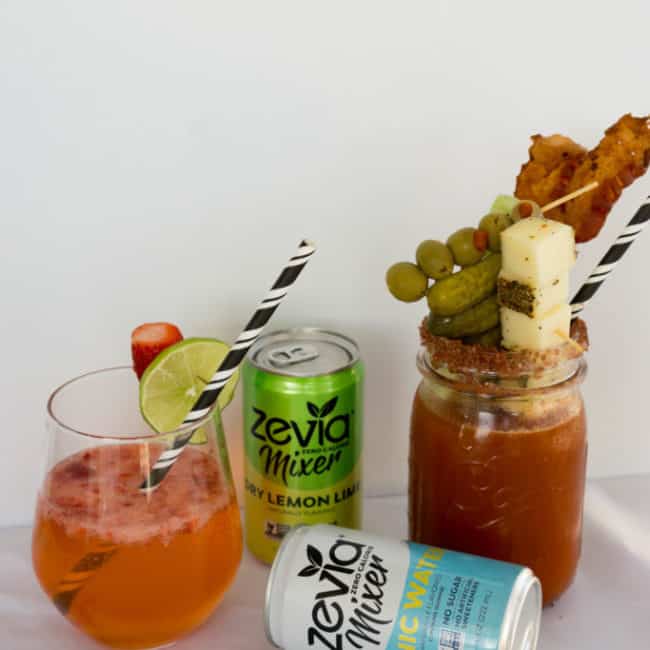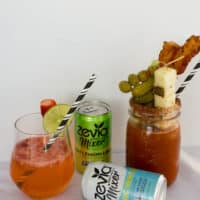 Pecan Cinnamon Syrup
Calories per serving 170kcal
Instructions:
Make the sauce: Add the coconut oil to a small saucepan over medium heat. Once melted add the cinnamon, ground pecans (you can also roughly chop them) and stevia. Combine using a spatula. Serve immediately while still hot.

Note: If you don't have already pre-ground pecans you can pulse them in a grinder or a blender to achieve the ground consistency or you can chop them up to your desired size.
Nutrition Facts
Pecan Cinnamon Syrup
Amount Per Serving
Calories 170 Calories from Fat 171
% Daily Value*
Fat 19g29%
Carbohydrates 1.6g1%
Fiber 1.2g5%
Protein 1.2g2%
* Percent Daily Values are based on a 2000 calorie diet.