Unfortunately, I haven't been able to try these Walnut Cookies, but Matt says they are the best cookies we've made thus far. I can attest to that given how quickly he ate the entire batch of 16! It's a quick recipe to throw together and bake, especially during the busy holiday season. As long as you have a food processor you are goo to make these any time of the year. Keep scrolling to see the great macros and easy steps on how to make them!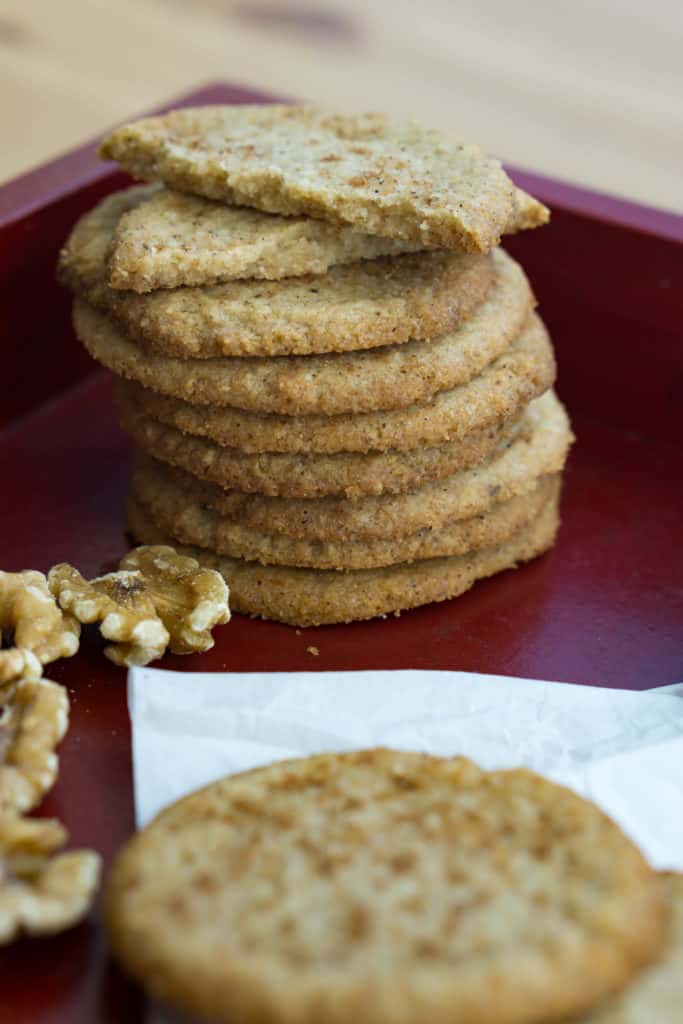 Easy Keto Desserts
The best desserts are easy keto desserts, and these may be one of the easiest! All you have to do is combine all the ingredients in a food processor until a dough is formed and then scoop it out on to baking sheets and bake till buttery, walnut perfection! If you're more of an indulgent dessert eater like myself, maybe cookies won't do the trick. In that case we do have other easy keto desserts, such as our low carb chocolate crust cheesecakes and low carb donuts! With the holidays approaching you might just want to make them all!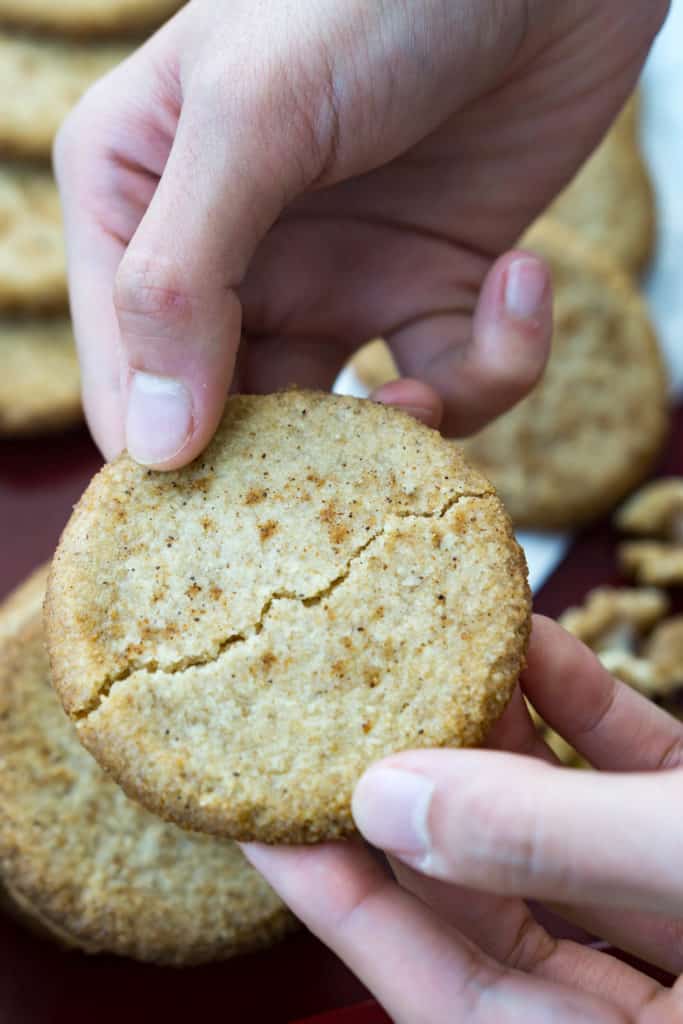 The Best, Low Carb Holiday Cookies!
These by far rank up in the best, low carb holiday cookies category and we know you'll agree! However, if you're allergic to tree nuts like I am we have plenty of other nut free dessert options for you to choose from. We've got chewy chocolate chip cookies made with coconut flour, which are my absolute favorite, and we've also got olive oil cake and pumpkin cheesecake bites with a coconut flour crust!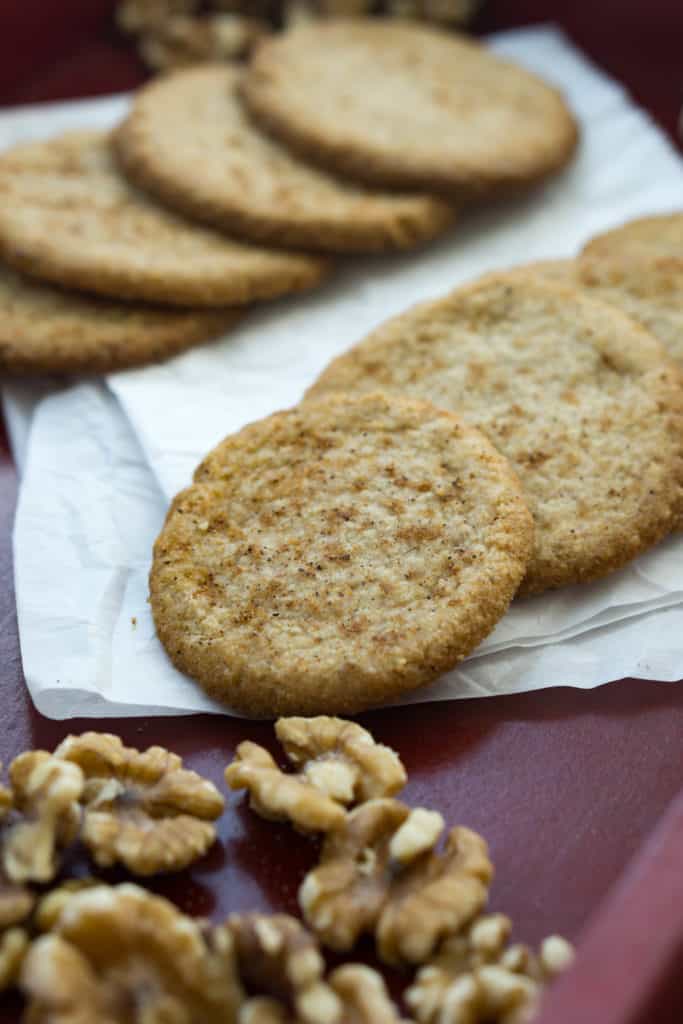 Nut Meg Spiced Walnut Cookies
If you aren't a fan of nutmeg, you can definitely swap it out for another spice, such as cinnamon or pumpkin pie spice. Nutmeg just reminds us of the holiday season so we thought it would be a nice touch. But, just like with most of our recipes, we are providing you the perfect base to take it to another level of flavor! You can use ground pecans instead and add in some maple extract for a maple pecan twist. Whether or not you make this exact walnut cookies recipe, we know you'll love them even with your own twist.

​Recipe can be quickly added to MyFitnessPal – Search "KetoConnect – Walnut Cookies"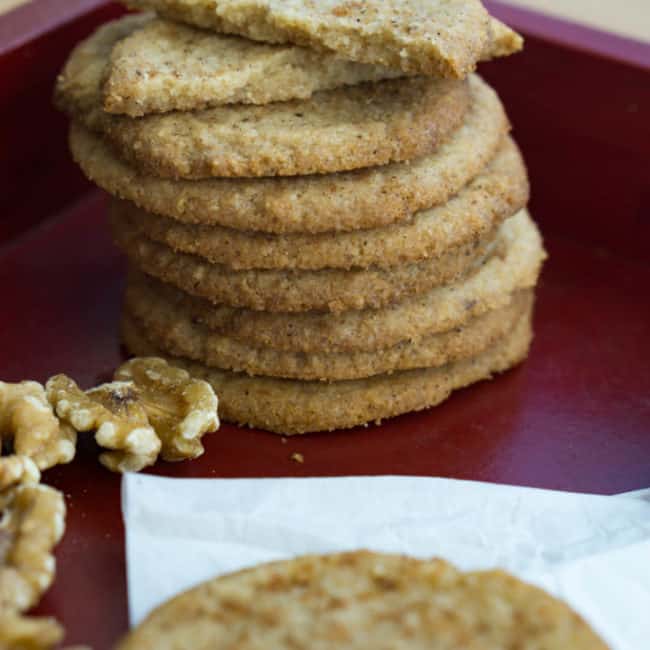 Walnut Cookies
This walnut cookie recipe is low carb, easy to make and easy to customize for your perfect cookie!
Total Time 23 minutes
Servings 16 cookies
Calories per serving 108kcal
Prep Time: 10 minutes
Cook Time: 13 minutes
Instructions:
Preheat the oven to 325 and line two baking sheets with parchment paper.

Put the walnuts in a food processor and pulse until ground. Add the coconut flour, erythritol, nutmeg and vanilla extract and process until fully combined.

Cut the butter up into small chunks and add it to the processor. Pulse until you achieve a soft dough.

Using a cookie scooper, scoop out 16 balls onto the parchment paper and flatten them with your hands.

Bake for 13 minutes. Once you have removed them from the oven sprinkle with additional nutmeg if desired and allow to cool for at least 20 minutes or they will fall apart. Enjoy!
Nutrition Facts
Walnut Cookies
Amount Per Serving
Calories 108 Calories from Fat 99
% Daily Value*
Fat 11g17%
Carbohydrates 2g1%
Fiber 1.1g4%
Protein 1.5g3%
* Percent Daily Values are based on a 2000 calorie diet.
Written By