Lately I've been in charge of doing most of the cooking and baking and these Almond Ricotta Cookies are my last stroke of genius. The tough part about making delicious cookies using almond flour is that I can't try them due to my tree nut allergy. This means that Matt has to be the judge of all our cookies, sadly for me, but his judgement is probably better trusted than mine! He's eaten way more sweets and treats in his pre-keto days and these are some of his favorite cookies by far!
Simple Low Carb Desserts!
I'll admit that I do like a decadent, rich dessert from time to time, but I mostly prefer a simple, easy to eat kind of dessert. I don't want to feel sick after 3 bites, because that isn't really enjoyment to me! These almond ricotta cookies are the perfect cookie recipe for the simple dessert lover in you. It is guaranteed to be a hit no matter who tries it because you can never go wrong if you go the simple route. If you're looking for more simple recipes we got a bunch on our food blog, like our breakfast cookies, low carb cheese crackers, and olive oil cake!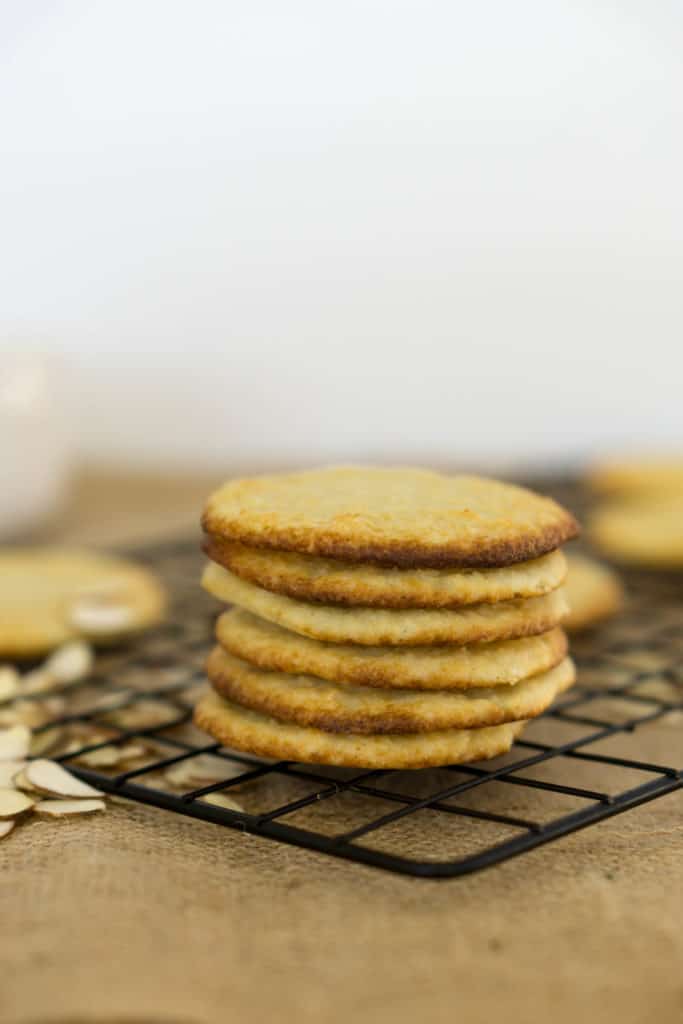 Easy Ricotta Cheese Recipes!
It wasn't until recent that I realized my love for ricotta cheese. I've always had a distaste for cottage cheese and I put them in the same category, but boy have I have been wrong. Not only does ricotta cheese make some dang good, soft cookies, but it is also the perfect filling for lasagna. We use ricotta cheese in our zucchini lasagna recipe, which is great for any night of the week or weekly meal prep!
Low Carb Almond Ricotta Cookies
The best part about these cookies is not only that they are simple and delicious, but you can completely transform them by adding a spice or nut. I'd probably go with maple extract instead of almond and added in some finely chopped pecans for a maple pecan twist, but possibilities are endless! These cookies are not only great for the upcoming holidays, but perfect for pot lucks, office parties, friend gatherings at your house and for your kids bake sale (make sure it has a note about the almond flour for nut allergies)! Aside from those with nut allergies, these almond ricotta cookies are the perfect after dinner treat!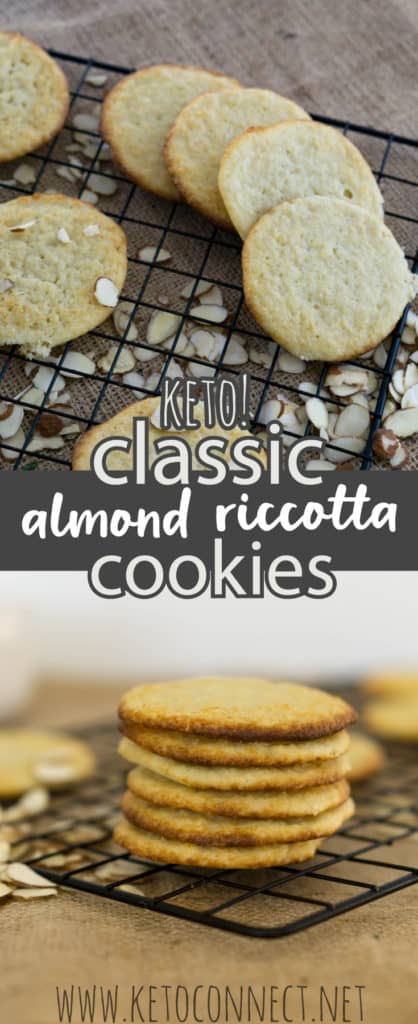 Recipe can be quickly added to MyFitnessPal – Search "KetoConnect – Almond Ricotta Cookies"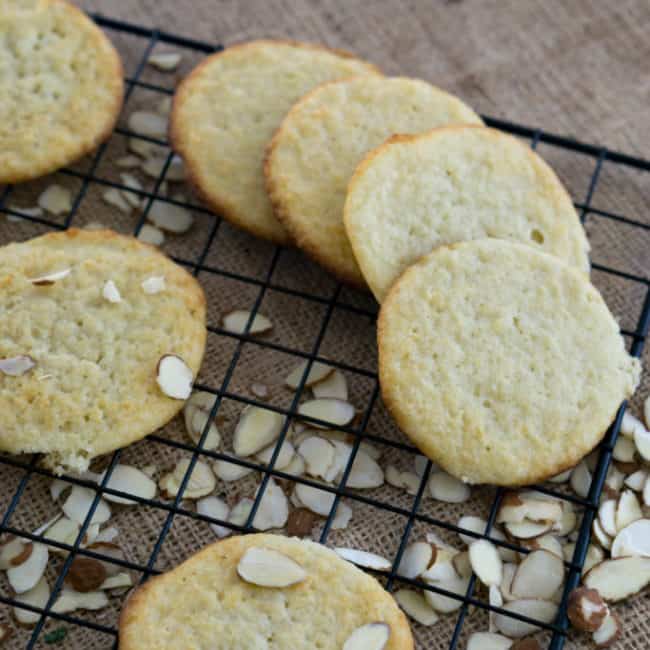 Almond Ricotta Cookies
Total Time 55 minutes
Calories per serving 73kcal
Prep Time: 10 minutes
Cook Time: 15 minutes
Instructions:
Preheat the oven to 350 and line two baking sheets with parchment paper.

Combine the melted butter, ricotta cheese, egg and extract in a large bowl and whisk together.

In a smaller bowl combine the almond flour, erythritol, baking powder and soda and combine. In two parts add the dry to the wet mixture and whisk to combine.

Using a cookie scooper scoop out 18-20 equal sized cookies onto the baking sheets. Slightly flatten them out (as seen in our recipe video).

Bake for 13-15 minutes, until edges start to brown. Once edges begin to brown remove from the oven and allow to coll for 20-30 minutes prior to handling or they will fall apart.

Note: They will spread in the oven so don't press them out too much or at all.
Nutrition Facts
Almond Ricotta Cookies
Amount Per Serving
Calories 73 Calories from Fat 60
% Daily Value*
Fat 6.7g10%
Carbohydrates 1.5g1%
Fiber 0.7g3%
Protein 2.3g5%
* Percent Daily Values are based on a 2000 calorie diet.