We always come back full circle with a solid dessert recipe, and this Dessert Pizza Recipe takes the cake… or should I say cookie!? It's really simple to make and in the video, we show you how to make a smaller version of the recipe listed below. You can go all out and make a dessert pizza for eight or keep it light and make a dessert pizza for two. It's up to you and your belly!
You Need This Quick Low Carb Dessert.
…and, by need, I mean NEED! It's the perfect way to bring the family together or just have a fun baking night of your own. You can make the dessert pizza and then call in the family and friends to help decorate. It's perfect for holidays, birthdays or movie nights. You make one of the five savory pizzas listed below and then your dessert pizza to finish off the night. It's not only quick to make, but you only need four or five essential ingredients to make this last-minute!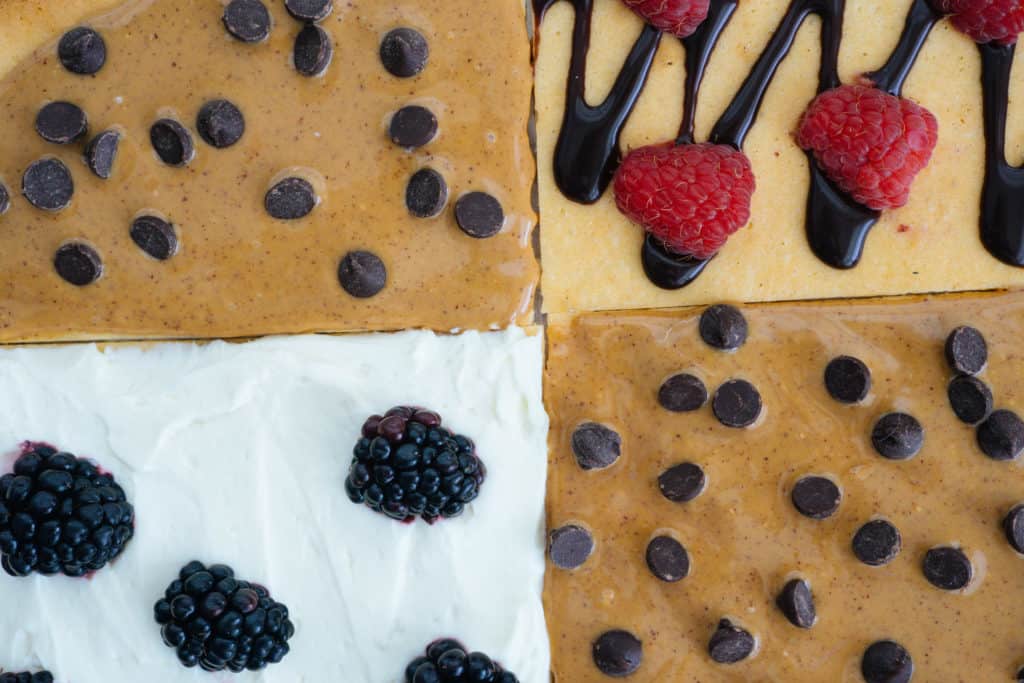 FREE PRINTABLE: Keto Food List
Join 150,000 others to get a FREE keto food list and new recipes every week!
Not A Fan Of Sweet Pizza?
Well, we've got five different low carb savory pizzas for your to make instead. Below, I'll rank them best to least best (in my personal opinion) and you can tell me if I'm wrong!
How does your rank compare? If you haven't given any of the above a try, I highly recommend you do so. You don't have to skip out on Friday night pizza with the family and friends anymore!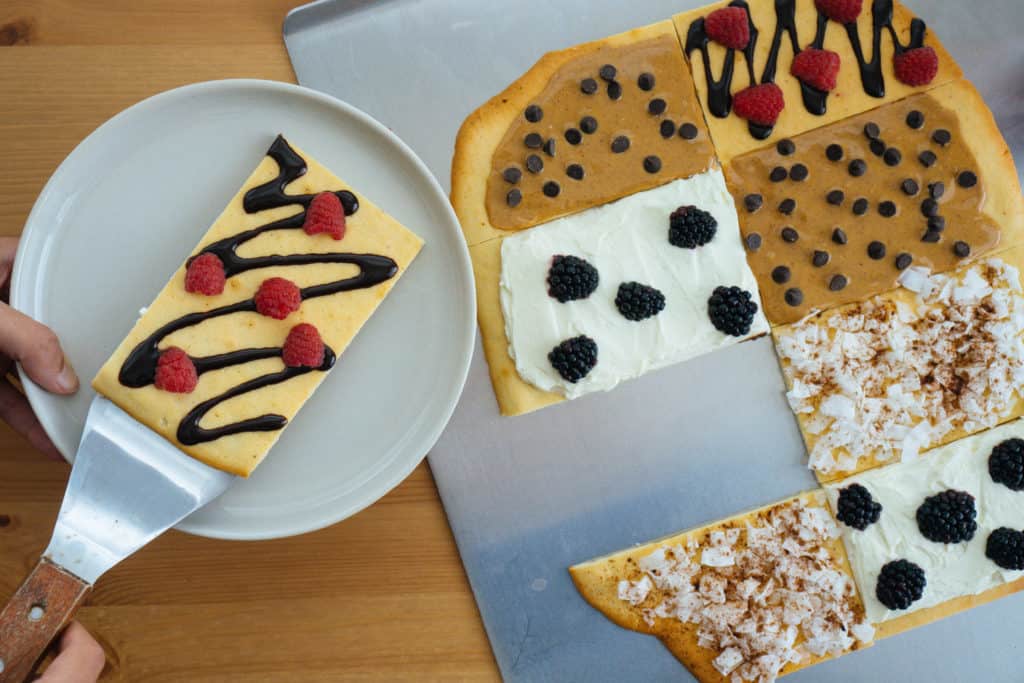 Easy Dessert Pizza Recipe!
The great thing about this recipe is the dessert pizza is literally a blank canvas awaiting your toppings. You can go the classic route with frosting (our personal favorite is cream cheese), you can go peanut butter or chocolate drizzle, you can bake nuts and spices into the pizza itself or you can just eat it plain! We highly recommend using your favorite protein powder to add flavor and sweetness, but if you use unflavored protein powder for this dessert pizza recipe then make sure you add some sweetener to take it to the next level!

Recipe can be quickly added to MyFitnessPal – Search "KetoConnect – Dessert Pizza Recipe"**Macros listed below do not include the cream cheese frosting**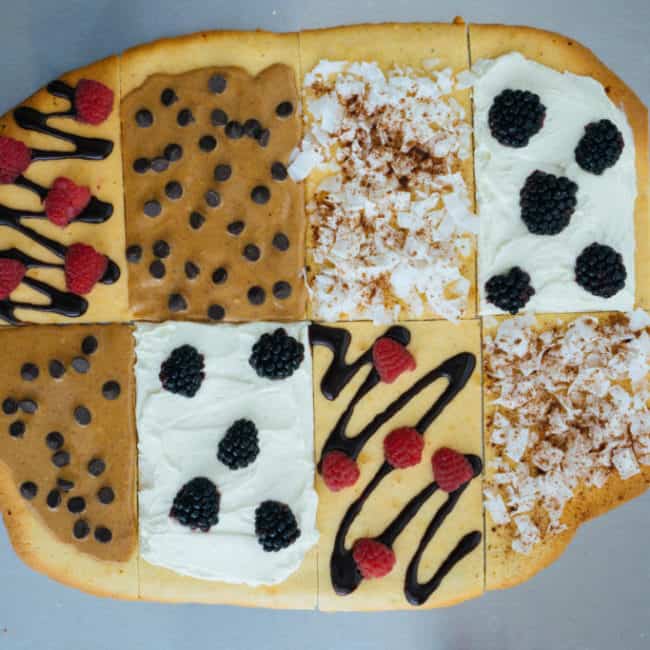 Dessert Pizza Recipe
A sweet cookie pizza you can decorate with keto frosting, fruit, coconut, and chocolate.
Servings 8 servings
Calories per serving 237kcal
Prep Time: 10 minutes
Cook Time: 15 minutes
Instructions:
Preheat your oven to 350 degrees and line a baking sheet with parchment paper.

Add your butter to a microwave safe bowl and melt.

Once the butter is melted add your almond milk (flax, coconut, cashew) and egg and whisk to combine.

Add the almond flour and protein powder and whisk to combine.

Pour the dough into the center of the parchment paper. Spray a second piece of parchment paper with some coconut oil spray (so the dough doesn't stick to it) and then lay it on top of the dough.

Roll it out to the shape of your choosing about, about 1/4 inch thick.

Bake for 15 minutes or until the edges have browned. Allow to cool fully before frosting or topping it.

Note: for the recipe nutrition we used Quest Cinnamon Crunch protein powder (as seen in the video).
Notes
Net Carbs: 4g Erythritol: 0.6g
Nutrition Facts
Dessert Pizza Recipe
Amount Per Serving
Calories 237 Calories from Fat 171
% Daily Value*
Fat 19g29%
Carbohydrates 7g2%
Fiber 3g12%
Protein 12g24%
* Percent Daily Values are based on a 2000 calorie diet.