Matt did the impossible with this Asian Noodle Bowl recipe, and you are going to have to make this at home to understand why! Who knew the odd smell and texture of Miracle Noodles could be masked until now?
Combining a flavorful marinade with the noodles and then cooking them down to make the perfect keto Asian noodle bowl was Matt's mission before making this recipe, and he achieved it. We know you'll enjoy this satisfying noodle recipe with minimal carbs and tons of flavor.
Marinated Miracle Noodle Recipe
The marinated miracle noodles alone are an incredible recipe and a total game changer! A lot of people don't like them due to the funky smell or chewy taste, but marinating them in powerful flavors like we did for this recipe transforms them into an addictive low carb noodle. The spice, the salt, and the feeling of eating Asian noodles is captured by this recipe and by far our favorite Asian recipe remake! It's a must try.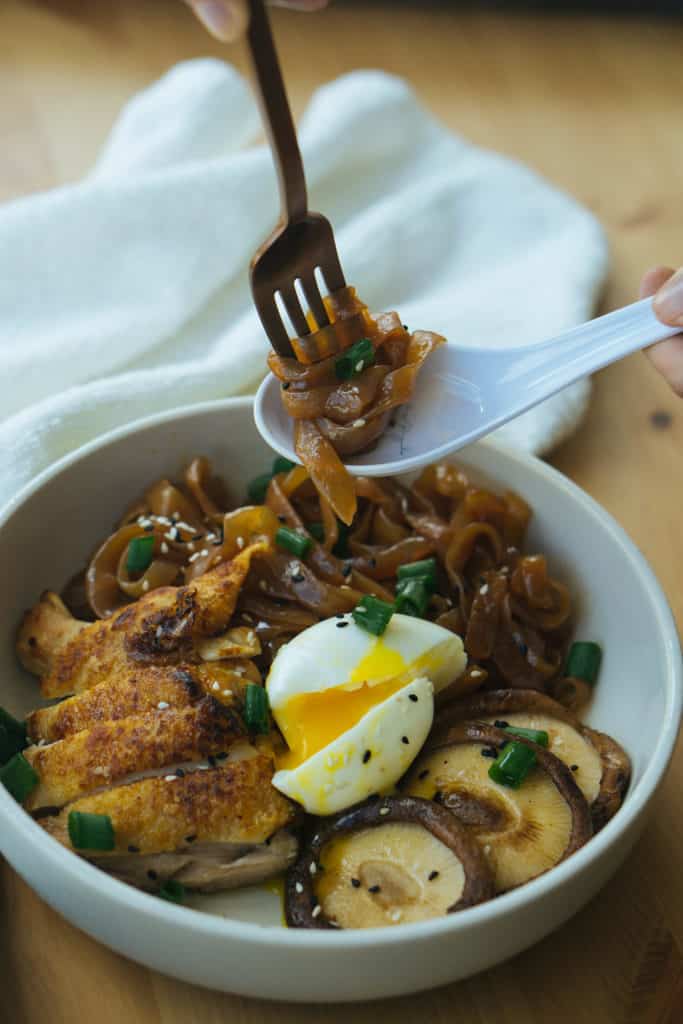 Our Favorite Asian Dinner Recipes!
This has definitely taken the spot of our favorite Asian recipe due to it's intense combination of flavors and nutrition. It's a super low-carb meal, but satisfies all your high-carb noodle cravings!
Other Asian recipes we enjoy for dinner are our easy cashew chicken, keto sushi, and egg roll in a bowl. All three recipes are quick and make for great take-out replacements. They will easily please the entire family any night of the week!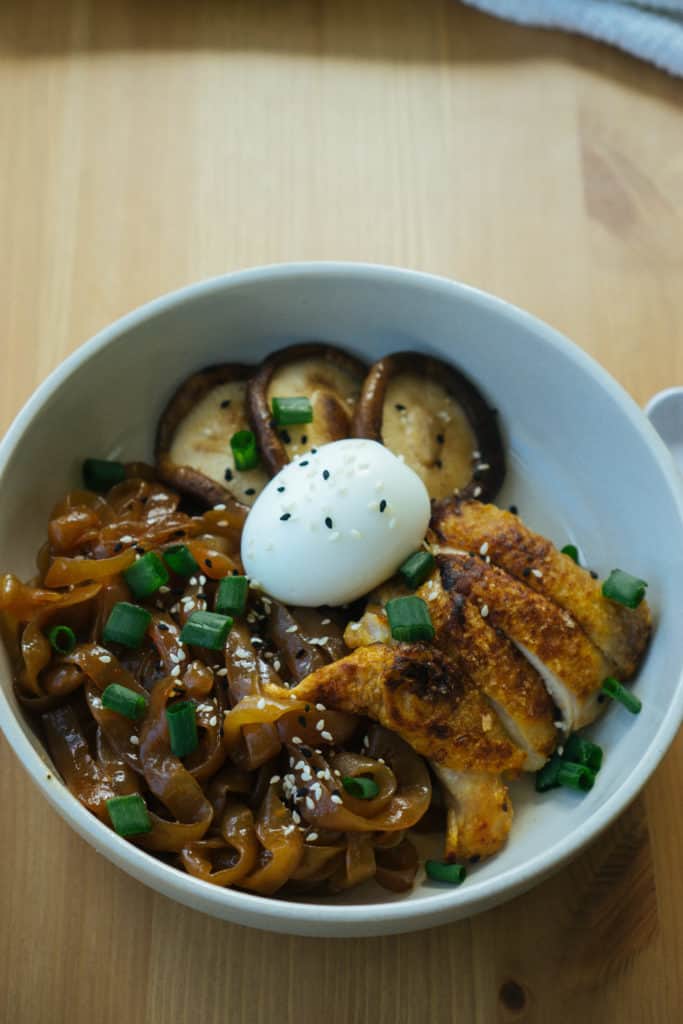 Low Carb Asian Noodle Bowl
I don't think I have met a single person who doesn't love noodles in some form, whether it be in an Italian pasta, ramen soup, or a noodle bowl. Well we've got you covered with an incredible Alfredo pasta recipe so naturally we had to take on the most requested, Asian noodles, next!
Once you've made the marinated noodles, you can fill the rest of the bowl with whatever fillings you want. You can go pork and broccoli or spinach and ground beef. Have fun with this Asian Noodle Bowl recipe!

Recipe can be quickly added to MyFitnessPal – Search "KetoConnect – Keto Asian Noodle Bowl"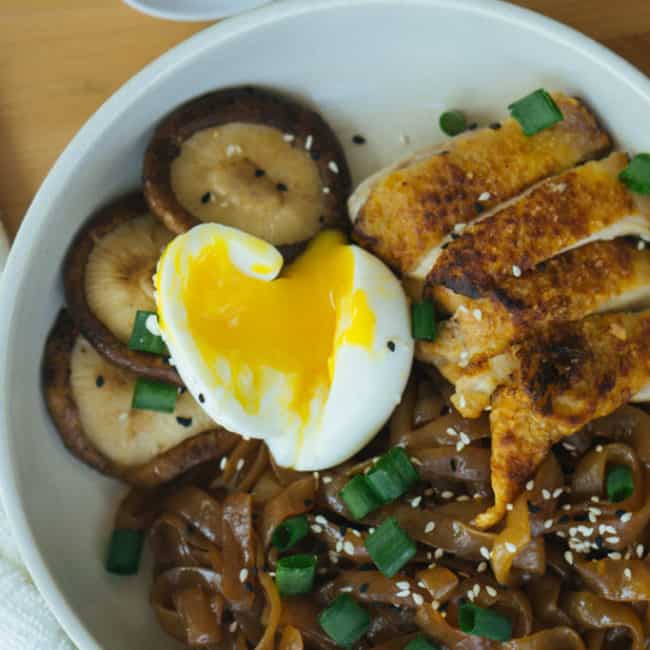 Keto Asian Noodle Bowl
Total Time 1 hour 30 minutes
Servings 1 bowl
Calories per serving 439kcal
Prep Time: 1 hour
Cook Time: 30 minutes
Instructions:
Marinate Noodles: Drain the noodles and rinse with hot water. Place them in between paper towels and dry them out as much as possible. Transfer semi-dry noodles to a bowl and add the soy sauce, sriracha and rice wine vinegar. Stir and coat all noodles and place in fridge for 1-4 hours.

Make the soft boiled egg: Bring a small pot of water (should be enough to submerge the egg fully) to a gentle simmer. Once simmering gently lower the egg into the water and cook for 6 minutes. Remove and place in a bowl of cold water or an ice bath to stop cooking.

Preheat the oven 350 and heat an oven safe skillet to medium heat. While the skillet is heating pat the chicken thigh dry under and on top of the skin using a paper towel. Sprinkle with pink salt.

Once the skillet is hot place the chicken thigh in the skillet, skin side down. Use a spatula to press down onto the thigh so the entire skin surface is touching the hot skillet. Allow to cook until skin is crispy, about 5 minutes. Once crisp flip the chicken over and place in the oven for 12 minutes. Once cooked remove and allow to rest for 10 minutes prior to cutting.

Keep the skillet off to the side to use for noodles and mushrooms.

Once the noodles have marinated long enough, drain off the excess marinade and transfer to the same skillet the chicken thigh was cooked in. Turn the burner to high heat and allow the noodles to cook for 3-5 minutes until all the marinade from the noddles has cooked off/reduced.

Transfer the cooked noodles to a large serving bowl.

Add the mushrooms to the skillet and cook for 2-3 minutes, or until preferred done-ness. Transfer to bowl with noodles.

Cut the cooked thigh into 4-5 pieces and place in the bowl with the noodles. Remove the egg from the ice bath and gently peel off the shell. Place in the center of the bowl.

Garnish with sesame oil, and scallions. Top with sesame seeds, if desired. Enjoy!
Nutrition Facts
Keto Asian Noodle Bowl
Amount Per Serving
Calories 439 Calories from Fat 279
% Daily Value*
Fat 31g48%
Carbohydrates 6g2%
Fiber 2g8%
Protein 36g72%
* Percent Daily Values are based on a 2000 calorie diet.
Written By