Do you love bacon? Do you love pork chops? If you answered yes to both of those questions, then you're going to LOVE this bacon wrapped pork chops recipe! It's easy to make and so delicious. Plus, it's perfect if you're looking for a hearty low-carb meal for the entire family. I promise they won't even have an idea that it's keto!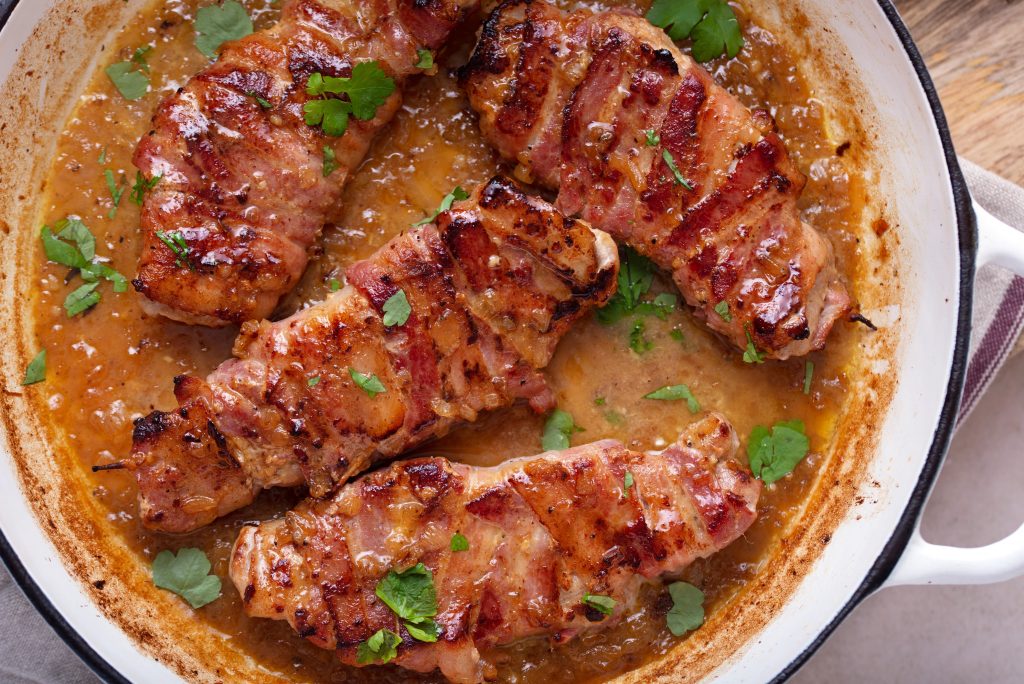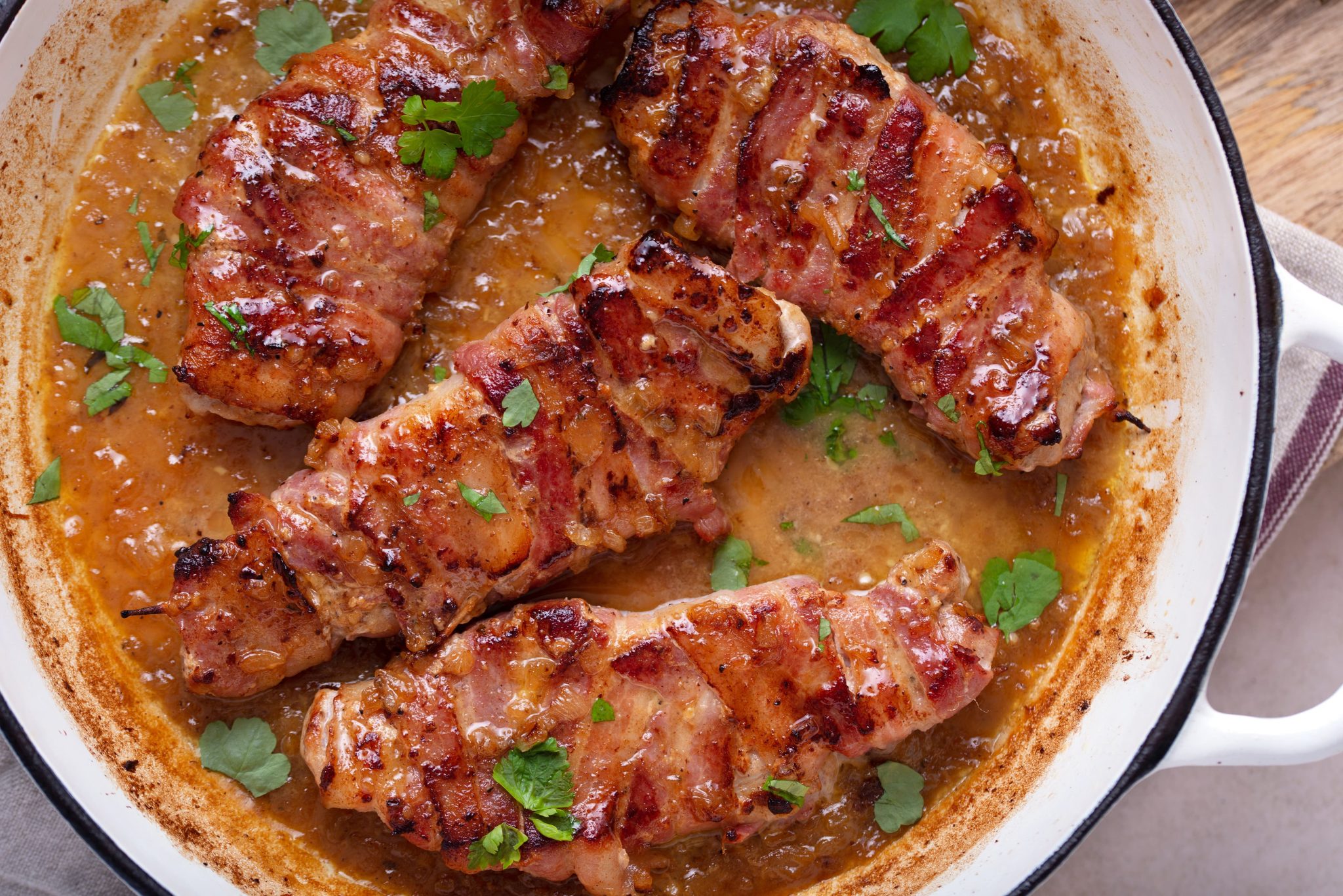 How to Make Bacon Wrapped Pork Chops
Here's a full list of all the ingredients you're going to need for this recipe. I wouldn't recommend any swaps for the main ingredients, but you can experiment with spices at the end if you've made pork chops differently before.
Ingredients
Pork chops
Boneless pork chops are a great, lean cut of meat that is perfect for a quick and easy weeknight meal. They're versatile and can be cooked in a lot of ways. When you're in the store, look for ones that are pinkish-red in color with some marbling – that's exactly what will give them their delicious flavor.
Bacon
With so many bacon types on the market, it's often difficult to pick the best one. Whether you choose regular or thick-cut bacon, make sure it doesn't contain synthetic sodium nitrates – instead, opt for the most organic and natural version you can find.
Dijon mustard
I recommend using dijon mustard specifically for its sharp, tangy flavor, perfect for adding depth and complexity to all kinds of delicious recipes. Combine it with bacon-wrapped pork chops and you've got yourself the tastiest weeknight dinner ever.
Stevia
A sweet taste goes hand in hand with pork chops. Don't ask me why, but most recipes you'll find online pair up pork chops with apples, sweet potatoes, and glazed carrots – everything is sweet! Since you're on a low-carb diet, you can put a little bit of flavor back in by using stevia or any other non-granular, keto-friendly sweetener.
Butter
I know crispy bacon makes the world go round, but butter is right up there as well. Instead of using it at the beginning of our bacon-wrapped pork chops recipe, we're using it at the end to add richness and smoothness to the sauce.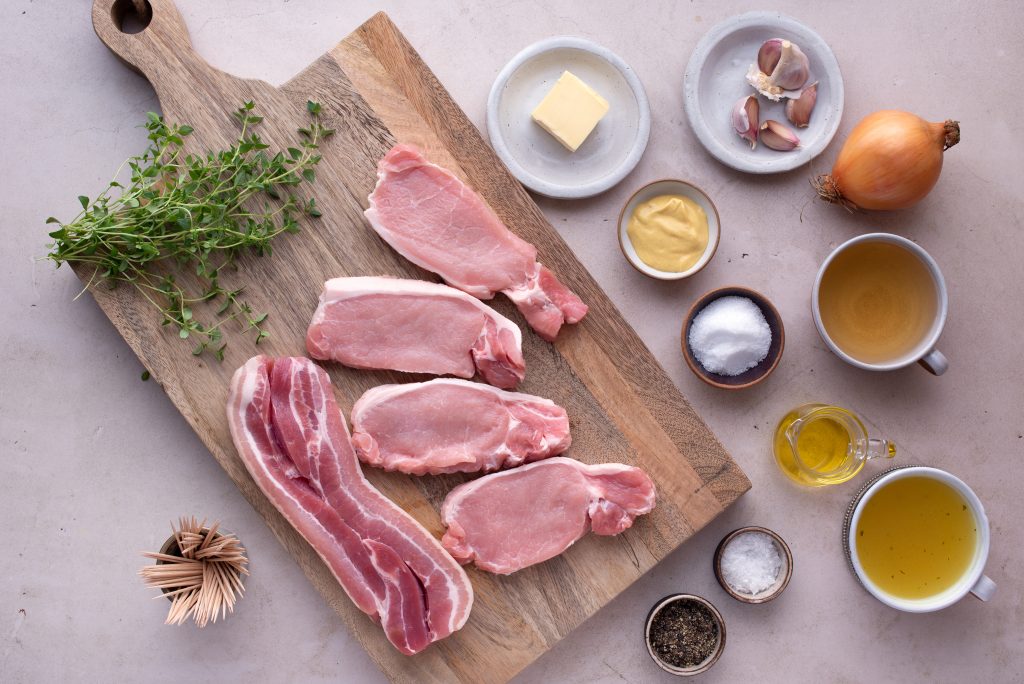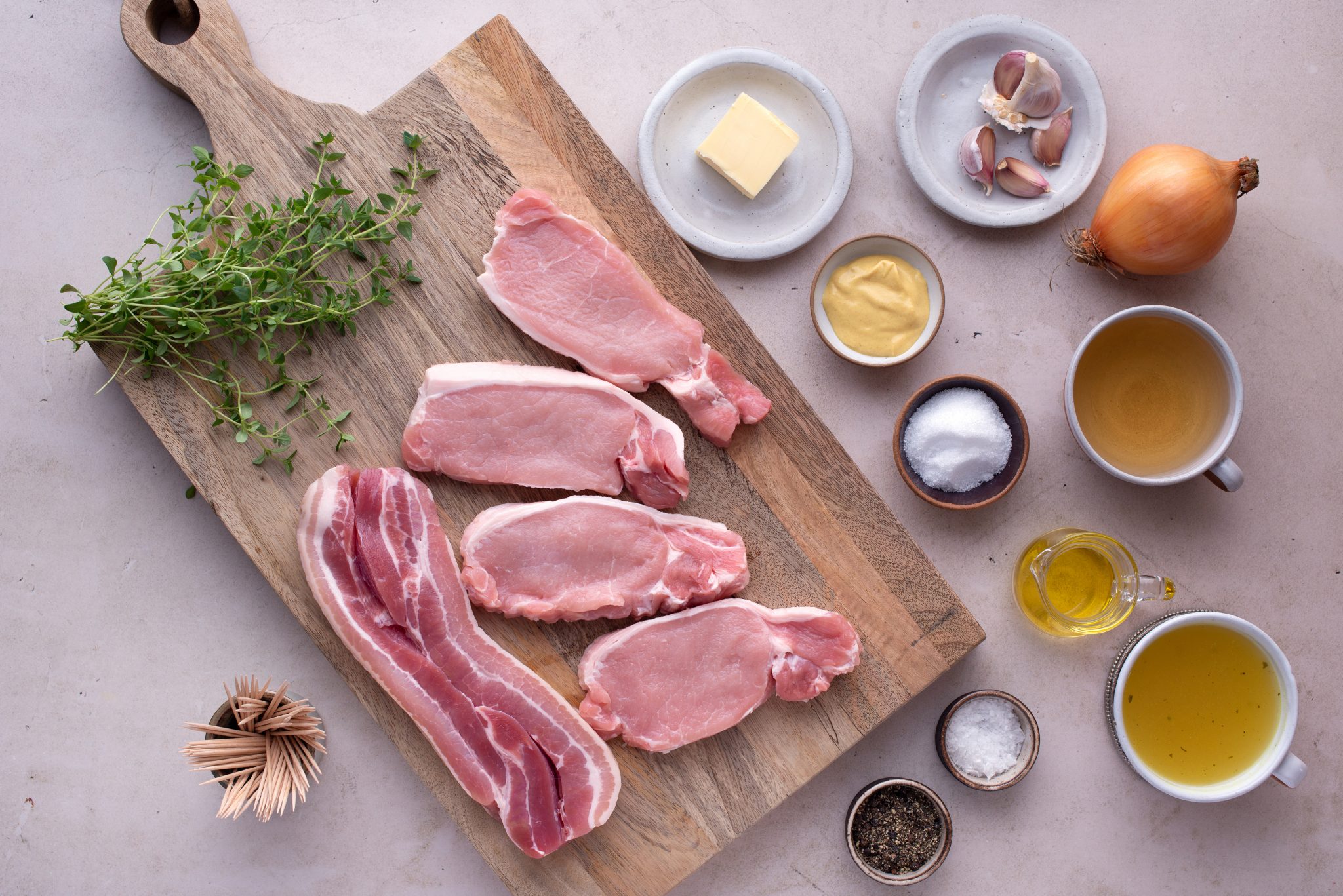 Olive oil
Since olive oil has a high smoke point, it can be used for frying without producing harmful chemicals. You can also use bacon fat, tallow, or lard here if you'd like, but I found olive oil to be the mildest in flavor when making these bacon-wrapped pork chops.
Garlic
Don't skip it! Fresh minced garlic adds insane flavor to any dish, plus it's full of antioxidants to help protect your cells from environmental damage. Not only that, garlic consumption boosts the immune system – it has been used as a method to fight colds and flu for centuries! Just ask your grandmothers and they'll tell ya.
Plus, I can't think of bacon-wrapped pork chops without that garlic flavor. I wouldn't recommend swapping for garlic powder but if you must then it's better than not adding it at all.
Onion
I know onion has a bit more carbs than any other vegetable, but in this bacon-wrapped pork chops recipe, we're only using one onion per the entire dish. Just like garlic, onion contains powerful antioxidants to help you fight inflammation and balance blood sugar levels.
Apple cider vinegar
This kind of vinegar has tons of health benefits, such as killing harmful bacteria, lowering blood sugar levels, and promoting weight loss. In this recipe, we're using it to help tenderize the meat so you can end up with juicy pork chops.
Chicken stock or paste
When it comes to pork chops, I always like to have chicken stock or paste on hand. It adds a great depth of flavor to the dish and really brings out the porkiness of the meat. Plus, it helps to keep the pork chops moist and tender.
Thyme or parsley
If you're looking to add a little more flavor to your pork chops, try garnishing them with parsley or thyme. Both of these herbs have a distinct taste that can liven up a dish. And they're not just for pork chops – you can use them to garnish any kind of food.
Step-by-step guide
Prepare ingredients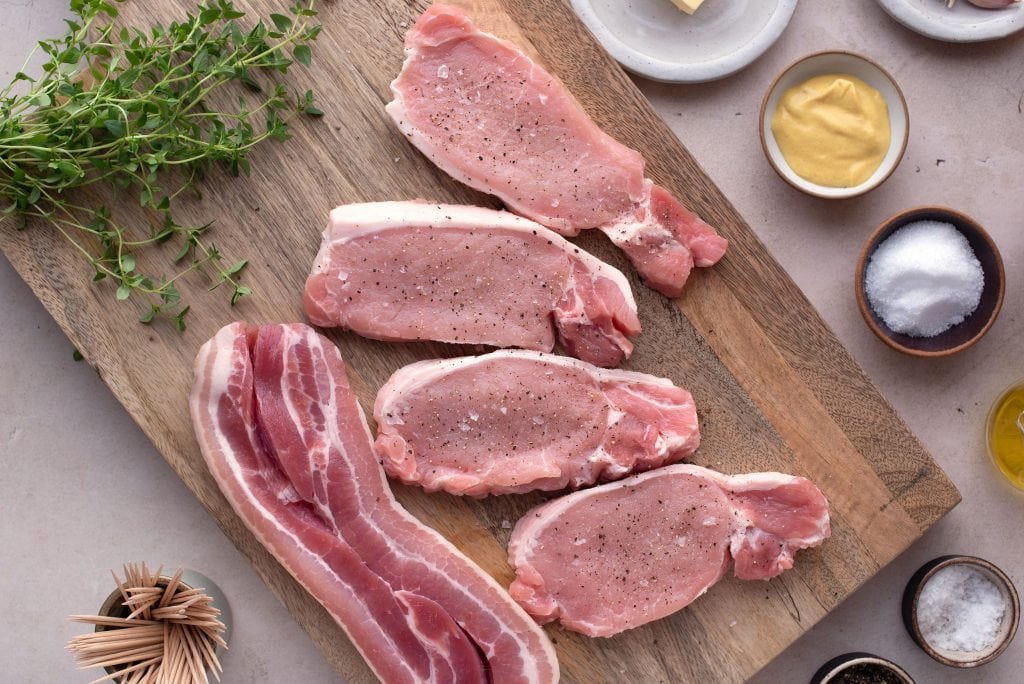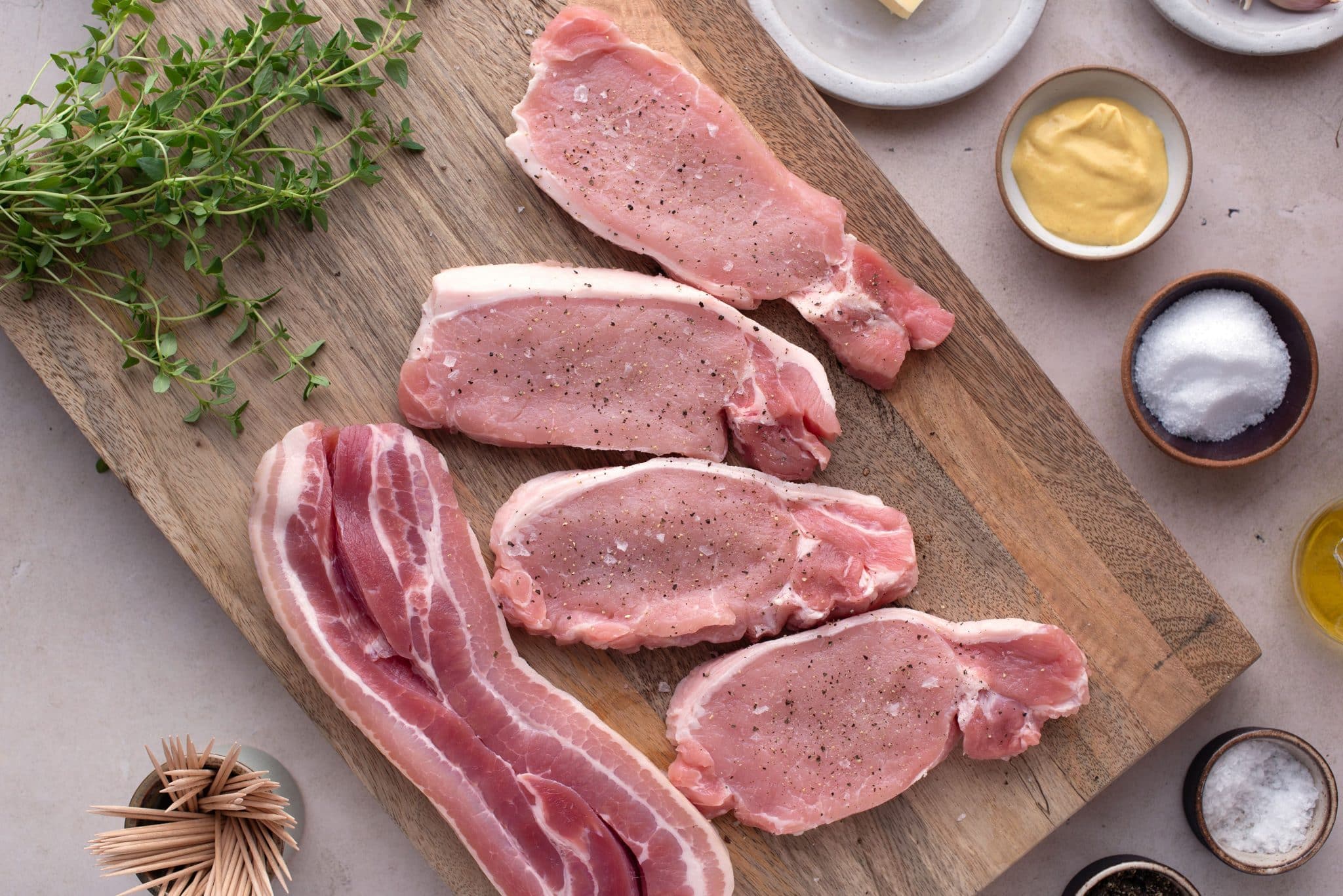 Grab your boneless pork chops and season on both sides with salt and pepper. You want to make sure those pork chops are room temperature – it's better to have them this way in order to prevent a chewy texture.
Wrap with bacon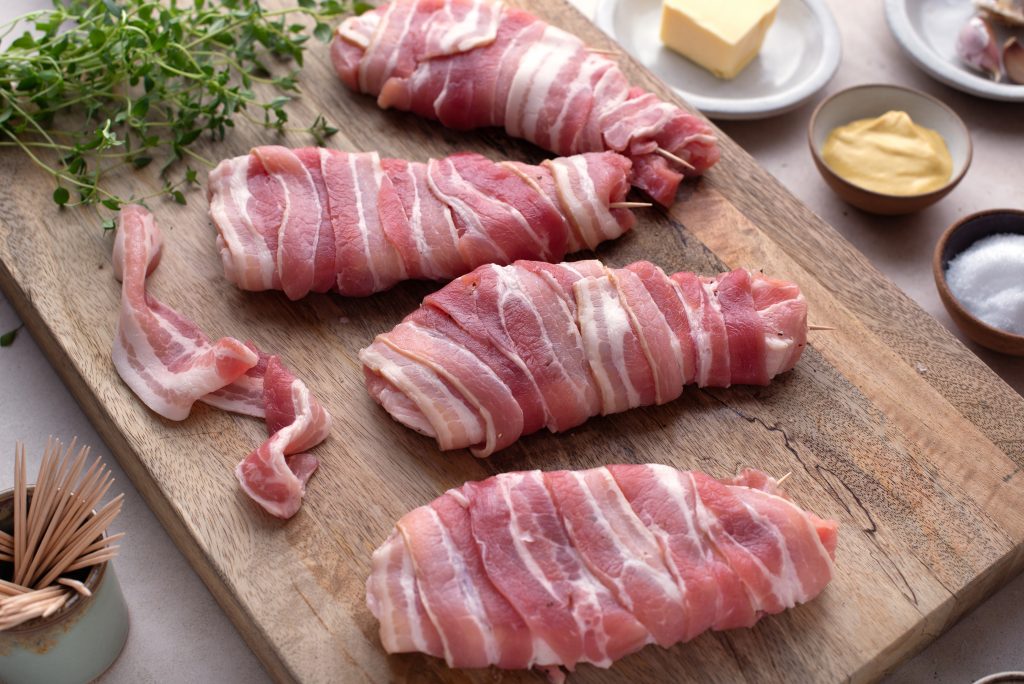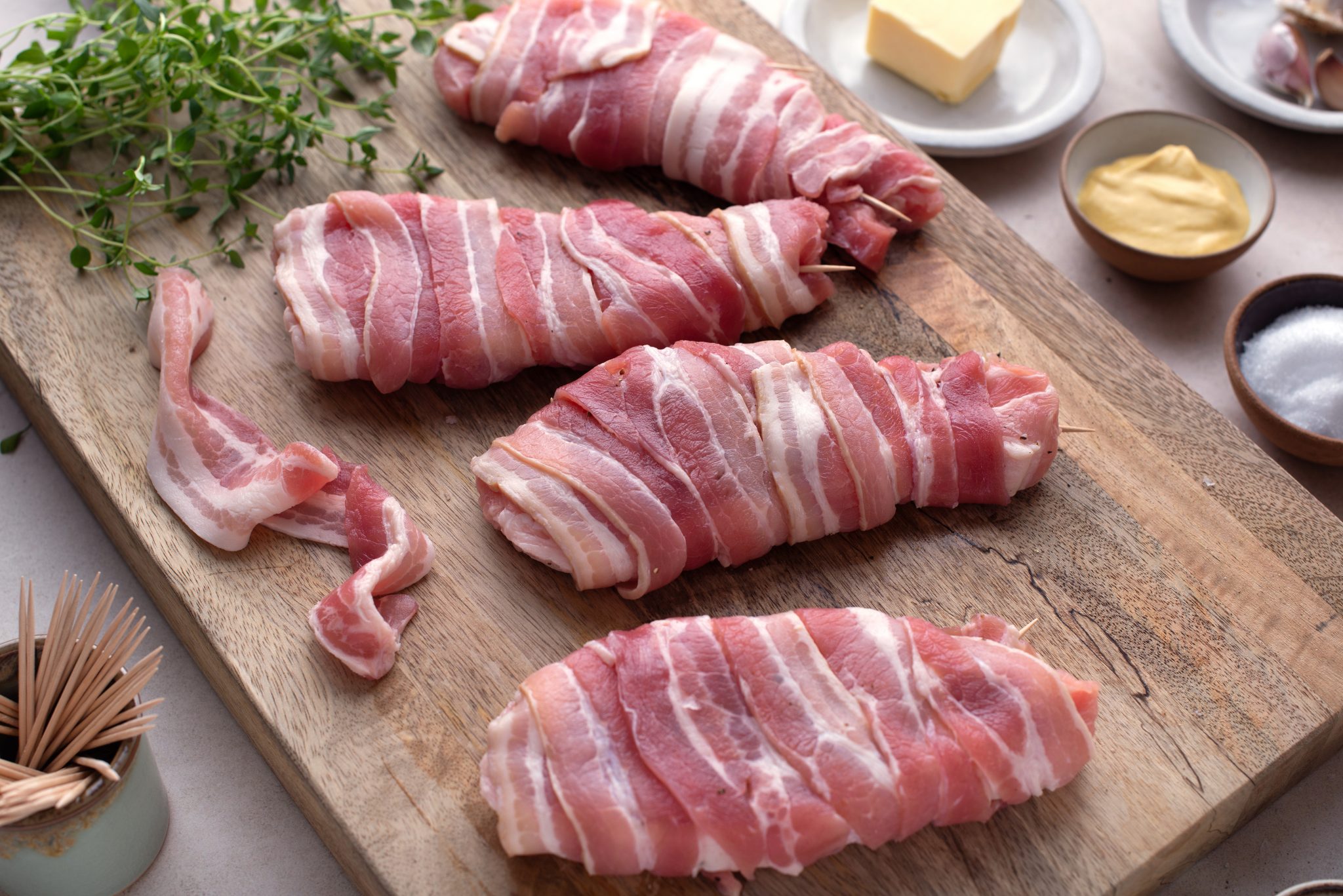 Take those well-seasoned pork chops and wrap them with bacon. This is much easier if you're using thin slices, however, if you're using thick-cut bacon then make sure your wrapped pork chops are secured with a toothpick or a food-grade string.
Cook on a pan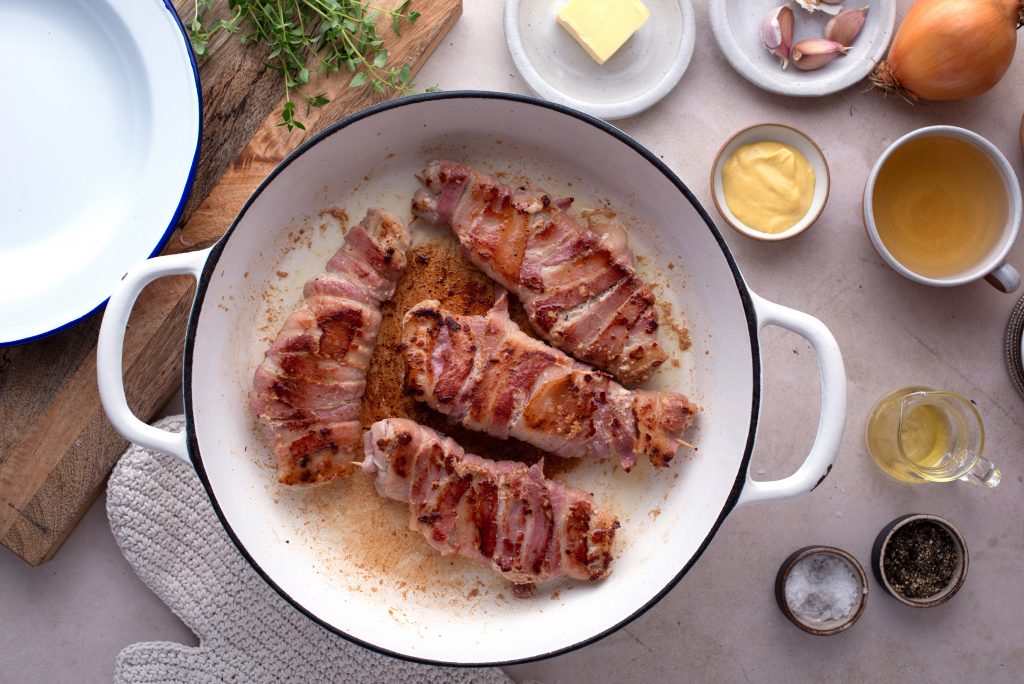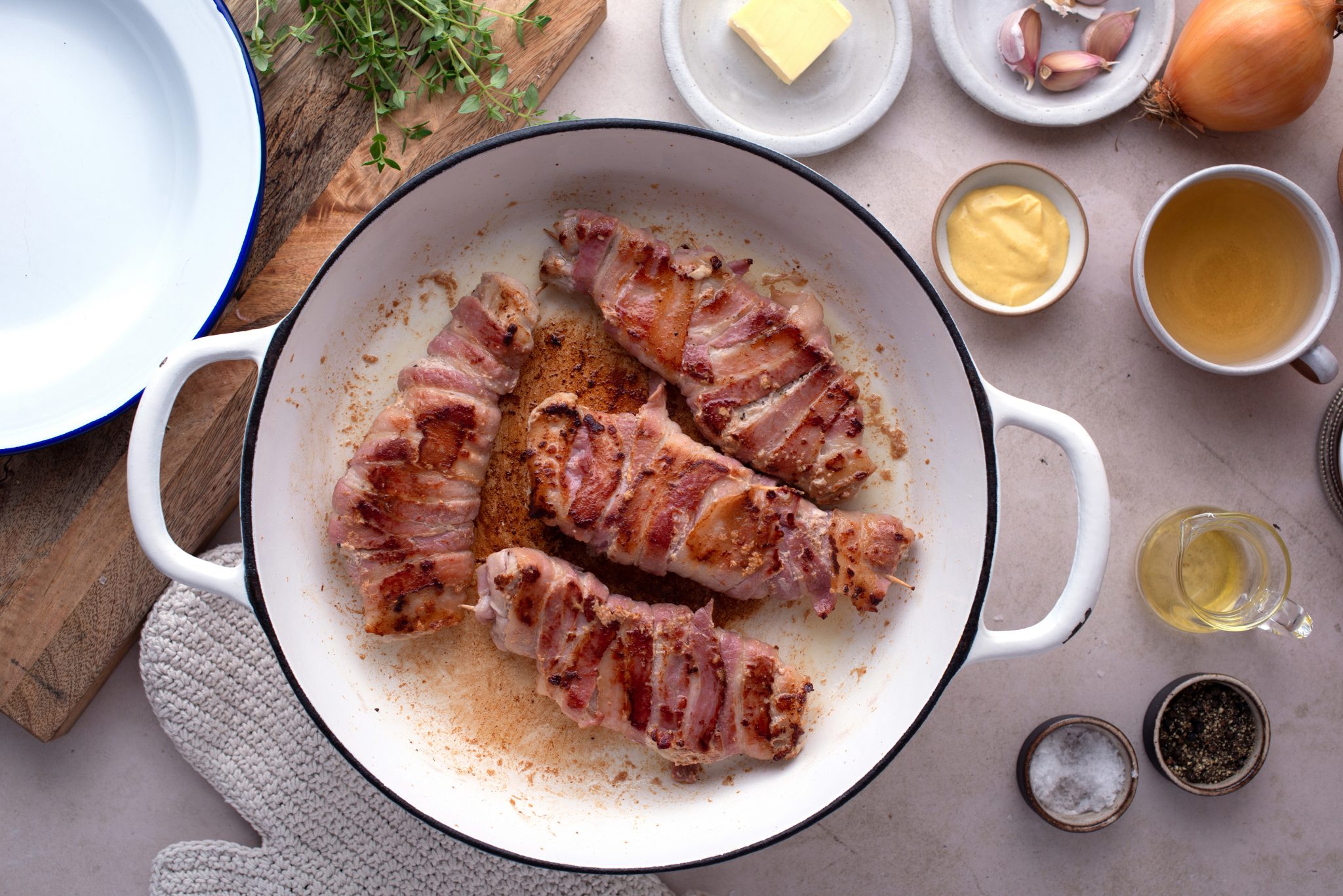 Take out a frying pan (I prefer the cast iron one, but anything goes here) and heat it over medium heat. Add oil and swirl to cover the entire surface. Grab your pork chops, and cook for 3 to 5 minutes per side, depending on the thickness of the pork chops.
Set ASIDE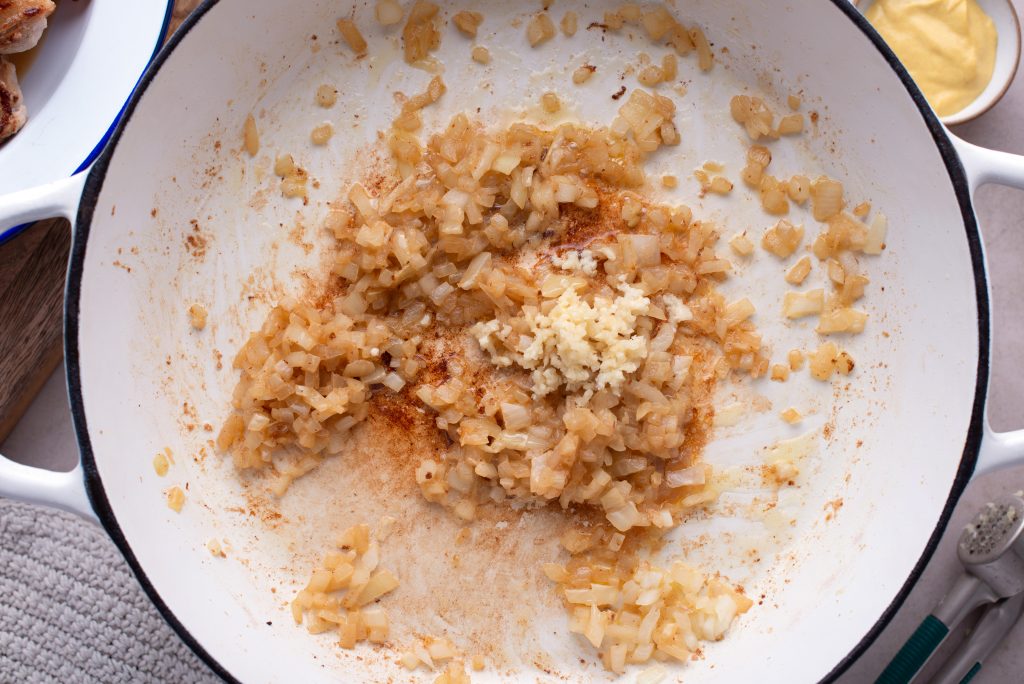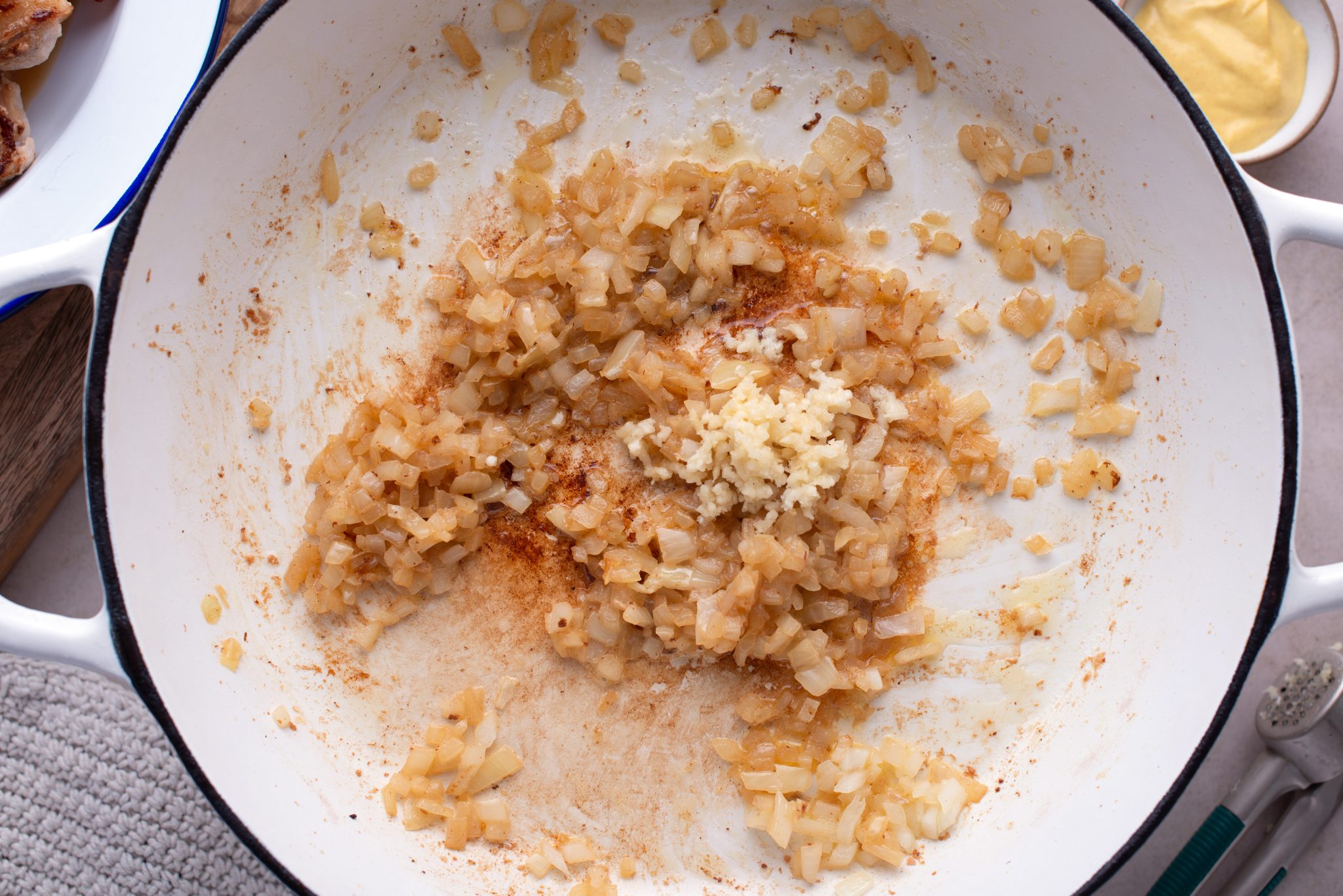 Remove your bacon pork chops and set aside on a plate. Add more oil and half of the butter and sautee finely chopped onions until translucent, then add minced garlic and saute for a few more minutes.
Time for the stock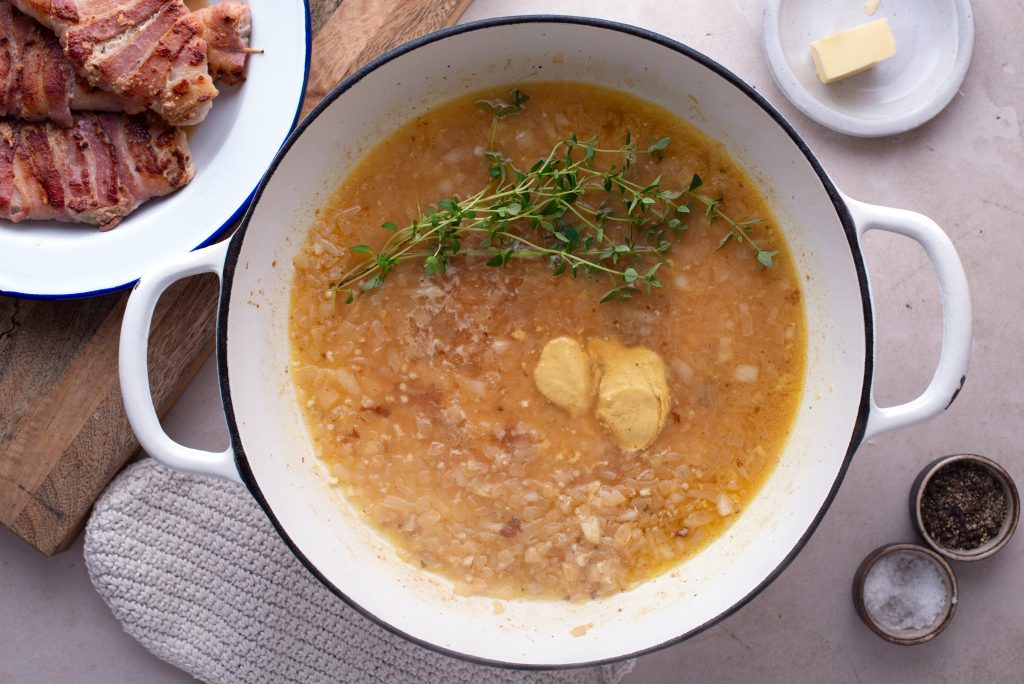 Pour apple cider vinegar into the pan to deglaze, along with the chicken stock. You want to simmer the liquid until it reduces by half.
Then, add the rest of the ingredients including dijon mustard, your favorite sugar alternative, thyme springs, and any juice from the pork chops. Simmer for just a few more minutes then remove thyme springs and add the rest of the butter.
It's oven time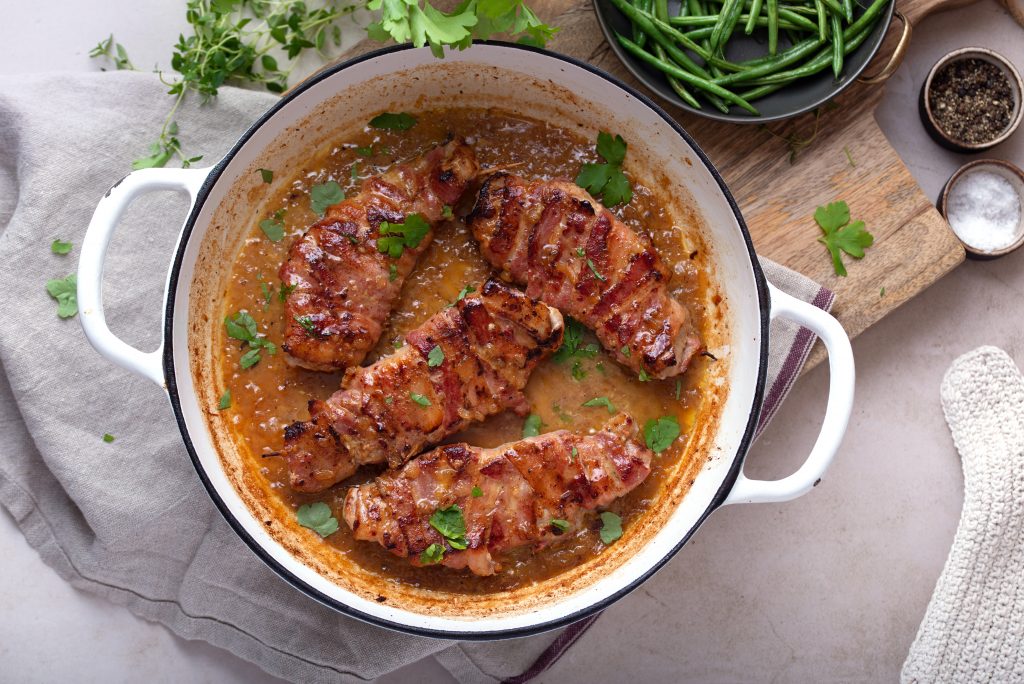 Move your bacon-wrapped pork chops back to the pan and place them under a broiler previously set to 410 Fahrenheit. Broil for 8 to 10 minutes until they're medium or well done (up to you!). Garnish with flat-leaf parsley and enjoy!
FAQs
How long should I cook pork chops?
The best way to not overcook or undercook bacon-wrapped pork chops is to have a meat thermometer on hand. You want to cook it until the internal temperature reaches 145° – 150° F for medium rare, 160° F for medium, and 170°F for well done.
In this recipe, we're cooking it for 3 to 5 minutes per side, then under the broiler for 8-10 minutes. This should be enough to have them cooked, but not overcooked so the meat isn't chewy.
You can also try this Air Fryer Pork Chops Recipe made with pork rinds and Parmesan cheese if you want to try a different cooking method next time!
Then, don't forget to let the pork chops rest. This will help the juices migrate from the middle of the meat to throughout the entire pieces so you'll end up with juicy pork chops.
Can I use regular vinegar?
In this bacon-wrapped pork chops recipe? I don't recommend doing so. In other recipes? It depends. Apple cider vinegar has a milder flavor than the regular kind, so adding it to this recipe will do the trick of giving bacon-wrapped pork chops that extra kick of flavor without being overwhelming.
Can I use bone-in pork chops?
You sure can. Obviously, you'll have less mess with boneless pork chops and they cook faster. However, you're free to use bone-in pork chops while keeping in mind you'll probably have to cook them for a tad bit longer.
Conclusion
So there you have it! A perfect bacon-wrapped pork chops recipe with only a few simple ingredients and a step-by-step guide on how to make them without a hassle.
Have you ever made this dish before? Let us know in the comments below.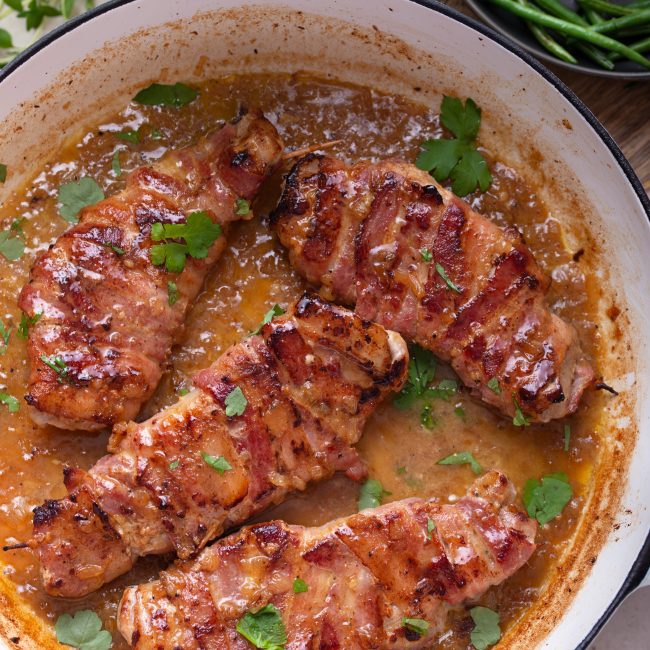 Bacon Wrapped Pork Chops
It's easy to make and so delicious. Plus, it's perfect if you're looking for a hearty low-carb meal for the entire family.
Total Time 35 minutes
Servings 2 servings
Calories per serving 653kcal
Prep Time: 5 minutes
Cook Time: 30 minutes
Ingredients:
4 boneless pork chops
8-12 slices of bacon
1-2 tbs Dijon
2-3 tbs Liquid stevia granular equivalent
2-3 tbs Butter
Cooking Olive oil
2 cloves garlic minced
1 onion diced
1 cup Apple cider vinegar 1/2 cup apple cider and rest water if the bite is too much for your taste
1 cup Chicken stock / stock paste
3 sprigs Thyme and flat leaf parsley for garnish
Instructions:
Gather the ingredients

Season both sides of your pork with salt and pepper.

Wrap each pork chop in bacon and secure with a toothpick.

Heat a pan over medium heat. Add the oil and swirl to coat the bottom of the pan.

Cook the top and bottom sides of the pork chops for 3-5 minutes, depending on thickness of chops.

Remove pork chops and set aside on a plate. Add more oil or half the butter if the pan is dry.

Finely chop the onions and sauté until translucent.

Mince the garlic and add to the pan and sauté for a few minutes more.

Deglaze the pan with the apple cider vinegar and chicken stock. Simmer to reduce by half.

Add the rest of the ingredients, Dijon 1 or two tablespoons to taste, sugar alternative, thyme springs and any juice from the resting pork chops.

Simmer for a few minutes more before removing the thyme, add the remaining butter.  Stir until glossy.

Place the pork chops back into the sauce. Spoon the sauce over the pork chops. Preheat the oven broiler element to 410 F (210°C)

Place pork chops in oven to broil for a couple 8-10 minutes until they are medium or well done to preference.

Garnish with flat leaf parsley
Notes
Note 1: The meat needs to be close to room temperature before frying. Cold meat will turn tough and dry if placed on a hot pan. Note 2: Remember to use an oven safe pan from the start to make it easy to transfer to the oven later. Note 3:  Adjust the sauce by adding in salt and pepper or more sweetener to taste. Note 4: A safe internal pork cooking temperature is: 145° – 150° F (65°C)
160° F (70°C) – medium
170°F (75°C) – well done
Nutrition Facts
Bacon Wrapped Pork Chops
Amount Per Serving
Calories 653 Calories from Fat 324
% Daily Value*
Fat 36g55%
Saturated Fat 16g80%
Trans Fat 1g
Polyunsaturated Fat 4g
Monounsaturated Fat 14g
Cholesterol 217mg72%
Sodium 488mg20%
Potassium 1329mg38%
Carbohydrates 12g4%
Fiber 2g8%
Sugar 5g6%
Protein 62g124%
Vitamin A 442IU9%
Vitamin C 8mg10%
Calcium 63mg6%
Iron 2mg11%
* Percent Daily Values are based on a 2000 calorie diet.
Written By