Behold! The most coveted of keto dinner items, and I've unlocked the secret to coming away with a crispy chicken thigh every time. There are a couple of key aspects to getting the perfect crispy chicken thigh, which I'll share with you in this post. Chicken thighs are a keto staple due to their relatively cheap price tag along with the high fat content provided by the skin, which we plan on crisping to perfection.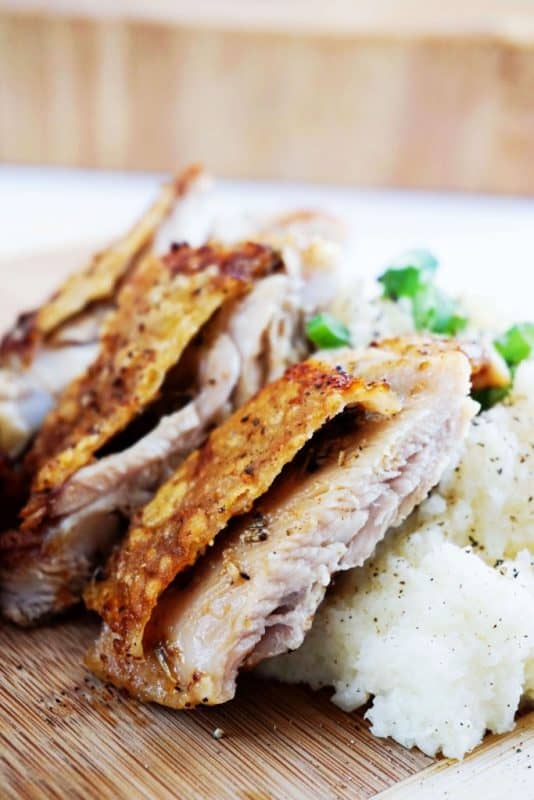 The Trick to Making a Crispy Chicken Thigh
Moisture is the enemy of crispiness. Everyone knows it. Now, how do we go about getting a super dry skin, perfect for crispifying without drying out the whole thigh? It's simple. You want to set the thighs out with a healthy sprinkling of salt for about one hour prior to cooking. Skin side up. This will draw all of the moisture out of the chicken skin. By the time you check back an hour later, you should notice water visible on top of the skin. Just prior to cooking, pat the skin dry with a paper towel. The drier the crispier!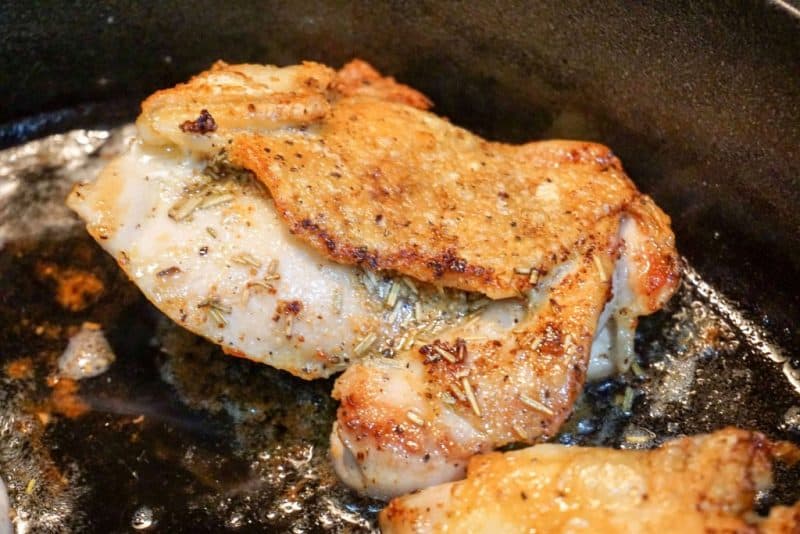 Crispy Skin
Aside from getting the skin as dry as possible, there is another step to achieving crispiness and flavor. Tuck a generous handful of seasonings under the skin. This will not only provide flavor, but will also ensure separation between meat and skin. This will allow for the skin to get extra crispy and the meat to be nice and tender.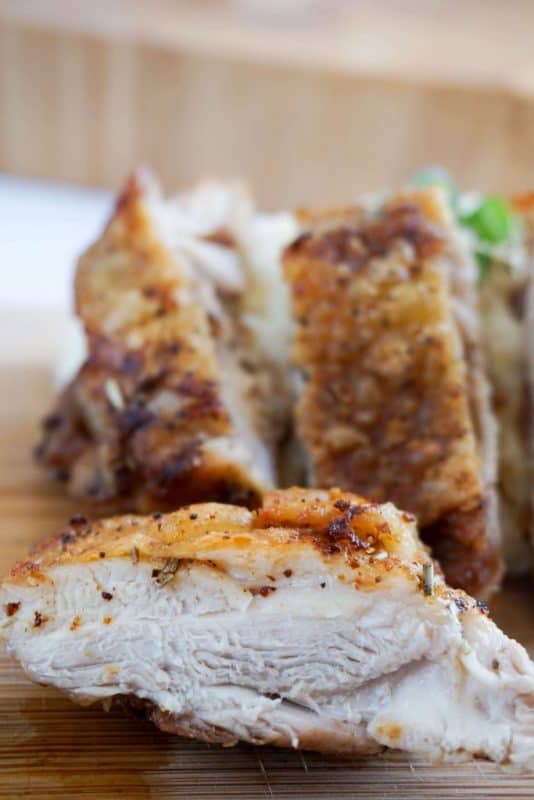 Cast Iron Skillet
We're using a cast iron skillet, as we do for most of our stovetop cooking. Cast iron is able to hold a steady heat even when the chicken thighs are added which is the main benefit to using it. We've had ours for a few years now and it has a lovely base of seasoning on it. If you don't have a cast iron skillet, you can use any type of skillet or nonstick pan!
Make sure to check out our handy guide on the best cast iron griddles!
Keto Dinner Time!
You can serve the thighs in their whole form, but I love cutting these into big chunks and serving them over some buttery cauliflower rice. This provides a great cross section in which you can see all the delicious seasonings underneath the skin, the crispy chicken thigh skin itself, and the moist meat below. The perfect keto meal is served. We've got a bunch of other tasty keto chicken recipes you should check out if you like this one. Our Cashew Chicken and Chicken Saltimbocca are two of our most popular!

Search "Ketoconnect – Crispy Chicken Thigh" On MyFitnessPal.com
Crispy Chicken Thigh with Rosemary Butter
Total Time 35 minutes
Servings 4 thighs
Calories per serving 356.5kcal
Prep Time: 10 minutes
Cook Time: 25 minutes
Instructions:
Mix all the dry ingredients in a bowl and set aside.

Remove the bone from the chicken thighs.

Place chicken things on a cutting board and pat dry.

Throughly coat the top of the skin and under the skin with the seasoning mix. Also put 1/2 tablespoon of butter under the skin of each thigh.

Use remaining seasoning mix to rub on the back of the thighs.

Add coconut oil/ ghee to a pan on medium-high heat and place thighs on skillet with the skin facing down.

Cook for about 10 minutes or until skin is crispy and flip over and cook for another 10-15 minutes or until chicken is fully cooked through.

Serve warm and enjoy!
Nutrition Facts
Crispy Chicken Thigh with Rosemary Butter
Amount Per Serving
Calories 356.5 Calories from Fat 279
% Daily Value*
Fat 31g48%
Protein 20g40%
* Percent Daily Values are based on a 2000 calorie diet.
Written By