The Original Zero Carb Pizza Crust
We've turned dreams into reality with this amazing No Carb Pizza Crust recipe! It's truly exceptional in every way. All you need is three ingredients, about 15 minutes, and a bunch of delicious toppings of your choice. We know you hate reading, so we put together a quick keto pizza crust recipe video here to show you exactly how to make this.
Not Your Typical Keto Fathead Pizza
You're probably thinking this is just a normal, flimsy cheese crust pizza right? I mean, how else would you make a no-carb pizza crust? The answer: CHICKEN. That's right, this is a chicken crust pizza, and if that sounds a little weird to you you're just going to have to trust us on this one.
The reason this chicken crust pizza recipe is so much better than a fathead pizza (usually made with almond flour and cheese) is two-fold.
This chicken crust pizza is lower carb – in fact it is nearly zero carbs!
Toppings! What do you usually top your fathead pizza with? Everyone loves cheese atop their pizza but then you're essentially eating a cheese crust topped with more cheese. It ends up being a lot of cheese. Dare I say… too much cheese.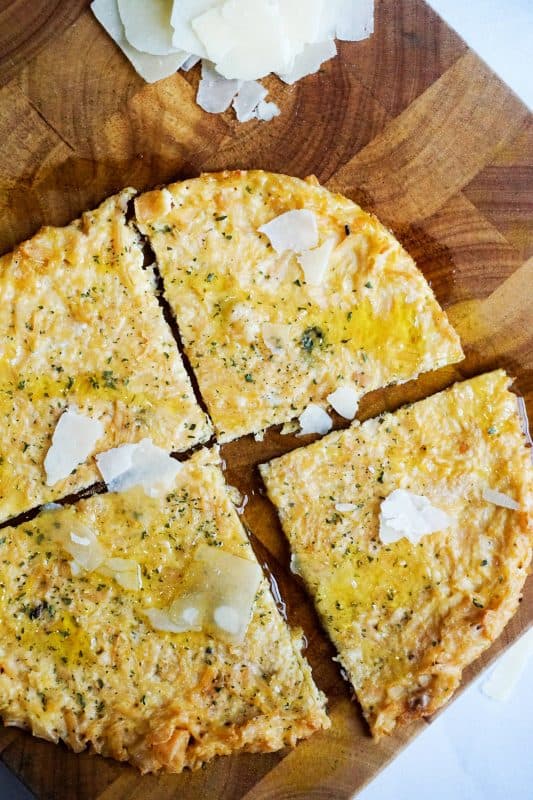 We contacted Real Good Pizza to do a review of their low-carb pizzas. We did the review which can be found here(YouTube Review, Blog Post Review), and we loved them. They are unique in the fact that the crust is made out of chicken! This blew our minds and got us in the mood to experiment with our own chicken pizza crust recipe. Real Good Pizza is awesome if you're in a time crunch, but the downside is that they are quite costly. We decided we owed it to our viewers and reader to make our own version! And that's exactly where this No-Carb Pizza Crust recipe came from!
Chicken Crust Pizza Ingredients
Check it out! This crust only requires three ingredients. You need a can of chicken (I know…), parmesan cheese, and an egg. When you're looking for canned chicken it's important to read the label. A lot of them will be full of starches, maltodextrin and other preservatives. It is possible to find some that are only chicken, water and salt though! If you can score one of those, definitely pick it up!
We've found freshly grated parmesan cheese adds to the overall flavor and texture of this crust, but it's not required. If all you can get is the can of grated parmesan, that's fine. This can even work with shredded or shaved parmesan, but grated is preferred.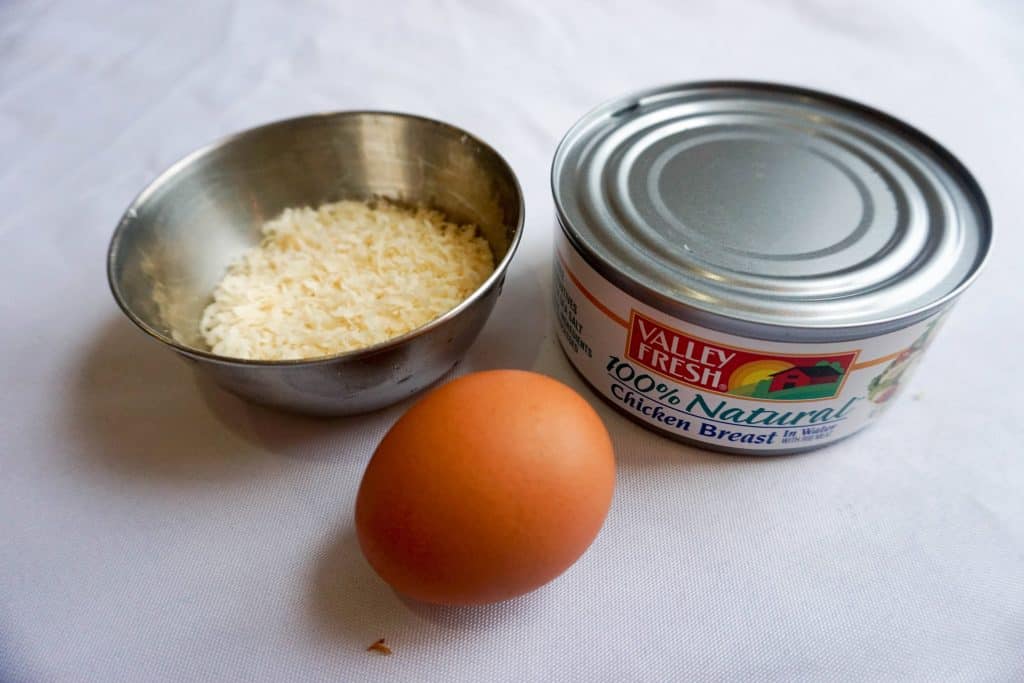 It's a Chicken Pizza Crust
This is a Pizza crust! It's not one of those "meatza" behemoths that you've seen on the internet, although those are cool too. This is an actual pizza crust that you can put toppings on and enjoy like you would a normal pizza. There is a clear distinction between the toppings and the crust in the final product. What more is there to say? Go make this crust. You'll thank us later!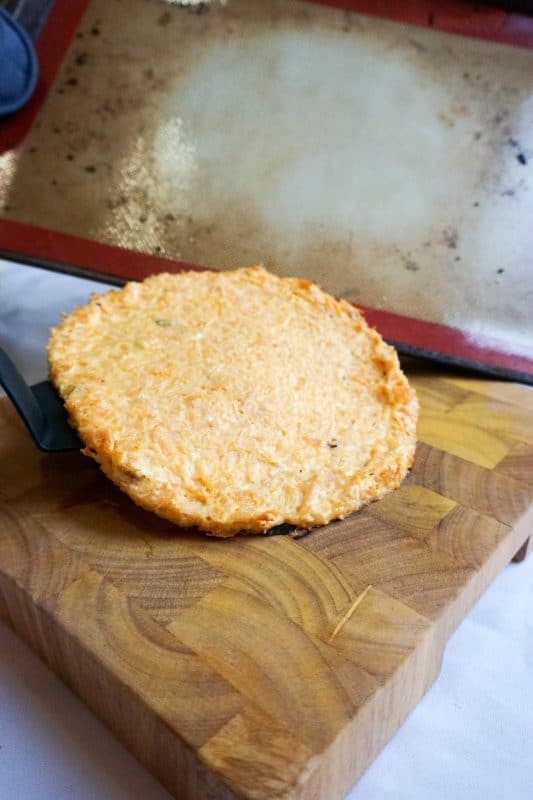 The Best Keto Pizza Recipe on the Internet
At KetoConnect we pride ourselves on making the most delicious keto recipes we possibly can. We are strong believers that by creating tasty recipes, such as this No-Carb Pizza Crust, and making them simple and straightforward, we make a ketogenic diet easier to follow. That is our mission! This No-Carb Pizza crust is one of our strongest contributions toward that mission so far.
The ingredients are as simple as can be, the steps are easy to follow, and the end product is truly sensational.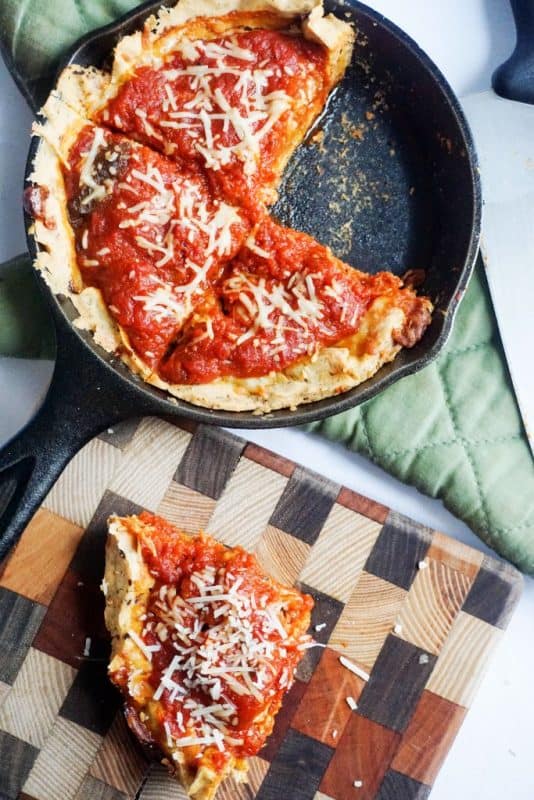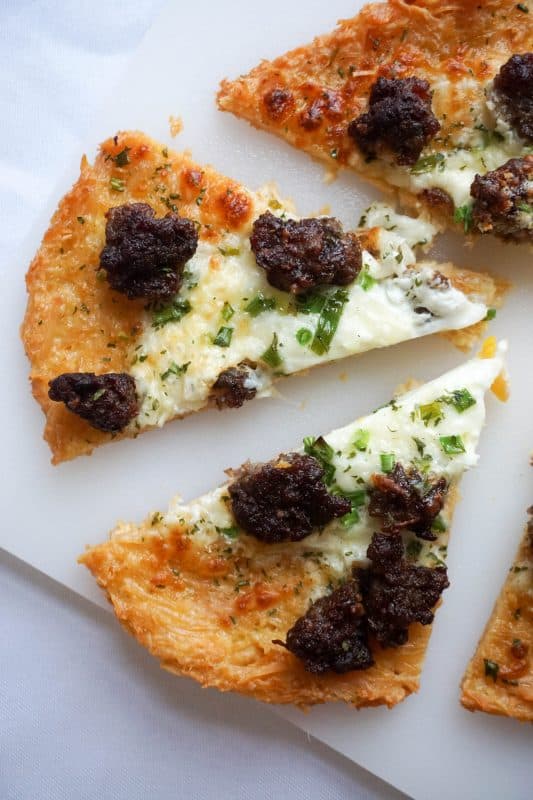 How to Make Keto Pizza Crust?
That all depends on which type of crust you want to make. After a few years of running this food blog we have a handful of pizza crust recipes that you may want to try, but this one is still our favorite.
What to use for Keto Pizza Sauce?
When it comes to keto friendly pizza sauce there are a few options to choose from.
1. No sugar added pizza sauce
All pizza sauce is going to have some amount of sugar just because tomatoes have naturally occuring sugars in them. The best you can do is find an option with no added sugar. The brands that are widely available, and that we usually opt for are as follows:
You're usually looking at 3-4 grams of carbs per 1/4 cup of pizza sauce, which isn't too bad if you use less than 1 cup per pizza.
2. Pesto sauce
Pesto sauce is actually going to be your best option when it comes to keto pizza sauce. It's typically made with a combination of oil, nuts, cheese, herbs and spices. Pesto sauce packs more flavor than traditional pizza sauce – so a little will go a long way. The carb count on pesto will always be lower than normal pizza sauce. You just want to check and make sure the pesto is made with good fats (typically olive oil) and not with harmful vegetable oils (like canola or soybean oil). Here is some of our favorites:
3. No Sauce
You can always opt to skip the sauce. When we don't have sauce at home and don't feel like taking the time to make some from scratch, we will often just drizzle some olive oil on the crust and fill it up with toppings.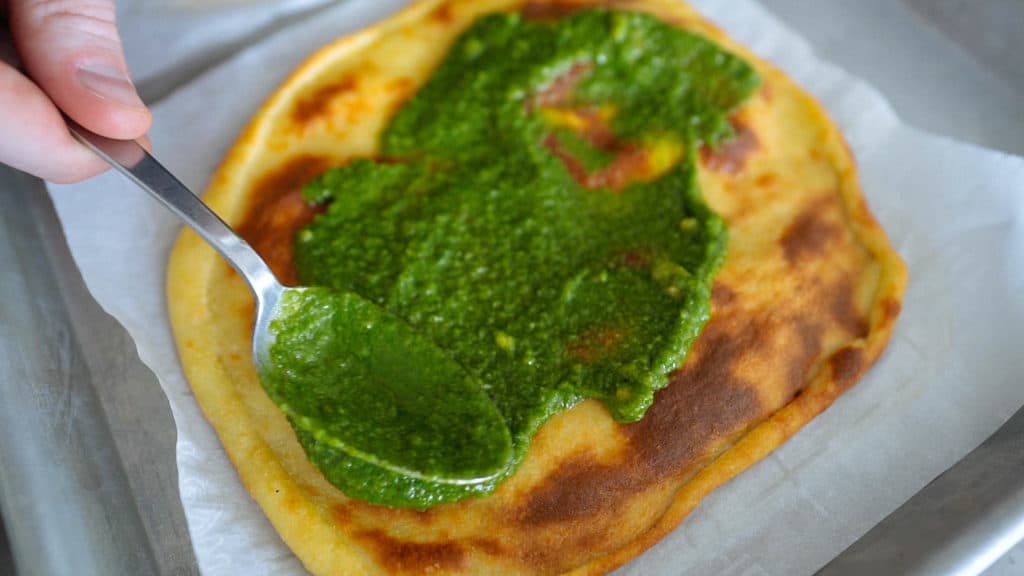 Keto Pizza Toppings
Toppings mostly come down to personal preference, but you'll be happy to know that just about every traditional pizza topping is keto friendly. The only exceptions to this rule is Pineapple, which is full of sugar and should be avoided. Some of our favorite keto pizza toppings are:
Pesto sauce with fresh mozzarella cheese.
Classic cheese and pepperoni.
Prosciutto, olive oil and walnuts (when we're feeling fancy).
The topping combinations are truly endless! We hope you take this chicken crust pizza recipe and make it your own. Experiment with different flavors and toppings. Make mini crusts and let the whole family choose their own toppings. Most of all we hope that this recipe adds some variety to your diet and helps you stick to a low carb lifestyle!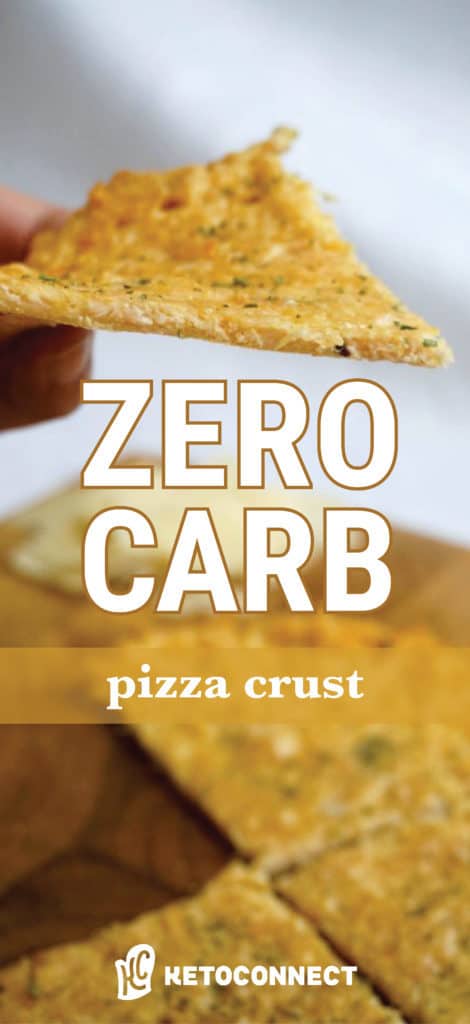 For easy adding to MyFitnessPal search – "KetoConnect No Carb Pizza Crust"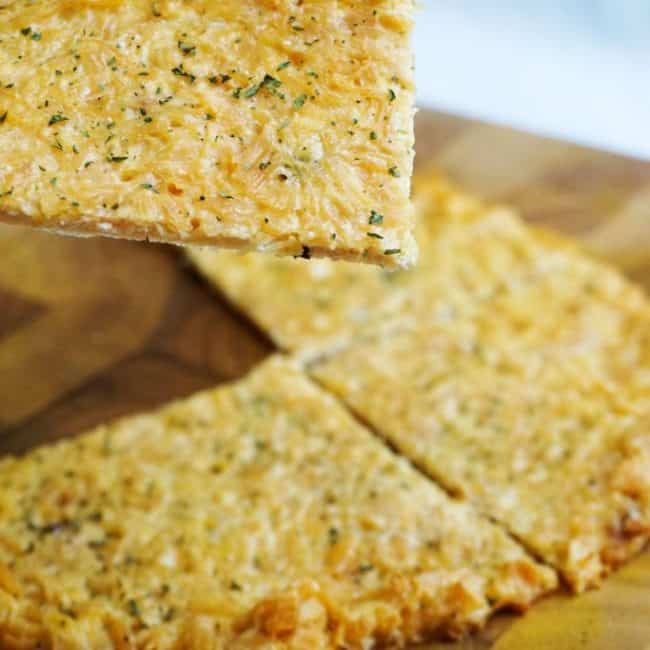 No Carb Pizza Crust
Total Time 30 minutes
Servings 1 8-10 Inch Crust
Calories per serving 408kcal
Prep: 5 minutes
Cook: 25 minutes
Instructions:
Thoroughly drain the canned chicken, getting as much moisture out as possible.

Spread chicken on a baking sheet lined with a

silicon mat

. Bake at 350 for 10 minutes to dry out the chicken.

Once chicken is done baking for 10 minutes remove and place in a mixing bowl. Increase heat of oven to 500 degrees.

Add cheese and egg to the bowl with chicken and mix.

Pour mixture onto baking sheet lined with a silicon mat and spread thin. Placing parchment paper on top and using a rolling pin makes this easier.

Optional: With a spatula press the edges of the crust in to for a ridge for the crust. This is beneficial is you're using topping that may slide off(i.e. eggs).

Bake the crust for 8-10 minutes at 500 degrees.

Remove crust from oven. Add desired toppings and bake for another 6-10 minutes at 500 degrees. Toppings will dictate final cook time.

Remove from oven and allow to cool for a few minutes. Your life is now changed. Enjoy!
Nutrition Facts
No Carb Pizza Crust
Amount Per Serving
Calories 408 Calories from Fat 153
% Daily Value*
Fat 17g26%
Carbohydrates 1g0%
Protein 61g122%
* Percent Daily Values are based on a 2000 calorie diet.