Sushi has to be in the top five foods I have missed the most since starting a keto diet. I've always wanted to do some experimentation with making keto sushi, but I was under the impression it would be very hard to come up with that classic sushi flavor without using rice. Boy, was I wrong about that! My only regret is not making Keto Sushi my first week of keto…and every week since! This recipe is super easy, and does a good job of standing in for traditional sushi if you're a sushi lover. Give it a try!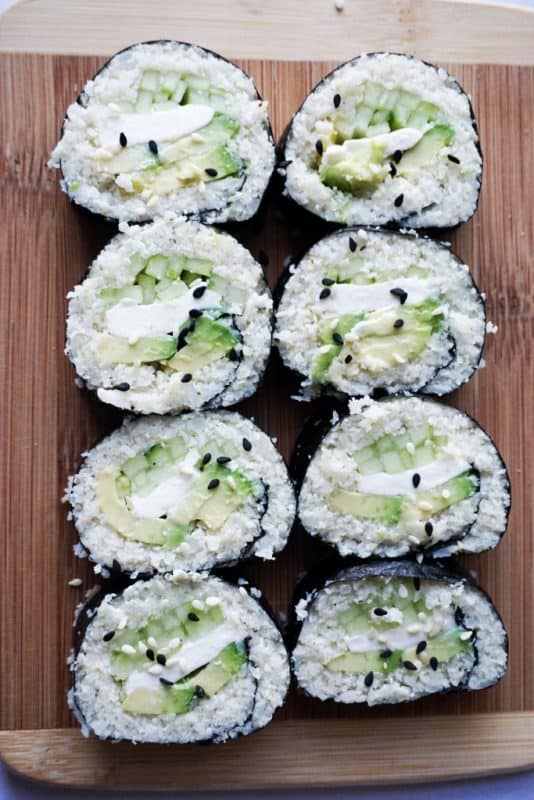 Ketogenic Sushi Rolls!
If you love Asian cuisine as much as me, check out the first recipe from my weekend of Asian recipes. I made this delicious Cashew Chicken by recreating Matt and my favorite dish from San Francisco. I love exploring a cuisine. I've found that if I dedicate a few weeks or months to one type of cuisine, I can gain a much better understanding of how all the flavors work and come out with a handful of really sensational dishes. This keto sushi was created out of necessity though. When you have that craving for sushi there is nothing that can fill the void.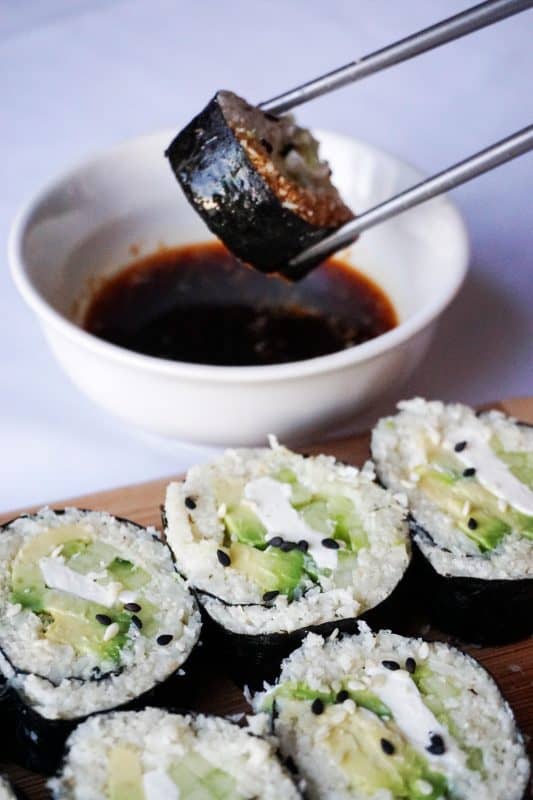 For this sushi roll, we're doing a spin on a California Roll. Imitation crab is surprisingly high in carbs, so we're going to leave that out and stray from the traditional California Roll a bit. Instead we'll be using cream cheese, avocado and cucumber. This creates an awesome, creamy, high fat roll. Feel free to stick anything you want in this keto sushi roll though.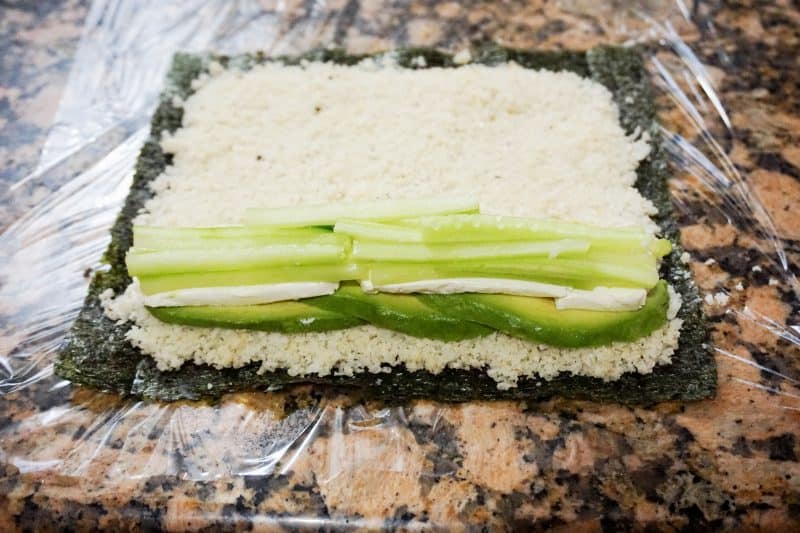 Becoming a Keto Sushi Chef
The beauty of this recipe is you don't need any! Of course, if you have a sushi mat definitely use that. We don't have one, so I simply used plastic wrap to form the roll. It works great! Try our other awesome asian inspired keto recipes! One of our most popular is this easy cashew chicken recipe. We also have keto pad thai and for the vegetarians a spicy almond tofu!

Search "Ketoconnect – Keto Sushi" On MyFitnessPal.com
Keto Sushi
If you love asian cuisine, you'll love our keto sushi recipe!
Total Time 20 minutes
Servings 2 servings
Calories per serving 230.75kcal
Prep Time: 10 minutes
Cook Time: 10 minutes
Ingredients:
1 cups chopped cauliflower
1/2 medium avocado
1.5 oz Cream Cheese
1/4 cup cucumber
1 tbsp coconut oil
Instructions:
Cut up about 1/5 head of cauliflower into florets and pulse in processor until consistency of rice.

Heat coconut oil over medium-high skillet and add cauliflower rice.

Cook for 5-7 minutes until rice is slightly browned and fully cooked through. Place in bowl and set aside.

Slice avocado, cream cheese and cucumber into thin slices and set aside with cauliflower rice.

Laye down a long layer of plastic wrap on a clean, flat surface and lay the nori wrapper on top of plastic wrap.

Spread cauliflower rice out over the nori wrapper as thin or as thick as you like in an even layer. Leave room around the edges.

First layer the avocado on the rice on the edge closest to you. Next, add layer the cream cheese directly onto the avocado and then same with the cucumber.

Lift the plastic wrap edge closet to you while using your hands to cover the ingredients (so they don't move/fall).

Slowly roll the plastic wrap and nori wrapper around the avocado, cream cheese and cucumber until you've rolled the entire thing.

**Make sure you don't roll the plastic wrap into the sushi. As you're rolling you want to slowly edge the wrap off the nori**

Using a very sharp knife slice the sushi into 8 pieces. TIP: Start in the middle so the rice doesn't get pushed out by the pressure of the knife.
Nutrition Facts
Keto Sushi
Amount Per Serving
Calories 230.75 Calories from Fat 199
% Daily Value*
Fat 22.15g34%
Carbohydrates 8.65g3%
Fiber 4.425g18%
Protein 4.45g9%
* Percent Daily Values are based on a 2000 calorie diet.
Written By