Keto Chicken Marinade is the perfect easy dinner idea because it takes just a few minutes to prep and can be left overnight to allow for all the flavors to soak in.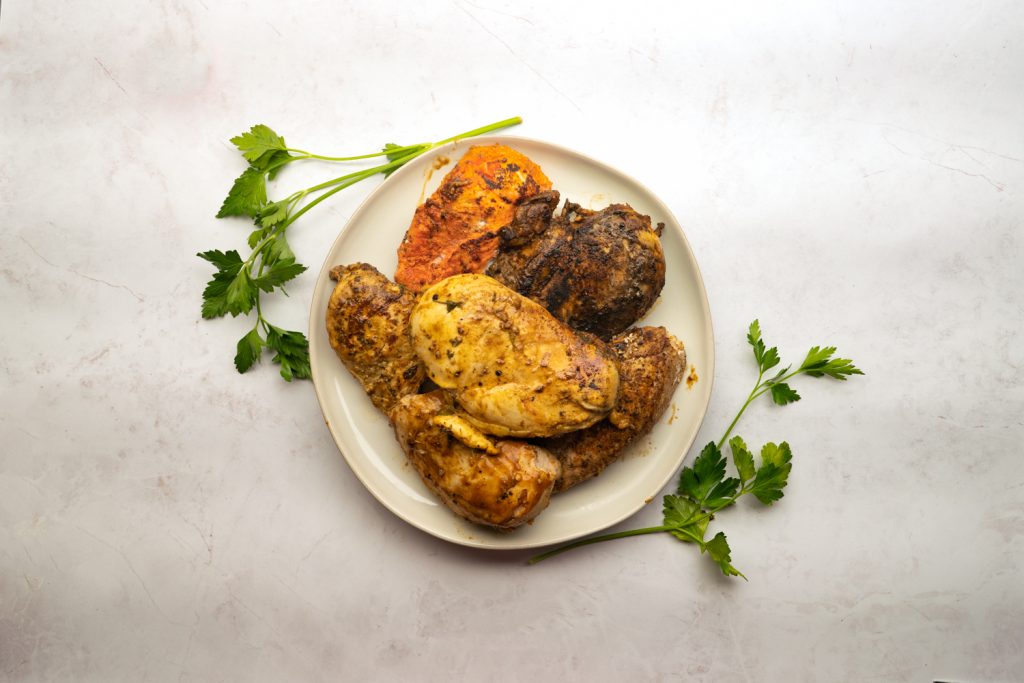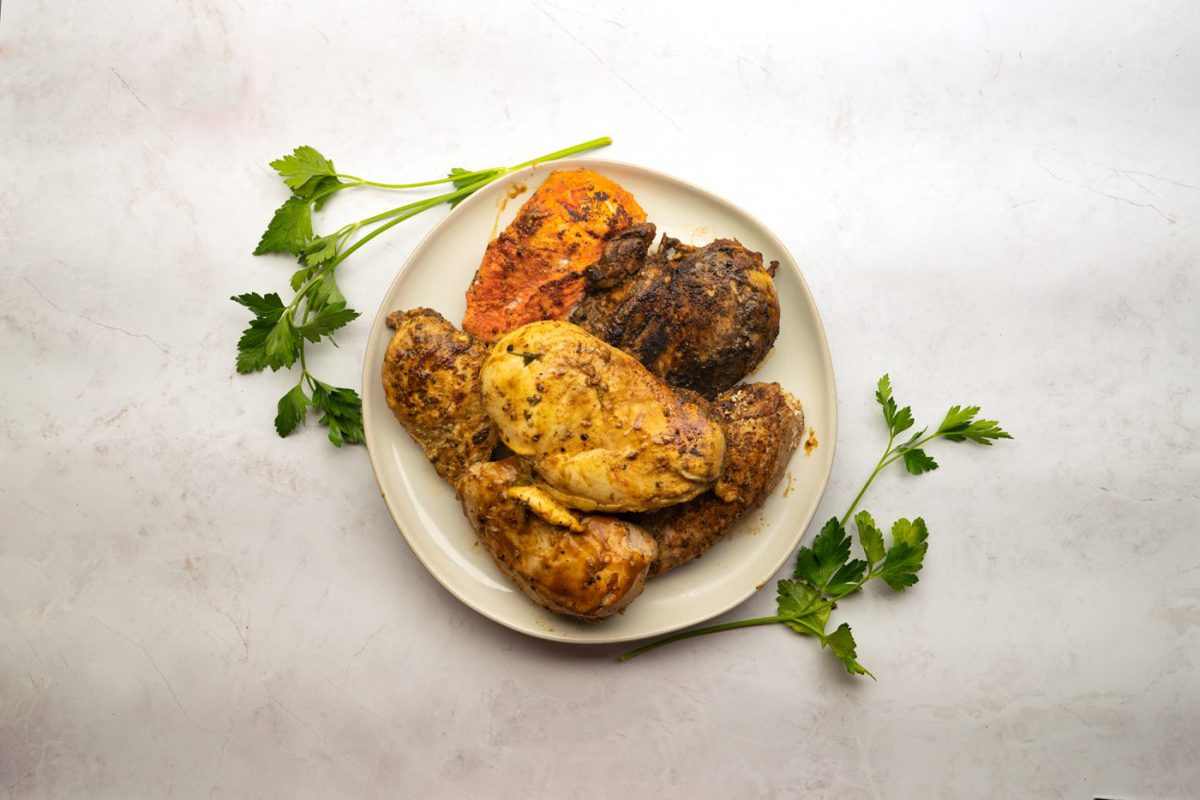 How to Make Low Carb Marinated Chicken
Most of these keto chicken marinade recipes follow the same simple steps. Mix together all ingredients needed for the recipe and then add it to a large zip top bag with a pound of either chicken thighs or breasts.
Leave the chicken breasts to marinate for at least 3 hours. The longer the better because the acid will have time to penetrate the meat and drive in more flavor.
Can I put Salt in my Marinated Chicken?
Contrary to the old myth, salt can be put in your marinade without drawing out too much moisture. We never recommend over salting because you can always add more later, however a little salt in the marinade can actually help the flavors seep in.
How to Marinate Chicken Breast
Chicken marinade is always going to have a bit of liquid and a bit of spice so we recommend storing the chicken in something that won't cause leakage.
Some of our favorite containers to leave chicken marinade in are:
Zip top Bags– Gallon sized zip top bags work great for this and even better if you are hoping to freeze the marinated chicken for later.
Casserole Dish– A casserole dish is deep enough that it will hold a lot of liquid and chicken without spilling. Just make sure to cover it with aluminum or plastic wrap. You can even remove the plastic wrap and bake the chicken in the casserole dish with your extra marinade.
Mixing Bowls and Glass Bowls– Glass bowls are a great option to marinate chicken because they are easy to clean, won't take on a smell, and hold a lot so you can marinate the chicken for a while.
No matter how you choose to marinate your chicken dinner, we promise these keto marinades are going to be showstoppers.
Shawarma Keto Marinade
This is my favorite keto chicken marinade because it has warming spices with hints of paprika and garlic. It is delicious with Keto friendly breads and pita, or a fresh Greek salad.
To make this chicken you will need:
Chicken– Chicken thighs and breasts work well in this recipe.
Olive Oil– Avocado oil can be used in place of the olive oil, but we find olive oil gives this recipe the most authentic Greek flavor.
Lemon juice– We used lemon juice instead of vinegar for acid.
Minced Garlic– Use pre minced, or freshly minced if you're feeling bold.
Spices– Cumin, paprika, allspice, cloves, pepper, and sea salt.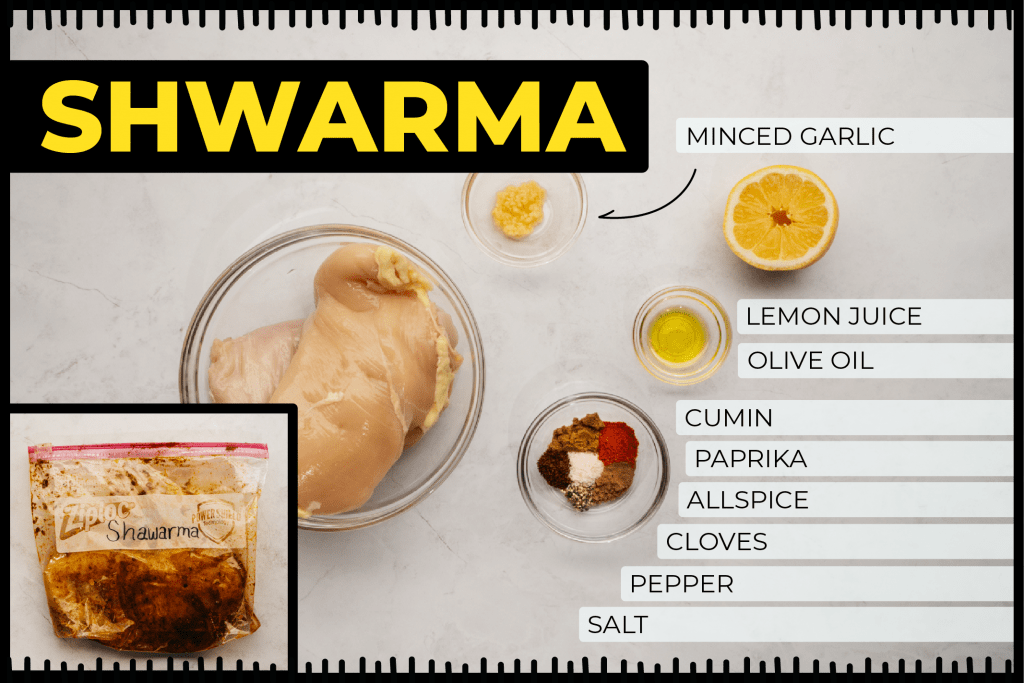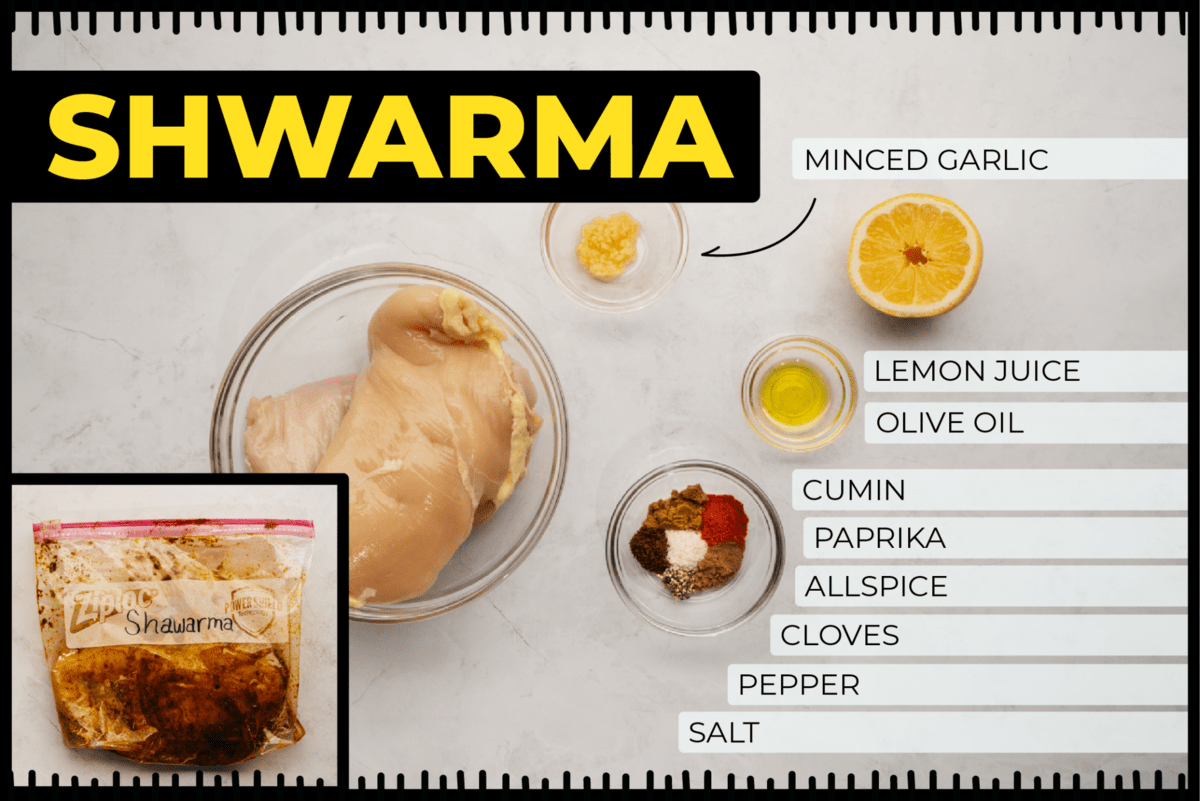 Tandoori Chicken Marinade
This is a traditional Indian spiced dish that is made with yoghurt and Indian spices. When you cook this marinade, the flavors will fill up your house and make the best meat you'd ever tried.
To make tandoori chicken you will need:
Chicken– This recipe works well with chicken breast and chicken legs.
Plain Greek Yoghurt– We searched for the lowest carb yoghurt possible to ensure we were still getting our desired flavor without breaking our diet bank.
Lemon Juice– This is going to be the acid in our recipe. Lemon juice is fresh and poppy which is great for setting off the yoghurt sauce.
Spices– Garam Masala, cayenne, paprika, sea salt, turmeric, and cumin.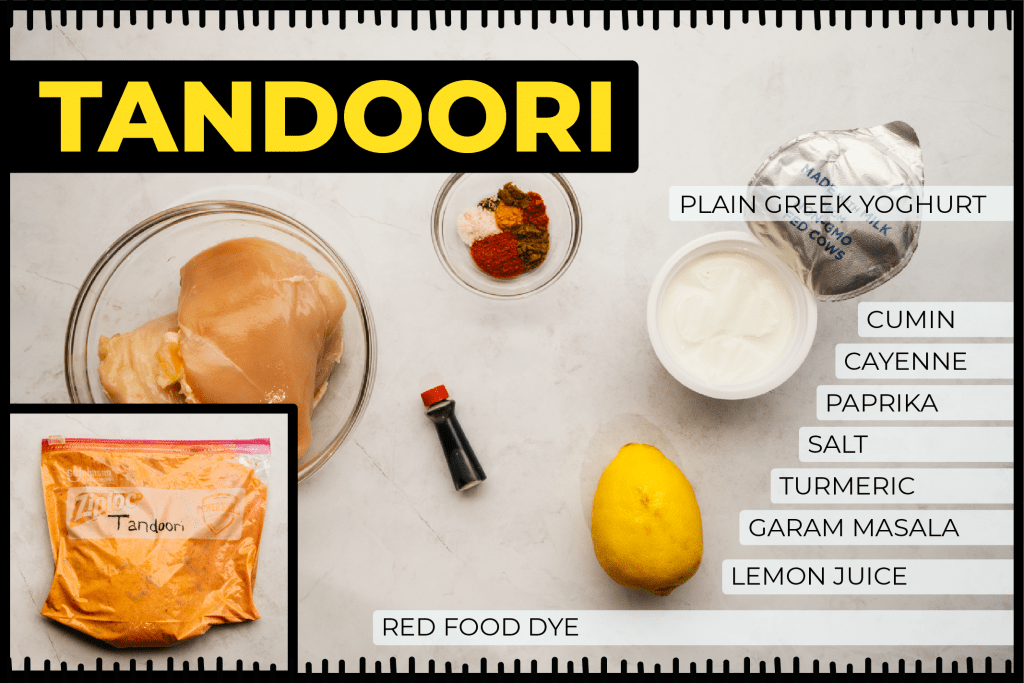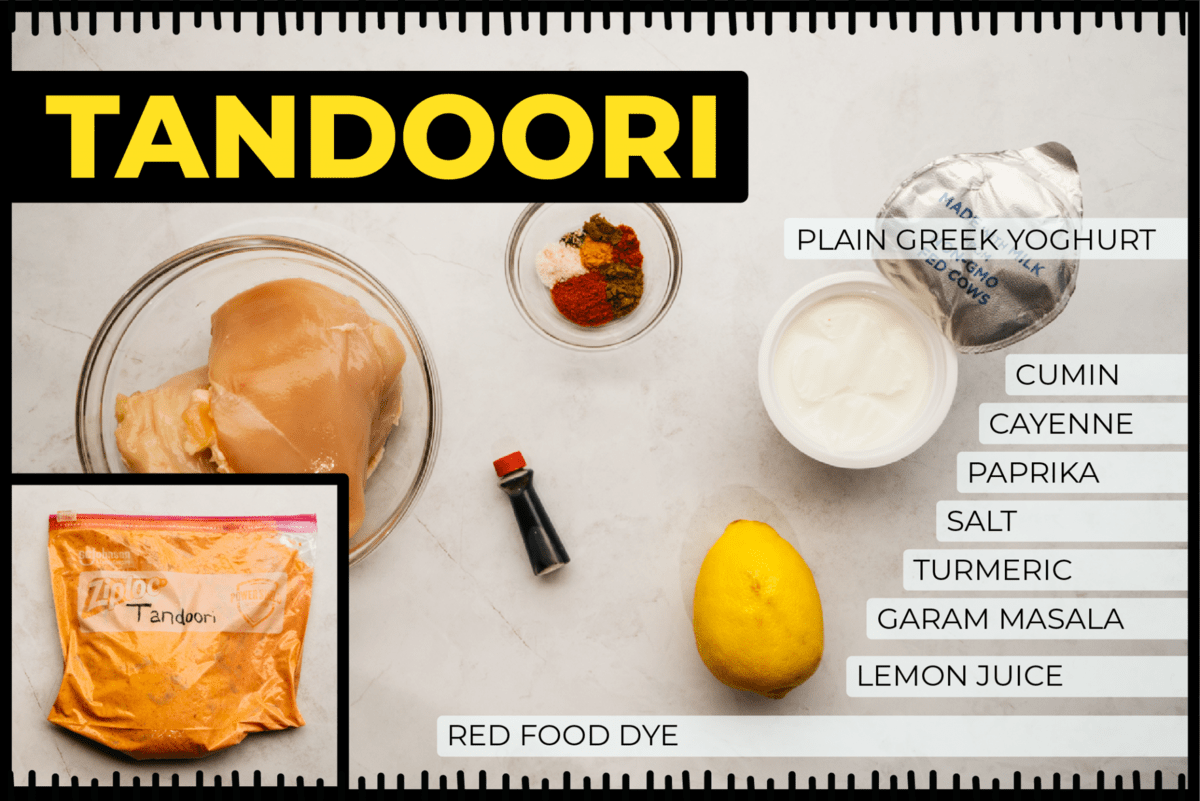 5 Spice Chinese Marinade
Our easy keto five spice chicken recipe is perfect for people that want to have a lot of flavor but only use one spice to create it.
I'm sure you're wondering what I mean considering it's FIVE spice chicken, but Chinese five spice is actually sold in one bottle so you get the blend of multiple spices without having to dirty five measuring spoons.
To make 5 spice Chinese chicken you will need:
Chicken– Breasts and thighs work well for this recipe.
Sesame oil– This recipe is more Asian specialized so we recommend sesame oil over an olive oil.
Rice Wine Vinegar– Again any vinegar will work, we just find rice wine to have a very neutral flavor that works well in this dish.
Spices– Salt, pepper, garlic powder, and Chinese 5 spice.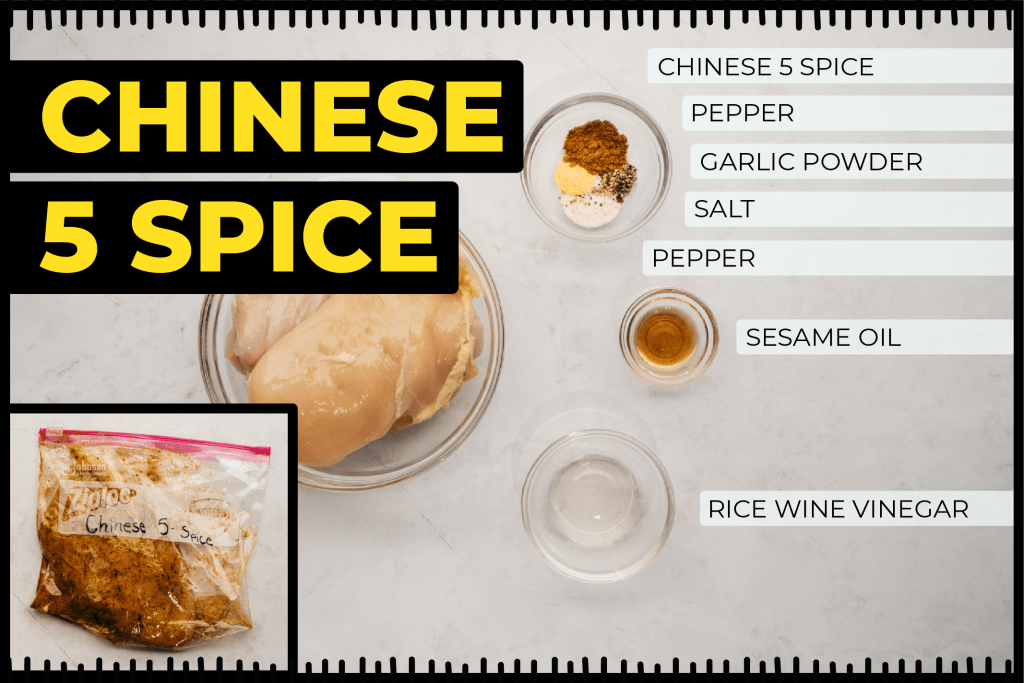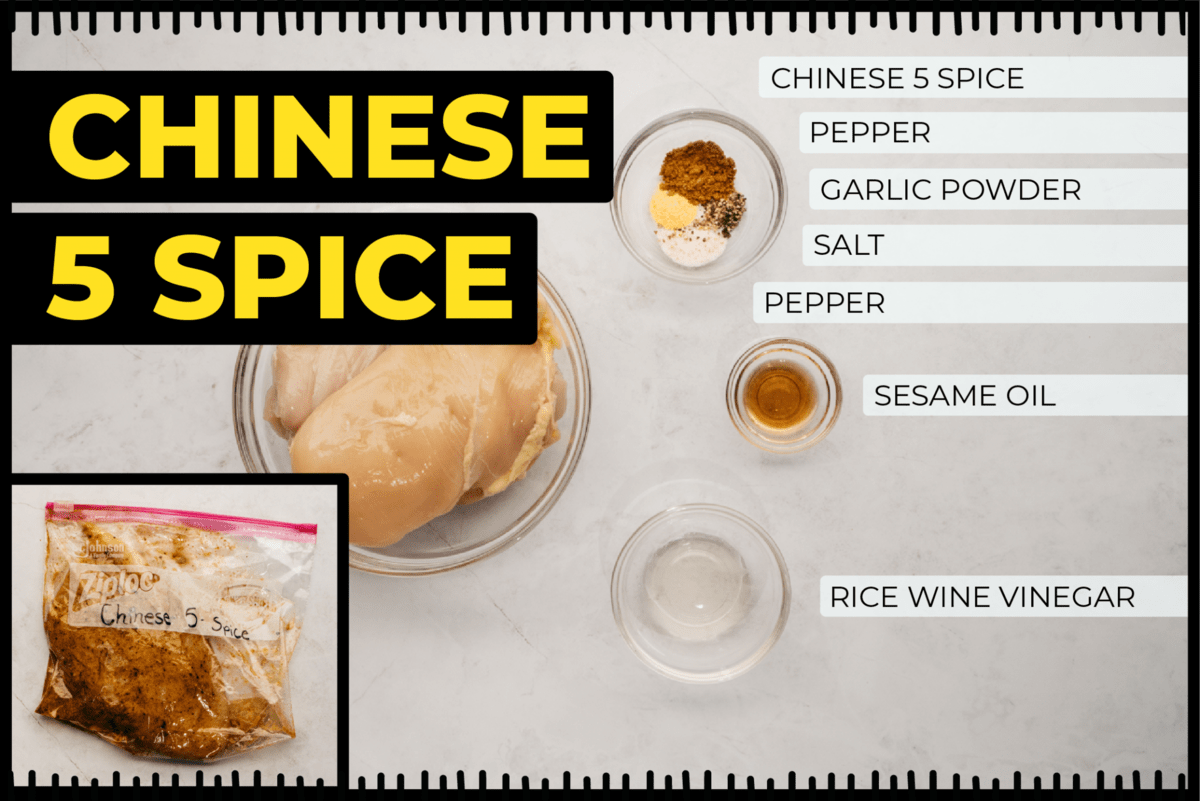 Basil Pesto Keto Marinade
Keto grilled chicken made Italian style! This chicken is low in net carbs even though there are herbs, and super high in fat thanks to the olive oil. You can even up the fat more by using chicken thighs instead of gluten free high protein chicken breasts.
To make this basil pesto chicken marinade you will need:
Chicken– We like chicken breasts best in this recipe.
1/2 tsp Minced Garlic– Garlic is a staple in Italian food so we knew we needed it in this recipe. You can buy garlic minced or chop it fresh yourself.
Pesto– We look for a high quality pesto that's made with just olive oil instead of any cheap oils like cottonseed or sunflower.
Balsamic Vinegar– You can use red wine vinegar or balsamic vinegar, but we like the sweeter flavor of balsamic vinegar.
Basil Leaves– Chopped basil leaves will really help enhance the flavors of this chicken dinner recipe.
Salt and Pepper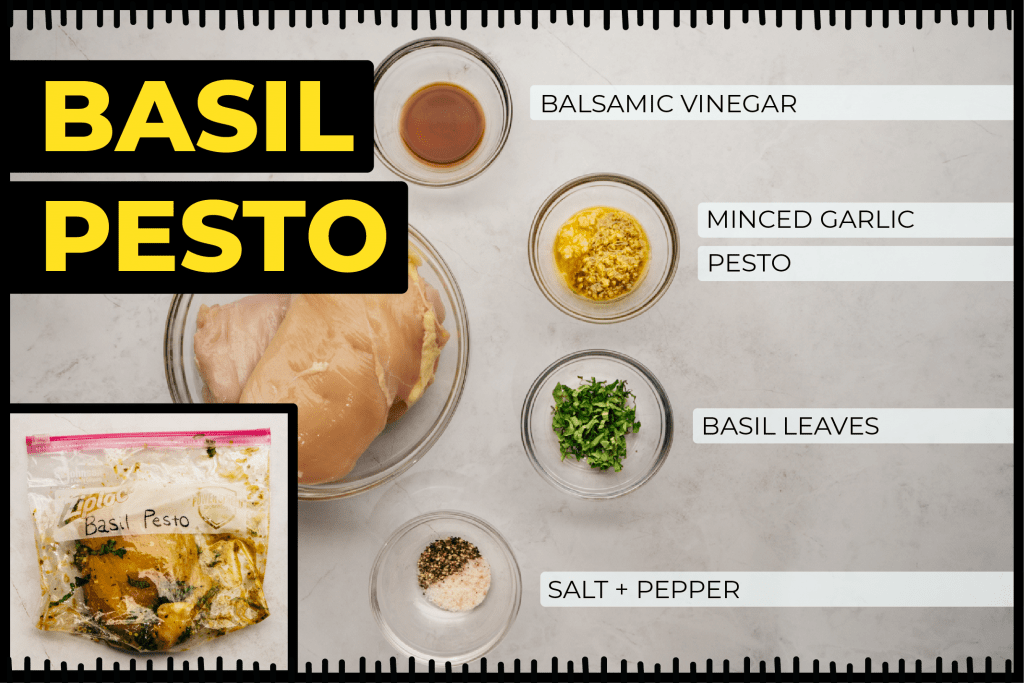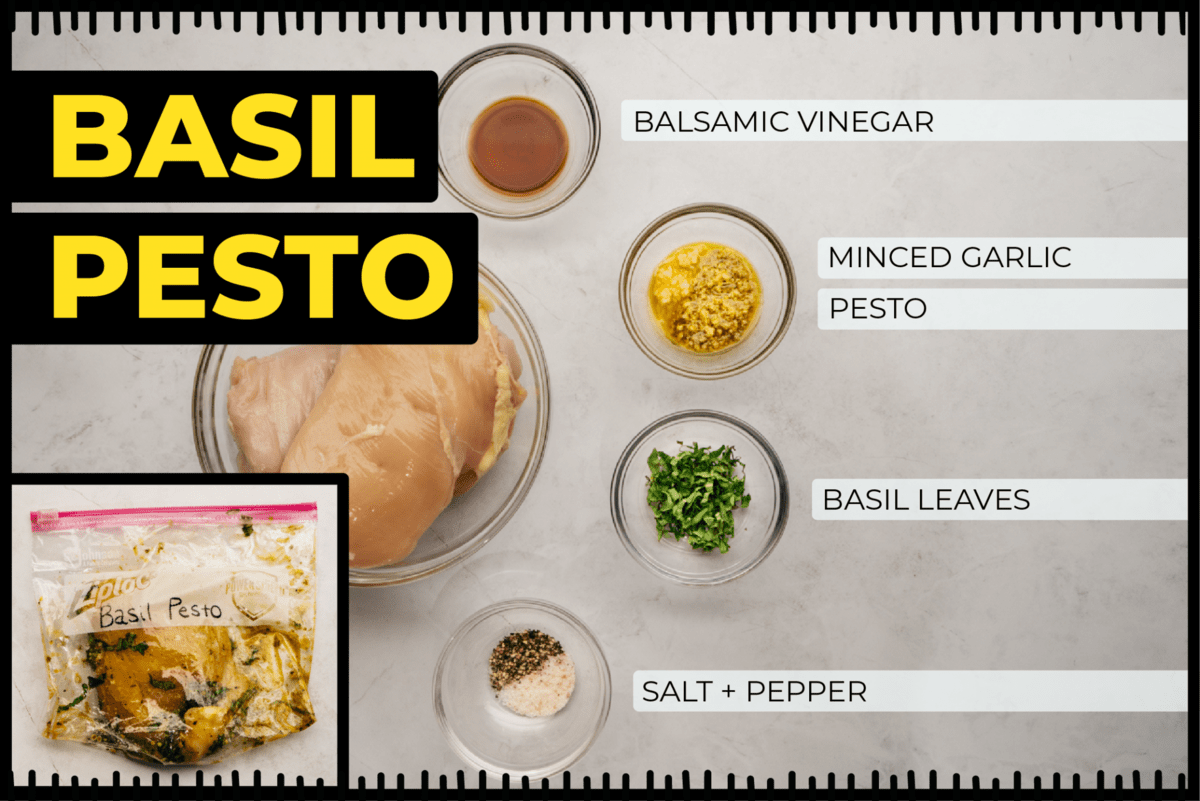 Keto BBQ Chicken Marinade
Just because summer is coming to a close doesn't mean you shouldn't enjoy some delicious BBQ keto grilled chicken! Our keto friendly marinade recipe is full of smoky spices and peppery notes, making it one of the best chicken marinades of all time!
To make this BBQ chicken marinade you will need:
Chicken– Chicken breasts work best for this recipe, but you can also try chicken legs and grilling until the skin is crispy.
Ketchup– Ketchup is going to add the tomato flavor that is traditionally in bbq sauces. It will also add some salt.
Worcestershire Sauce– This is what will add the bulk of the bbq flavor. Is smoky and tangy, perfect for building flavors.
Apple Cider Vinegar– Don't worry, the nutrition facts of apple cider vinegar is nothing like apples. It's low in carbs but just has a bit sweeter of a flavor than regular vinegar.
Minced Garlic– This is going to add some extra freshness.
Salt and Pepper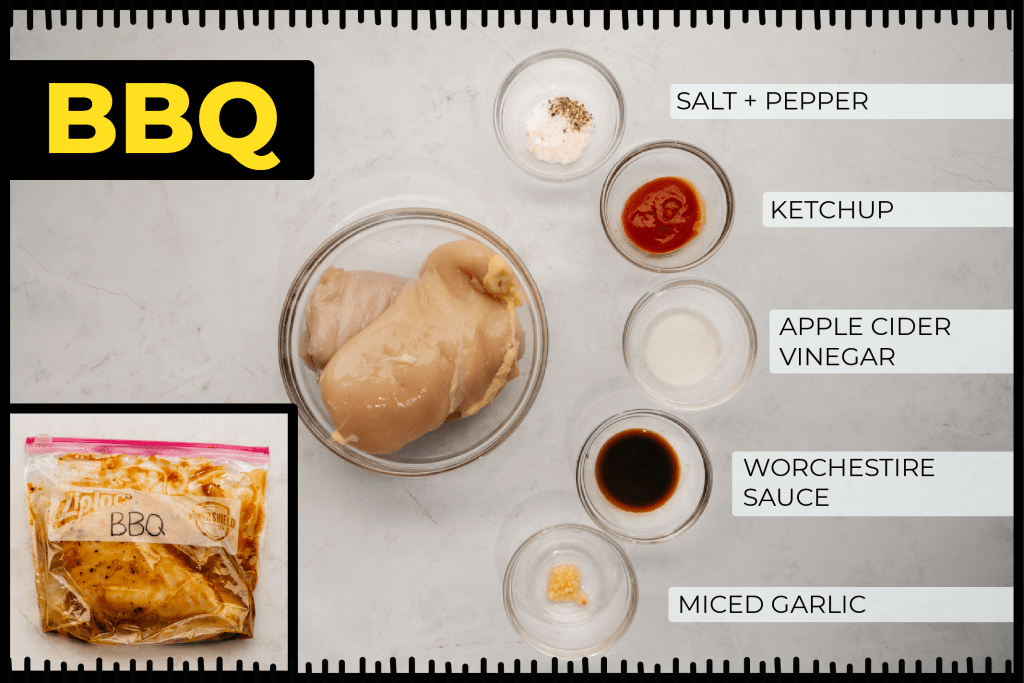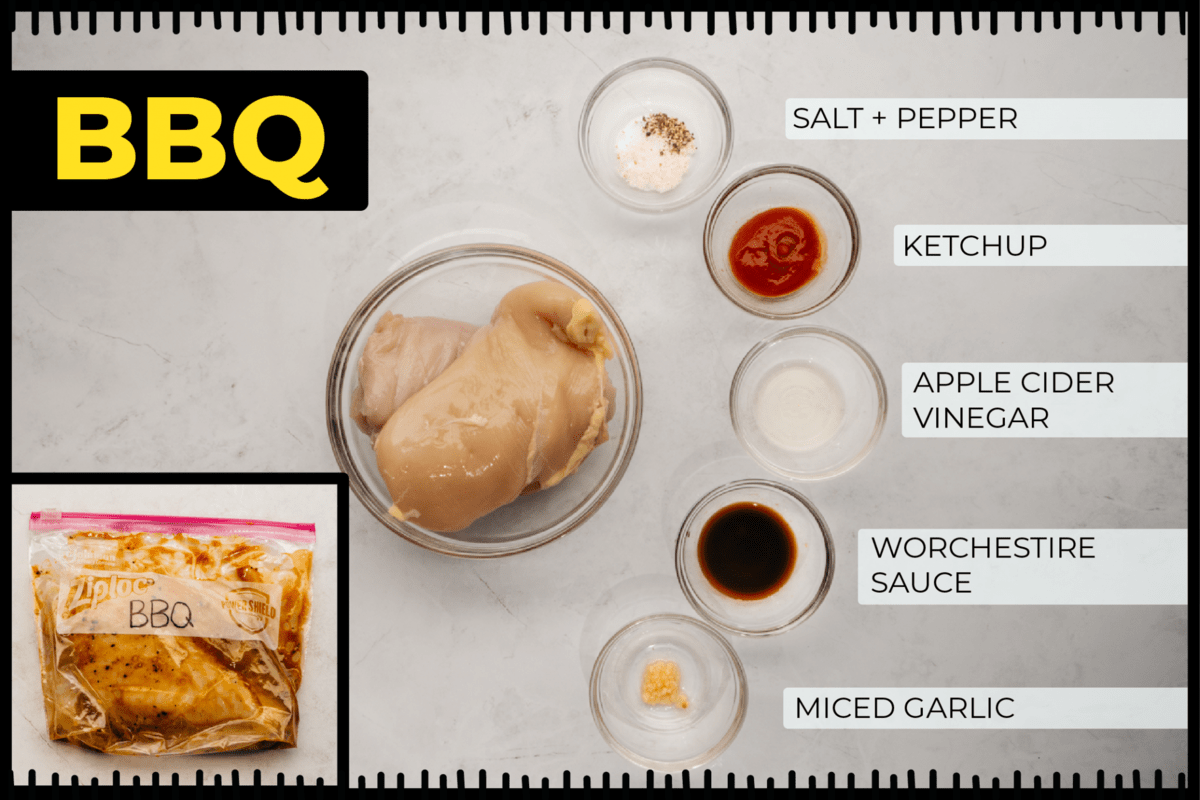 Chipotle Lime Marinade
Gluten free easy keto chipotle lime chicken is the perfect filling for low carb tortillas to have as a simple and flavorful dinner.
All you need to do is cook the chicken and then shred it for the best keto tacos that are low in net carbs and high in healthy fats.
To make this Chipotle Lime Chicken you will need:
Chicken– This recipe tastes great with chicken breast or thighs.
Oil– We used olive oil but avocado oil will work great too
Chopped Cilantro– Don't skip on the fresh stuff, cilantro that comes dried or freeze dried lacks a lot of flavor.
Juice from 1/2 a Lime– Lime juice will provide the acid in this recipe so we don't need vinegar.
Spices– This spice mix has salt, black pepper, garlic powder, cumin, and chili.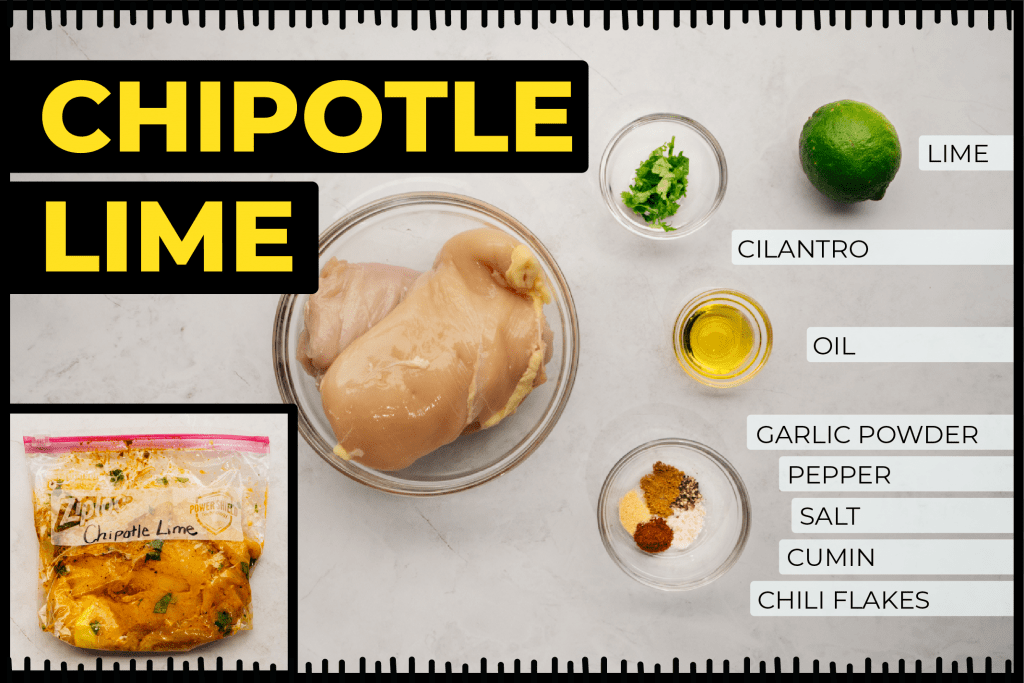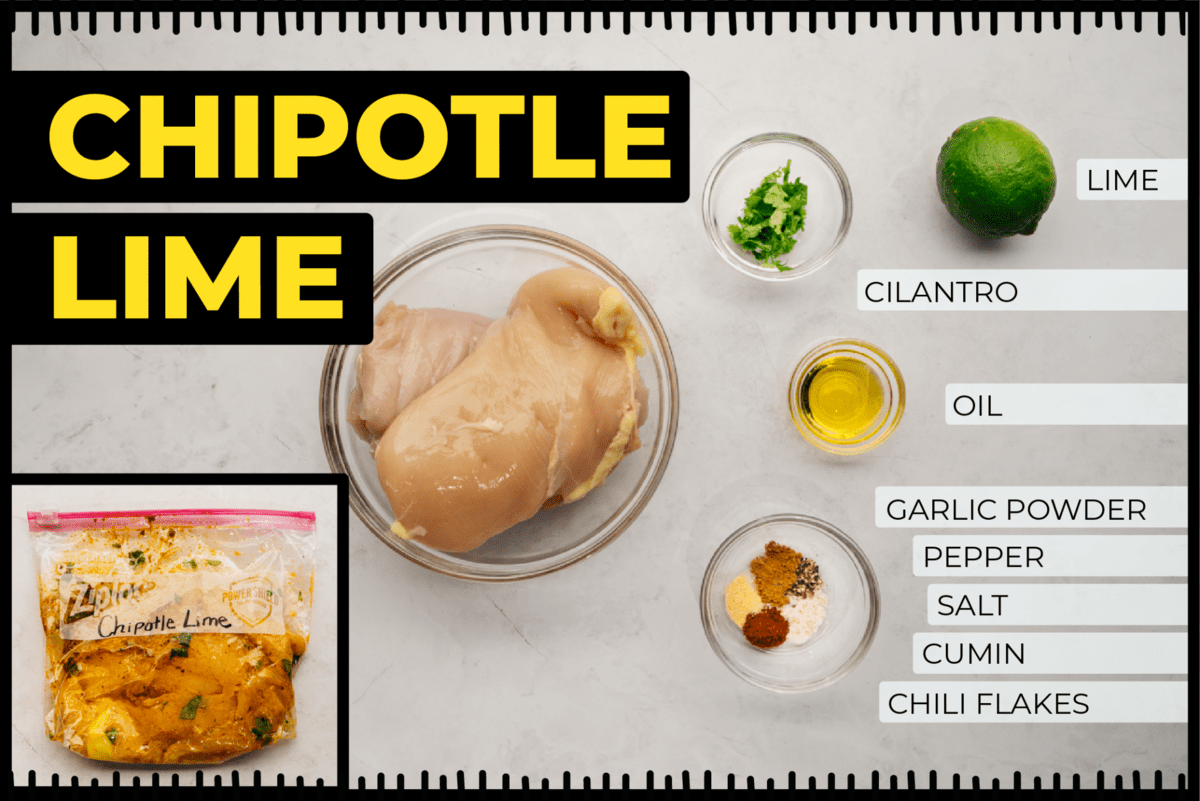 Can You Freeze Marinated Chicken?
If you want to freeze marinated chicken for an easy dinner we've got you covered. Follow these steps:
Marinate the chicken for at least three hours in a heavy duty Ziploc bag. This will give the chicken breast plenty of time to soak in the flavor.
Place the freezer safe heavy duty bag into the freezer so the chicken can freeze all the way through. Make sure as much air as possible is removed from the bag to prevent freezer burning.
When you are ready to cook the chicken simply defrost it in the fridge overnight, or place it frozen directly into the crock pot to cook all day.
These are the steps to follow when you want to freeze and reheat chicken, but there are also things to avoid. The biggest thing to avoid is using pre frozen chicken for this recipe. While it may save you a bit of prep time, the cooking time is about the same and you run the risk of food poisoning by defrosting, then marinating, and then refreezing and defrosting again.
What to Serve With Keto Marinated Chicken
Our chicken marinade works well with lots of different sides. Some of our favorite things to serve with grilled keto chicken are:
Keto Cauliflower Mac and Cheese– Low carb mac and cheese is always a good idea, and alongside one of these grilled chicken marinades you're sure to have an elite meal!
Low Carb Naan– Making one of these low carb chicken marinade recipes with lots of extra sauce? Our low carb naan is the perfect dipper for marinated chicken and homemade yogurt sauces to go alongside them.
Instant Pot Mashed Cauliflower– Grilled chicken and mashed potatoes are just a must have combo. These low carb cauliflower mashed potatoes are meant to be best buddies with the grilled chicken marinade we created. So please, enjoy buttery mashed potatoes in copious amounts, we know you want to.
These are just a few of our favorite chicken sides, but topping salads or making keto sandwiches are also great options for leftover grilled chicken breast.
These marinades go great with our delicious keto chicken wing recipe!
The Best Keto Chicken Marinade
Low carb chicken with an olive oil marinade is a great convenient protein source. The macros are great, and because it is keto grilled chicken it's also gluten free without breading.
These are our favorite chicken marinades that we know you can't wait to try! Marinated chicken makes for an easy dinner; and the best part is that you can use everything from chicken wings and thighs, to drumsticks and chicken breasts.
Make keto grilled marinated chicken for your next family BBQ or weeknight dinner, and prepare yourself for a flavor explosion!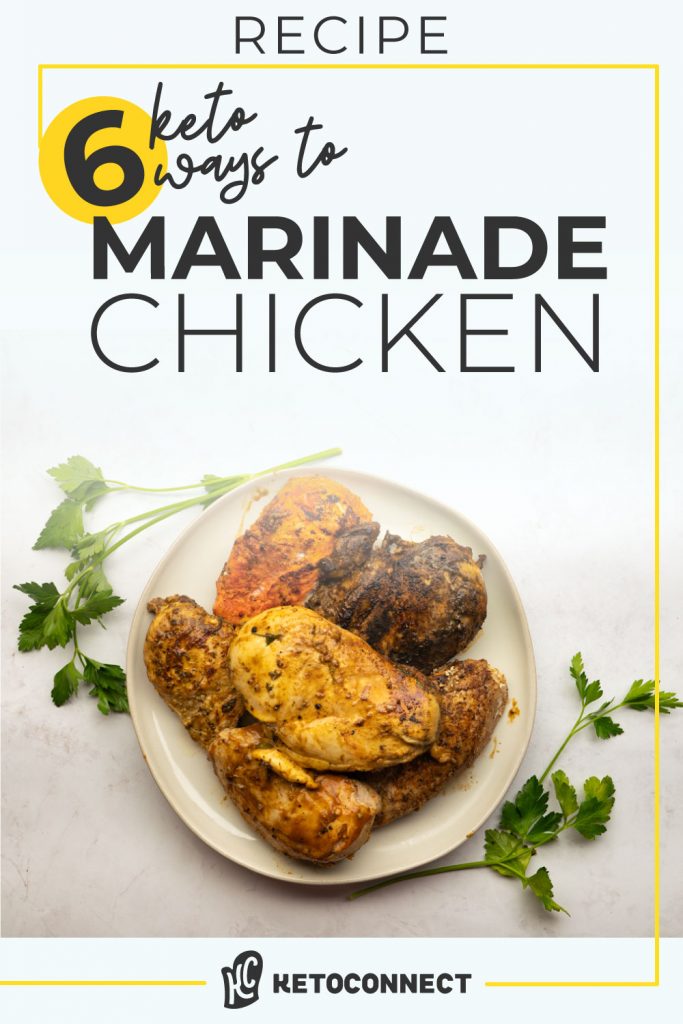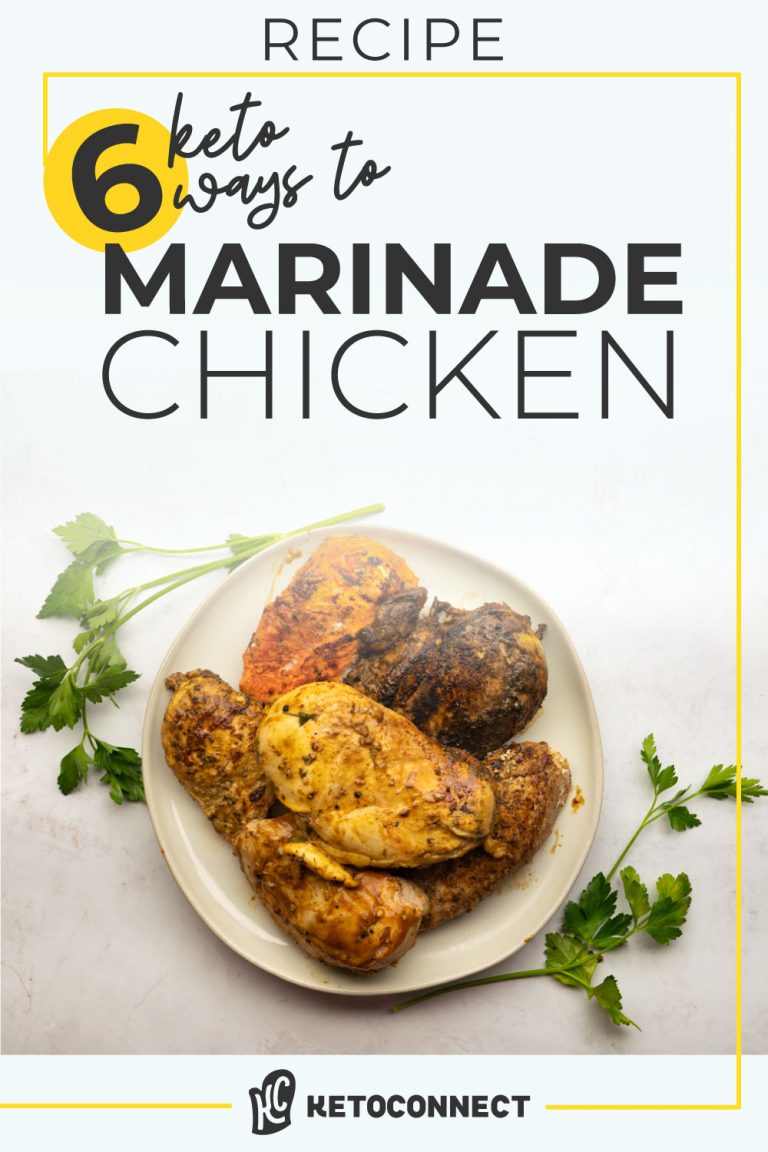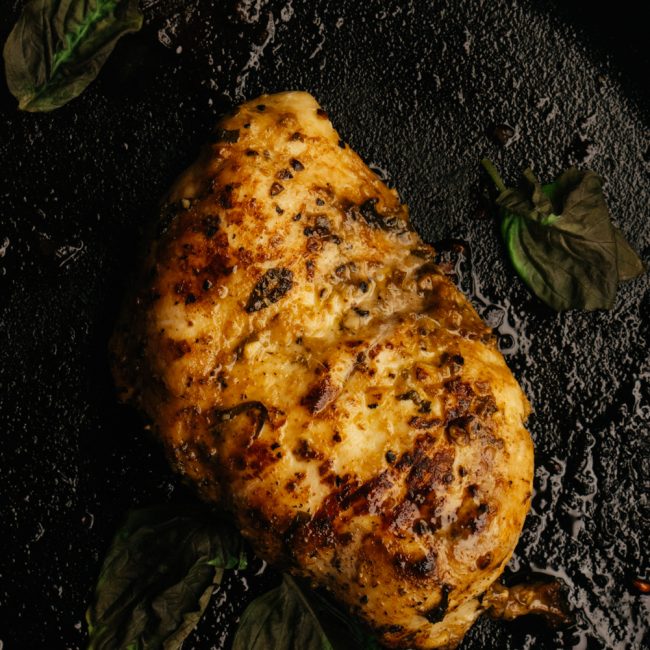 Easy Keto Chicken Marinade Recipe
Six different healthy keto friendly marinades that are low in carbs and high in fat.
Total Time 30 minutes
Servings 2 Chicken Breasts
Calories per serving 321kcal
Prep Time: 5 minutes
Resting Time: 3 hours
Cook Time: 25 minutes
Ingredients:
Instructions:
To make a marinade, combine all the recipes ingredients inside a zip top bag or casserole dish.

Add in the chicken and mix around/ gently knead the marinade into the meat.

Allow to marinate for 2-12 hours.

Cook the chicken as preferred. It can be seared and baked or grilled.
Baking Chicken
Heat a cast iron skillet with a tablespoon of oil to medium high heat.

Once hot add in the chicken and sear both sides (about 2 minutes a side).

Place the pan into a preheated oven at 400 for another 15-25 minutes. Remove when chicken reaches 165°F.
Nutrition Facts
Easy Keto Chicken Marinade Recipe
Amount Per Serving
Calories 321 Calories from Fat 117
% Daily Value*
Fat 13g20%
Saturated Fat 2g10%
Trans Fat 1g
Polyunsaturated Fat 2g
Monounsaturated Fat 7g
Cholesterol 145mg48%
Sodium 845mg35%
Potassium 841mg24%
Carbohydrates 1g0%
Fiber 1g4%
Protein 48g96%
Vitamin A 69IU1%
Vitamin C 3mg4%
Calcium 12mg1%
Iron 1mg6%
* Percent Daily Values are based on a 2000 calorie diet.
Written By