You probably know that chicken wings are keto, but have you ever made your own keto chicken wings recipe at home? It's one of the easiest recipes you can make for you and your whole family.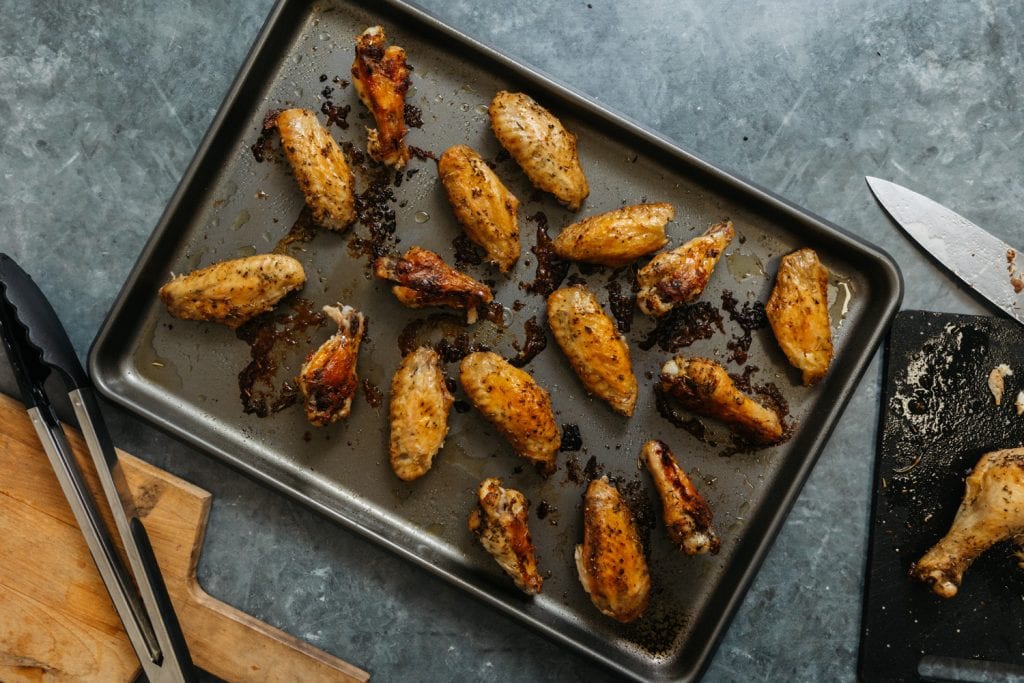 If crispy chicken skin is what your keto dreams are made of, I promise you this will be one of your favorite keto recipes you'll keep on doing over and over again.
Can I eat wings on keto?
You sure can! Wings have almost no carbs and are full of muscle building protein. They're also packed with vitamins A, E, D and K, in addition to some crucial minerals such as calcium and iron.
Since good quality, organic meat is the cornerstone of the ketogenic diet, there's no doubt these are a wonderful keto friendly choice.
But, here's the catch – when you make keto chicken wings at home you can always control the kind of ingredients you put into your recipes. However, when you buy ready made baked wings at restaurants or grocery stores you may be quite surprised.
A lot of places dredge chicken wings in different flours to make them more crispy and help sauces stick to them later. Additionally, fast food restaurants add other ingredients too like sugar and maltodextrin.
The best advice we can give you is to make your own keto chicken wings at home so you know exactly what you're eating.
How to make keto chicken wings
Don't you just love all the foods you can eat on the keto diet? I'm really grateful chicken wings are on that list!
Ingredients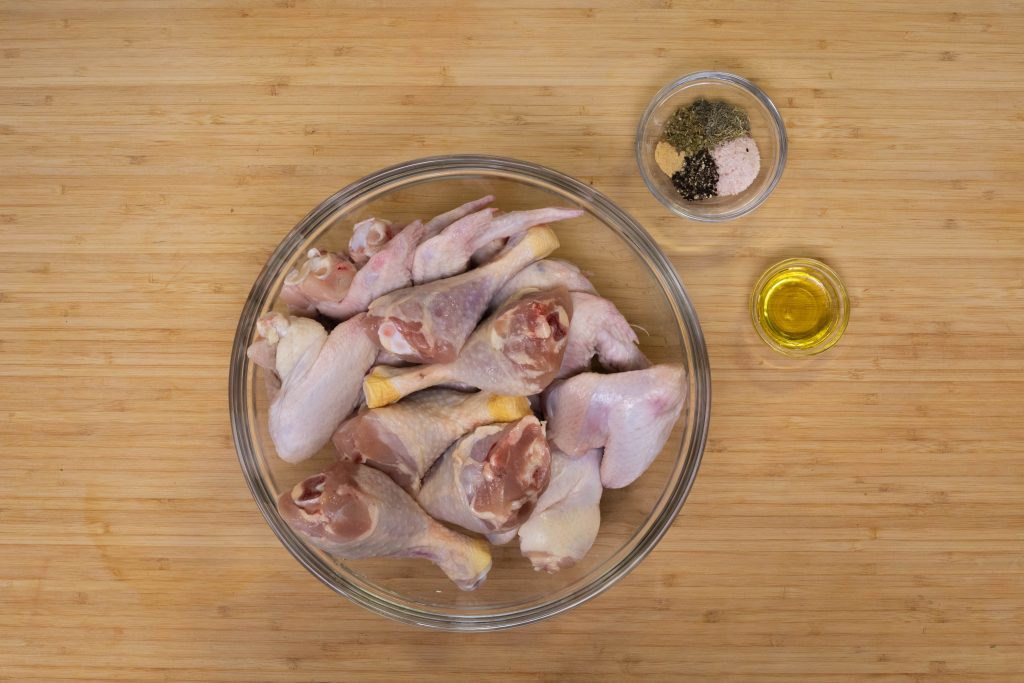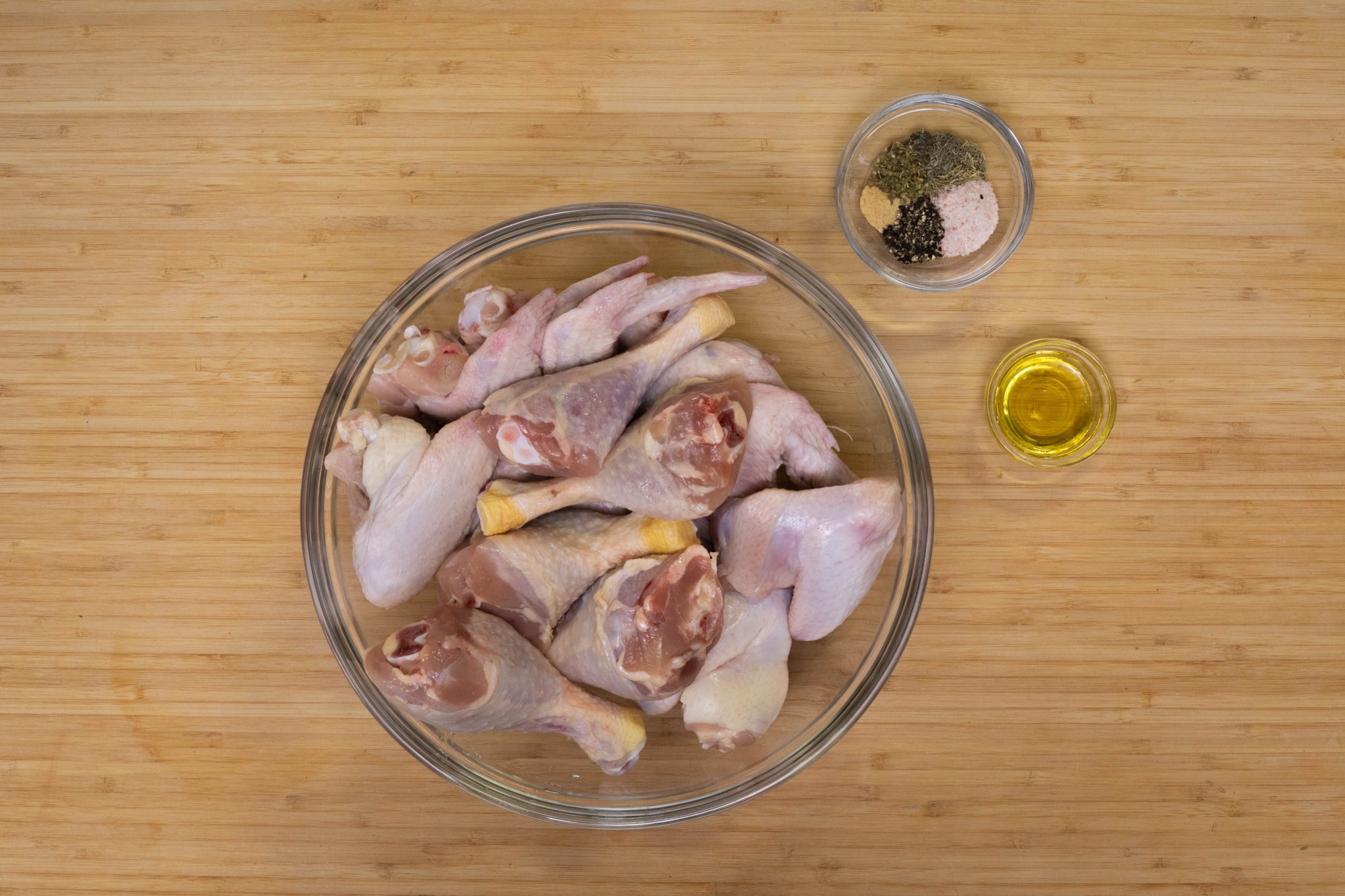 The less ingredients in low carb recipes the better, right? Yep, that's exactly the case here. You can create delicious keto chicken wings with, of course – wings, olive oil and spices.
There's no need to add unnecessary flour coatings, unhealthy additives and others to make these chicken wings crispy. Most fast food places and chain restaurants do it, but since we make healthy recipes our priority, there's none of that here.
Read on to see how to make easy low carb chicken wings:
Chicken wings
First question is whether you should buy them already cut up or do it yourself later at home. This honestly comes down to spending more money on cut up chicken wings, but also saving a bunch of time since you don't have to do it yourself.
It's best if you pick organic free-range chicken, raised humanely without any antibiotics or hormones. You can get whole wings or buy only flats or drums if that's what you prefer. I like both to be honest so I get whole chicken wings at all times.
Olive oil
Chicken wings don't have enough fat to naturally come out with crispy skin on its own, so we're adding a bit of oil so that all of them are coated. I highly suggest you don't use vegetable oil due to its inflammatory properties. Instead, use regular olive oil or an olive oil cooking spray.
As opposed to regular vegetable, olive oil is anti-inflammatory, has lots of antioxidants and can even prevent strokes and improve heart health. You can also use avocado oil if you'd like.
Spices
This is where your keto chicken wings can get really versatile. In our recipe, we're using a mix of garlic powder, dried rosemary, dried thyme, dried basil and dried oregano.
You can add your own spices to this keto chicken wing recipe, such as onion powder, smoked paprika and even hot sauce.
Whatever you do, make sure your spices and seasonings are sugar free. Lots of ready made mixes have sugar or maltodextrin inside, so check labels and ingredients with extra care.
Salt and pepper
We put approximate measurements all the way down in the recipe section, but of course adjust it to your own liking. Depending on the other spices I use, sometimes I don't want to go overboard with salt.
Also, let's say I'm using cayenne pepper, then I would adjust and add just the right amount of black pepper if needed.
Step by step guide
As easy peasy as this keto chicken wing recipe is, read over our detailed directions to make sure you end up with delicious and crispy wings.
Step 1: Prepare everything
First, preheat your oven to 450 degrees. Also, take out one or two baking sheets lined with parchment paper.
I know that some people don't do this and place their food on the baking sheet directly, but I don't have enough patience to scrape off all the burnt grease later on so laying it with parchment paper makes cleaning up that much easier.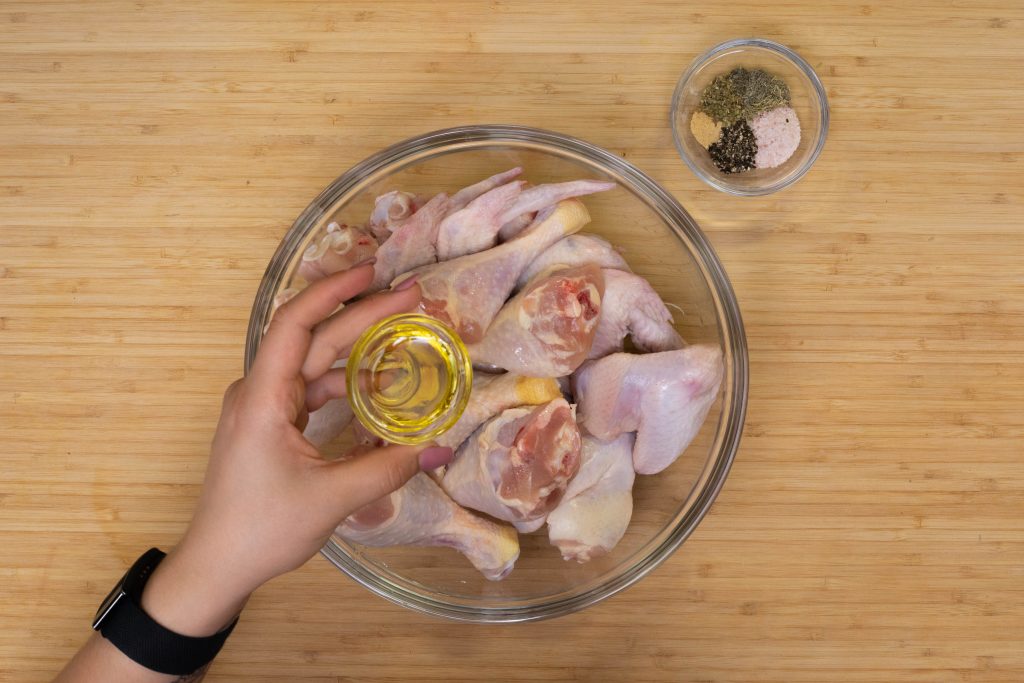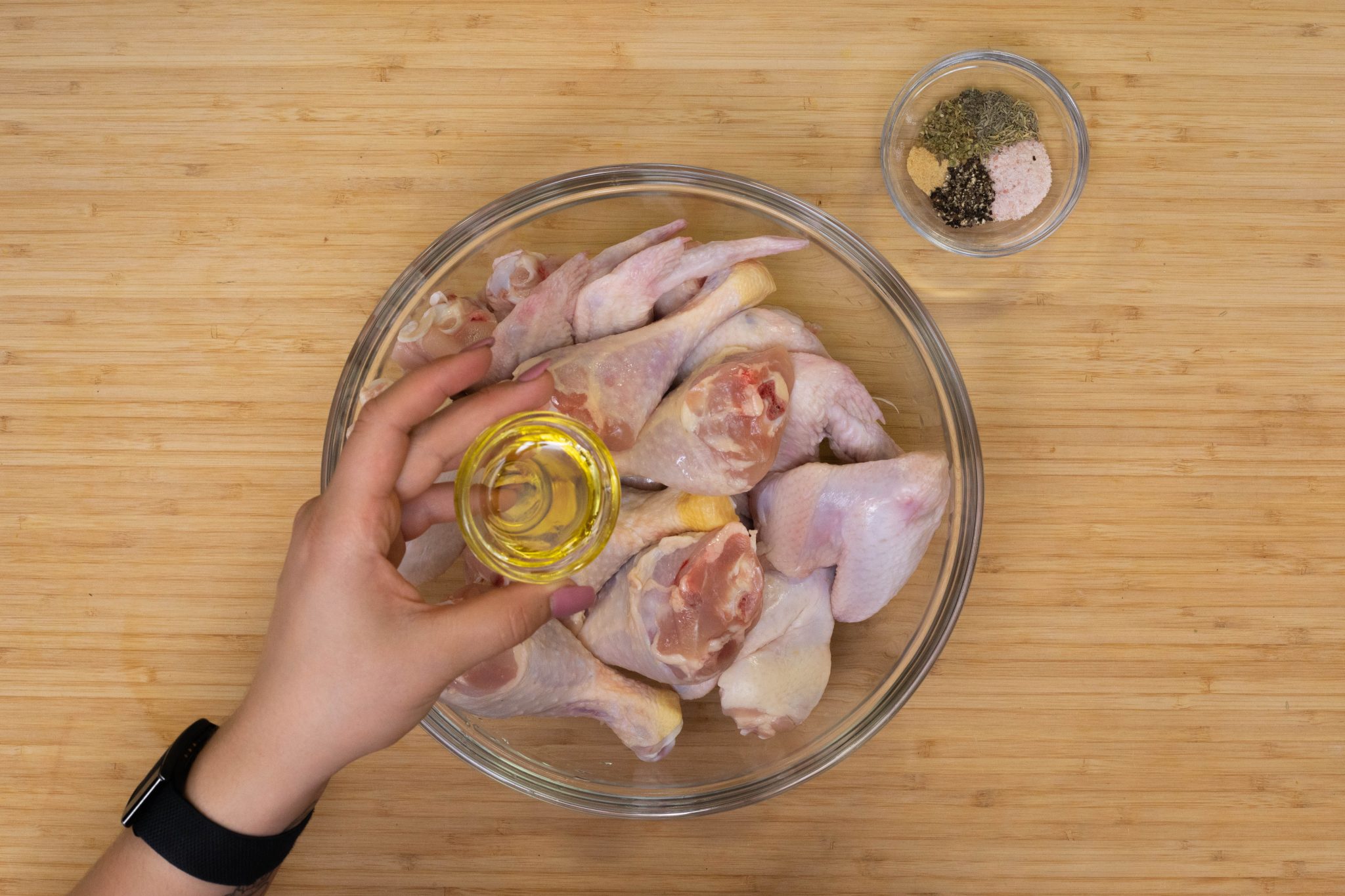 Step 2: Mix all ingredients
To get started with our keto chicken wings recipe, take our a large bowl and mix all the ingredients together. Add all the wings, olive oil, salt, pepper, garlic powder, thyme, rosemary, basil and oregano to a bowl.
Mix well to make sure each chicken wing is evenly coated with all the spices. You can add your favorite spices as well, such as smoked paprika to elevate the taste a bit or cayenne pepper to spice it up.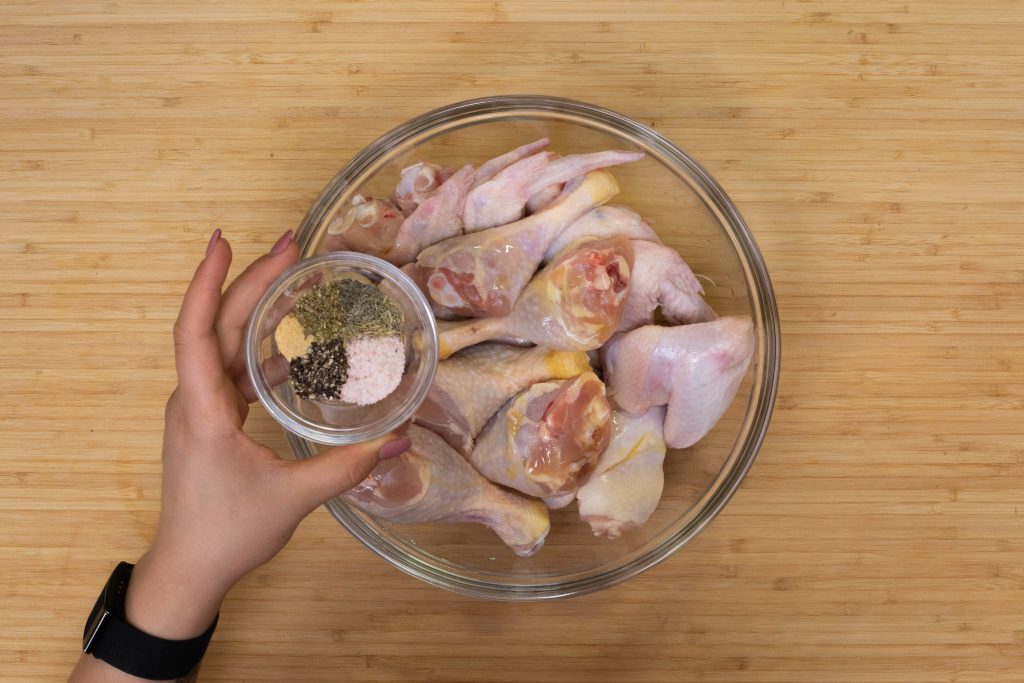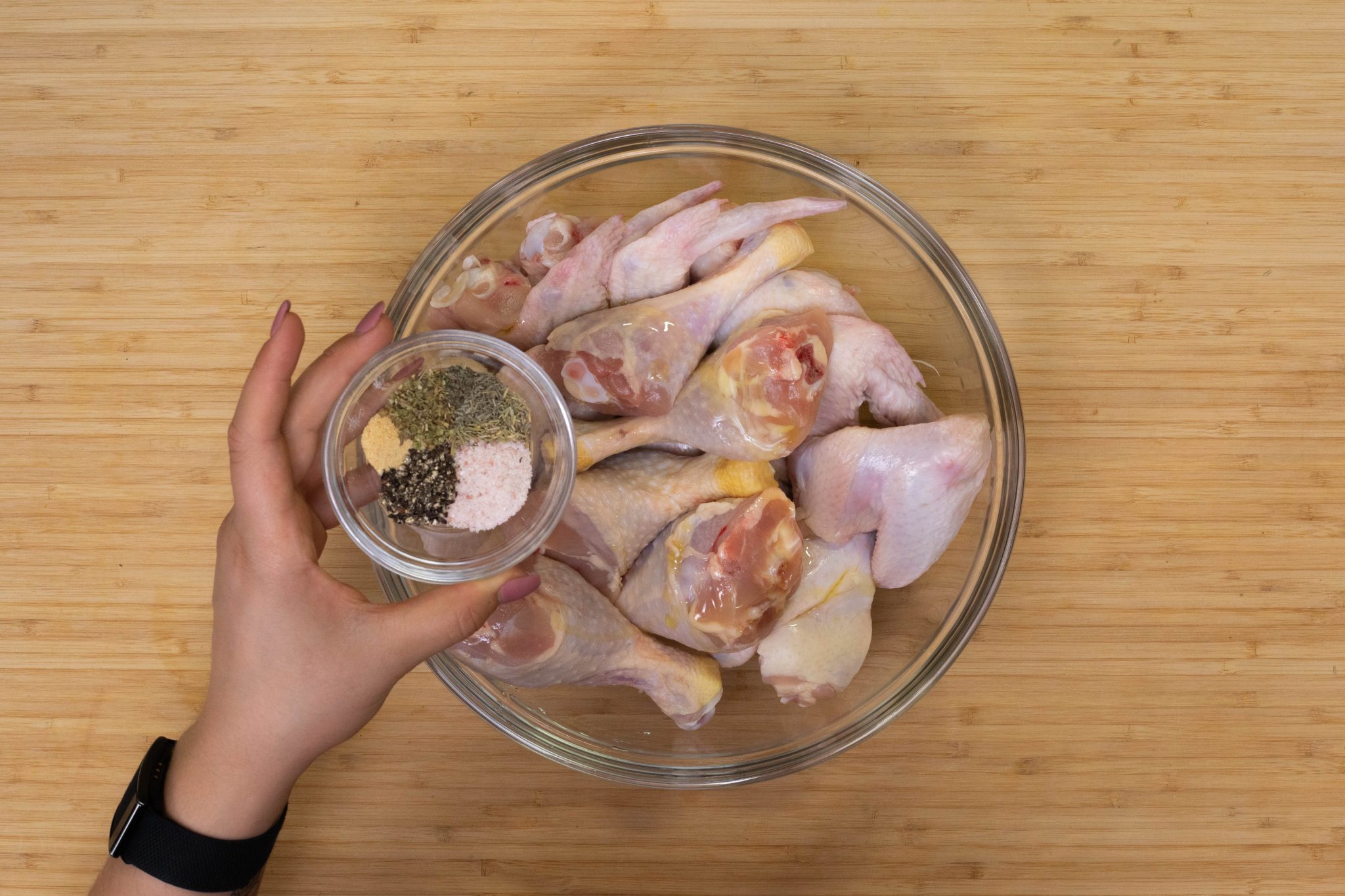 Step 3: Transfer to a baking sheet
Place chicken wings on the baking sheet skin side up. If you want to, you can also place them on a baking rack but that's up to you (they will become a bit dryer if that's what you like).
Do not overcrowd the pan when cooking wings – that will prevent the hot oven air from circulating and you won't end up with the crispiest wings.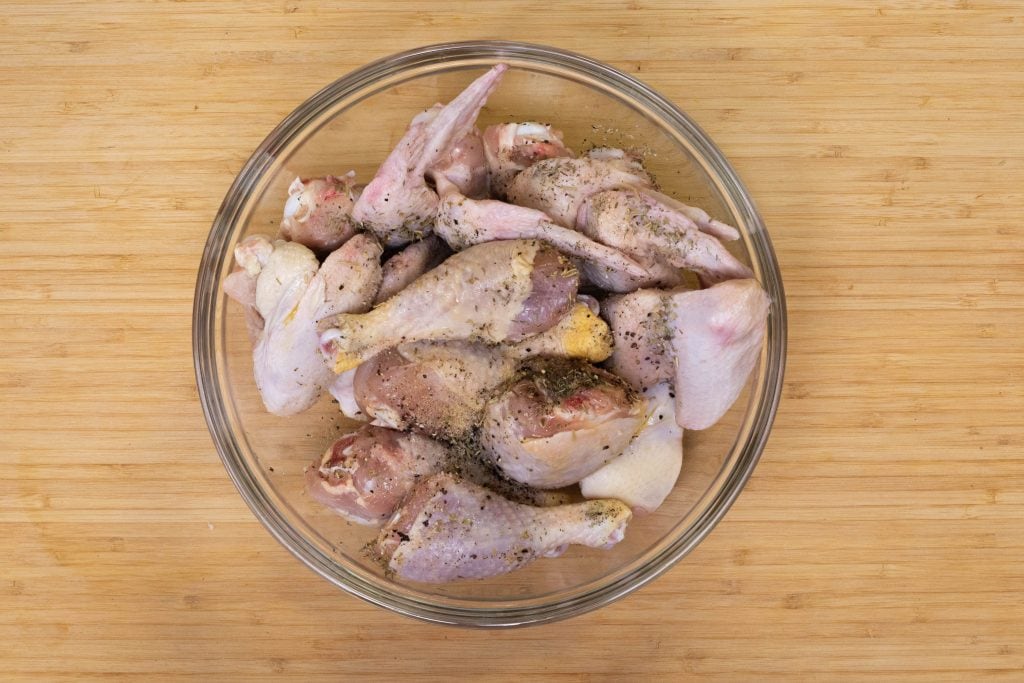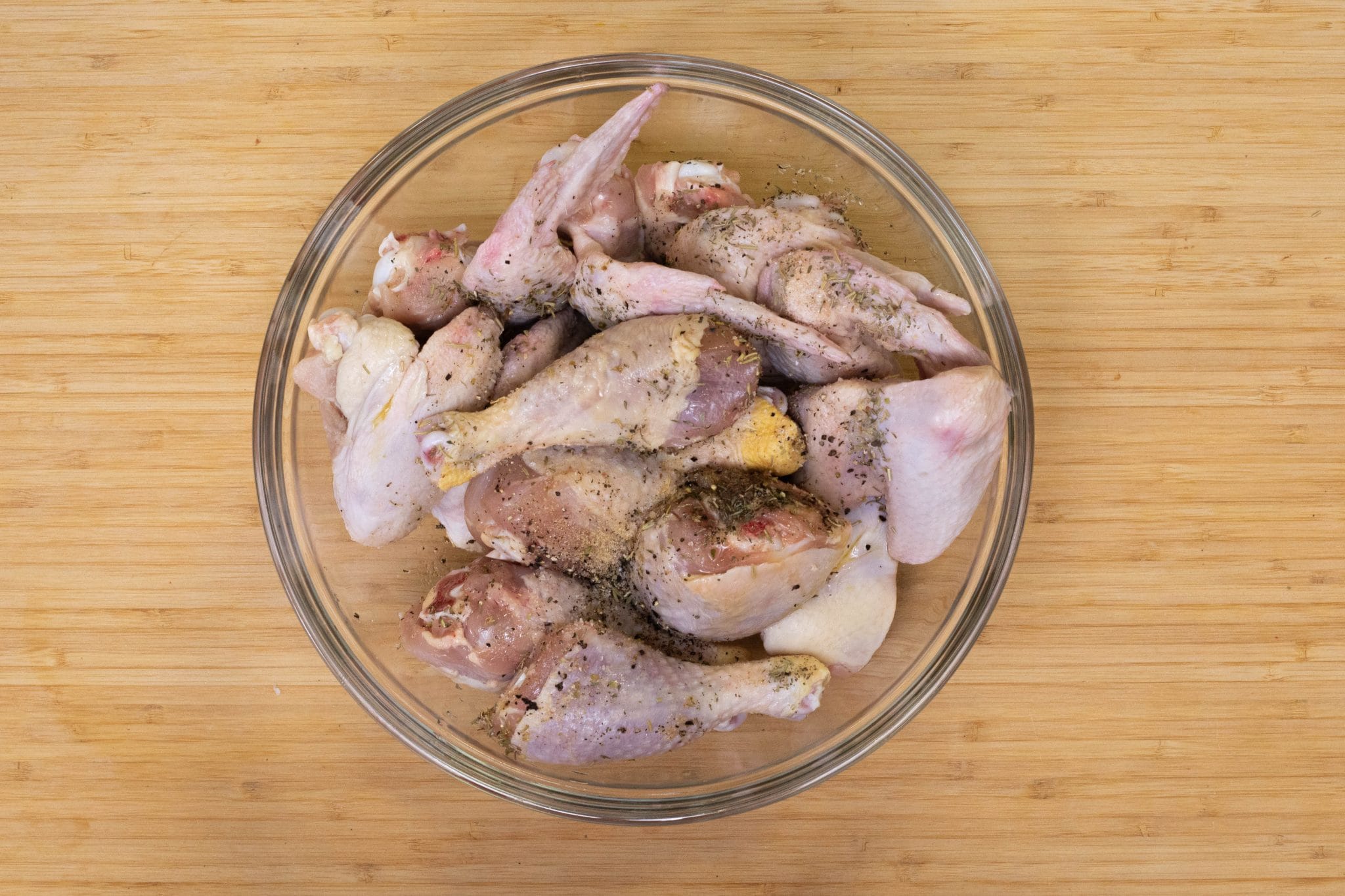 Step 4: It's baking time!
Make sure your oven temperature is set at 450 degrees. Then, bake your chicken wings for 40-50 minutes until crispy and golden brown.
Make sure the meat inside has an internal temperature of 165 degrees.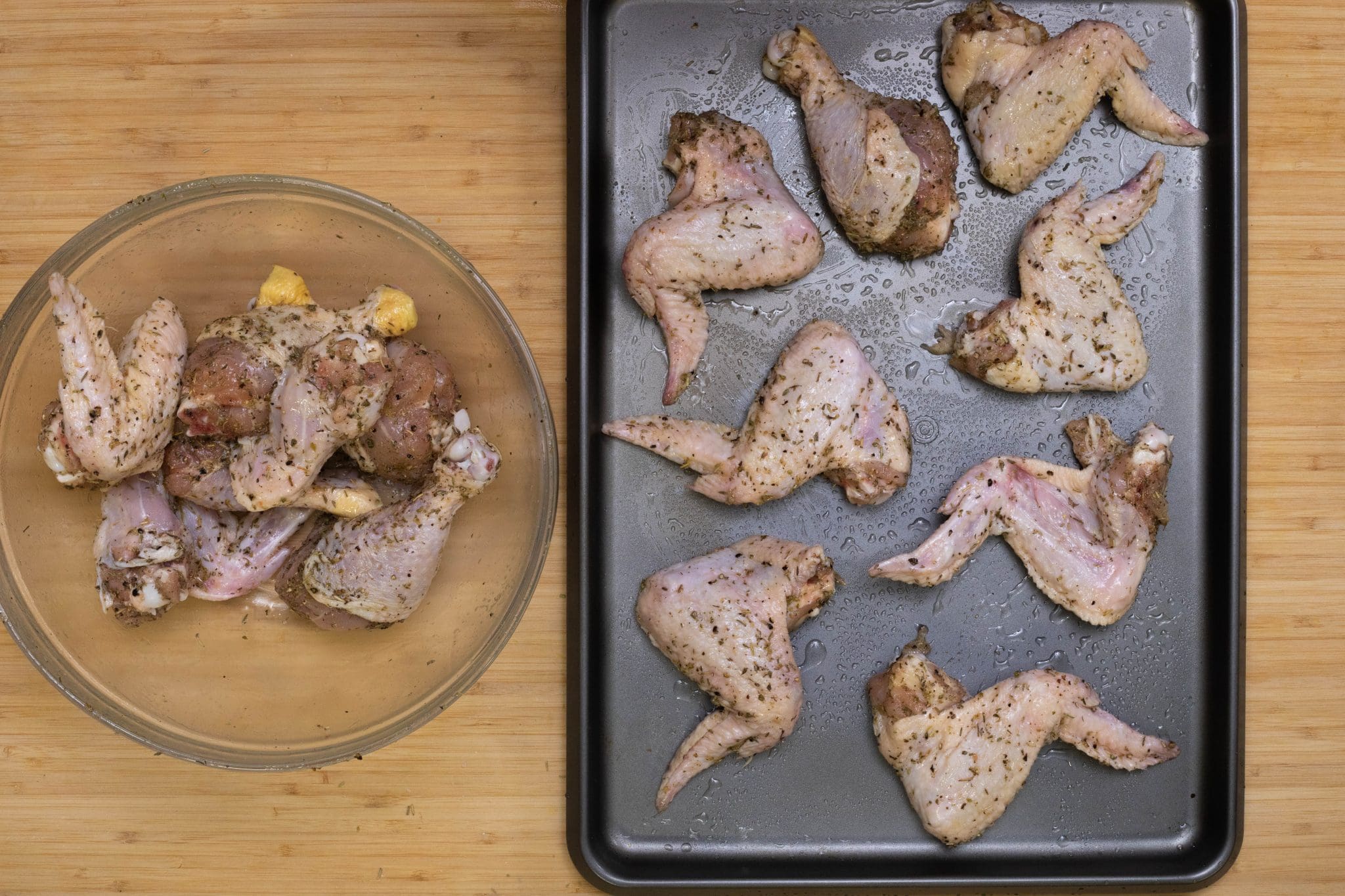 Step 5: Cut your chicken wings and enjoy
After each chicken wing is nicely baked, take them out of the oven and allow the chicken to rest about 5 minutes. This will ensure all the juices stay inside and you won't end up with dry wings.
If you used whole wings, get a very sharp knife and place it along the joints and pull the meat apart while pressing down the knife. By doing so you should be able to break the bone and separate all the sections of the wing.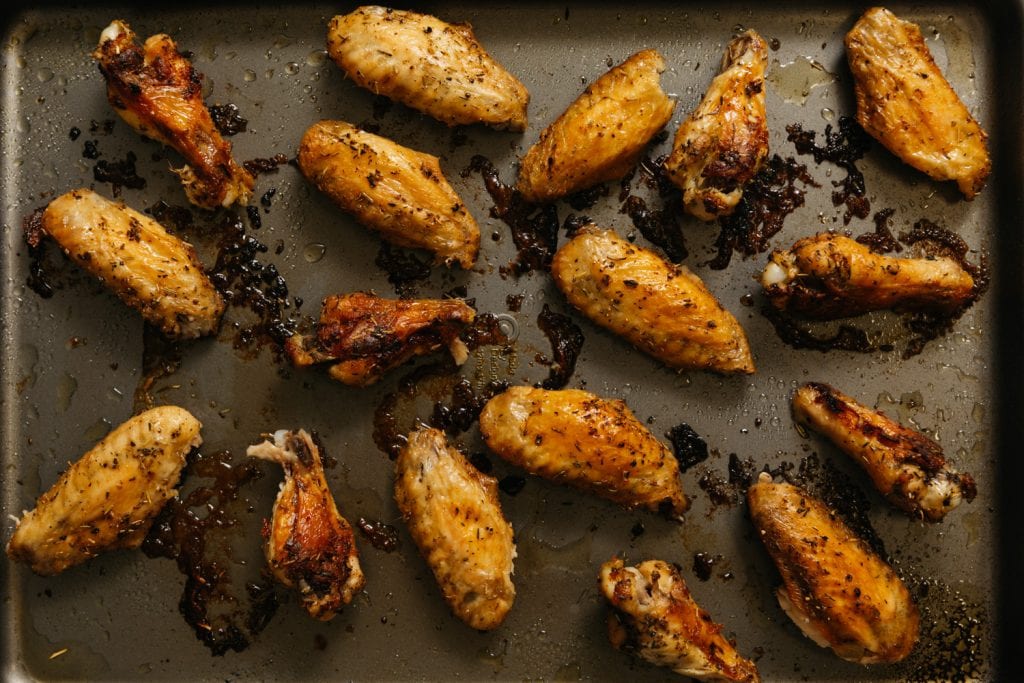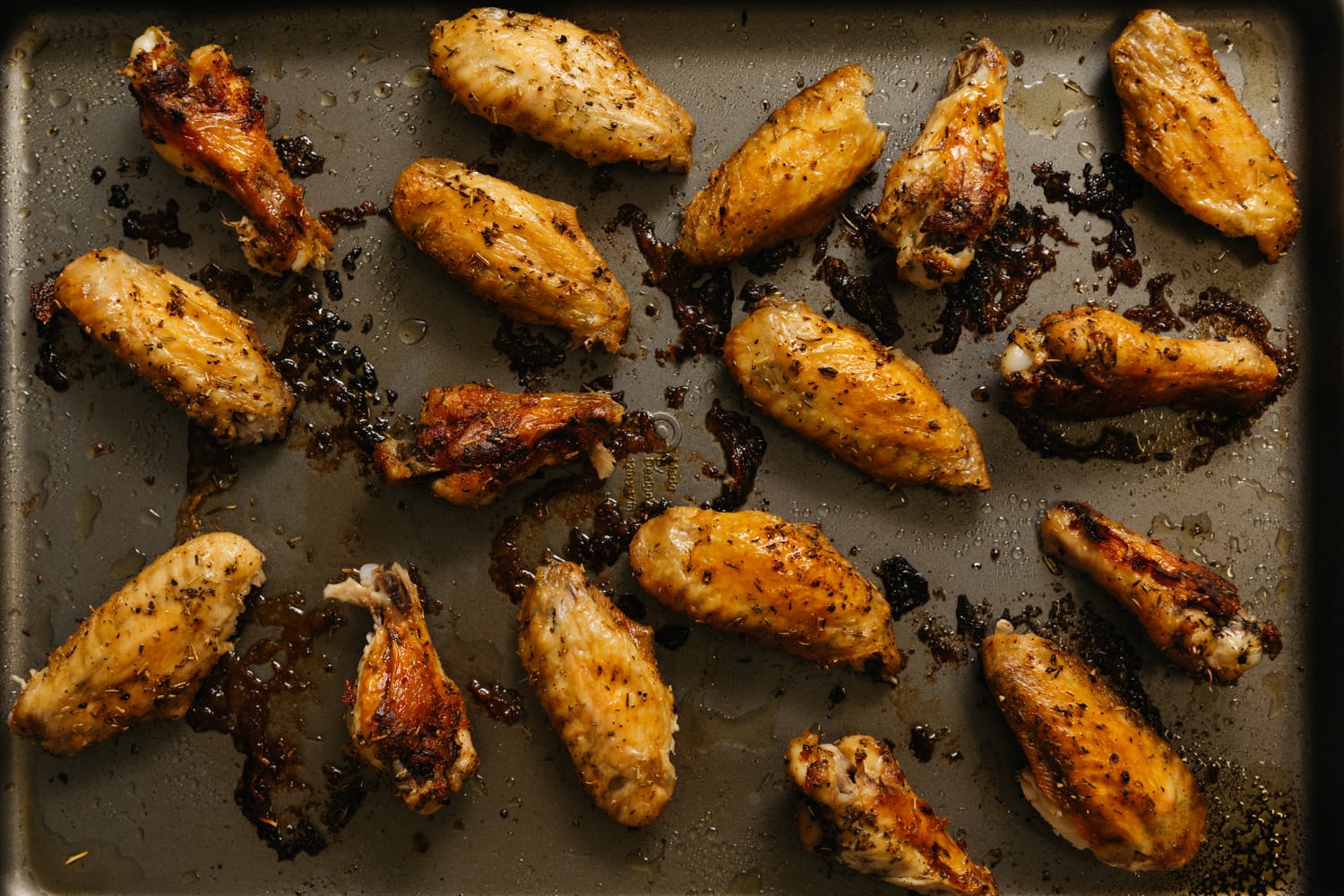 Keto friendly rubs and dips for chicken wings
I can't imagine eating keto chicken wings without a good sauce on the side. Thankfully, we've got a bunch of keto and low carb recipes without sugar and unnecessary carbs so you can dip away.
Blue cheese dressing
Are chicken wings even chicken wings if there's no blue cheese dressing on the side? We've got an awesome recipe for you we've been making for years now, so check out our Homemade Keto Blue Cheese Dressing Recipe.
Low carb ranch dressing
If your wings are spicy, you'll get the best balance with a cooling blue cheese dressing or, better yet, with keto friendly ranch dressing! It only takes about 5 minutes to make and has virtually no carbs, so enjoy with no guilt.
Sounds like something you'd want to try with your friend chicken? Check out our Keto Ranch Dressing Recipe.
Buffalo sauce
I promise all of you, the day I say no to buffalo wings please call me a doctor or something. They're hands down my favorite way to eat keto chicken wings. Always with a generous side of celery which has tons of health benefits and a tablespoon (or five) of the low carb ranch dip.
To make a low carb buffalo sauce, mix together melted butter, hot sauce, a bit of garlic and onion powder, salt and pepper. Then, coat your wings and you're good to go.
Garlic Parmesan
If spicy buffalo sauce chicken wings are not your thing, you'll love the Garlic Parmesan keto chicken wing option. Before baking, season your chicken wings with salt, garlic powder and black pepper.
Then, bake as we would bake our keto chicken wings recipe. Take them out and toss them in melted butter, minced garlic, Parmesan and chopped fresh parsley leaves. And there you have it, crispy oven baked wings.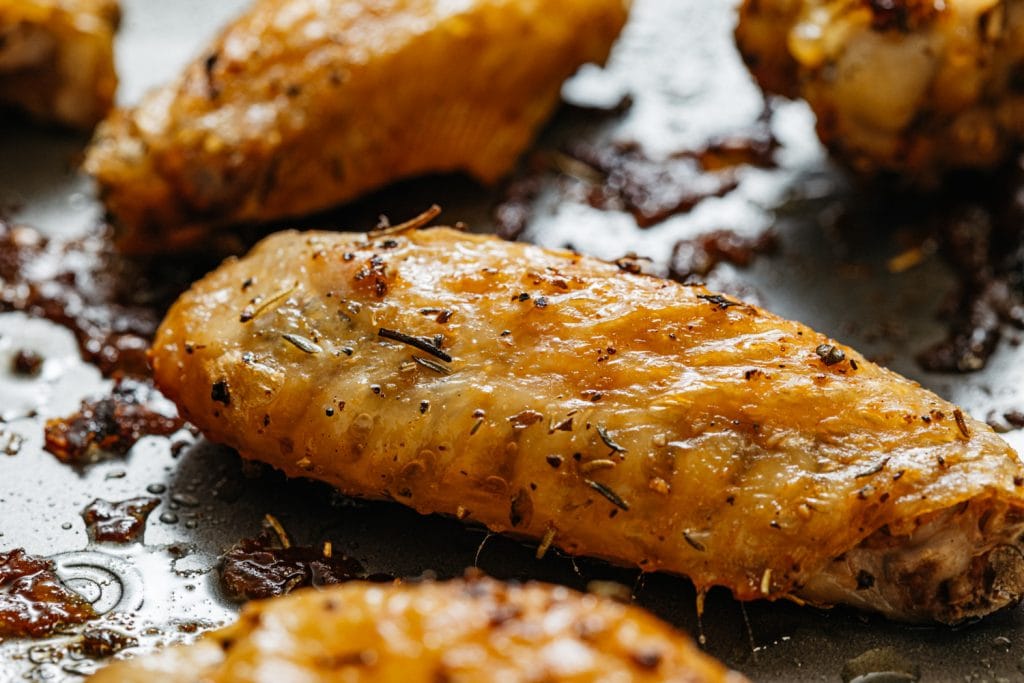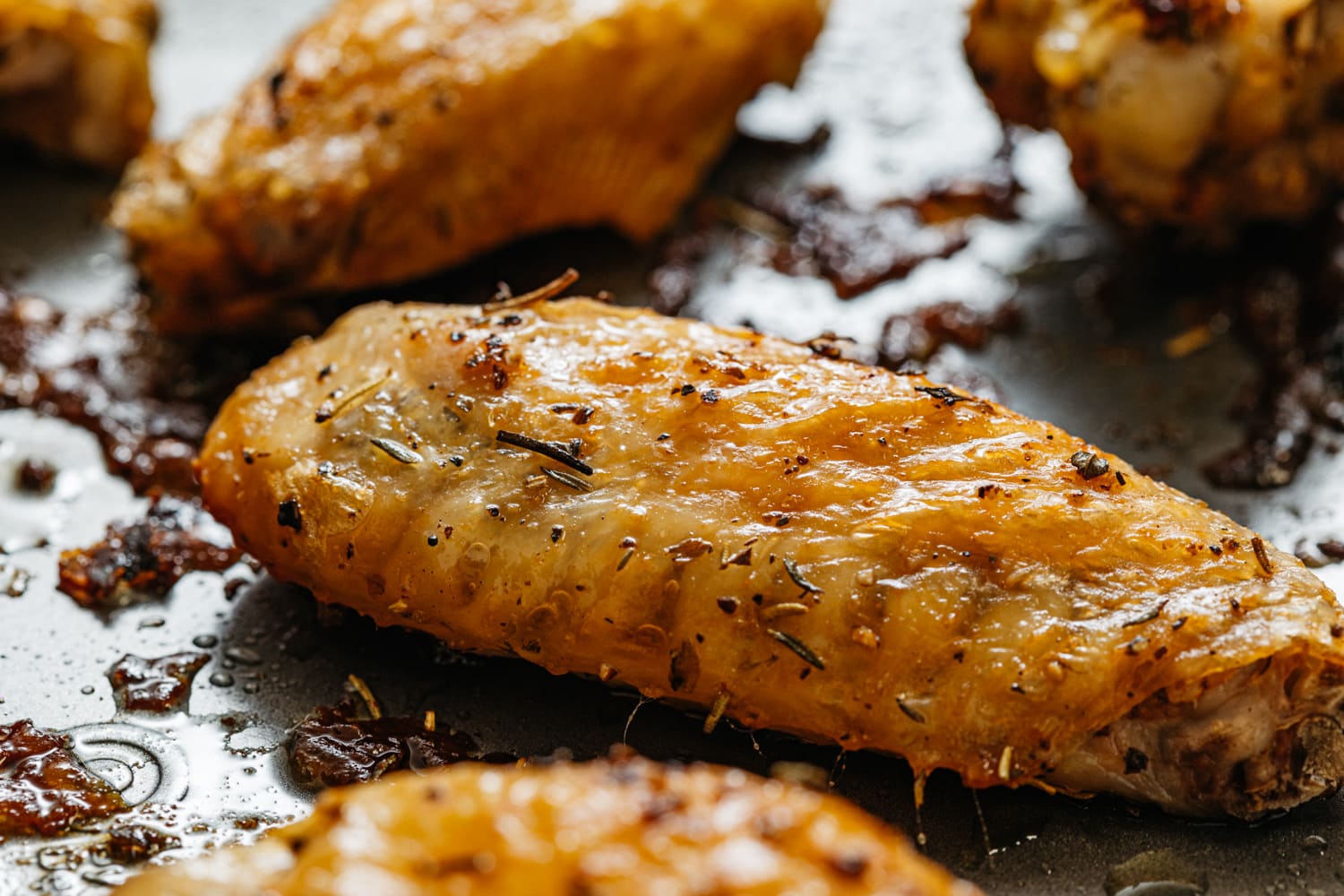 FAQs
How do I make sure I end up with crispy wings?
The most important thing in making sure you'll end up with the crispiest wings is to keep the wings dry. Take a piece of paper towel and pat all the moisture out until there's no water. Basically, just get them as dry as you can.
One another trick is to add a little baking powder (and absolutely no baking soda!) and bake them for about 15 minutes, then take them out, coat them with oil and spices and put them back in.
I know a lot of people use this method, but I found it an unnecessary step if you want something quick and our keto recipe gives the right crispiness anyway.
Can I use different rubs and spices?
You sure can! You can coat your keto chicken wings with onion powder, garlic powder, smoked paprika, cayenne pepper and all kinds of different spices. Just make sure they are sugar free if you're buying a ready made rub at the store or make your own combination at home.
Same thing goes for tossing them in sauces after they're done – you can use your favorite sugar free hot sauce, crushed garlic and lemon juice, or even add a bit of parmesan to get that garlic parmesan flavor. So many possibilities!
Can I make this keto wings in an air fryer?
Absolutely! In that case, pat dry your wings as much as you can and then coat them with olive oil, seasonings and spices. The protocol would be the same as in our keto chicken wings recipe.
Then, you'd want to place them in the air fryer basket, spacing evenly. Air fry them for 8-10 minutes per side at 400F. The amount of time depends on how large or small your chicken wings are but about 16-20 minutes of total air fryer time should be fine.
Can I use frozen chicken wings?
If you want to use frozen wings I suggest you defrost them first. Simply take them out of your freezer and thaw in room temperature for a few hours or in the fridge overnight.
The thing is – you can bake them frozen, but I personally don't like the taste and they're not delicious in my opinion. I just find them too gummy and they never crisp up the way I want them to.
If you like this recipe, I am sure you'll enjoy this Salt and Vinegar Wings Recipe as well!
Have you made our keto chicken wings recipe?
Let us know in the comments if you did or if you have questions before making the most incredibly delicious wings ever!
Feel free to leave your tips and tricks below as well, maybe there's a special flavor combination we don't know about but you give it 5 stars? Drop a comment below!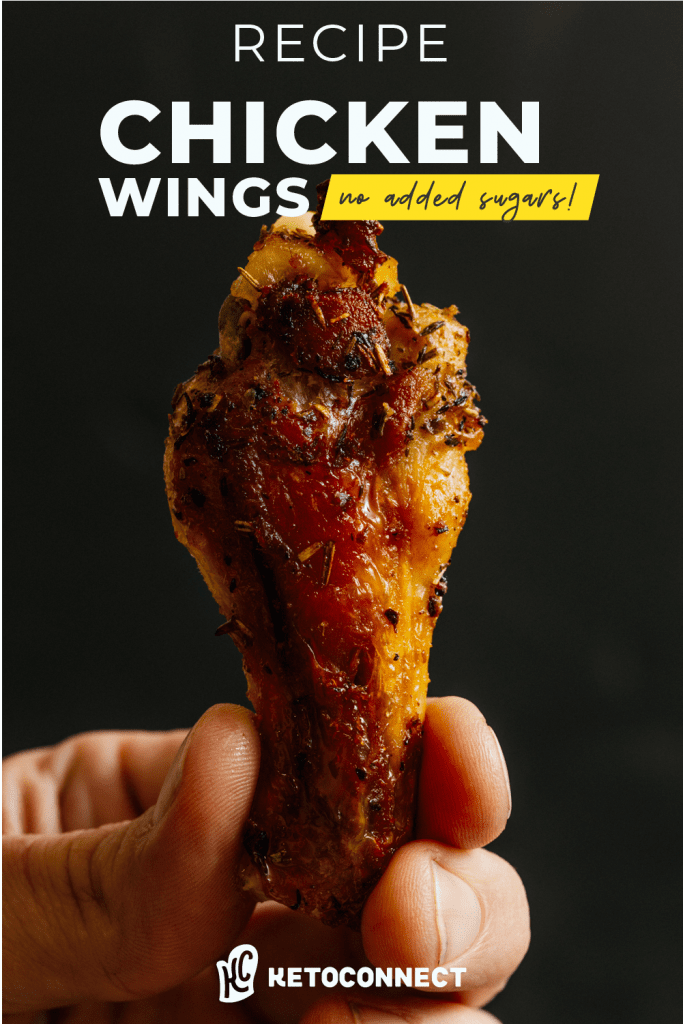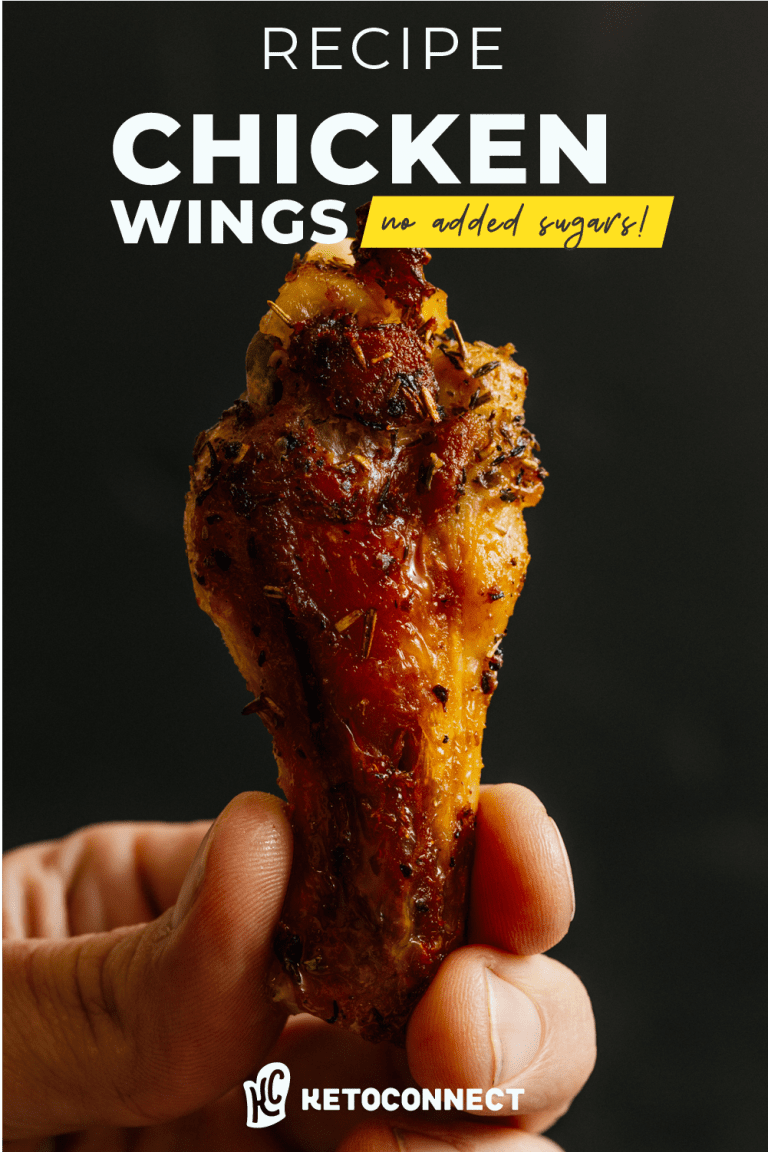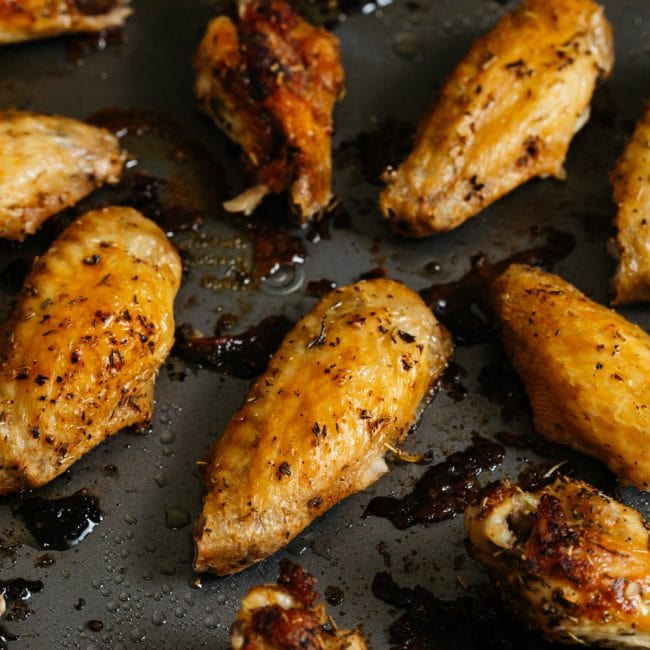 Keto Chicken Wings
It's one of the easiest recipes you can make for you and your whole family.
Total Time 55 minutes
Servings 5 servings
Calories per serving 502kcal
Prep Time: 5 minutes
Cook Time: 50 minutes
What You Need:
Parchment paper

Large Mixing Bowl

Sharp knife
Instructions:
Preheat the oven to 450 degrees

Add the chicken, oil, salt, pepper, garlic powder, thyme, rosemary, basil, and oregano to a bowl.

Mix all ingredients well and rub the spices into the chicken skin.

Place the chicken onto baking sheets skin side up making sure there is plenty of room in between. Do not over crowd the tray.

Bake for 40-50 minutes, the skin should be very crispy and golden brown. The meat must also be at 165 degrees

Remove from the oven and allow the chicken 5 minutes to rest. Using a very sharp knife place the knife into the joints and pull the meat apart as the knife is pressed down. This should break the bone and separate the sections of the wing.
Notes
The chicken wings can be broken down before baking if preferred, it is just a little more slippery. You also may want a heavy-duty knife or bone-cutting tool if you decide to separate the meat while raw.
Nutrition Facts
Keto Chicken Wings
Amount Per Serving
Calories 502 Calories from Fat 333
% Daily Value*
Fat 37g57%
Saturated Fat 10g50%
Trans Fat 1g
Polyunsaturated Fat 7g
Monounsaturated Fat 17g
Cholesterol 151mg50%
Sodium 1541mg64%
Potassium 382mg11%
Carbohydrates 4g1%
Fiber 1g4%
Sugar 1g1%
Protein 37g74%
Vitamin A 311IU6%
Vitamin C 1mg1%
Calcium 46mg5%
Iron 3mg17%
* Percent Daily Values are based on a 2000 calorie diet.
Written By