This is our first fudge recipe and Matt knocked it out of the park with this Easy Pumpkin Fudge! It's easy to make, requires no baking and has the perfect soft, cheesecake consistency, except it's fudge! Fall time requires pumpkin everything so we went heavy handed with this recipe. The base of course has pumpkin puree and pumpkin pie spice, but we also crush up pumpkin seeds for a crunchy topping. The mouth feels are out of this world, and if you don't believe us you'll just have to make it this holiday season.
Low Carb, No Bake Recipes
No bake recipes are the easiest recipes, especially when there is a ton of other things to cook. You can usually make no bake recipes in advance to make your day of cooking less stress free! This is definitely our favorite no bake recipe by far because fudge + pumpkin + heaven! We have a couple other great no bake recipes that would be good to keep in your back pocket in times of need and high stress! Our no bake cheesecake and low carb truffles have both been hits among those who have made them.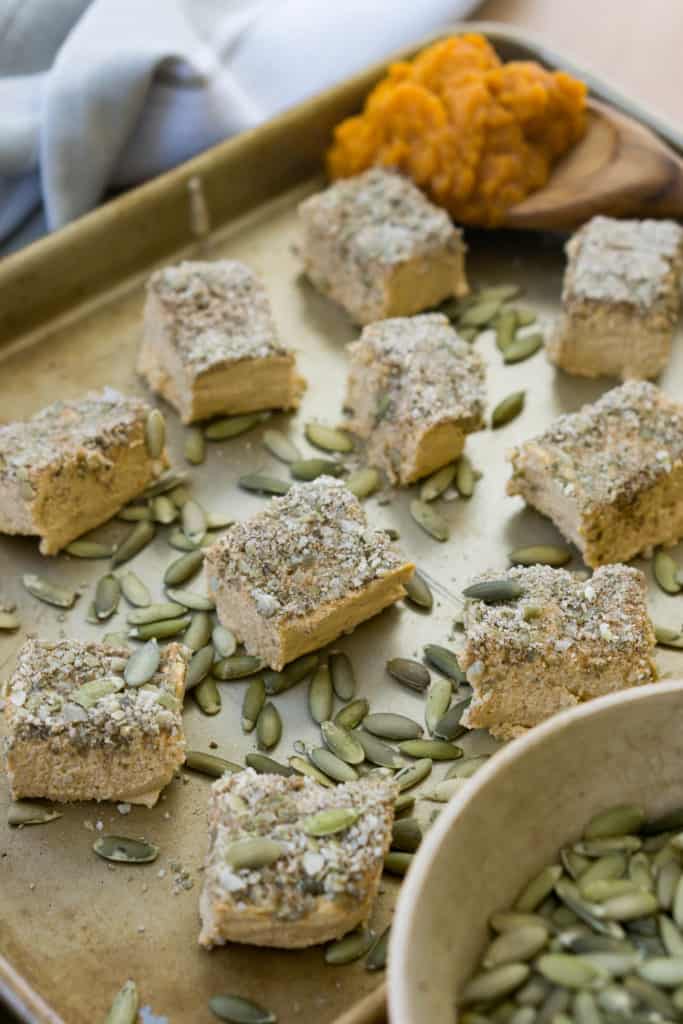 Our Favorite Easy Pumpkin Recipes!
Pumpkin cookies, pumpkin pies, pumpkin loafs, fudge and lattes! We've got it all for you with our keto pumpkin recipes. Whether or not you let your pumpkin lover show, we all have it deep down inside of us. Come fall time, the pumpkin cravings going into overdrive. My personal favorite is our low carb pumpkin pie cheesecake, while I know Matt is obsessed with our pumpkin chocolate chip cookies! Honestly, you can't go wrong with any of our pumpkin recipes, especially our keto pumpkin bread!
Learn more about how much pumpkin you can have on a keto diet.
The Best Easy Pumpkin Fudge Recipe
What makes this recipe the best of all our pumpkin recipes is how indulgent and rich this one is. It is more than worthy of your Thanksgiving or Christmas dinner this year, and 12 pieces might not be enough to satisfy everyone! You can never have enough food when family and friends gather so make this easy pumpkin fudge ahead of time, set it out after dinner and watch it disappear!

Recipe can be quickly added to MyFitnessPal – Search "KetoConnect – Easy Pumpkin Fudge"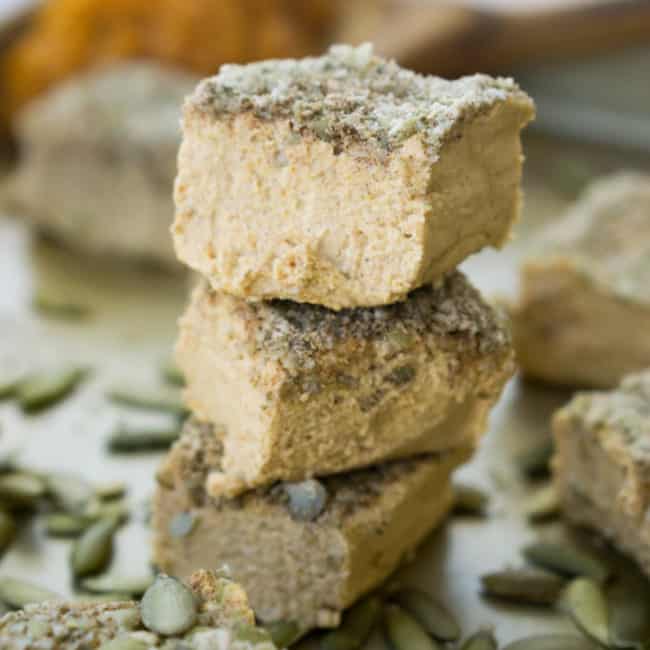 Easy Pumpkin Fudge
Total Time 8 hours 10 minutes
Servings 12 servings
Calories per serving 120kcal
Instructions:
Add the cream cheese and butter to a bowl and cream together using a hand mixer.

Add the remaining ingredients and mix until fully combined. Line a 4×4 baking dish with parchment paper and pour the fudge contents into the dish. Spread it out to create an even top.

If desired, top the fudge with crushed or ground pumpkin seeds. Press the seeds into the fudge and place in the fridge for at least 8 hours, preferably overnight.

Slice into 12 pieces and enjoy!
Nutrition Facts
Easy Pumpkin Fudge
Amount Per Serving
Calories 120 Calories from Fat 108
% Daily Value*
Fat 12g18%
Carbohydrates 1.5g1%
Fiber 0.5g2%
Protein 1.5g3%
* Percent Daily Values are based on a 2000 calorie diet.
Written By