Being on a ketogenic diet doesn't necessarily mean you'll be eating eggs, bacon and avocado for all your meals. Although, there is absolutely nothing wrong with that, some of us like to mix in vegetarians options once in a while, and some of us are just straight up vegetarians kicking some keto butt! Now, whether or not you're the former or latter, we've got a perfectly balanced Vegetarian Keto Meal Prep just for you!
How To Videos!​
Check it out! We made a "how to" video for this meal prep. We're really trying to set you up for success on a vegetarian keto diet. First up we've got the meal prep video:
Oh but there's more. We also have a day of eating video for you. This, along with the supplemental packet included at the bottom of this post should clear up any questions you might have about this vegetarian keto meal plan. Check it out:
Getting Your Protein
As I'm sure you've heard time and time again, a keto diet is a high fat, moderate protein, low carb diet. On a vegetarian keto diet, hitting your macros, especially protein, can be more of a challenge than for those who eat meat. Maybe you're not a fan of protein powders or the vegetarian meat substitutes you like are high in carbs. So, what options do you have?
Eggs are going to play a huge role in your diet as a vegetarian. In fact, they are going to become your new best friend! Eggs are made up of 6 grams of protein and 5 grams of fat – they are almost the perfect food. Eggs can also be manipulated in enough ways that you'll never even have the chance to get bored of eating them! Fry them up, bake them into a frittata or add mayo to make an egg salad. You can't go wrong.
There are a lot of you out there who hate on Tofu, and all soy products for that matter, but we are tofu advocates! Tofu is not only high in protein, and relatively high in fat, but it's low in carbs, which makes for a great protein source on a ketogenic diet. It's a good source of essential vitamins, such as magnesium, calcium and iron and absorbs flavors really well so whether or not you're a great cook, cooking with tofu is cooking made easy!
Another food you'll find to be a good source of protein on your vegetarian keto diet is cheese, which I'm sure you could have guessed. Cheese comes in a variety of of textures, tastes and colors, but don't let this delicious ingredient fool you -it'll help you hit your protein goals! One thing to note, however, is the varying carb count in different cheeses. It ranges from a low .10 net carbs per 1 oz serving of Gruyere cheese to a higher 1.5 net carbs per 1 oz serving of Swiss cheese.
About This Meal Prep
This is a 5 day 1512 calorie meal plan designed to help you enter a state of vegetarian, fat burning ketosis! In this meal prep we provide you with a vegetarian keto breakfast, lunch, dinner and snack! But, it doesn't stop there. We've also included supplemental materials to help you fine tune the meal prep to your body and macros! Here's a quick run down of what we've got for you:
5 Day Keto Meal Plan
Meal Prep Video
Full Day Of Eating Video
Calorie Adjusted Meal Plans
Printable Cooking Instruction
Printable Shopping List
Get Your Free Shopping List + Meal Plan
What's On the Menu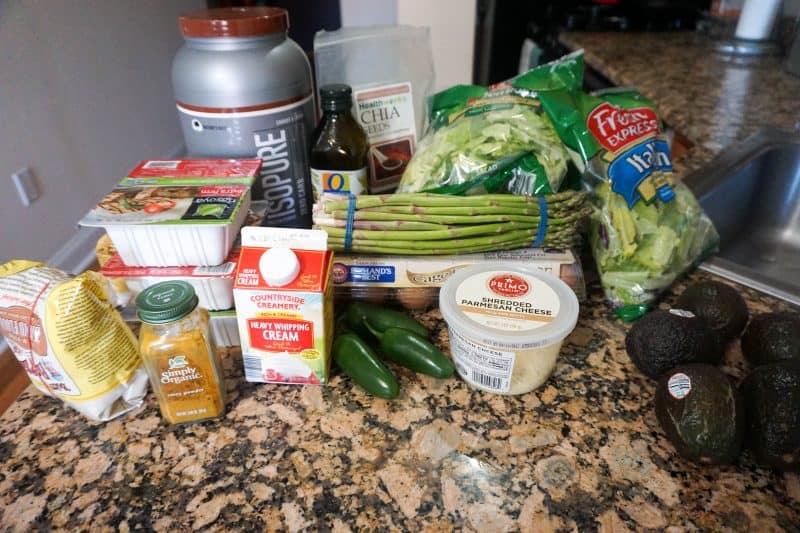 Breakfast
We aren't hitting you with the traditional eggs and bacon for this meal preps breakfast. We've got something extra special for you – Keto Oatmeal! With a base of hemp hearts and protein powder, this meal is a high fat, high protein powerhouse that will keep you full well into the day.
For the protein aspect you'll be using the protein powder of your choosing to mix into the keto oatmeal. We live by Isopure Cookies and Cream, but feel free to use whatever protein powder you have at home! Something to be aware of is that the flavor of the protein powder will dictate the flavor of your keto oatmeal, as well as any change in nutrition. We love and live by Isopure because it's 0 carb!
Nutrition (Standard Plan)
Calories: 411
Fat: 38.2g
Protein: 16g
Carbs: 6.2g
Fiber: 4.6g
Net Carbs: 1.6g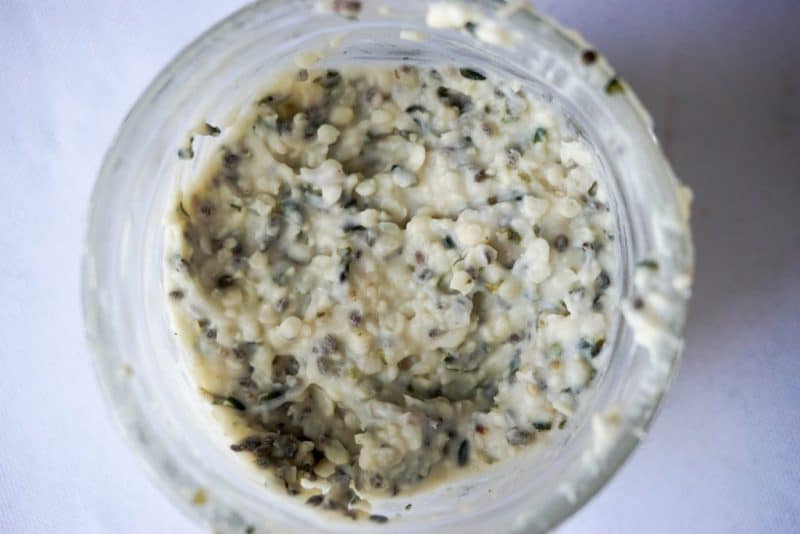 Lunch
Don't think we forgot about those eggs we skipped out on at breakfast! We are putting them to good use at lunch with an Asparagus and Jalapeno Frittata! Not only is this recipe high protein and deliciously simple, but it makes for an easy prep and clean up! All you have to do is combine the ingredients in an oven safe pan and bake. When did meal prep get so easy?!
​Nutrition (Standard Plan)
Calories: 218.8
Fat: 15.8g
Protein: 15.8g
Carbs: 4.4g
Fiber: 1.6g
Net Carbs: 2.8g
Dinner
You probably didn't think it could get any better after you had your Keto Oatmeal this morning, but we are pulling out one of our tried and true favorite vegetarian recipes for dinner, and that recipe can be found here! If you're not a fan of curry get ready to be, because our Curry Tufu Nuggets are on the menu and you're going to love them.This is one of those foods where you can eat a lot without going over on your calories! You'll get a whopping 25 nuggets per salad. If you weren't on board before, I bet you are now! It's going to be one of the heartiest, most protein, and flavor packed salads you've ever eaten.
Nutrition (Standard Plan)
Calories: 648.6
Fat: 47.2g
Protein: 36.4
Carbs: 23g
Fiber:​ 10.6
Net Carbs: 12.4g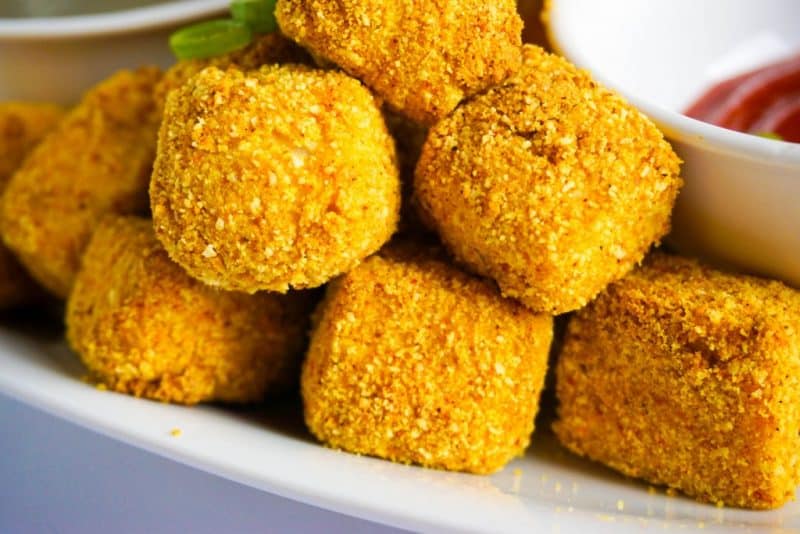 Snack
​One word. Avocado. Just kidding! Well, your snack in this meal prep is an avocado, but there is so much more to say. The best part about this snack is that it can easily top your frittata at lunch or be thrown into your salad at dinner! It also lacks any preparation, except for the dreaded task of finding 5 perfect avocados that will be ripe enough to eat, but not over ripe. It's a fine line to walk, we know.If you can't find the perfect avocados or they charge you an arm and leg for one like they do at the grocery near our house, you can use pre-made guacamole! The single serving cups are normally 100 calories so you could replace the avocado with two or three of those depending on your meal prep macros!
Nutrition (Standard Plan)
Calories: 234
Fat: 21g
Protein: 3g
Carbs: 12g
Fiber: 10g
Net Carbs:​ 2g
​
Have Fun With Your Prep!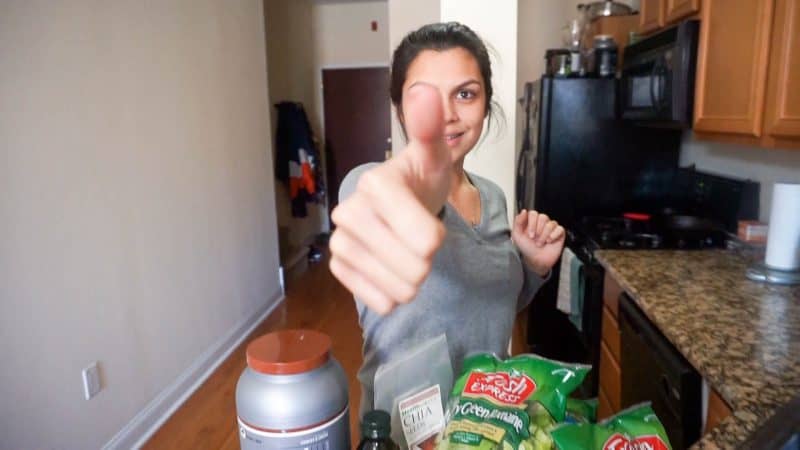 For those of you who like being told exactly what to do or having a strict set of guidelines to follow, we've mapped out your meal prep for you down to a tee. All you have to do is come ready to cook, eat and succeed! But, for those of you who like a little thrill in your life, I highly recommend having fun with your meal prep!Depending on who you are, having fun can mean dancing naked while you cook or it can mean swapping out the ingredients you don't like for those you do. As always, making any substitutions will change the nutrition from the calorie guide we've provided you, but eating shouldn't be a chore, it should be fun! If adding a dash of cinnamon and sugar free maple syrup to your keto oatmeal or using a blue cheese dressing for your curry tofu nugget salad makes you enjoy your meals more, then run with it!
What If I Don't Eat 1512 Calories?
Don't worry! We've got you covered with a variety of printable meal plans and shopping lists specifically for you! You just have to sign up below and we'll email you a copy of our plans for different calorie levels.​
What If I Don't Know How Many Calories To Eat?
The beauty of a ketogenic diet is that you often don't need to be too exact with your calories. You can just keep carbs low, fat high, and everything works itself out over time. If you want to figure out how much you should be eating(it's worth knowing), then try our Keto Macro Calculator. ​It takes about 3 minutes to calculate and there is a how-to video explaining how to come up with an accurate calculation.
Get The Free Meal Plan
Get Your Free Shopping List + Meal Plan
Step By Step Cooking Instructions
​Detailed instructions for how to prepare each meal and exact ingredient amounts so you know you're getting the right nutrition.
Printable Shopping List
​Quick and easy printable shopping list so you can grab everything in 1 trip to the store and start this meal prep asap!
Calorie Adjusted Meal Plans
Meal plans for a variety of calorie levels. If you need more or less than 1512 calories a day(and chances are you do) then this is what you're looking for.

Written By