Chicken Egg Foo Young is one of our favorite recipes because it's the perfect balance of fat and protein without a ton of extra carbs. It's a fluffy egg pancake loaded with juicy chicken, salty soy sauce, and crisp broccoli for the ultimate umami flavor.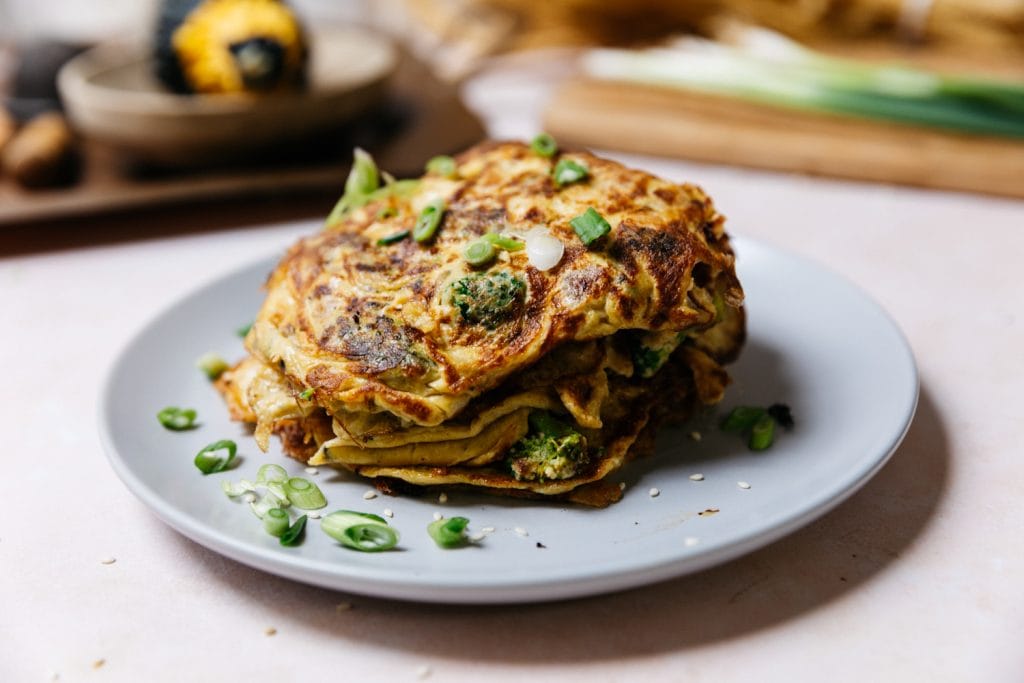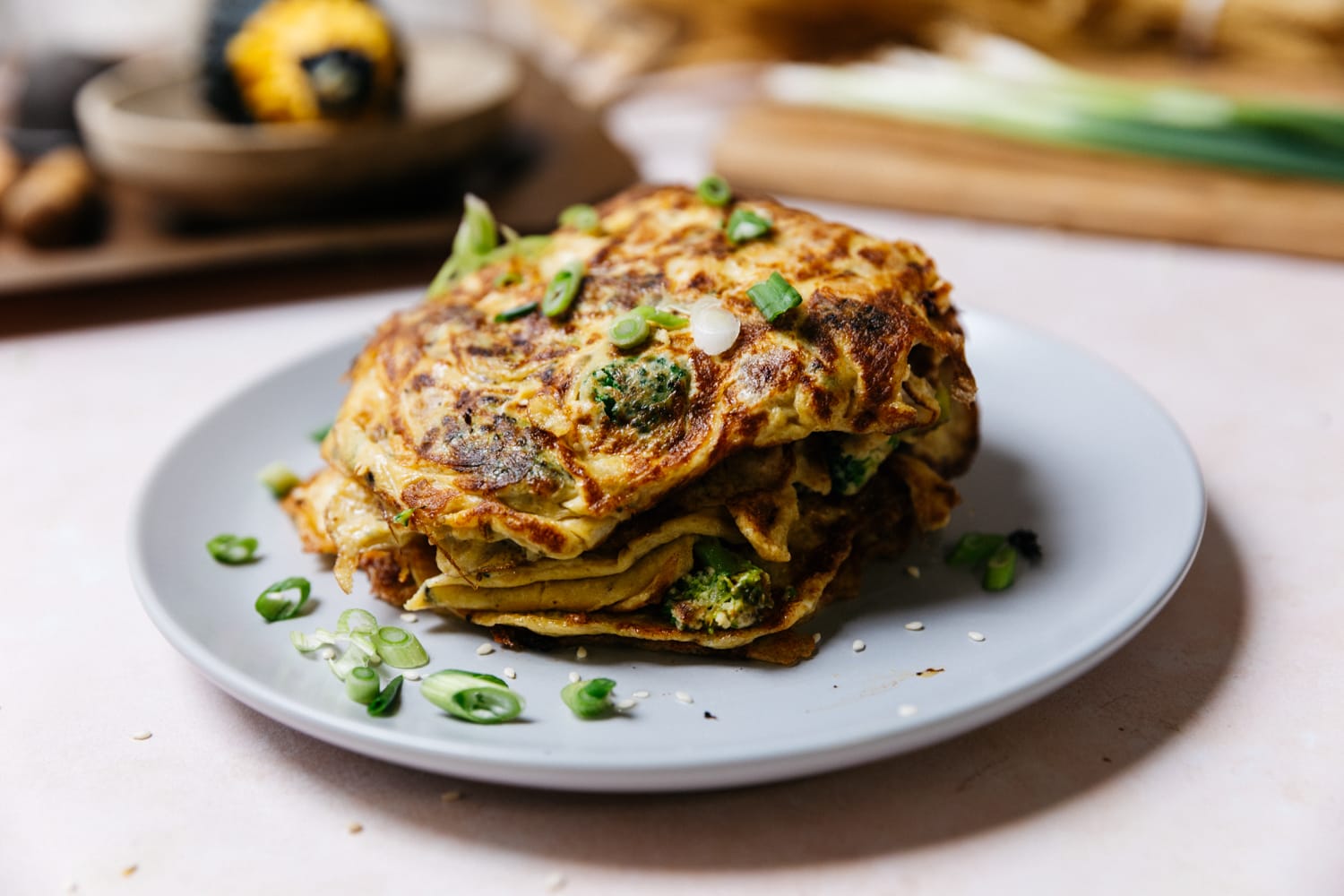 Chicken Egg Foo Young is a recipe I discovered several months ago when my mom and I ordered Chinese take-out. I was skeptical of the dish until it actually arrived and I got a good look at it. It was a fried egg pancake filled with chicken and veggies, and it was darn good! I can't believe I had gone all my non-keto life without knowing this existed. 
 Just because I'm keto now doesn't mean I can't enjoy it. I have created this Chicken Egg Foo young for anyone and everyone who loves eggs, loves pancakes and wants a quick and easy Asian recipe to make!
What is Chicken Egg Foo Young Made of?
Chicken egg foo young is most commonly made with eggs, chicken, soy sauce, cornstarch, oil, and your favorite vegetable mix-ins. Normally these vegetables would include onion, mung bean sprouts, and bell pepper.
Some recipes are made in a skillet and others have you fry the batter for a more crispy golden brown pancake. The choice is up to you, but personally we think the skillet route has an easier cleanup.
Most recipes also have an egg foo young gravy, but we chose not to make that for our recipe. The hot gravy includes flour, oil, chicken broth, oyster sauce, and spices.
Is Chicken Egg Foo Young Healthy
For the most part egg foo young is quite healthy. It has a good blend of protein and fat from the egg, healthy fats from the oil, and fiber from the vegetables. All these will work in conjunction to keep you full and satisfied.
We also find that vegetables can help to blunt ghrelin the hunger hormone by stretching the stomach lining and signaling to your brain that you're full.
Is Egg Foo Young Keto Friendly
Depending on the ingredients you put into your egg foo young, it can 100% be keto friendly. Recipes that use cornstarch aren't as low carb and easy to make keto. However, substituting cornstarch for xanthan gum, or skipping it all together will help the recipe to be lower carb.
It is also super easy to change out higher carb ingredients like onion for something like more bean sprouts or broccoli if you are trying to watch total carbs.
Our keto egg foo young makes four egg pancakes each having just 1.25 net carbs. That is including regular onion too, so just remove the onion to make the total carbs even lower.
The full macros in this recipe are 200 calories, 16.75 grams of fat, 2.25 grams of carbs, and 11.25 grams of protein a serving. Meaning this recipe is totally keto and really easy to fit into a healthy keto diet without issue!
Why we Love Chicken Egg Foo Young
I wanted to recreate this recipe because it is the perfect take-out recipe to remake for a keto diet. All it takes is any three, four, five or more ingredients you want or have in your house.
I kept it simple and went with the following four ingredients: Eggs, chicken, broccoli and soy sauce. If you're skeptical about the combination of savory ingredients and soy sauce with eggs, don't be! I was at first, but after my first bite of this incredible savory pancake, I was sold.
How to Make Chicken Egg Foo Young
Egg foo young is a super easy recipe to make that you can customize with all your favorite additions like fresh bean sprouts, broccoli, or chicken breasts and thighs. Our goal for this egg foo young recipe was to make it as simple as possible, and we think we've done just that!
With a dish that comes together in just 10 minutes, this Chinese omelette is sure to knock your socks off. Grab out that keto fried rice and prepare to make the ultimate side dish, egg foo young, chicken addition!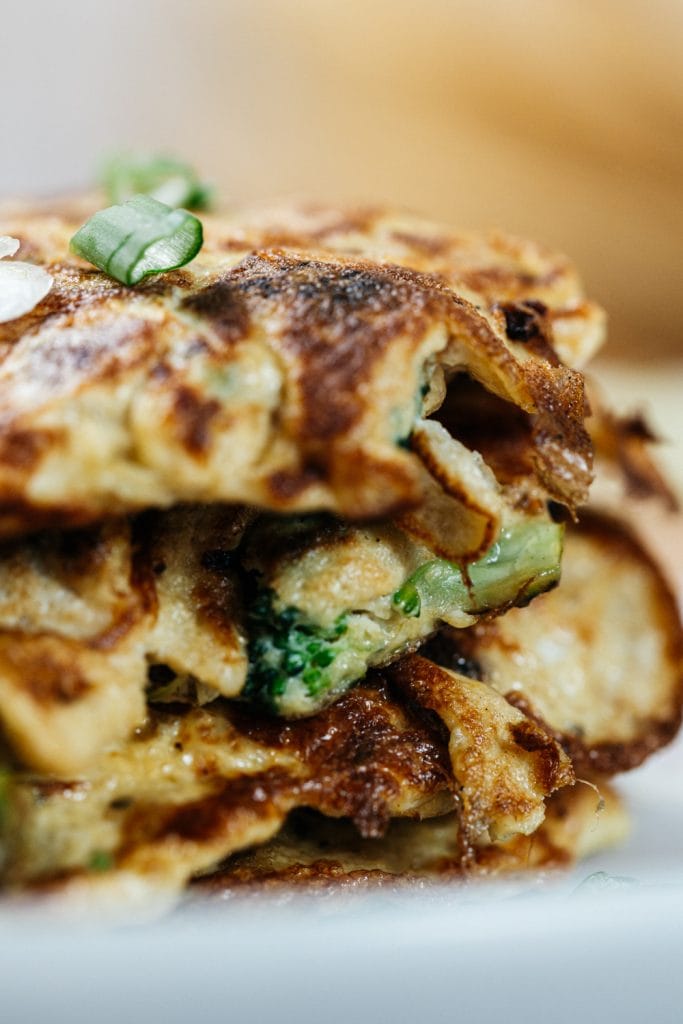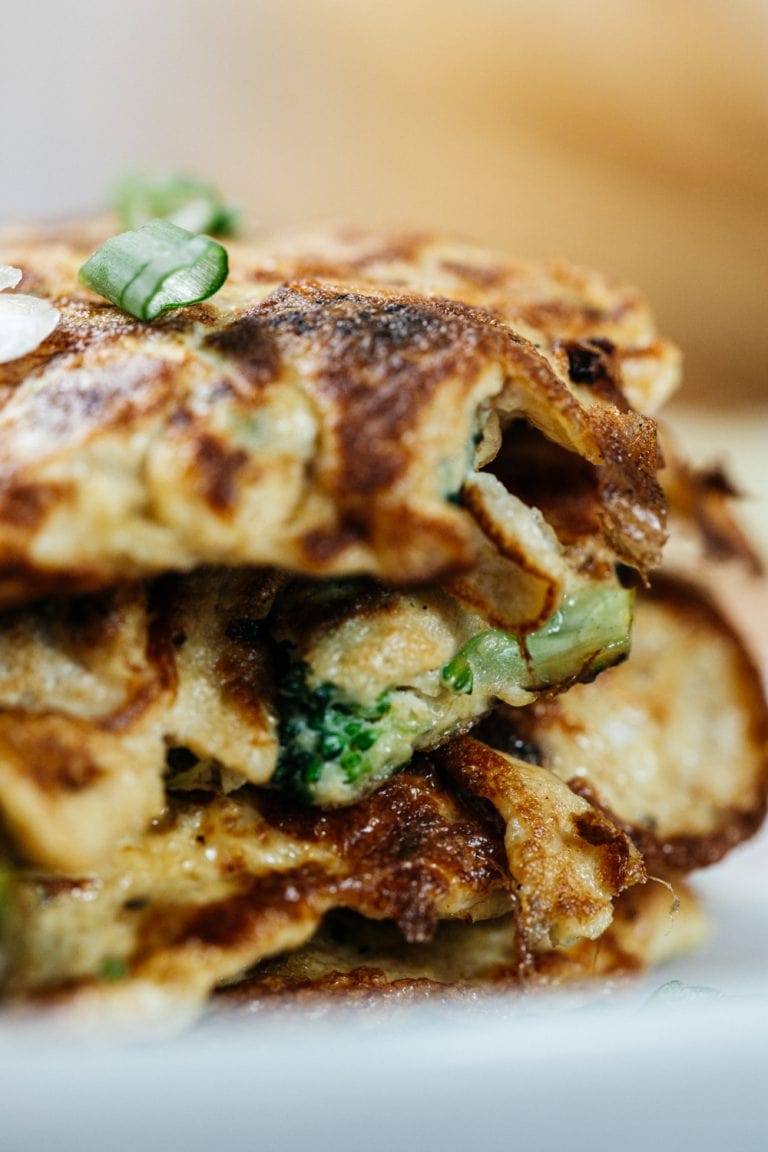 Ingredients
To make these tasty egg foo young pancakes you only need a few simple ingredients. First you will need 4 large eggs, 4 oz of chicken thighs, broccoli, coconut oil, liquid aminos, onion, garlic powder, salt and pepper.
We chose to use chicken thighs for this Chinese omelette, but chicken breast chunks would also work just as well in these egg foo young pancakes.
As for the broccoli and onion you have a few different vegetable options. We prefer broccoli because it is a higher fiber, lower net carb vegetable. However, green onions, bell peppers, and fresh bean sprouts (aka mung bean sprouts) are all common fillings in an egg foo young recipe.
Each of those vegetable options are still low carb, as bean sprouts are mainly just fiber and water, so feel free to add in a few of these for extra texture and flavor.
Liquid aminos are different than soy sauce, and is usually used in our easy Chinese recipes. Coconut aminos and liquid aminos will still make an absolutely delicious dish, just without any gluten like in regular soy sauce. If you don't like the flavor of liquid aminos in the beaten eggs try gluten free soy sauce instead.
Making Egg Foo Young
This stir fry based Chinese omelette is going to be the easiest recipe you make all week. It takes under 30 minutes to prepare so you can have dinner on the table in no time.
To begin mix together the eggs and then set the beaten eggs aside.
Heat a skillet to medium high heat and add in the coconut oil. Optionally you can use sesame oil if desired. Add in the cut up chicken thigh or chicken breast and cook until it reaches 165 degrees.
Add the broccoli and onion into the chicken and cook for an additional 3-5 minutes to soften.
Bring back the bowl of your mixed eggs and add the cooked chicken, broccoli, and onion into the eggs. Stir the egg mixture well to combine. Now is the time to add bean sprouts if desired.
Once the egg mixture is ready add the remaining coconut oil into the pan. Use a 1/3 cup measuring spoon and pour the egg mixture into the heated and prepared pan.
Using a spatula push the egg foo young recipe towards the center of the pan to form a thicker pancake that doesn't spread too much.
Cook the egg foo young for 2-3 minutes, flip and repeat on the opposite side.
Repeat this process until all the eggs have cooked. Top with cold pressed sesame oil, green onions, bean sprouts, sesame seeds, and whatever else your heart desires! It can also be served with an egg foo young gravy, brown gravy, or soy sauce to compliment the stir fry flavor.
Storing and Serving Egg Foo Young
We like to serve our lightly golden brown egg foo young with fresh bean sprouts, sesame seeds, and a little soy sauce. It's best to serve immediately because eggs cool quite fast. Serve warm with your toppings of choice and pack up any leftovers into a tupperware container in the fridge.
If you are going to reheat this recipe we recommend warming the egg foo young in a skillet. It will keep it a nice golden brown without making the eggs rubbery because it's a frying pan rather than the microwave.
Sometimes depending on the restaurant they will deep fry ingredients because deep frying makes a more crispy vegetable. However, we think that it's best to just carefully flip the pancake in a pan to cook since the vegetables will still go soft if stored in the fridge either way.
There are always many ways to make authentic recipes taste good, but now you know the best way to prepare this Chinese restaurant style egg foo young with fresh ingredients and the ideal cooking method.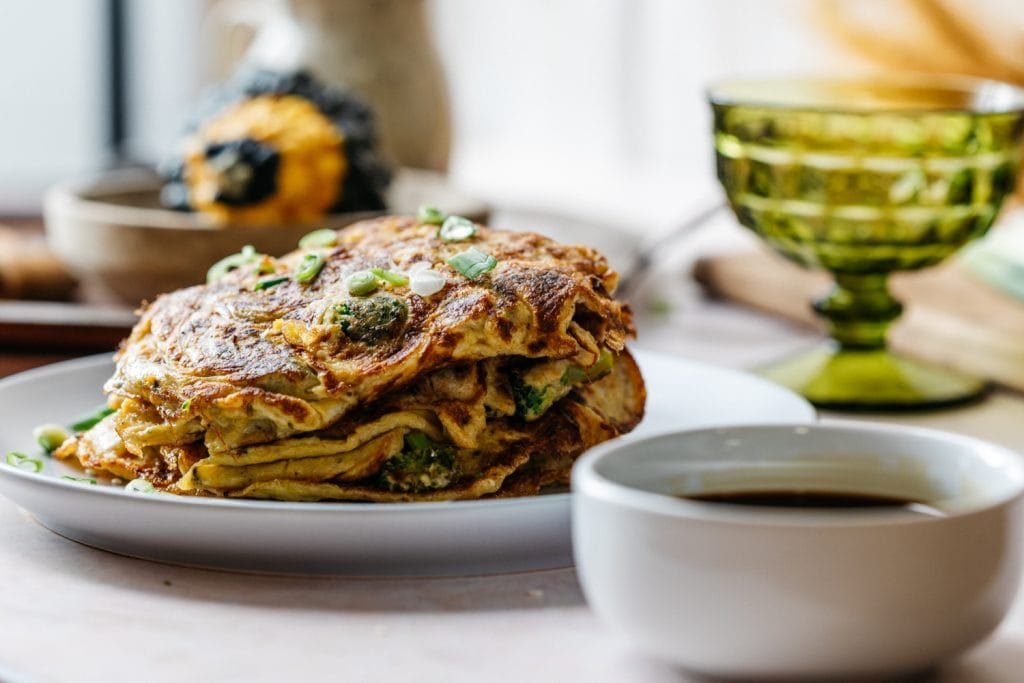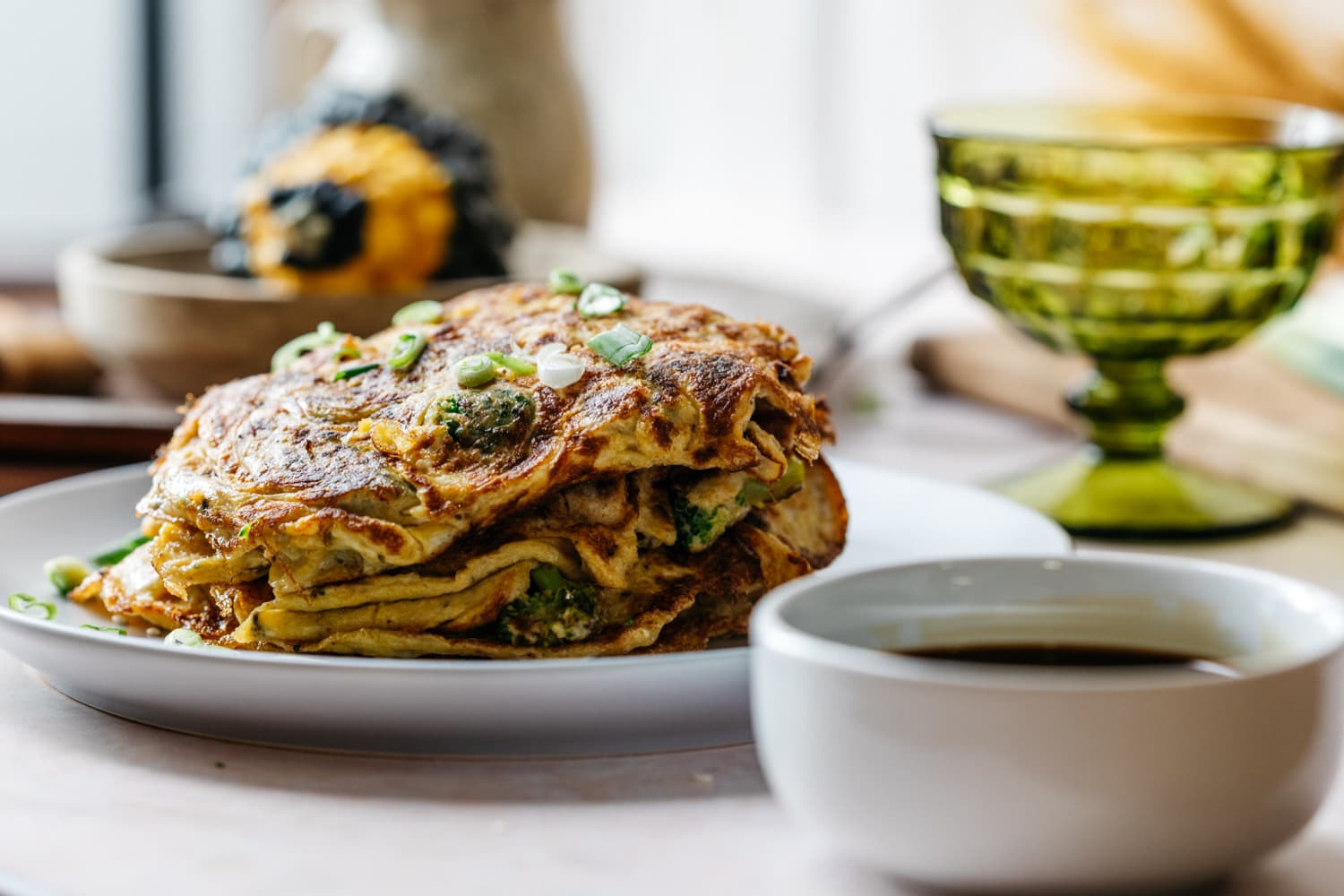 More Keto Asian Recipes
Main course with vegetables and white rice is pretty common on Chinese restaurant menus. But while they are delicious, Chinese ingredients aren't always healthy, especially not when they are smothered in a sauce. Some of our favorite healthy low carb Asian recipes are:
We have plenty of Asian recipes to keep you full all week. Try some of our favorites to make delicious and healthy meals that everyone in your family will enjoy.
Keto Chicken Egg Foo Young
Egg foo young is a simple, yet classic Asian dish that we recommend to anyone looking for an easy meal. Customize it with everything from adding bean sprouts to mixing in some oyster sauce. The possibilities for making your perfect meal are endless.
Try making egg foo young for dinner tonight and we know you'll be blown away with just how good this recipe tastes. Who knows, you may even open a Chinese restaurants afterwards. Okay, well maybe not open one, but definitely skip eating out at Chinese restaurants from now on.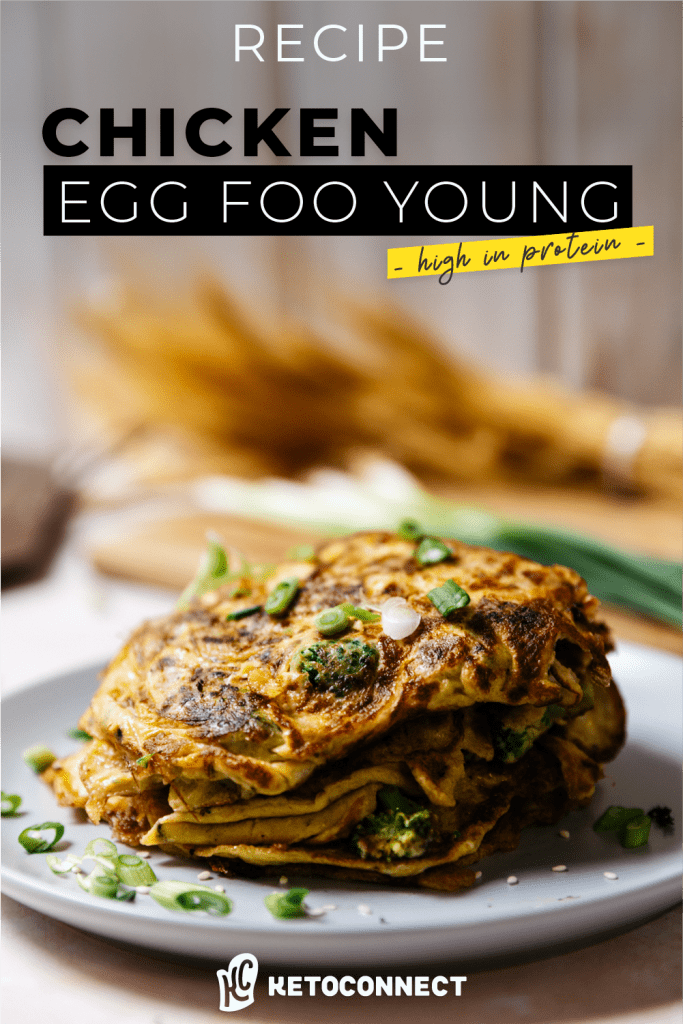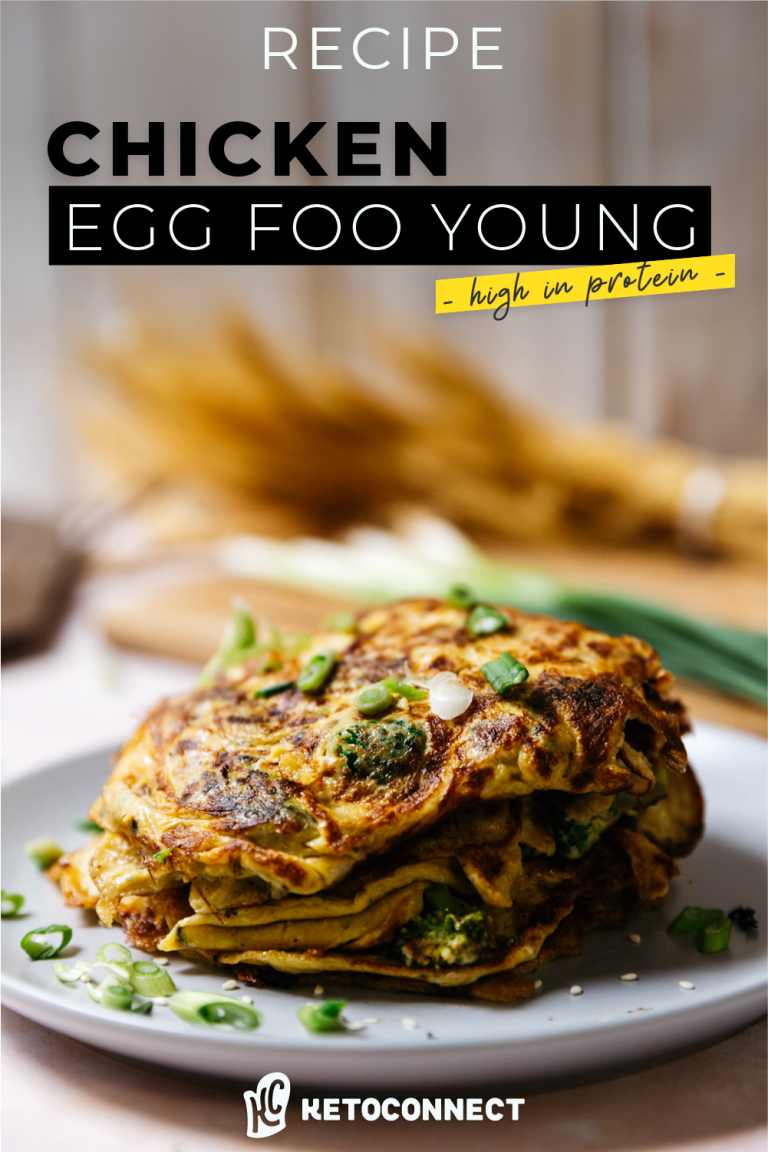 Search "Ketoconnect – Egg Foo Young" On MyFitnessPal.com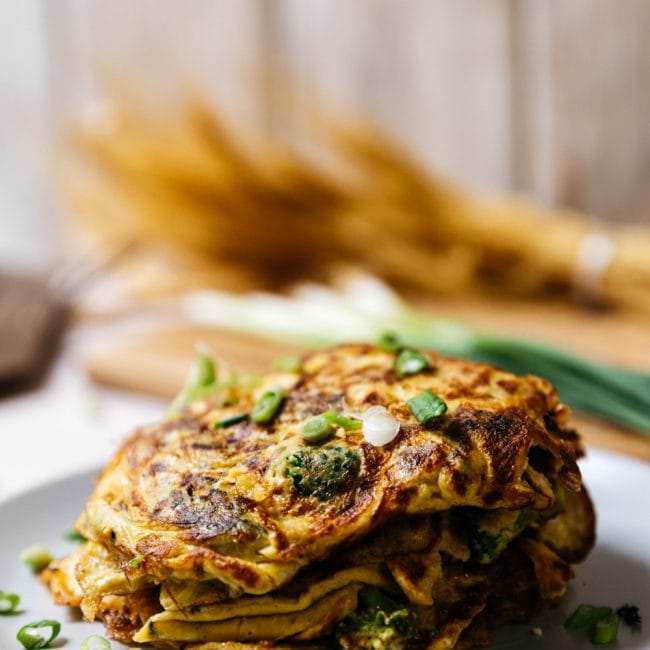 Chicken Egg Foo Young
This Chicken Egg Foo Young recipe keeps you low carb and on track when you're craving a good asian dish.
Total Time 30 minutes
Servings 4 egg cakes
Calories per serving 200kcal
Prep Time: 10 minutes
Cook Time: 20 minutes
Instructions:
Mix four eggs and set aside.

Heat skillet to medium-high heat and add 1 tbsp of coconut oil.

Add cut up chicken thigh and heat until fully cooked through.

Add broccoli and onion to cooked chicken and cook for additional 3-5 minutes.

Add chicken, onion and broccoli to eggs. Add garlic powder, soy sauce, salt and pepper.

Add second tbsp of coconut oil to heated pan.

Using a 1/3 measuring cup scoop out some of the egg, chicken and broccoli mixture and pour into the pan.

Using a spatula push egg mixture towards center of pan making a smaller circle. Cook for 2-3 minutes and flip. Cook for another 2 minutes.

Repeat until all mixture is used. Serve warm and enjoy!
Nutrition Facts
Chicken Egg Foo Young
Amount Per Serving
Calories 200 Calories from Fat 151
% Daily Value*
Fat 16.75g26%
Carbohydrates 2.25g1%
Fiber 1g4%
Protein 11.25g23%
* Percent Daily Values are based on a 2000 calorie diet.
Written By