Infrared sauna blankets allow you to experience the benefits of heat therapy without buying a full unit, saving thousands of dollars.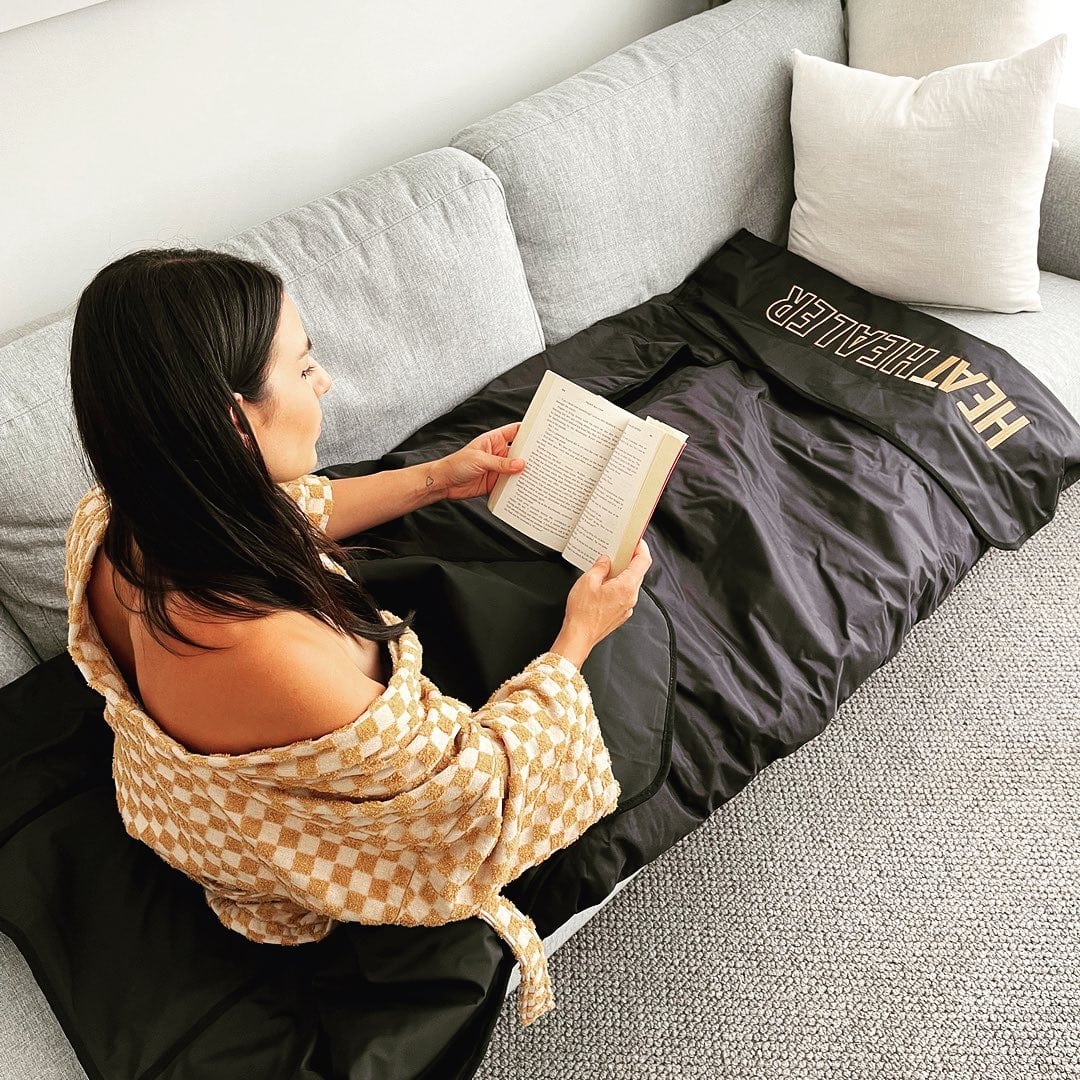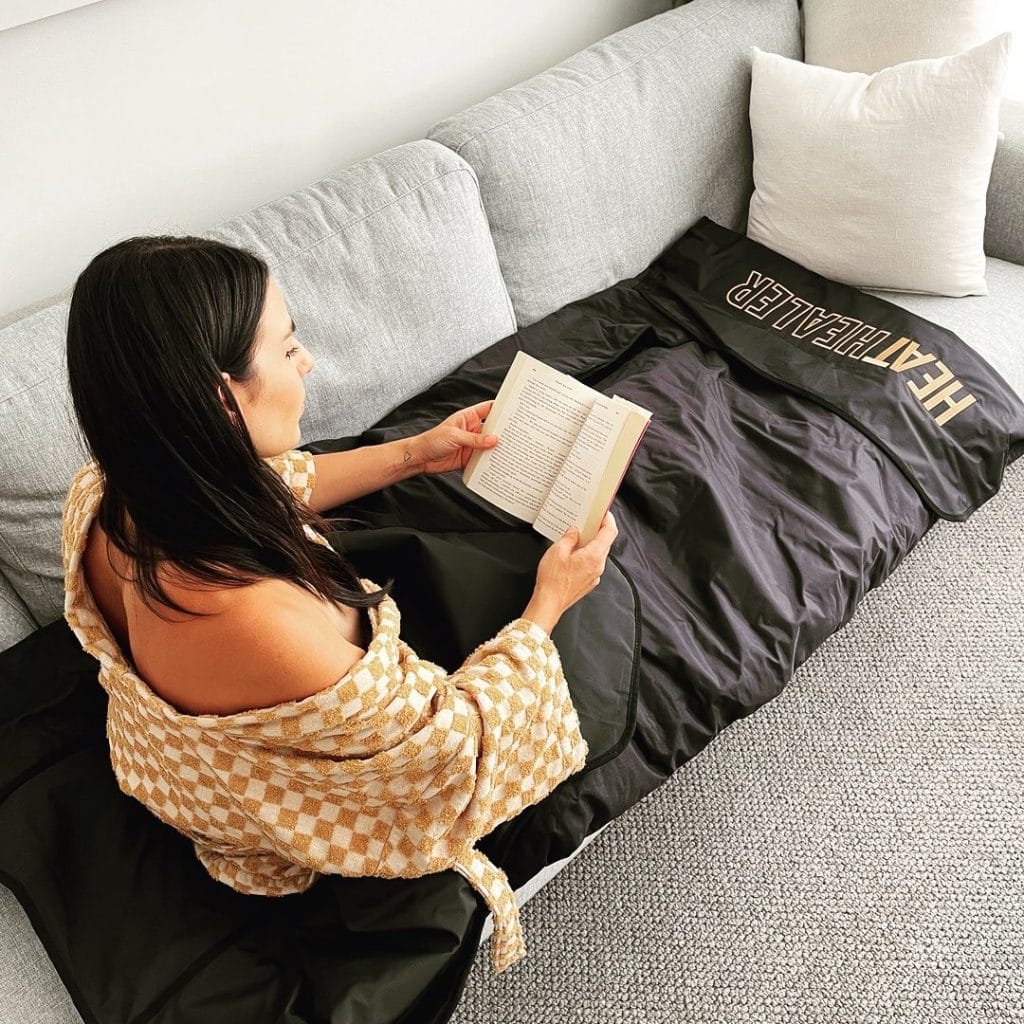 So in this post, I'll look at the 10 best infrared blankets in 2022. I'll talk about my thoughts on each blanket, the pros and cons and if it's worth the investment.
Best Sauna Blankets – Our Choices
Here are our picks for the 10 best infrared sauna blankets:
MiHigh
Relax
Gizmo
InLoveArts
Vanell
TOPQSC
Fencia
Ete Etmate
HigherDose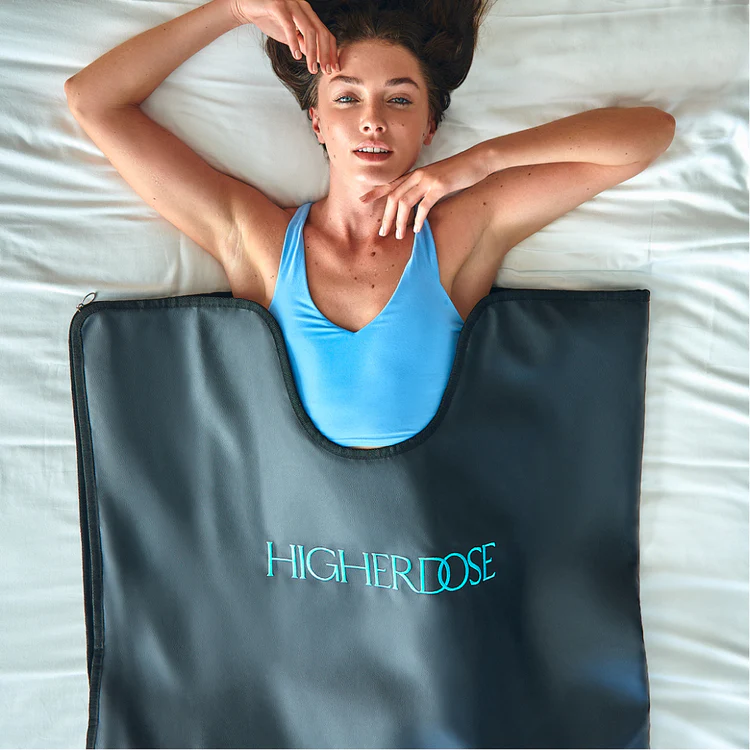 The HigherDose infrared sauna blanket V3 competes with home units because it's cheaper, portable and convenient to store.
HigherDose also updated this blanket by adding a zipper. The previous version opted for velcro, which made cleaning a hassle.
With a maximum temperature of 158 degrees Fahrenheit, it heats your body directly. This makes it perfect if you're sensitive to heat but still looking to give heat therapy a shot.
Look out for these unique benefits when buying the HigherDose infrared sauna:
It's easy to set up
You can travel with it
You get a one-year warranty
What stood out to me when first unboxing the HigherDose blanket is the simple setup. Simply plug it into an outlet, set a timer using the remote control and enjoy the heat. Installation is a hassle with complete home units, and sometimes, you'll need to hire an electrician.
The HigherDose blanket is foldable and 71 inches long and wide. If you're traveling, fold it up and pop it in your suitcase. You aren't restricted to doing heat therapy at home.
Even though the HigherDose uses top-quality materials, anything can happen. If your blanket malfunctions within a year of purchase, simply reach out to HigherDose, and they'll replace it immediately.
MiHigh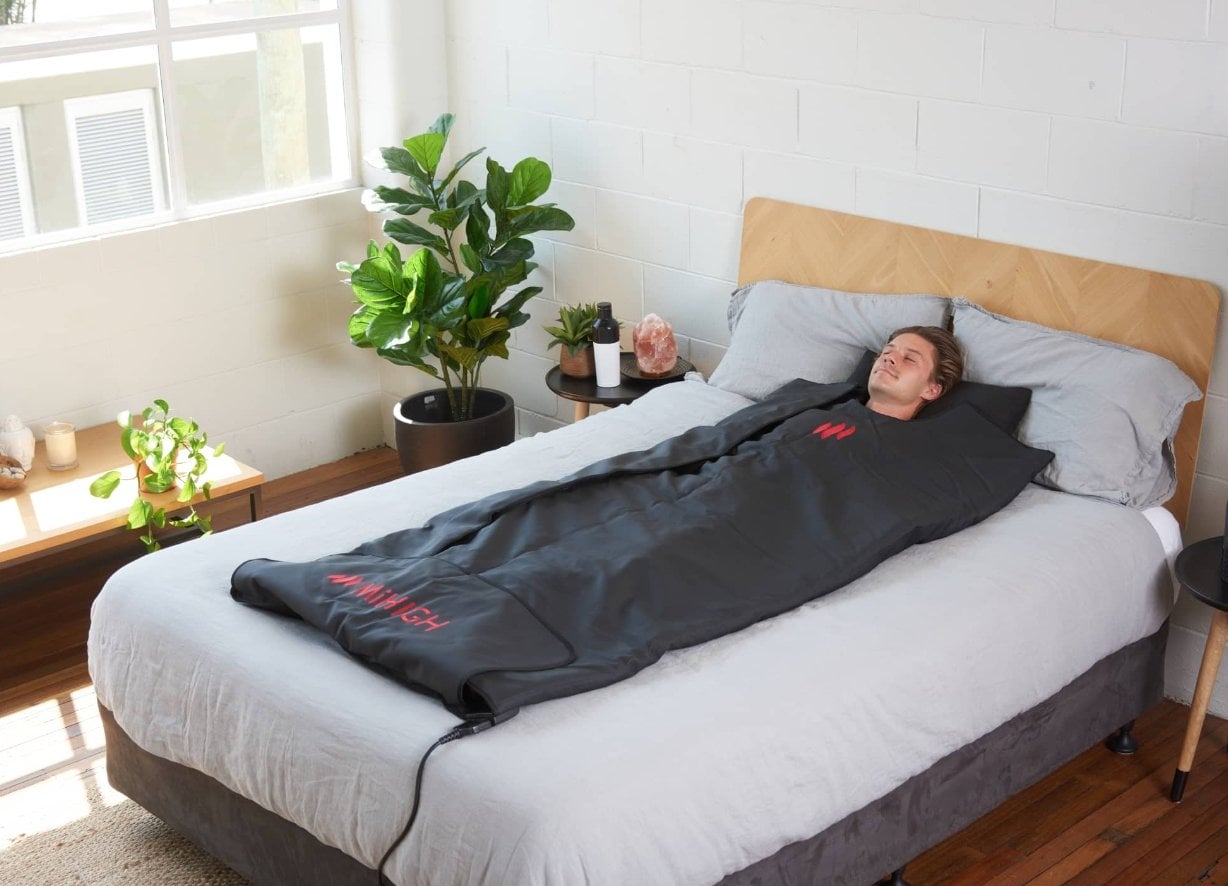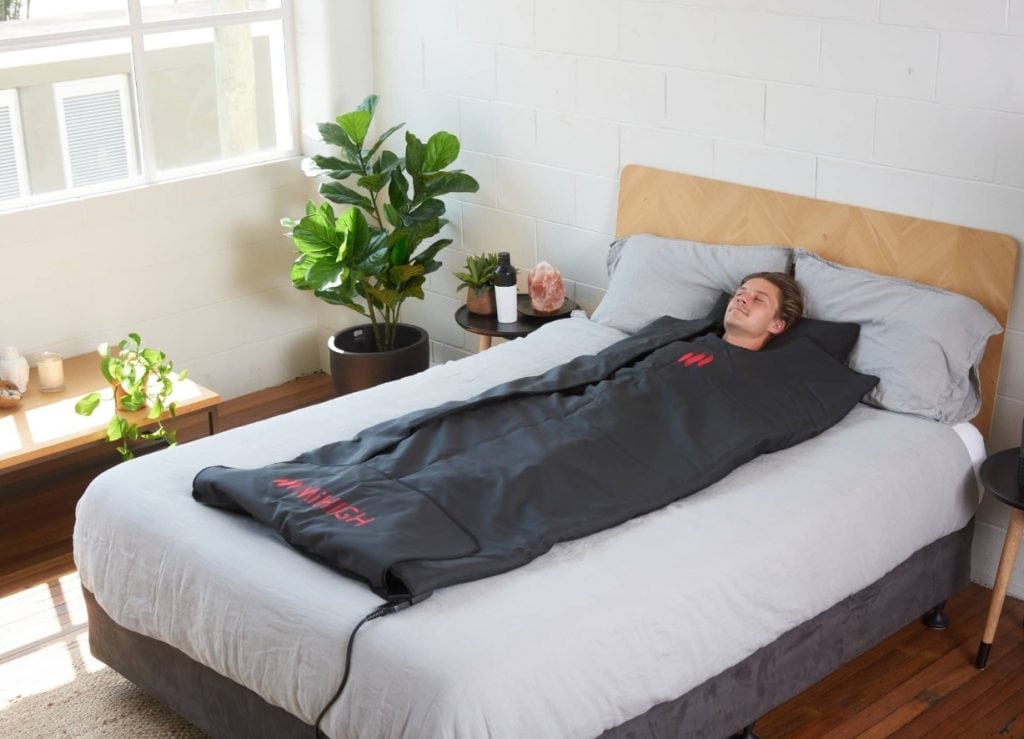 The MiHigh infrared sauna blanket is slightly more affordable than the HigherDose but offers similar quality. You can burn 600 calories in just one session.
It also heats up to higher temperatures than the HigherDose blanket. HigherDose works between 68 to 158 degrees Fahrenheit whereas MiHigh operates from 95 to 165 degrees Fahrenheit.
MiHigh falls short of HigherDose in the warranty category. With HigherDose, you get a one-year warranty, while MiHigh only provides a 30-day free trial.
Here are some MiHigh benefits that caught my attention:
The blanket is top quality and reliable while being affordable
It offers zero-interest monthly plans
MiHigh has a European Electrical Standard certificate
I like that MiHigh managed to manufacture a blanket using the best non-toxic materials at a low cost. When lying down, the first thing you'll notice is how comfortable it is. And if you're on the taller side, you'll be happy to know that this blanket is a practical option for anyone under 6'7″.
Unlike other brands that charge interest, MiHigh offers zero-interest monthly plans. So if you can't pay the total $499 immediately, you'll be able to pay $125 over four months.
Also, the European Electrical Standard awarded MiHigh a certificate. This means it's safe to use and reliable, giving you peace of mind.
Relax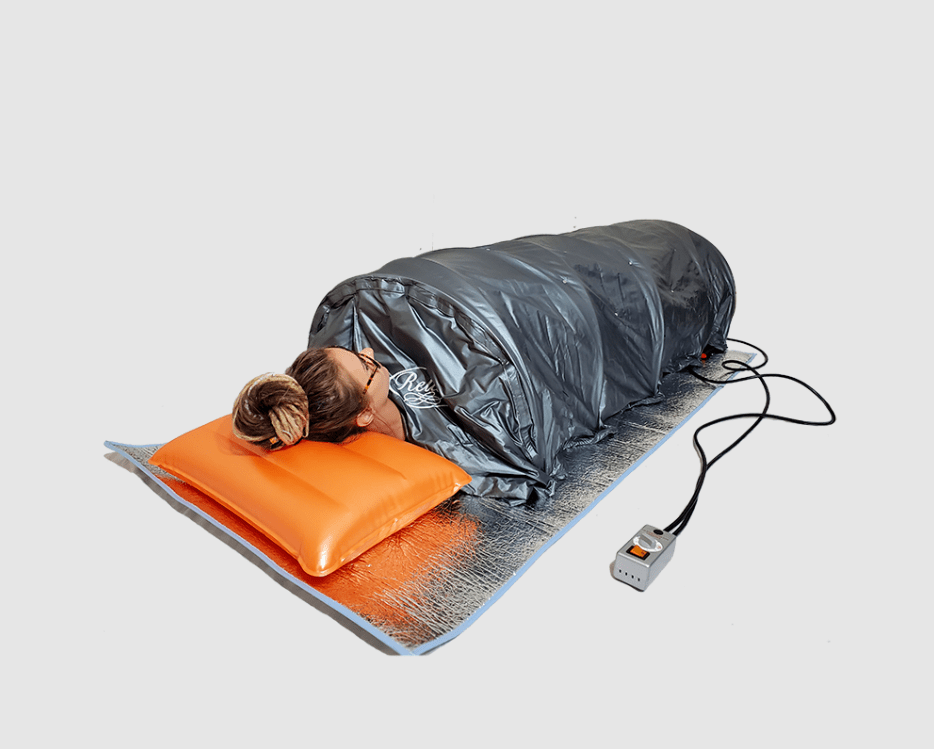 If you're looking for a more advanced blanket than the HigherDose or MiHigh, opt for the Relax infrared blanket. It's almost like a home sauna and blanket in one. Here are the dimensions of the Relax:
64 inches long
30 inches wide
18 inches high
18 pounds heavy
It uses the same far-infrared radiators that are in the Relax Sauna. So you're experiencing light and heat benefits while laying down and for a fraction of the cost.
The far-infrared heating zones spread light evenly across your body, ensuring zero hot spots.
These are some Relax benefits to look out for:
It's larger than regular blankets
The laydown sauna heats up quickly
It's easy to maintain
You can turn around and lay on your side, making your infrared sauna treatment more comfortable. You're restricted to lying on your back with the HigherDose or MiHigh.
The Relax blanket uses a powerful 800-watt heater that heats your body within minutes. This is perfect if you're pressed for time because you won't have to preheat your blanket. Laying in it for 10 to 15 minutes is enough time to start experiencing benefits.
A drawback to this quick heating is that it doesn't only use infrared light. It uses convection to generate heat which explains why it can heat up so quickly. There's also a fan blowing hot air across the heat elements, keeping it warm.
But if you aren't sensitive to heat and want to sweat quickly, this might not be a dealbreaker.
Lastly, the Relax unit is easy to maintain. Simply fold it up and store it in a closet when you're done. And if you'd like to clean it, use a wet cloth to remove the sweat, and you're good to go.
Honorable Mentions
Here are some honorable mentions.
Heat Healer Sauna Blanket
This low EMF sauna blanket is helpful for taller individuals because it's 75 inches long with a circumference of 69 inches. It comfortably holds someone that 6'6″ and 300 pounds.
When carrying the Heat Healer in the package bag, it only weighs 24 pounds. You'll notice it's also not bulky, making it a stylish traveling option.
Heat Healer uses far-infrared light to directly heat your body. With a maximum temperature of 176 degrees Fahrenheit, you'll start sweating quickly.
You'll even find the Heat Healer featured on channels like:
Daily Mail
The Telegraph
The Independent
Wellness Mama
And if something happens to your blanket within two years of purchase, simply message customer support, and they'll replace or repair your blanket.
Gizmo Supply Digital Sauna Blanket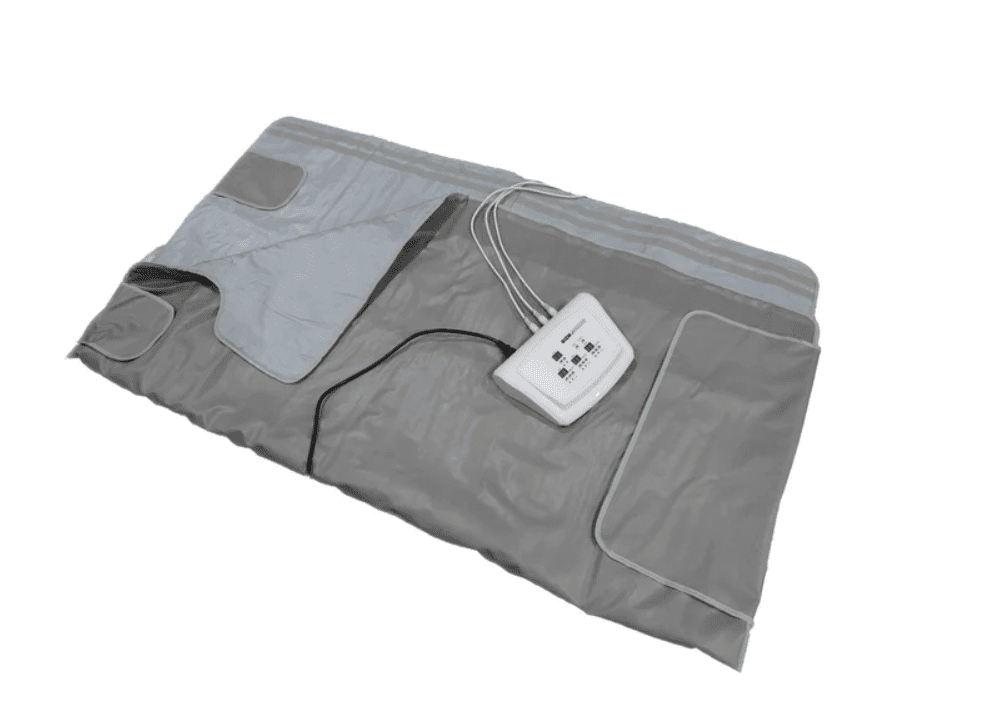 The Gizmo sauna blanket comes with three separate infrared heating panels, and you can adjust the temperature for each. So let's say you're recovering from a knee injury. Increase the temperature of the panel closest to your knee and speed up recovery. This customization sets Gizmo apart from the competition.
It's also super easy to use.
When unboxing the Gizmo, you'll find a blanket and control panel. There are three outlets on the control panel. Plug the corresponding cords into the outlets, plug your power cable into a wall, set a timer and temperature, and you're good to go.
InLoveArts Far-Infrared Sauna Blanket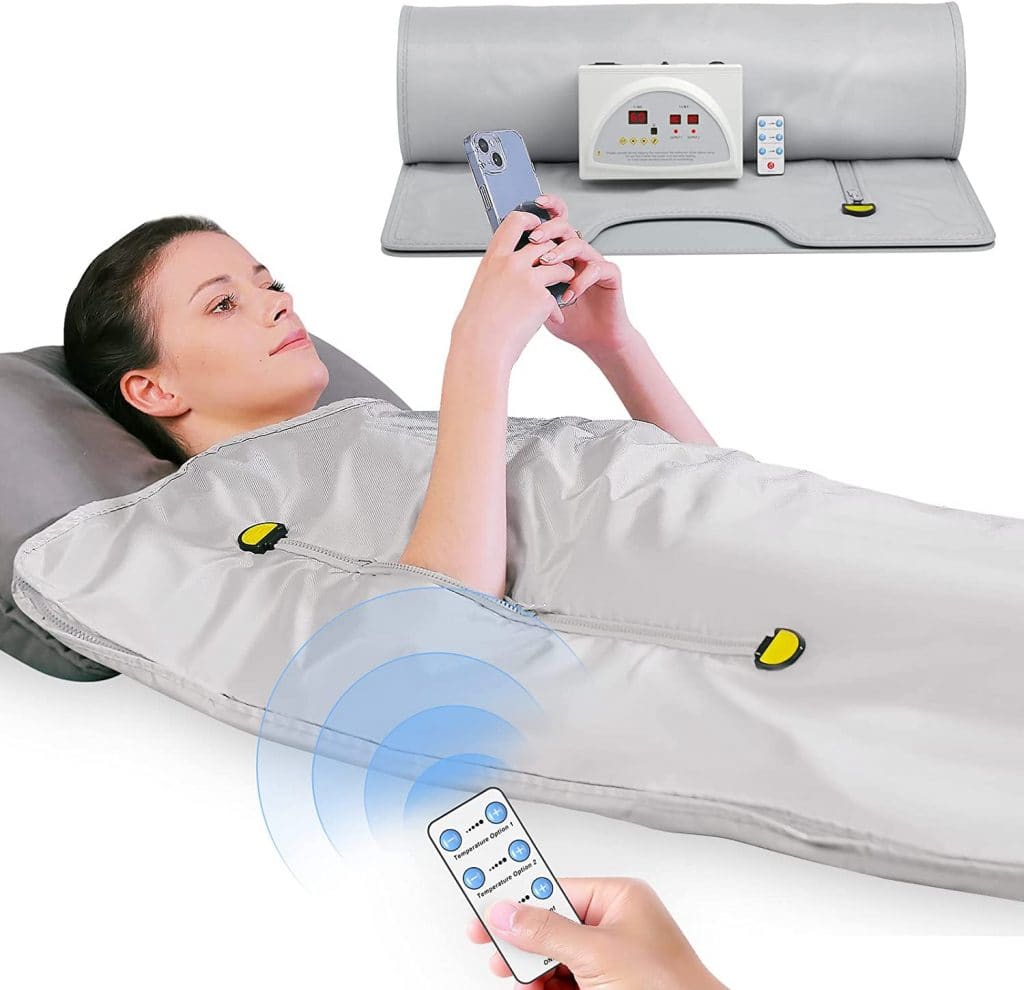 The InLoveArts infrared blanket is an affordable option for anyone on a budget. It uses high-quality waterproof PVC to ensure the blanket lasts long and provides a comfortable experience.
You can adjust the temperature range up to 176 degrees Fahrenheit. So if you prefer blankets that get hot, the InLoveArts blanket is perfect.
Unlike other blankets that are more restrictive, the InLoveArts is like a sleeping bag. So move around and lay on your side if it's more comfortable.
The only drawback is you can't use it for more than 30 minutes. The manufacturers suggest a maximum session time of 30 minutes to extend the life of the blanket. If you prefer long treatments, you'll have to do a 30-minute session, let the blanket cool down, and continue.
Varnell Extra Large Infrared Sauna Blanket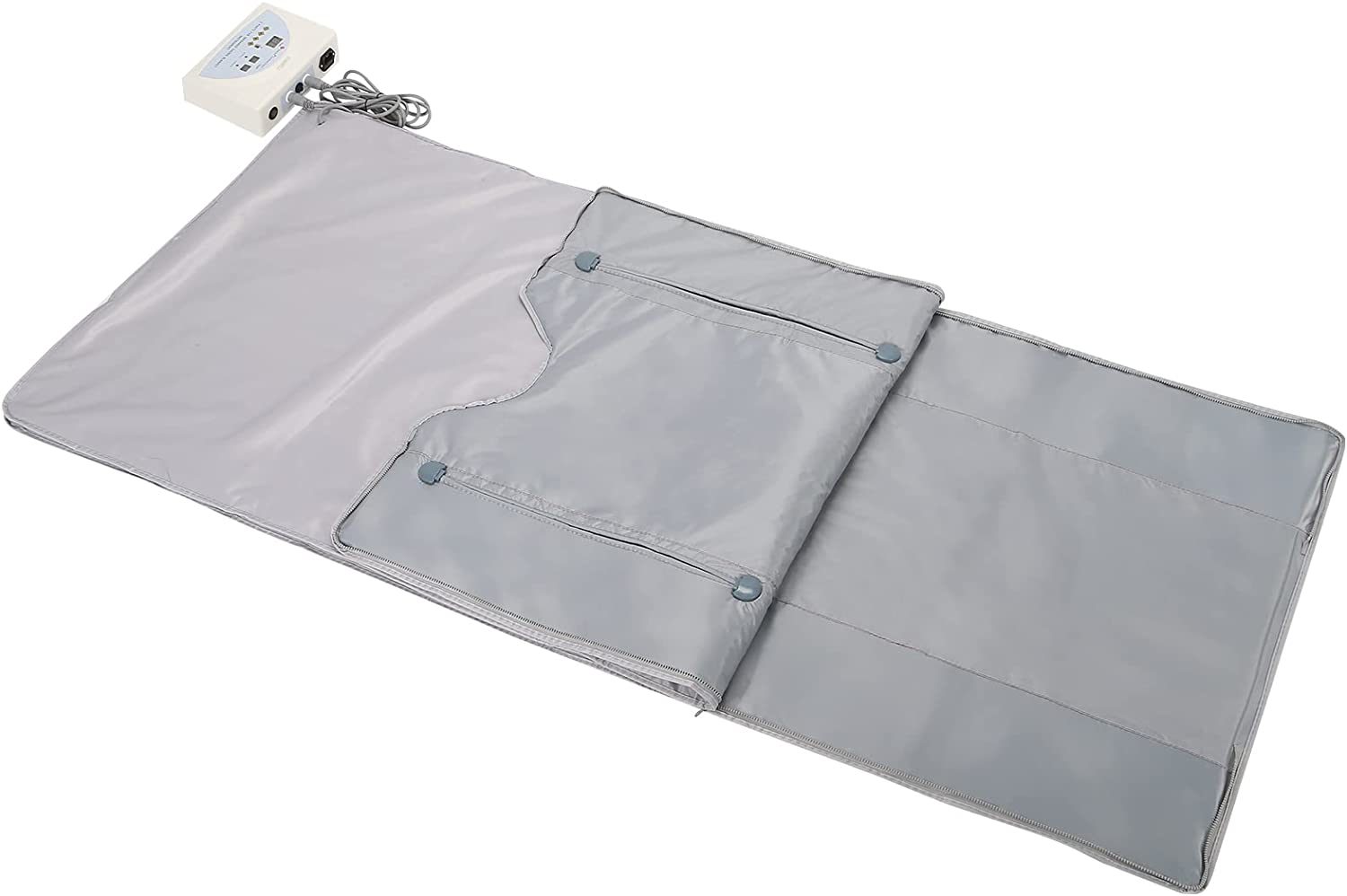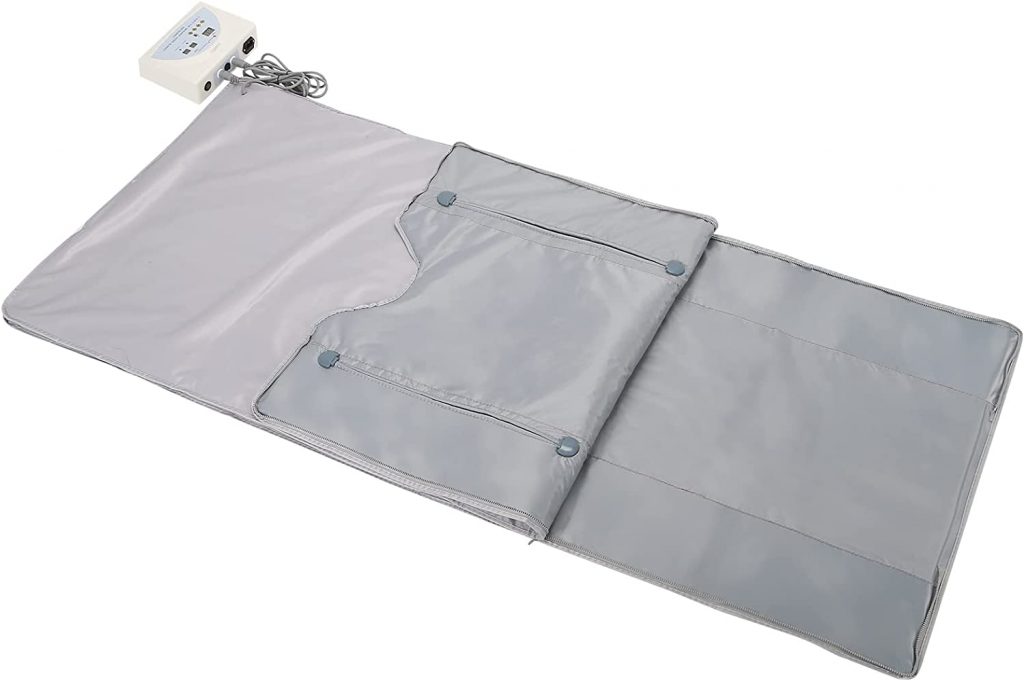 This extra-large infrared sauna is a practical choice for anyone looking for a more spacious blanket. The zipper on the side makes jumping in and out seamless. You won't have to struggle with velcro.
It also offers a handy safety feature that'll automatically cool the blanket when it starts getting too hot.
Varnell goes up to 185 degrees Fahrenheit, higher than a traditional sauna. The maximum temperature of most blankets is only around 150 degrees Fahrenheit. So if you want to sweat as much as possible, this blanket gets hot real quick.
TOPQSC Sauna Blanket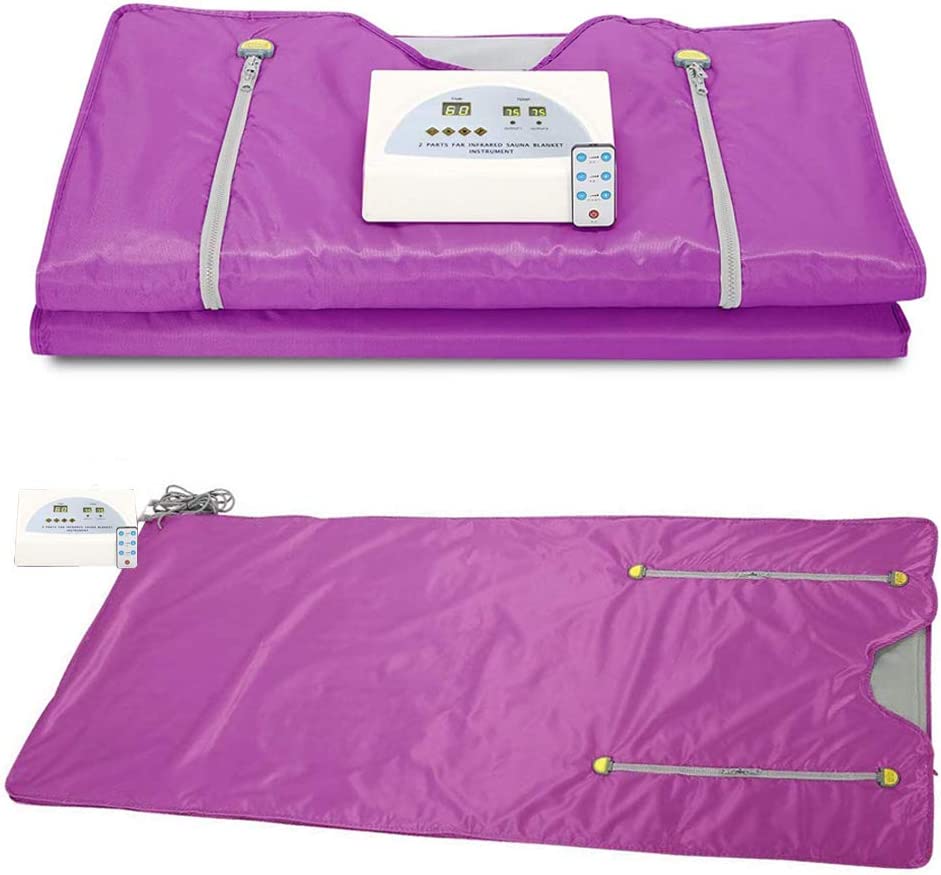 The TOPQSC infrared sauna uses two heating zones located at the front and back. So if you're lying on your back, the infrared light and heat will still hit your back, optimizing the full-body benefits.
The outside contains PU oxford cloth, while the inside uses waterproof PVC. So regardless of how much you sweat, it won't interfere with the electronics.
On the remote, adjust the temperature between 95 and 170 degrees Fahrenheit. The session length is also customizable, from 15 to 60 minutes. So unlike the InLoveArts blanket, you won't reduce its lifespan by doing long sessions.
Fencia Sauna Blanket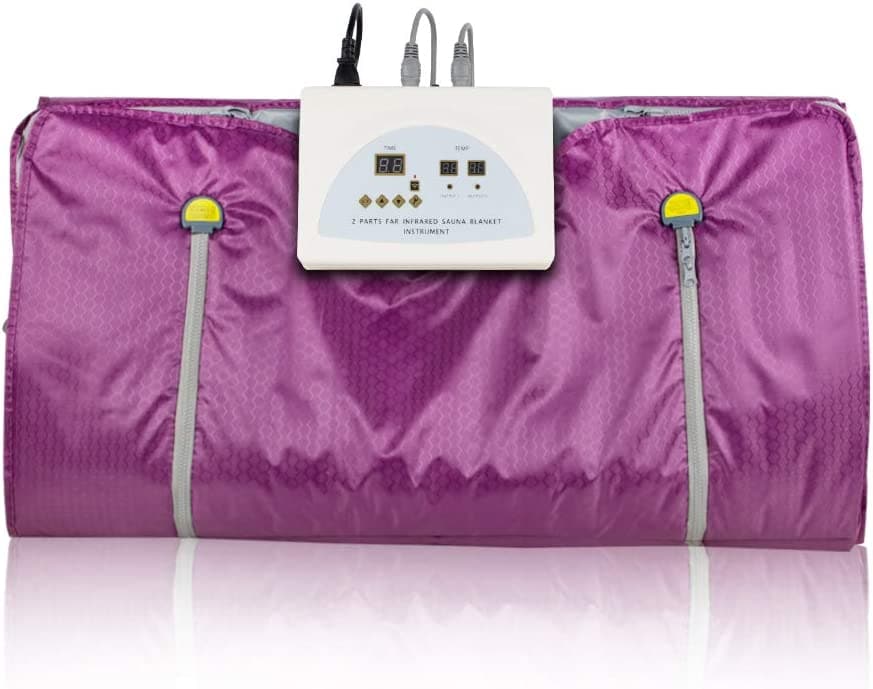 When laying in the Fencia sauna blanket, your arms and hands can move. This allows you to browse through social media, change songs and adjust the temperature.
The Fencia sauna blanket also heats up within seconds. You won't have to preheat it for five or 10 minutes. The maximum temperature is 176 degrees Fahrenheit, so you'll sweat a lot. This high heat combined with infrared rays enhances the benefits of sauna treatment.
Ete Etmate Sauna Blanket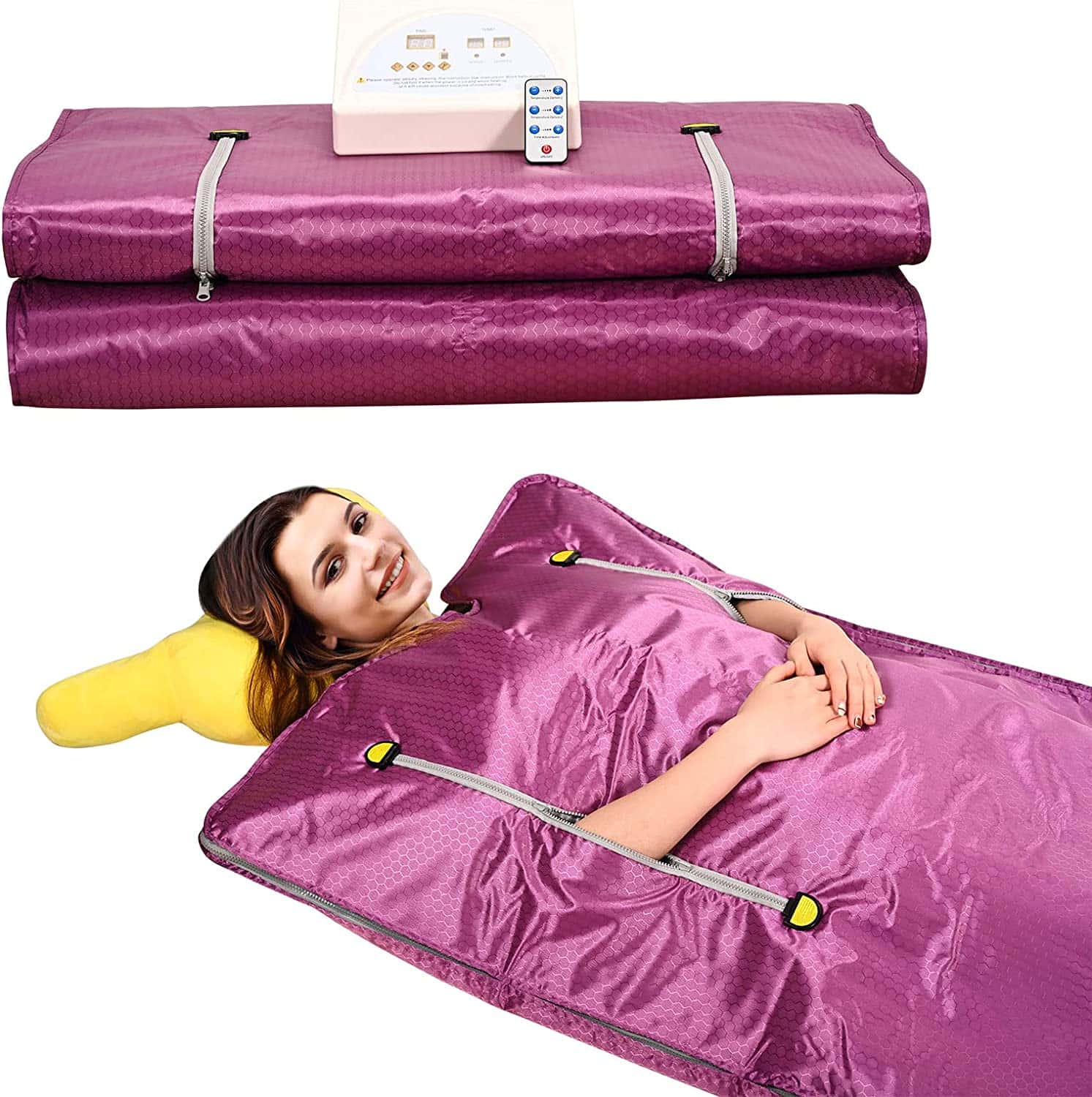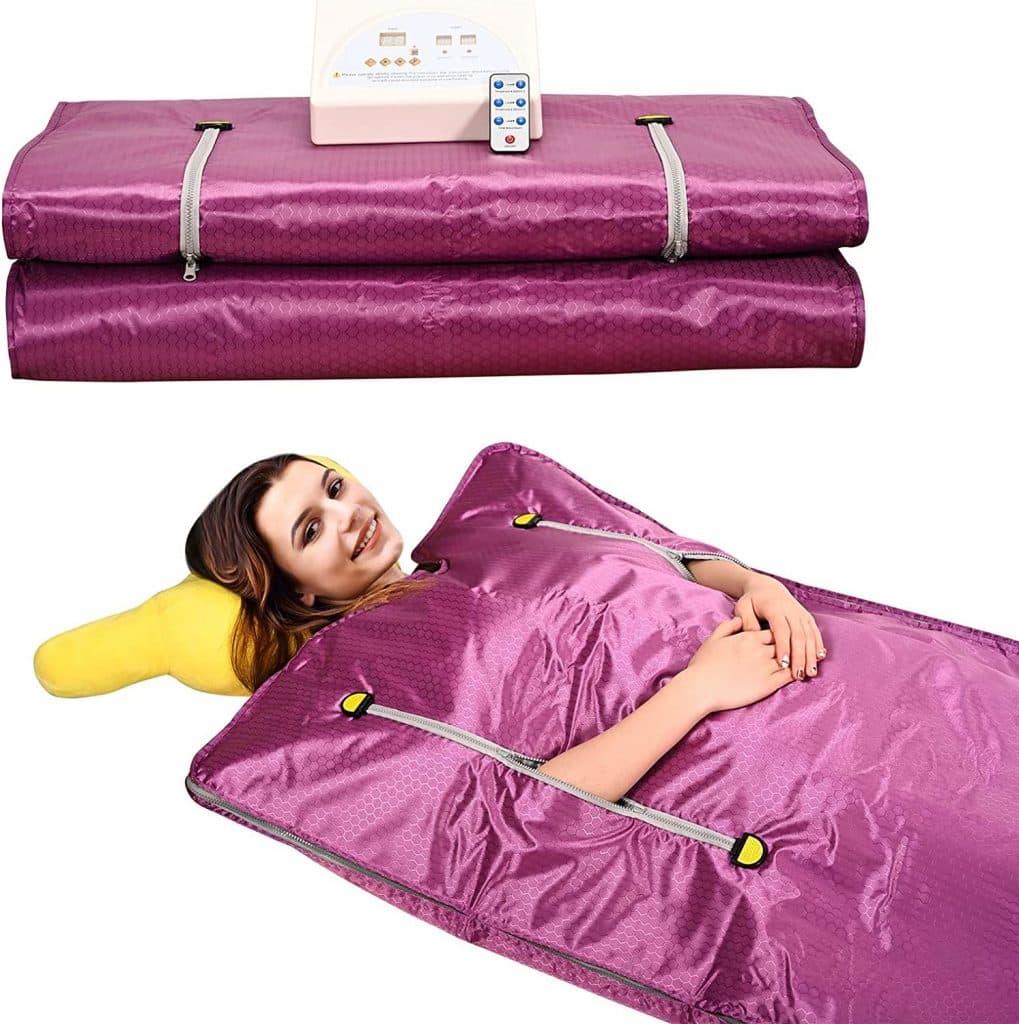 The Ete Etmate is another affordable option for new users who don't want to invest much money in a sauna blanket.
You'll find a remote and control panel attached. This control panel provides information like:
Working time and time remaining
Temperature of blanket
Temperature of surface
The remote is super easy to use. On top, there are two temperature controls allowing you to control the two heating panels. Below this, adjust the automatic timer, ranging from 15 to 60 minutes. The last button is the power button you use to switch independent heating zones on and off.
The only drawback to the Ete Estimate is the timer doesn't go below 15 minutes. So if you're new to sauna therapy and can't lay in a blanket for 15 minutes, you'll have to turn it off manually.
What Is An Infrared Blanket?
An infrared blanket is a device that contains infrared emitting diodes that heat your body. It's almost like a small and more affordable version of a home sauna.
You're experiencing the same heat and light benefits while paying significantly less. These benefits of infrared sauna treatment include:
Faster muscle pain relief
Clearer skin
Easier weight loss and high blood pressure management
Better stress relief
Infrared heat is the reason behind all these benefits.
It heats your body directly without heating the air, making sauna sessions more relaxing and enjoyable. You won't have steam that clouds your vision and makes breathing hard.
Studies show that these longer wavelengths of light penetrate deeper into your body. Infrared light can even go into bones and organs. Here it triggers an energy-carrying molecule called adenosine triphosphate or ATP. This ATP provides your cells with the energy needed to thrive, resulting in all the above benefits.
But is regular infrared blanket use safe?
Infrared Sauna Blanket Safety
Your blanket is safe if you're getting certified products from reputable brands like HigherDose, MiHigh and Relax. These brands go through rigorous testing to meet safety criteria set by the European Electrical Standards.
But you might be wondering about long-term health. The most significant factor to consider in finding out if a blanket harms your health is the electromagnetic fields of EMFs.
EMFs are a form of radiation linked to health effects like:
Anxiety
Nausea
Fatigue
Depression
Fortunately, industry leaders like HigherDose, MiHigh and Relax are super transparent about their EMF levels. They design their products to emit as few EMFs as possible, ensuring safe long-term use.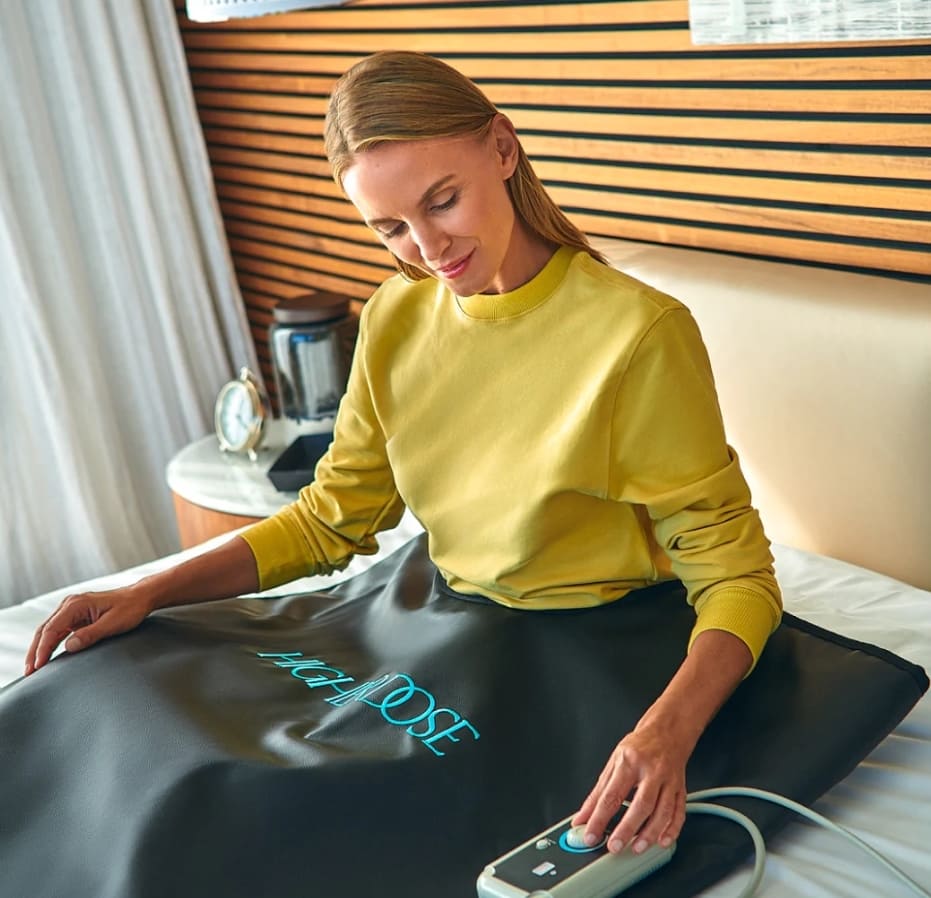 How Often Should I Use An Infrared Sauna Blanket?
High-quality infrared sauna blankets with low levels of EMFs aren't dangerous, so you can use them daily or weekly. However, it's essential to start slow, work your way up and find a frequency your body responds best.
If you've never used infrared blankets, start with three 20-minute sessions a week since it builds your body's heat resistance. This way, you get the health benefits without being uncomfortable.
Once used to the heat, increase the frequency to five times per week. If you're not experiencing any discomfort, extend the session length to 30 or 45 minutes.
Work your way up to daily use, so you can sit in the sauna to relax after a long day. But play around with this number also. Sometimes your body responds better to five sessions per week than daily usage.
Infrared Sauna Blankets And Weight Loss
But does infrared sauna blankets work for weight loss? Although infrared sauna blankets mainly promote weight loss through sweating, new clinical studies show they can help you lose fat also.
Binghamton University in New York conducted trials that found those who used an infrared sauna three times per week experienced a four percent drop in body fat.
Over the four-month study, participants ate regular diets and rarely exercised.
This shows the power of infrared sauna therapy for weight loss. But it's essential to not rely on saunas. You still need to eat a healthy ketogenic diet, low in inflammation and processed foods. This way, you aren't just losing fat but becoming healthier also.
How Does An Infrared Sauna Blanket Work?
An infrared sauna blanket works by using infrared light to heat your body directly instead of heating the air. This allows you to experience the health benefits of light and heat therapy at a lower temperature.
Where traditional saunas have to go up to 190 degrees Fahrenheit, infrared home units and blankets work at 120 to 140 degrees Fahrenheit.
So simply preheat your blanket, lay under it for 20 to 40 minutes and enjoy the heat. Most top-quality blankets also offer an automatic timer so you can fall asleep in it, and it'll turn off automatically.
Studies show far-infrared rays can:
Improve blood circulation
Boost weight loss
Enhance immune function
Better relaxation
So you're getting the benefits of light and sauna therapy in one session.
How To Prepare For An Infrared Sauna Blanket Session
Preparing for an infrared sauna blanket session isn't the same as a regular sauna. So here's how to prepare in six easy steps:
Wear comfortable clothing
Place your blanket on a bed or yoga mat
Preheat your blanket
Set an automatic timer
Lay in your infrared sauna blanket
Take a cold shower afterward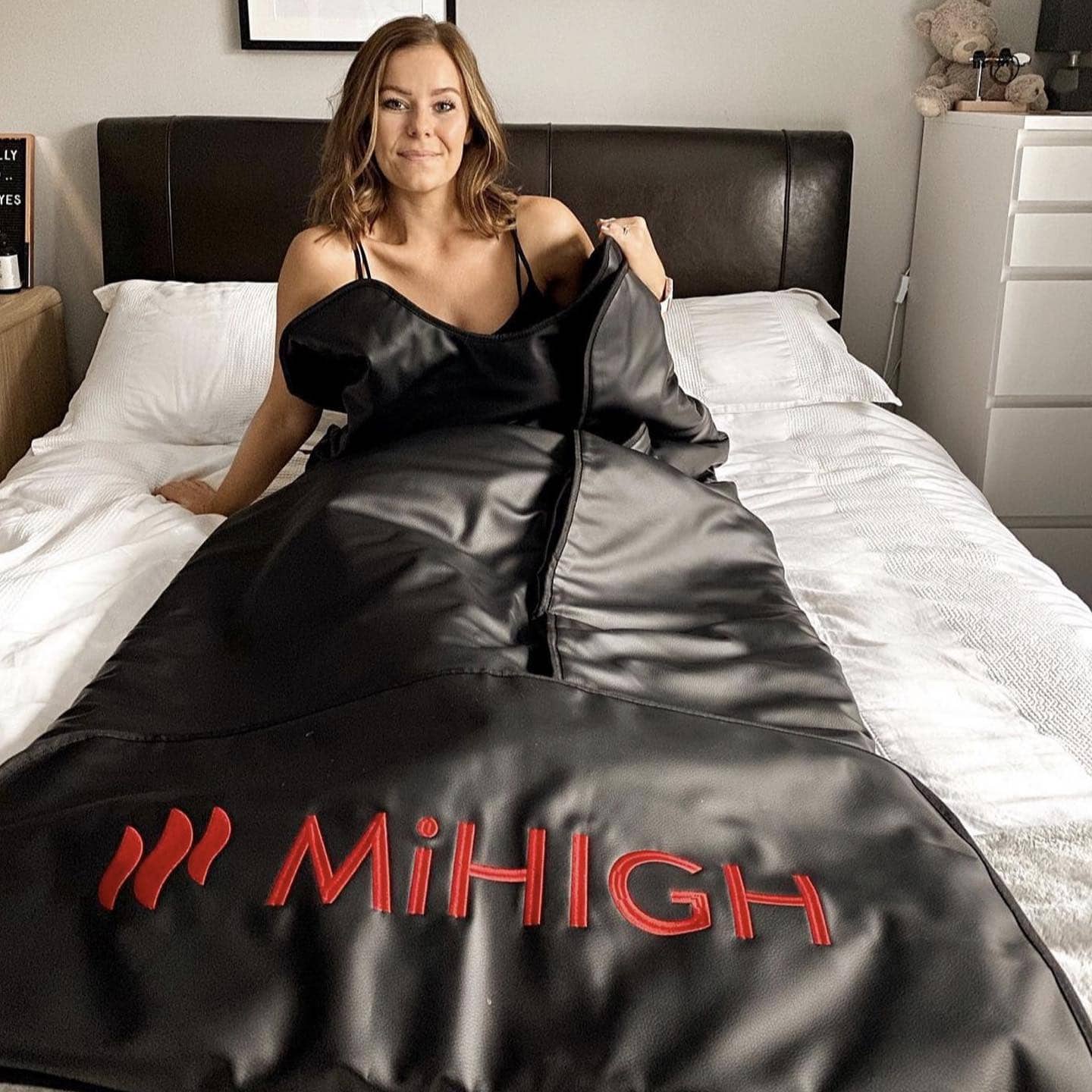 Wear Comfortable Clothing
Unlike a home unit, you'll need to wear long-sleeve moisture-wicking garments when getting into a sauna blanket. This is because it helps get rid of moisture quickly, optimizing your detox and ensuring the best possible experience. Clothes also reduce a lot of the cleanup.
Place Your Blanket On A Bed Or Yoga Mat
Next, place your infrared sauna blanket on a comfortable surface. This could be your bed or a yoga mat on the floor.
Preheat Your Blanket
Depending on the brand and type of infrared blanket you own, you'll have to preheat it for five to 15 minutes. However, if you're going for a more powerful setup like the Relax blanket, you won't have to preheat it.
Set An Automatic Timer
Most sauna blankets offer an automatic timer feature. So if you're coming home from a long day at work and need to relax, hop into your sauna blanket. You won't have to worry about staying awake since it shuts off automatically.
Lay In Your Infrared Sauna Blanket
Before laying in your infrared blanket, consider playing your favorite music or listening to an audiobook to keep yourself entertained for the next few minutes.
Take A Cold Shower Afterward
Once your automatic timer goes off, hop into a cold shower immediately afterward since you're getting rid of all the sweat.
It's also an ancient sauna tradition. The nomads in Finland who first used heat therapy jumped into a freezing lake after sitting in the sauna.
You'll notice an instant boost in mood from cold showers. Multiple papers show it reduces inflammation, increases blood flow and promotes weight loss.
But if you're not a big fan of cold showers, warm or lukewarm showers also leave you feeling fresh.
Now let's answer some commonly asked questions.
FAQ
Are Sauna Blankets As Good As A Sauna?
In most cases, sauna blankets are better than a home sauna unit because you're experiencing similar benefits for a far lower price. Blankets are also portable, easy to store and require zero installation. If you're pressed for time, blankets heat up faster than complete units because it's smaller.
Are Infrared Sauna Blankets Good For You?
Infrared sauna blankets are good for you, and science backs it up. Studies show sauna blankets reduce inflammation, promote weight loss, speed up injury recovery and enhance immune function.
Why Am I Not Sweating In An Infrared Sauna Blanket?
Sauna blanket temperatures don't go as high as infrared saunas, so you won't sweat much. If you're used to saunas, you'll find that you don't sweat at all.
Infrared sauna blankets penetrate deep into your body and raise your core body temperature. This way, it isn't heating the air, allowing you to experience the same benefits without the high heat.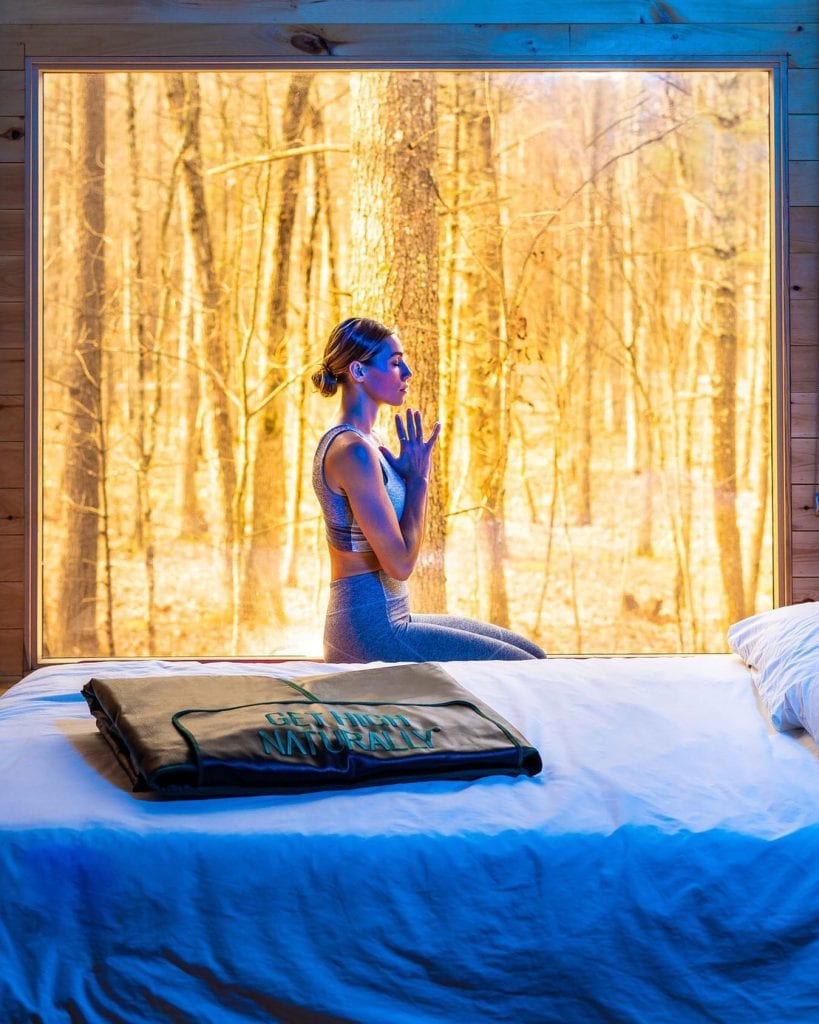 How Many Calories Do You Burn In An Infrared Sauna Blanket?
Medical research shows you can burn over 600 calories by sitting in an infrared sauna blanket for one hour. It keeps your heart rate high for another 30 minutes after the session, raising your resting metabolic rate and promoting fat loss.
Why Am I So Tired After Infrared Sauna Treatments?
If you're exhausted, shorten the length of sessions because it's a sign you're sitting in your sauna too long. You're feeling tired because your body is overheating, leading to dehydration.
Final Thoughts On Finding The Best Sauna Blanket
Infrared sauna blankets are cheaper, more portable and easier to install and store than regular home units.
The best part is that you're still getting benefits like better sleep, clearer skin and lower inflammation.
If you're looking for an infrared sauna blanket that'll take your overall quality of life to the next level, consider reputable brands like HigherDose, MiHigh and Relax.