Studies show regular sauna use promotes weight loss, increases sleep quality and improves general health markers.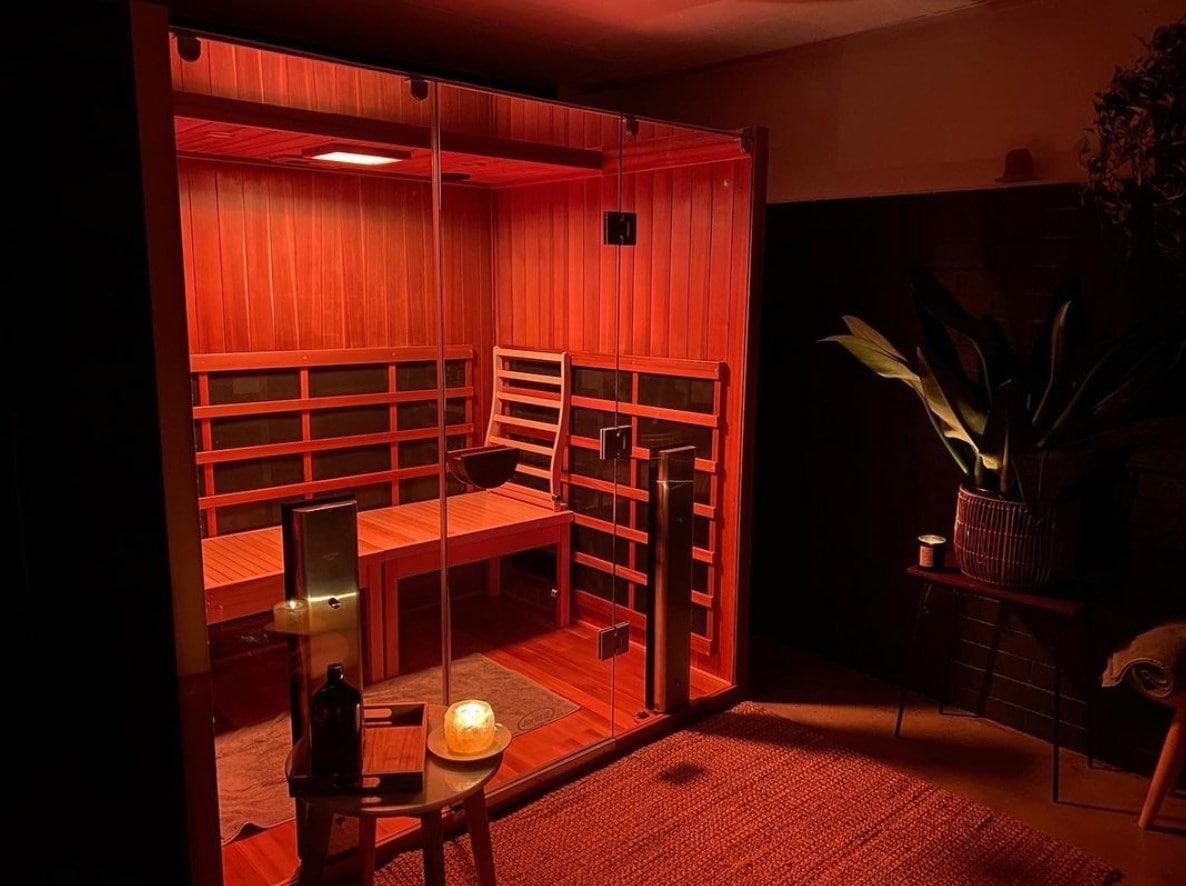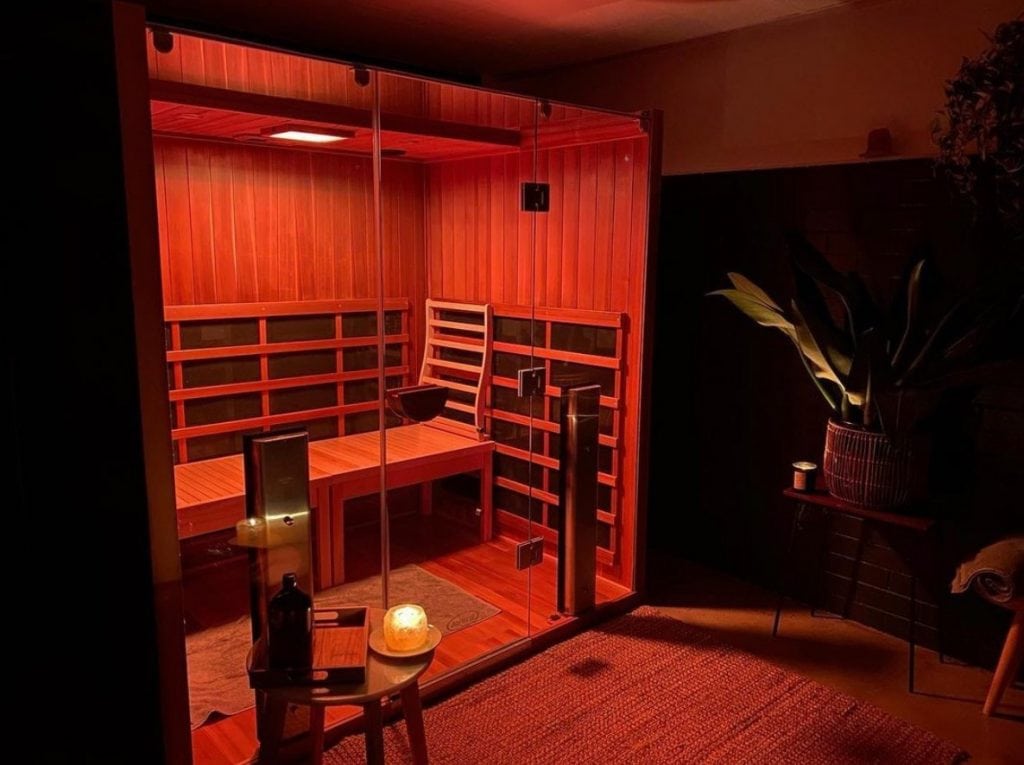 So what are the best home saunas?
This detailed guide looks at everything you need to know about the best home saunas. I'll cover my experience and the pros and cons while answering some frequently asked questions.
What is The Best Home Sauna?
The best home sauna will depend a lot on your individual needs. Do you want a large sauna that you can do yoga and stretches in? Do you want the cheapest option that will unlock the benefits of heat exposure? Here are our favorite options for each category and lifestyle need.
Best budget: Luminati Infrared Sauna
Best large: Four-person Clearlight Sanctuary
Best two-person: HigherDose full spectrum infrared sauna
Best sauna blanket: HigherDose infrared sauna blanket
Best portable sauna: Therasage Thera360
Best Budget: Luminati Infrared Sauna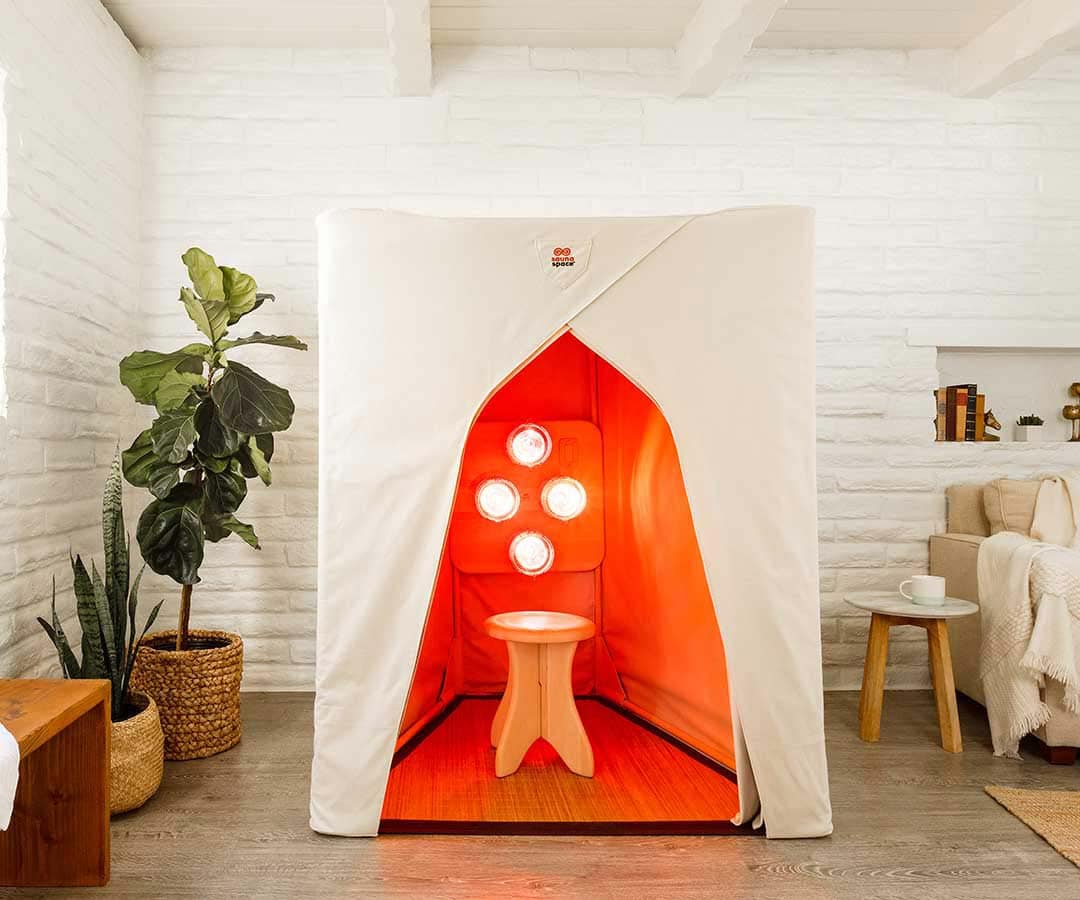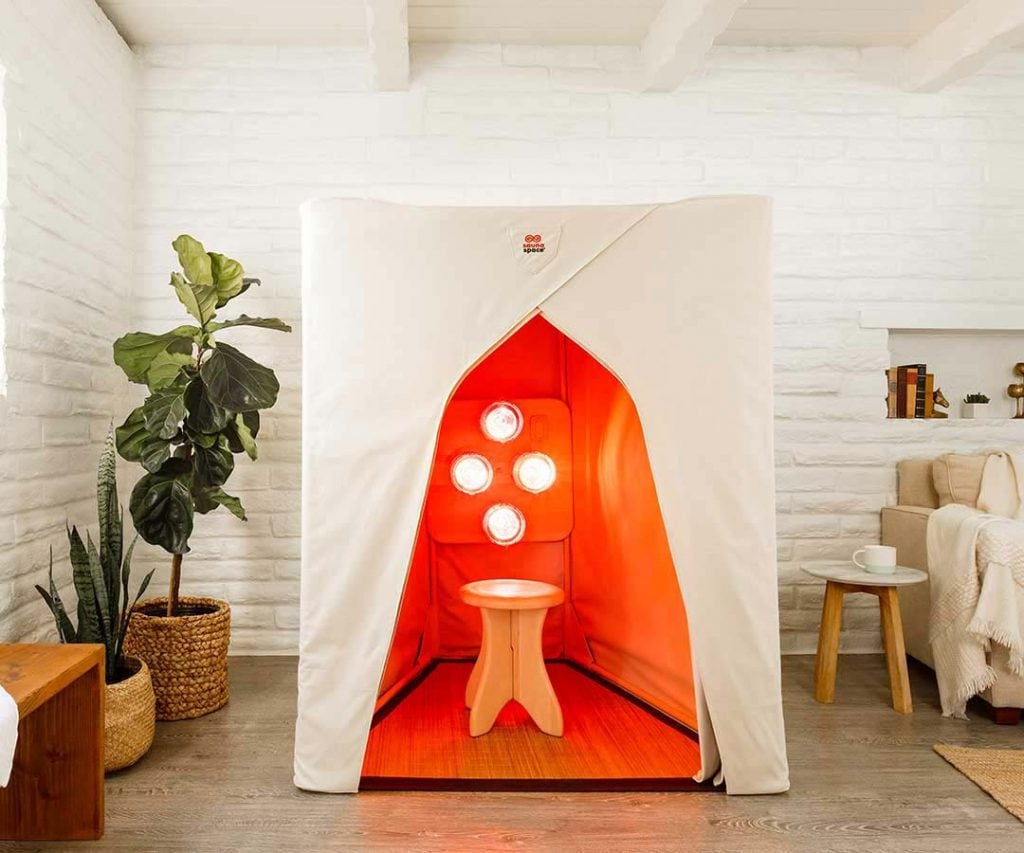 SaunaSpace builds some of the best and most affordable home saunas because it emulates the sun without the harmful UV rays.
Here are some features that stood out to me:
A 10-year warranty and 100-day free trial
Machine washable
Hypoallergenic and wheelchair accessible
Zero electromagnetic fields or EMFs
The Luminati offers four levels of intensity and height, so adjusting it to your needs is easy. It's compact, and you can assemble it without additional tools. If you want to wash the sauna tent after a few months, the minimalist design lets you remove the cover and pop it into the washing machine.
Another factor that stood out to me was the EMF levels or lack thereof. Luminati emits zero EMFs which gives you peace of mind knowing it's safe for frequent and long-term use.
These are the dimensions of the Luminati:
50 pounds heavy
52 inches wide
63 inches high
52 inches deep
This is small for a home sauna, so it'll fit in tight corners if you have little space in your house or apartment.
The Luminati heats more efficiently compared to regular saunas that use traditional steam. It uses infrared LEDs to heat your body directly, so you sweat faster and your heart rate increases, all at a lower temperature than a steam sauna.
And if you can't afford the Luminati immediately, consider the monthly plans. This way, you'll be able to pay it off while experiencing the benefits of saunas.
Best Large: Four-Person Clearlight Sanctuary
But if you're looking for a bigger sauna, consider the four-person Clearlight Sanctuary. It's similar to what you'll find in commercial saunas.
The Clearlight Sanctuary is an investment because it offers a lifetime warranty so you'll never have to buy another sauna again. Here are some unique benefits to keep your eye on:
Near, mid and far-infrared light
iOS and Android control
Carbon and ceramic heating technology
Furniture grade cabinets
Built-in charging and audio station
The Clearlight Sanctuary emits near, mid and infrared light. You can control it with the mobile app or soft touch control panel. This way, you're exposing yourself to the full spectrum of infrared light, optimizing the health benefits.
It also comes in two wood types:
Mahogany cedar
Basswood
The dimensions of this Clearlight Sanctuary are:
76 inches wide
60 inches deep
77 inches high
715 pounds heavy
The ceramic and carbon heaters raise your core body temperature without heating the air. The ceramic material is also strong and resistant to high temperatures. This is why the Clearlight Sanctuary lasts for decades and has a lifetime warranty.
Where other infrared saunas come with a stool, this 76-inch wide cabinet contains fitted furniture, ensuring you're as comfortable as possible. It fits four people at once, so your friends and family can also join.
Best Two Person: HigherDose Full Spectrum Infrared Sauna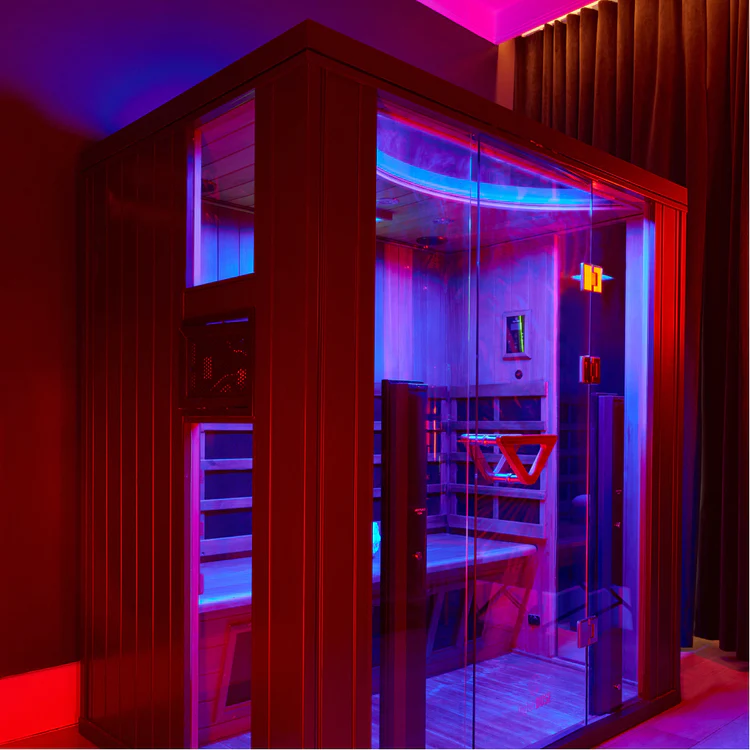 If you want a home sauna that's a mix between the Luminati and Clearlight Sanctuary, opt for the HigherDose sauna. It isn't as big as the Clearlight, but you can comfortably fit two people.
Here are some features that stood out to me:
Upgraded entertainment system
Full infrared light spectrum
Removable bench
If you feel bored during sauna sessions, the HigherDose infrared unit is a must-have. It contains an advanced entertainment system. Simply connect via Bluetooth and enjoy your favorite music or audiobooks.
Like the Clearlight Sanctuary, HigherDose offers a full spectrum of light. You're getting near, mid and far-infrared light, which penetrates your body, improving skin tone, joint pain and even heart health.
You'll also notice it has a removable bench so you can lay down on the floor and sweat.
Here are the dimensions of the HigherDose infrared sauna:
52 inches wide
48 inches deep
77 inches high
HigherDose constructed this with an engineered wood exterior and red Canadian Cedar interior, ensuring a sleek design. So if you have friends and family over, impress them with your beautiful home sauna.
Best Sauna Blanket: HigherDose Infrared Sauna Blanket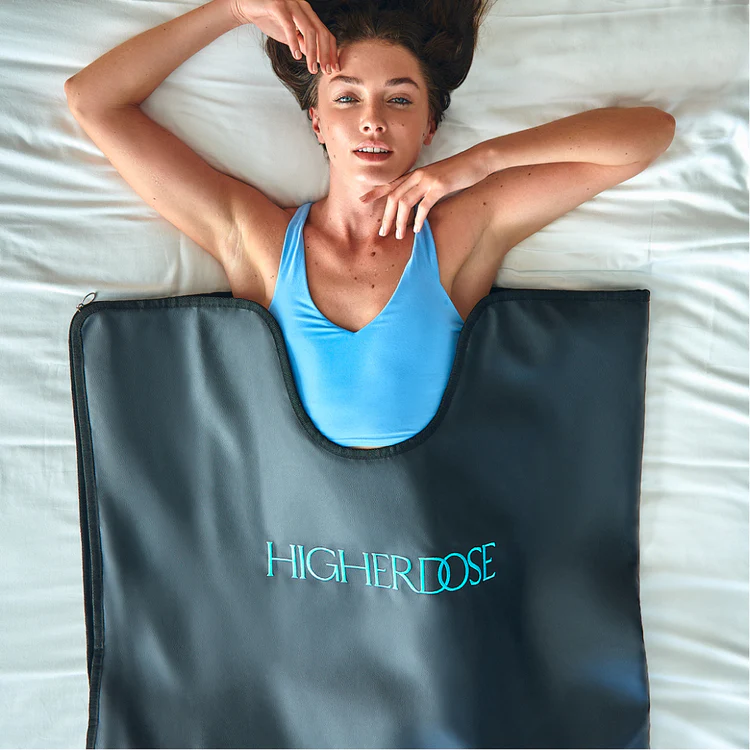 The HigherDose blanket is the perfect option if you're looking to experience the benefits of a sauna without buying one. It covers the entire body and raises your core temperature like a regular sauna would.
Here are some benefits to using this sauna blanket:
It's portable
You get a one year warranty
It's more affordable than home saunas
Because you're experiencing the benefits of infrared saunas without having a large cabin in your living room, you can take the HigherDose blanket anywhere with you. It's a little heavy but far more portable than a 70-inch high sauna.
You also get a one-year warranty. If it malfunctions within a year, contact HigherDose support, and they'll replace your blanket.
But my favorite benefit is that it's more affordable than home units. Even if you're opting for a budget-friendly sauna, you'll still pay a few thousand dollars. But this sauna blanket only sets you back around $600.
It's 71 inches long and wide so it covers your entire body.
Using this blanket is also easy. Here are the steps HigherDose suggests on their website:
Wear comfortable clothes
Lay the blanket on a heat resistant surface like a yoga mat
Use a towel as a barrier between your body and blanket
Preheat the blanket for 10 minutes
Lay inside the blanket
Hop in a cold or lukewarm shower afterward
Read our guide to the best sauna blankets to choose the perfect one for your needs!
Best Portable Sauna: Therasage Thera360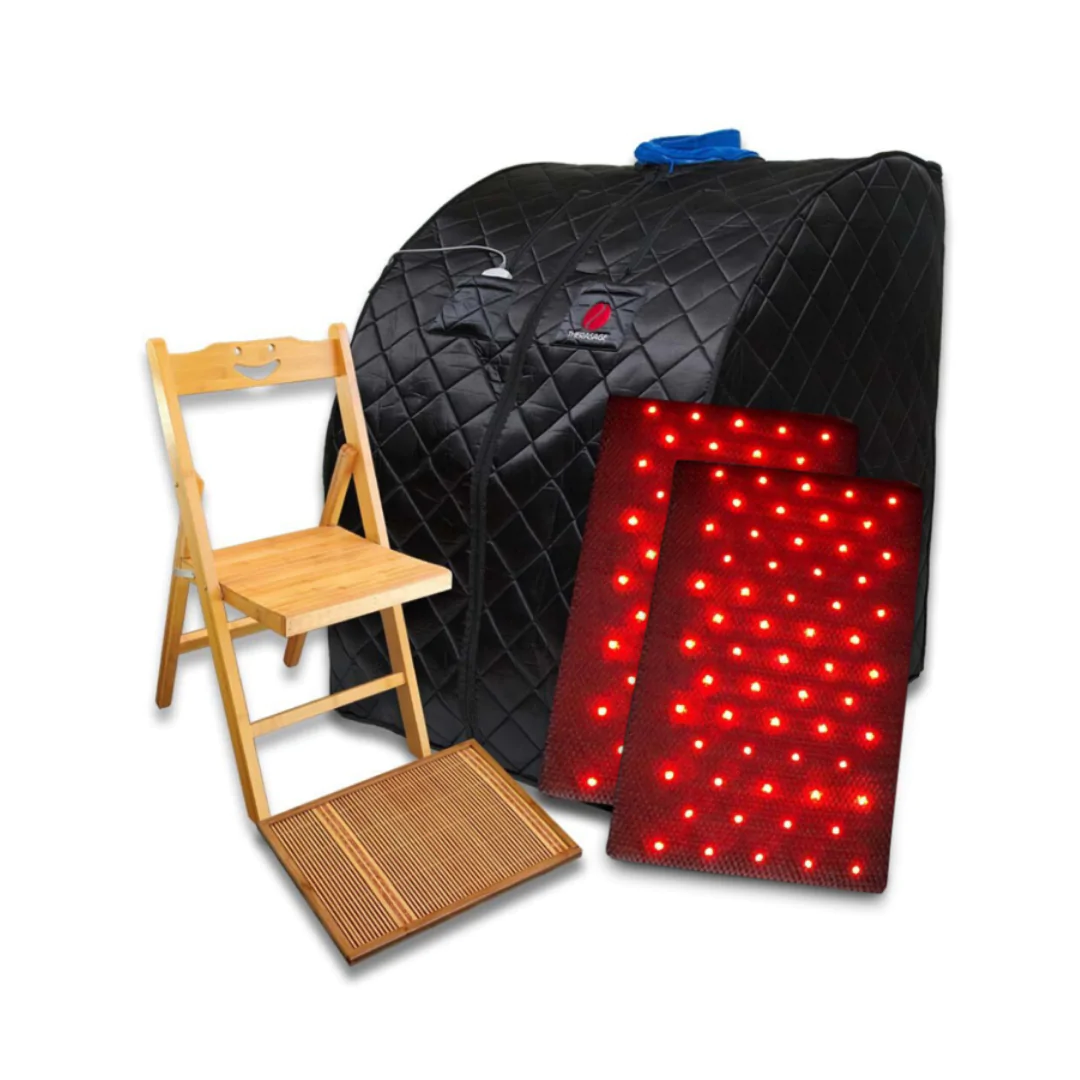 Produced by Therasage, the Thera360 is a portable sauna that's compact and portable. This makes it perfect for anyone living in a small apartment who doesn't have the space to install a full-sized sauna. Feel free to store it under your bed or in a small closet.
Like most home saunas, the Thera360 offers negative ions and zero EMFs. But there are a few unique features that stood out to me:
Therasage made the entire structure using non-toxic bamboo
You receive biohacking consulting after buying the Thera360
It comes with a bamboo portable foot panel
I like that Therasage made the entire structure using organic bamboo. This way, you aren't hurting the environment with wood products that leave thousands of species without a home.
But using bamboo offers another benefit. It's three times stronger and lighter than wood, so your sauna lasts longer and is easier to transport.
What sets Therasage apart from the competition is that they provide biohacking consulting. They'll teach you how to use this portable sauna to its full potential while giving additional biohacking advice.
When unboxing the Thera360, you'll notice it comes with a bamboo foot panel. This panel gives you that spa-like feel, improving your overall experience.
Here are the dimensions of the Thera360:
33 inches wide
37 inches long
46 inches high
26 pounds heavy
This makes storing and transporting it super easy.
Honorable Mentions
Now let's look at some honorable mentions. These don't quite make our list of favorites but are good options as well.
Dynamic Saunas Barcelona Far Infrared Sauna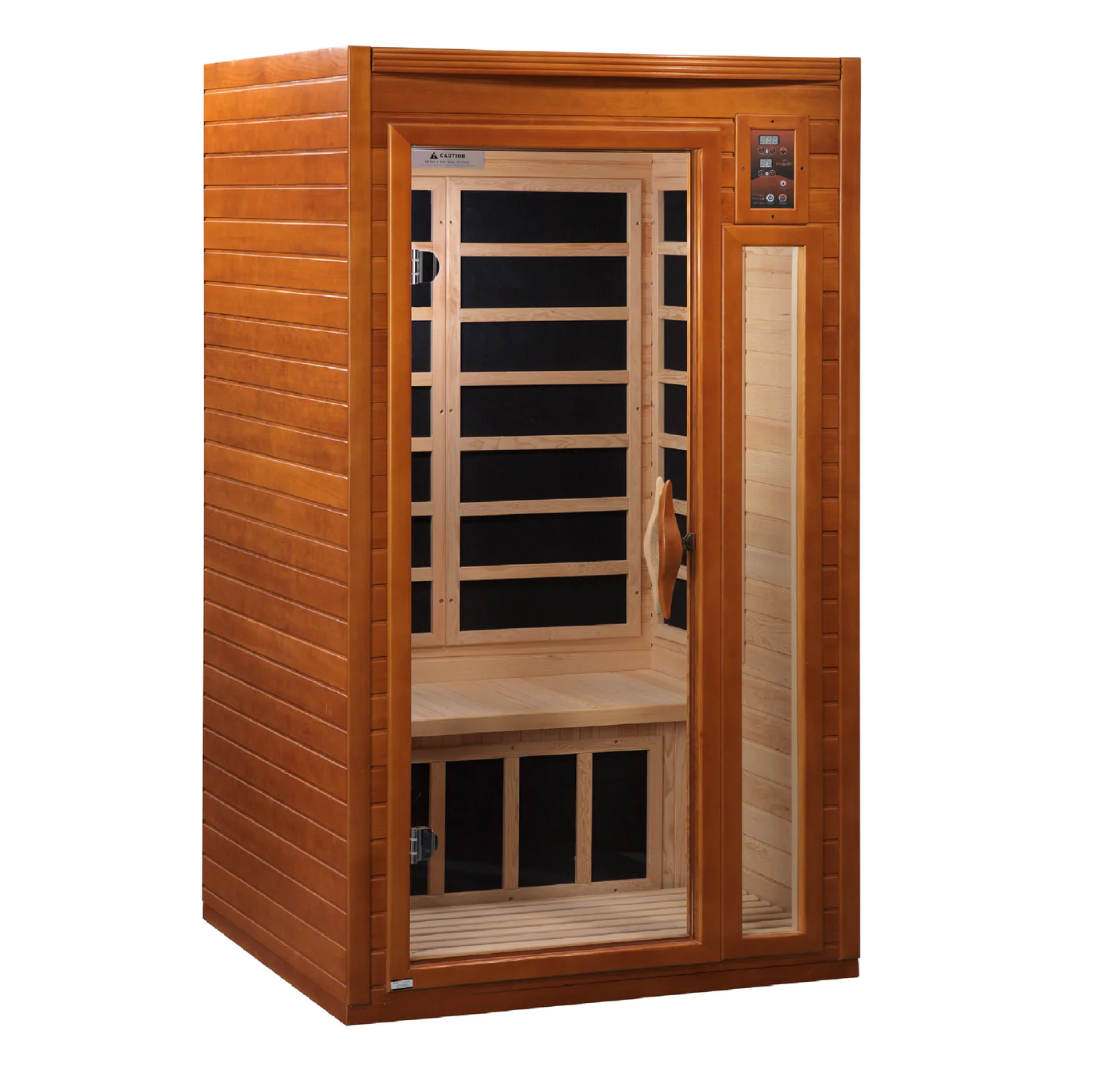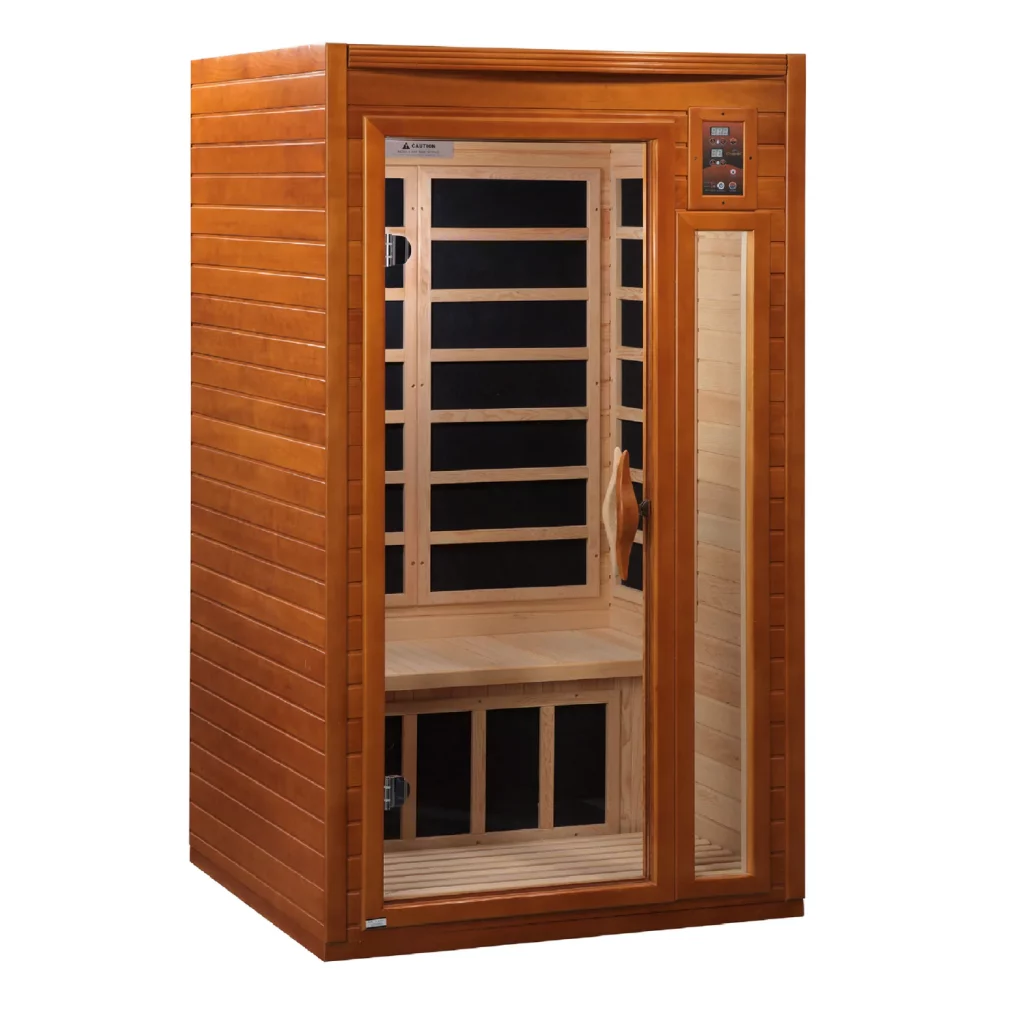 This infrared sauna focuses on being eco-friendly while giving you the best possible experience. You'll find interior and exterior touchpad controls and a magazine rack. Listen to calming music and keep your books and magazines on the stand if you want to read.
Here are some practical benefits to look out for:
Manufacturers built it with reforested Canadian hemlock wood
It has an accessible MP3 player
The interior reading lamp ensures you don't strain your eyes
Since the Dynamic Barcelona Sauna uses Canadian hemlock wood, it's more eco-friendly than most brands. The clear tempered glass door also adds to the sleek design.
The interior and exterior control panels make changing music and turning up the volume easy.
Also, the chromotherapy reading light is perfect for anyone who likes reading while sitting in the sauna since it prevents eye strain.
These are the dimension of the Dynamic Barcelona sauna:
39 inches long
35 inches wide
72 inches high
250 pounds heavy
This is the only drawback to the Dynamic Barcelona sauna. It's bulky and heavy, making it an impractical option if you travel a lot or live in a smaller apartment.
SereneLife Portable Infrared Sauna
The SereneLife is a portable sauna that heats up to the temperatures of larger units. Here are some valuable features that this SereneLife offers:
Auto shut off that stops it from overheating
A detoxifying foot pad
Easy setup
I like that SereneLife offers an automatic shut-off feature. So after a long day of work, sit in this sauna and feel free to fall asleep because it'll switch off automatically.
You'll also find markings to put your feet on. Under these markings, there's a heat element emitting infrared light. This heats your body and helps you sweat more.
The infrared light penetrates into the bone of your feet, speeding up recovery.
It's super easy to set up. You get a detailed manual that walks you through the entire process, but you don't need it. It's almost like putting up a tent and only takes a few minutes.
These are the specs for this infrared sauna:
32 inches long
27 inches wide
36 inches high
19 pounds heavy
Sunlighten Solo Portable Sauna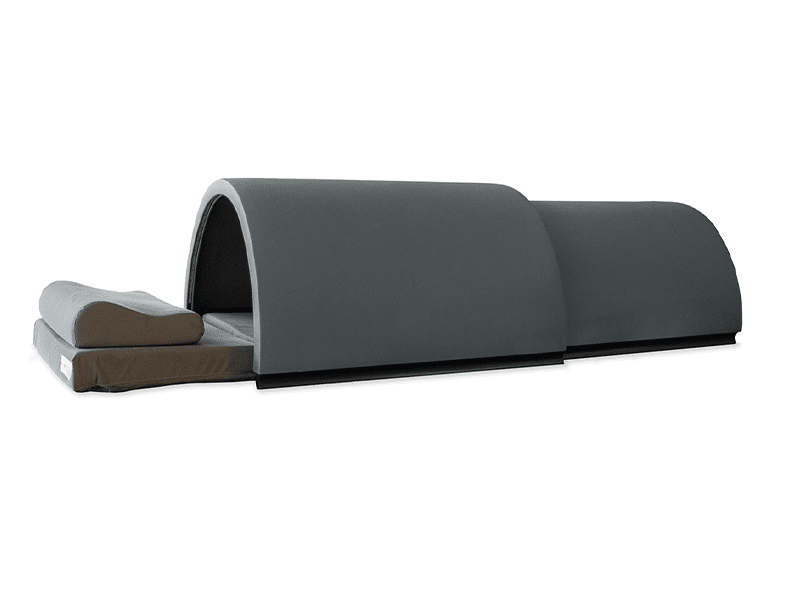 The Sunlighten Solo sauna is a one-person sauna that's unique because instead of sitting in a chair, you lay on the soft bedding for more comfortable sessions. Here are some Sunlighten Solo benefits and features:
Chromotherapy light features
The heated pad and contour pillow uses memory foam
It takes minimal floor space
The chromotherapy light uses different wavelengths to penetrate deep into damaged tissue. This stimulates adenosine triphosphate or ATP production, providing cells with more energy. ATP decreases recovery time and helps manage various chronic conditions like:
Sleep problems
Inflammation
Rosacea
Psoriasis
When doing infrared sauna therapy with the Sunlighten Solo, you'll need to lay down. Luckily, the heating pad and pillow contains memory foam. So even if you're struggling with back pain, your sauna experience will be comfortable.
It's also only 69 inches long, 18 inches high, and 28 inches wide. It takes up minimal floor space, so you can store it in a closet or under your bed.
Maxxus Saunas Seattle Far Infrared Sauna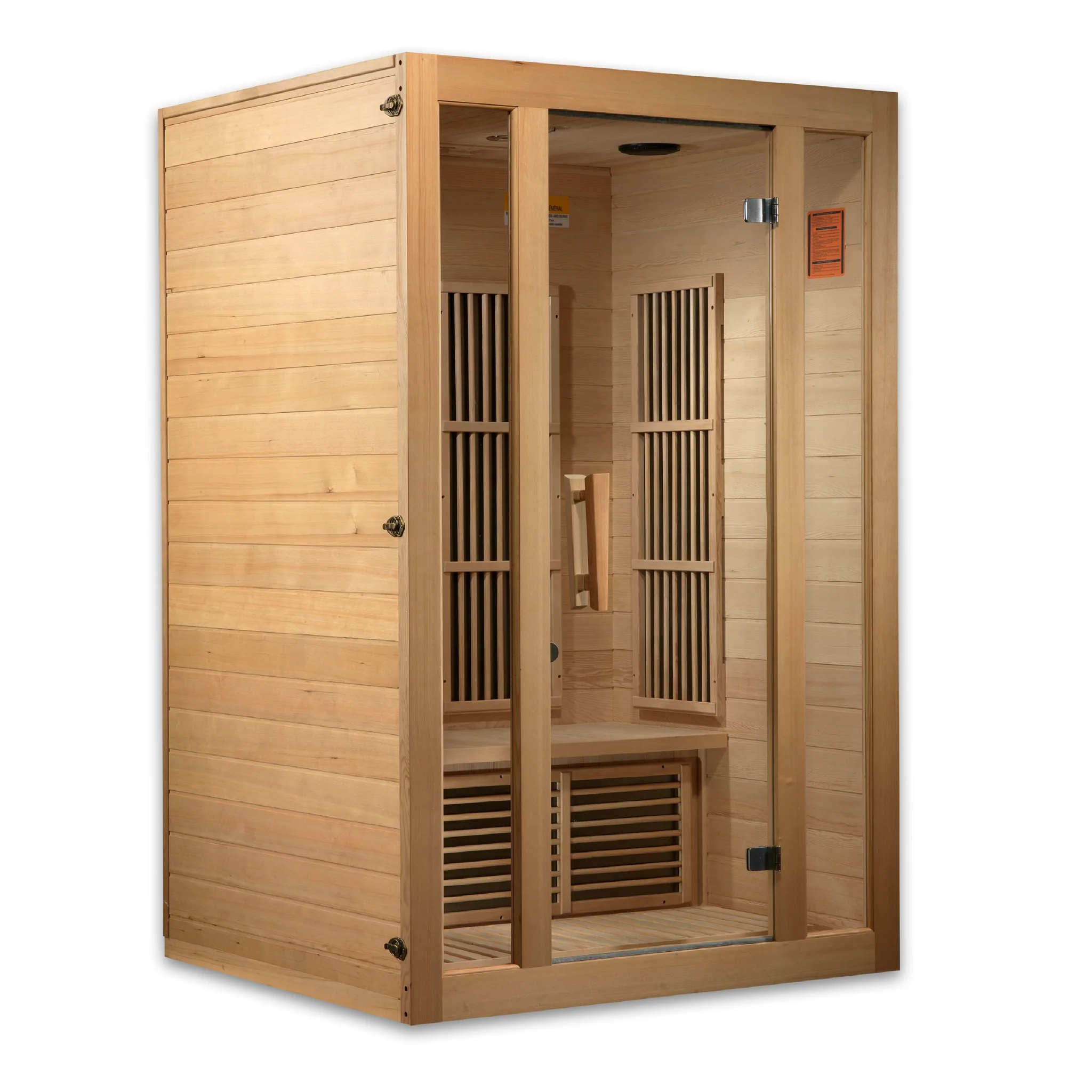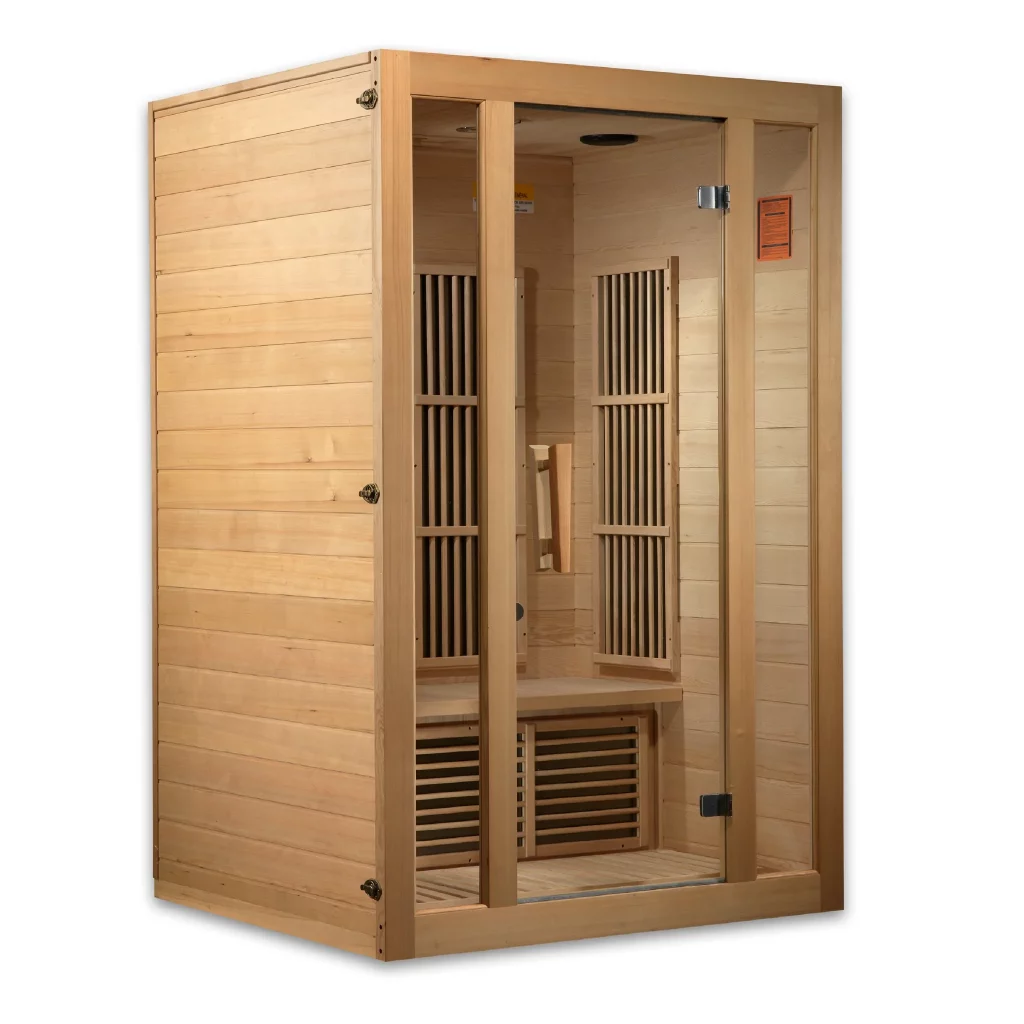 The Maxxus home sauna is another eco-friendly yet comfortable sauna that fits two people at once. It uses natural hemlock wood, ensuring your unit lasts long.
Here are some features that'll empower your infrared sauna journey:
A roof vent
An interior reading light
MP3 player with two built-in speakers
The roof vent allows warm air to escape, so the ambient temperature doesn't become uncomfortable. This way, you experience the infrared sauna benefits like increased sweating and heart rate without that hot feeling.
The interior reading light makes it easy to catch up on your favorite books while sitting in the sauna.
And if you prefer listening to music, the two speakers will keep you entertained. Simply plug your phone or iPod into the outlet.
SunRay Sierra 2 Person Infrared Sauna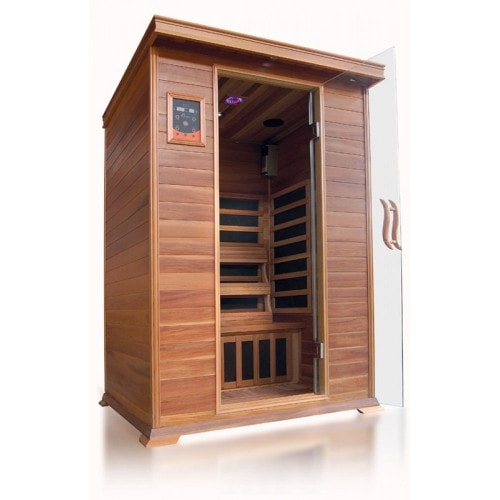 This two-person Sierra infrared sauna uses seven energy-efficient carbon nano heaters to warm your body. These heaters spread radiant heat evenly to avoid hot zones.
Here are some handy features you'll find on the Sierra 2:
Interior and exterior keypads
Ergonomic backrests
Air filtration system
With the interior and exterior keypads, you can control the volume of your music with ease. It also lets you adjust the temperature and automatic timer.
The ergonomic backrests ensure your sauna experience is as comfortable as possible.
But the feature that stands out the most is the air filtration system. Most home saunas don't offer this. But the Sierra 2 purifies the air, enhancing the benefits of your detox.
These are the dimensions of this home infrared sauna:
48 inches wide
45 inches deep
75 inches high
265 pounds heavy
Check out our guide to the Best Red Light Therapy Devices!
How Do I Choose The Best Home Sauna?
If you're struggling to choose an infrared sauna that'll fit your needs, consider these factors:
Size
Wavelength
Price and warranty
Size
Most people simply look for the biggest home sauna they can afford. But there are a lot of things to take into consideration.
You have to put your home sauna somewhere. If you have a spare room or lots of extra space, going for a big unit is fine. But if you're dealing with limited space, you might want to scale down.
Next, consider the maintenance cost. The bigger your sauna, the more electricity it draws. Four to six-person units also require an electrician to install it and sort out your wiring. You can't just plug it into the wall.
Wavelength
Infrared saunas emit light, which falls into three categories:
Far infrared light
Mid-infrared light
Near-infrared light
Most saunas use far infrared light because it heats up your body quickly, and is the cheapest to produce. But recent research shows mid and near-infrared light also offers many health benefits, like improved sleep and faster healing.
So look for full-spectrum saunas since you're exposing yourself to all forms of infrared light.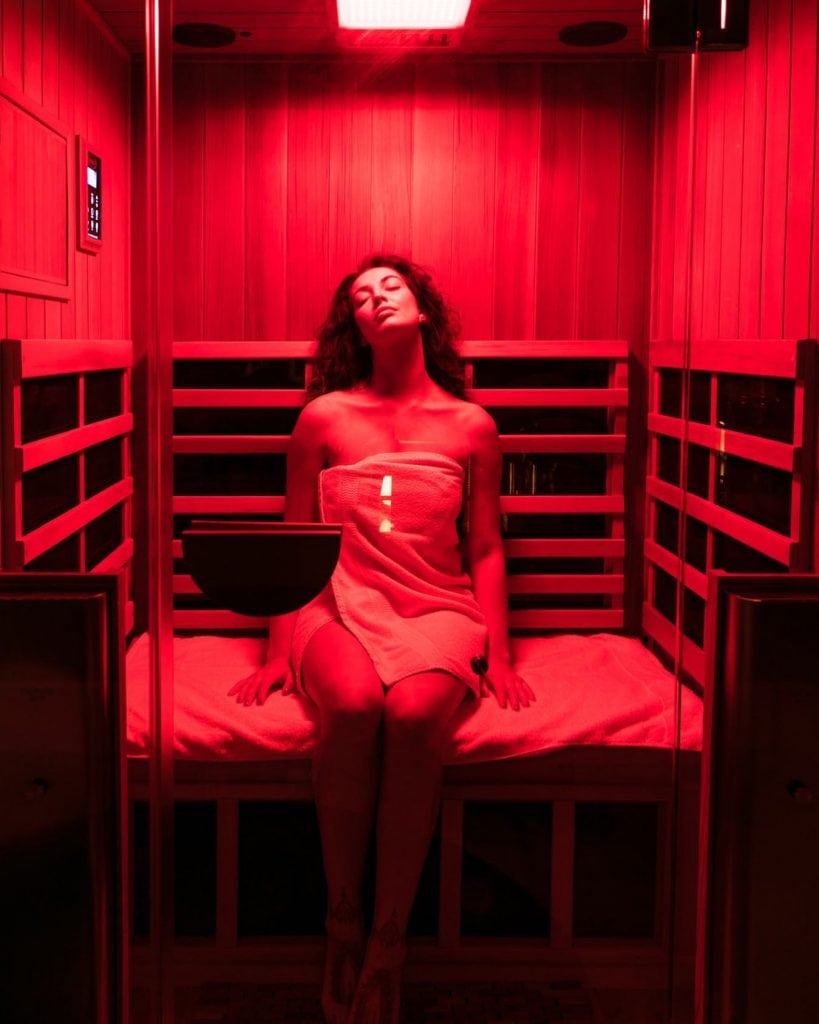 Price And Warranty
Home saunas range from $3,000 to $5,000. If you're looking for a four to six-person sauna, this number can go over $10,000.
And like most things in life, you get what you pay for. So taking shortcuts and going for the cheapest deal isn't advisable. You might sweat in your new sauna, but you don't know the amount of EMFs it emits. And, maybe in a year, you find the wiring is faulty or one of the panels breaks.
Now you're stuck with a home sauna that doesn't work and is out of warranty.
But if you opt for a more premium brand like HigherDose, Clearlight or Sauna.Space, you know all the parts are well-designed and reliable. These companies also offer lifetime warranties, so they'll repair or replace your sauna if anything breaks.
How Much Is A Home Sauna?
Infrared blankets are the most affordable way to experience the benefits of infrared heat. They cost between $500 to $1,000.
If you're looking for something more advanced, entry-level portable saunas start at $3,000 and go up to $6,000. Saunas in this price range are suitable for one person only.
From $6,000 and up, you'll find two to three-person saunas that offer advanced features like a built-in entertainment system and automatic timers.
But let's say you have a big family or your friends always come over to sit in your sauna, you'll pay over $10,000 for a four to six-person sauna. But when making such a significant investment, you also want to consider the setup and maintenance costs.
You'll need to hire an electrician to connect the sauna to your electrical system. Also, these six-person saunas take a lot of watts, which can send your electricity bill through the roof.
What Are The Advantages Over Other Sauna Types?
The stand-out benefit of infrared saunas over a traditional sauna is that the infrared sauna uses light to heat your body directly. This way, the air temperature is much lower. So if you're sensitive to heat and can't sit in a stream sauna for long, infrared saunas allow you to experience the same benefits.
Traditional saunas use heating elements like a hot stove that heats the ambient air around you, warming your body. You aren't getting the benefits of far infrared rays, and sauna sessions can get uncomfortable since the maximum temperature goes up to 190 degrees Fahrenheit.
Infrared saunas also use far-infrared light penetrating deep into your body's tissues. Studies show this helps treat and manage various chronic conditions like heart disease, insomnia and psoriasis.
How We Picked The Best Home Sauna
I used the following criteria to pick the best indoor sauna:
Design
Affordability
Ease of use
Additional features
These saunas are well designed because they use strong materials, ensuring they'll last for decades. The infrared panels are also positioned well since it maximizes the surface area of infrared light.
They are affordable compared to other saunas with the same features and size. And if you can't afford to pay the total amount immediately, consider the monthly payment plans.
Although some units require an electrician to install, you can simply plug these saunas into a wall and enjoy the radiant heat.
The last factor I looked at was additional features. With the options above, you'll find entertainment systems allowing you to listen to music and audiobooks. I also like that they have warranties and a sauna kit, so you won't have to pay for replacement parts.
What Are The Best Home Sauna Brands?
These are some of the best home sauna companies:
HigherDose
Founded in 2016 by Lauren Berlingeri and Katie Kaps, HigherDose is one of the most reputable brands due to the quality of products sold. HigherDose sells everything from sauna blankets to full-spectrum infrared saunas and red light face masks.
Berlingeri and Haps aimed to make red light and sauna therapy accessible to all when founding HigherDose, and it's safe to say they've reached their goal. HigherDose products positively affect the lives of thousands worldwide.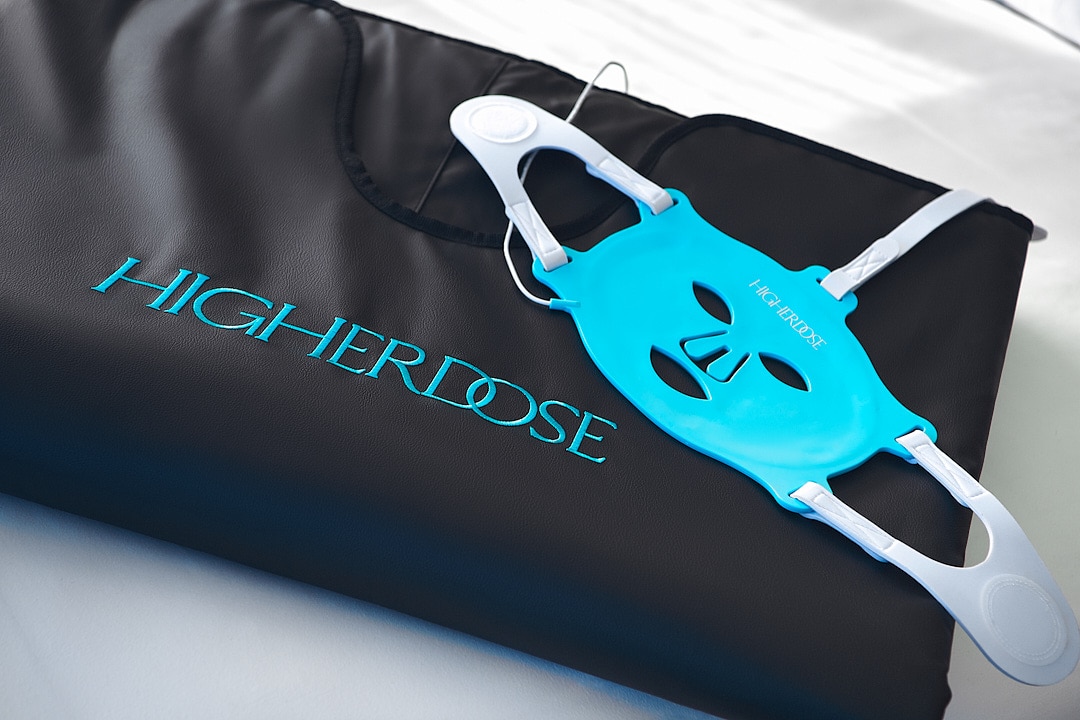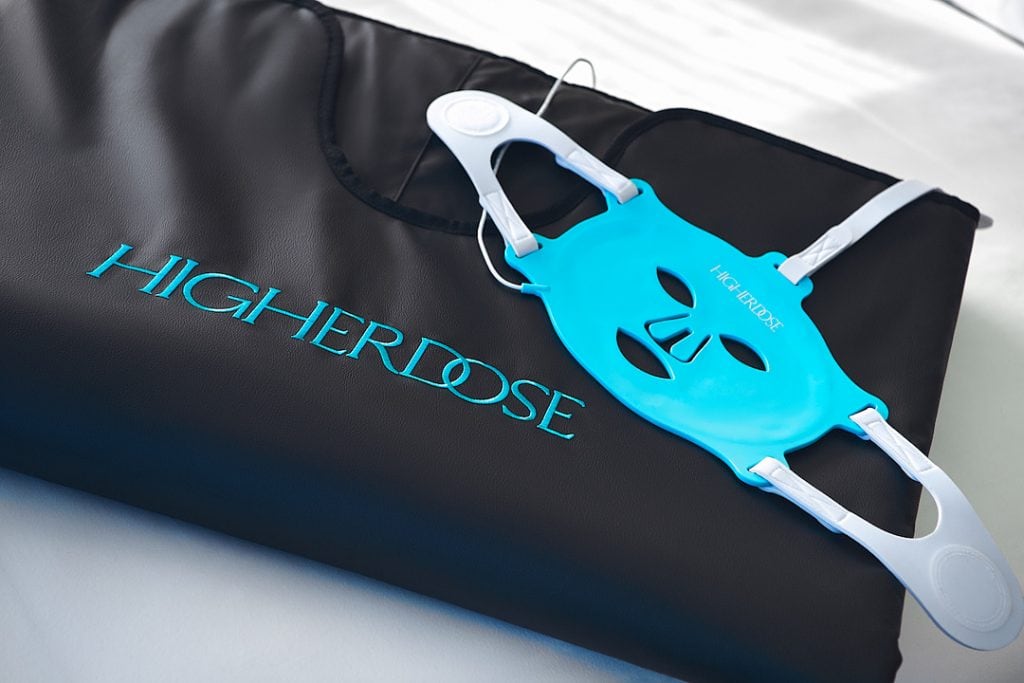 Clearlight
Clearlight is another famous brand in the sauna industry, and they stand out because of their lifetime warranty. You know you're only getting the best, and if something breaks, Clearlight will replace or repair your sauna.
Sebastian Mierau and Johannes Kettelhodt founded Clearlight. With a passion for health and biohacking, they pioneered some of the highest quality saunas available.
Sauna.Space
SaunaSpace sells more than just quality infrared and steam saunas. On their website, you'll find:
Targeted therapy lights
Infrared heating panels and sauna plugs
A small size portable steam sauna
Healing creams and sauna rocks
Brian Richards founded SaunaSpace in 2008 after suffering from insomnia, fatigue and acne. He wanted to help others treat their ailments with affordable sauna units.
What stands out about SaunaSpace is they offer a 100-day free trial. You can try their saunas out and see if it fits your needs. If you want to return it within 100 days of purchase, simply contact SaunaSpace customer support, and they'll refund your money no questions asked.
Final Thoughts On Finding The Best Infrared Sauna
Home radiant saunas allow you to experience the benefits of heat therapy without leaving your house.
These benefits include clearer skin, deeper sleep and better cardiovascular health.
If you're looking to invest in a home sauna, consider size, wavelength and price. You also want to stick to reputable brands that offer 10-year or lifetime warranties like HigherDose, Clearlight and SaunaSpace.