Keto lava cake is the ultimate low carb dessert. It's sweet, rich, fatty, and super indulgent. It makes a great treat for special occasions that will have guests impressed at your baking skills!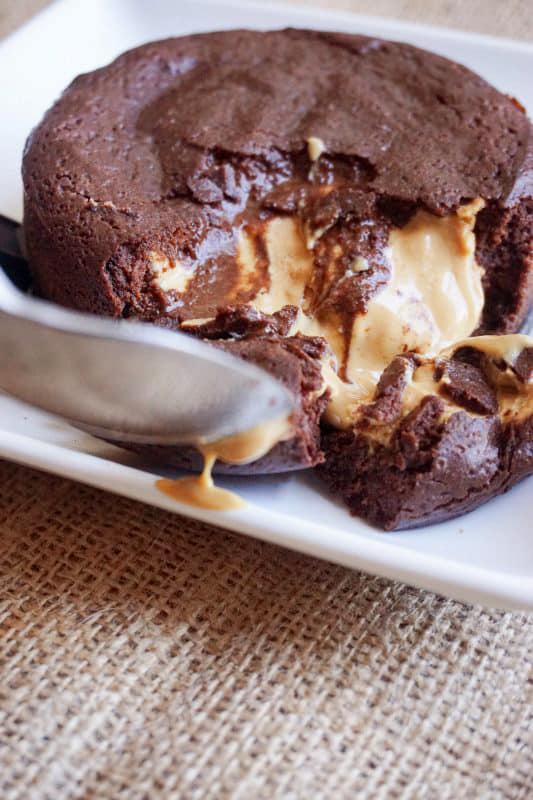 Insert the word 'lava' anywhere because this cake will be oozing with peanut butter lava once you dig in! It's a simple molten lava cake to make, but we wanted to go ahead and make a recipe video for you anyway.
The best part of making recipe videos is that we always make two. One for the video itself and one for photography, which meant I had the chance to indulge in this cake twice already!
A "Reeses" Lava Cake Recipe!
This chocolate lava cake is like a massive reeses cup just waiting for you to take a bite. Since you get to dictate how much peanut butter goes in you really can make it exactly like the candy with a 4 to 1 ratio of peanut butter to chocolate.
We first made this keto lava cake without the frozen peanut butter disc, but once we made it and tried it a second time we knew it was vital to allow for maximum peanut butter lava in this recipe.
How to Make A Keto Lava Cake
Ready to make the gooey-est low carb lava cake of your life!? This is by far the best keto recipe out there because it's molten chocolate cake PACKED with peanut butter.
Ingredients
Our lava cake ingredients are pretty straight forward, but don't let that stop you from customizing this recipe to make your perfect cake.
To make this recipe you will need, unsweetened cocoa powder, bakers chocolate, peanut butter, butter, heavy whipping cream, an egg, stevia, low carb sweetener, coconut flour, and baking powder. Optionally you can add vanilla extract for extra flavor.
Making a Keto Chocolate Lava Cake
Begin by making your frozen peanut butter disk. In a mixing bowl combine peanut butter and sweetener (if desired). Pour the peanut butter mixture into a parchment paper lined mini springform pan. Freeze until solid.
In a separate bowl combine the butter and bakers chocolate by melting them in the microwave (30 second bursts are best)
Add the heavy cream, egg, and stevia drops to the chocolate butter mixture. Set aside.
Mix together the erythritol, cocoa powder, coconut flour, and baking powder in a separate bowl. Combine the dry and wet ingredients, mixing to get a smooth batter.
Pour half the batter into a greased ramekin or mini springform pan. 4″ springform pans work well for this recipe. Then place your frozen peanut butter disk in the center and top with the rest of your batter. Make sure the peanut butter doesn't run out into the edges if you decide to not freeze a disk ahead of time.
Bake the gooey lava cake for 13-15 minutes at 400 degrees. The edges should be set, but the center will be jiggly and look like it's not fully cooked.
Serve right away with some sugar free ice cream. If you used a springform pan you should be able to just move it out onto a plate.
How to Store Keto Chocolate Lava Cakes
This keto friendly gooey chocolate cake is best on the first day. If you've tried this recipe then you know the cake batter will continue to cook and then fully set if left to cool and reheat.
If you do want to store leftovers we recommend putting your molten lava cake in an airtight container in the fridge for up to 5 days. When reheating be careful to only cook it just enough to get warm. Anymore and you will probably have peanut butter cake instead of a real lava cake.
What to Serve With This Easy Keto Lava Cake Recipe
Now that we can make keto lava cake i'm sure you're wondering what you can top this tasty treat with to stay within your low carb diet. There are now a lot of brands who make delicious keto sugar free ice cream that can be used as a lava cake topping.
Some of our favorite keto lava cake toppings are from:
Enlightened – This is probably top tier sugar free ice cream because they have so many super indulgent flavors you don't even miss real ice cream.
Halo Top – Halo top recently launched a keto line that is low in net carbs and uses cookie doughs made of ingredients like almond flour and powdered sweeteners.
Rebel Creamery – Rebel is one of the first keto dessert/ ice cream companies that only makes keto products. It's available nationwide now in almost every Walmart making keto easy for the masses. And topping keto dessert recipes even easier.
These are probably the most popular varieties and best keto options for ice cream if you are someone looking to indulge without messing up your diet. These are even great options for topping other keto recipes like a mug cake, not just our delicious chocolate lava cake.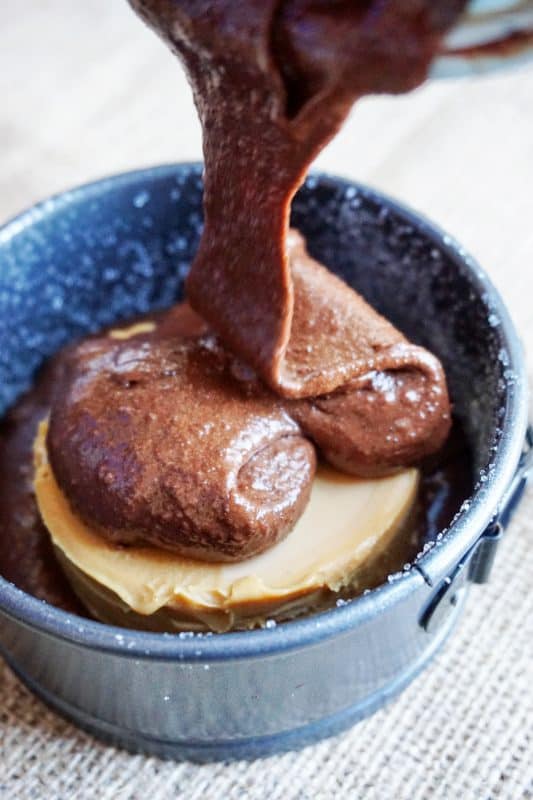 More Chocolate Keto Desserts
While this keto lava cake is definitely a top tier dessert, we have tons more sugar free chocolate dessert recipes on our site. Try our:
Ice Cube Peanut Butter Cups – With only 1g of net carbs per peanut butter cup you really can't go wrong. These cups are perfect for all our Reese's lovers that want a sugar free dark chocolate peanut butter cup.
Dairy Free Keto Hot Chocolate – Prefer to drink something sweet so you don't over indulge? Our dark chocolate hot cocoa is the perfect solution, and the best part is that it's also dairy free!
Keto Chocolate Chip Muffins – Need one final super indulgent recipe that's gluten free, low carb, and fits seamlessly into your keto diet? Our keto chocolate chip muffins are exactly what you're looking for. We like baking up a batch of these on Sundays as a family.
Our blog is full of a never ending supply of desserts, and that goes for chocolate ones too. Try all of our chocolate keto recipes and let us know what you think!
Make this Keto Peanut Butter Cake
Chocolate can be confusing on the keto diet. For that reason we have created a guide to keto chocolate.
We know that most of you are Reese's fans, or chocolate and peanut butter fans at the very least, so if you want to relive your days of enjoying Reese's cups (without resorting to the sugar free ones which contain maltitol) you should make our Chocolate Peanut Butter Cake!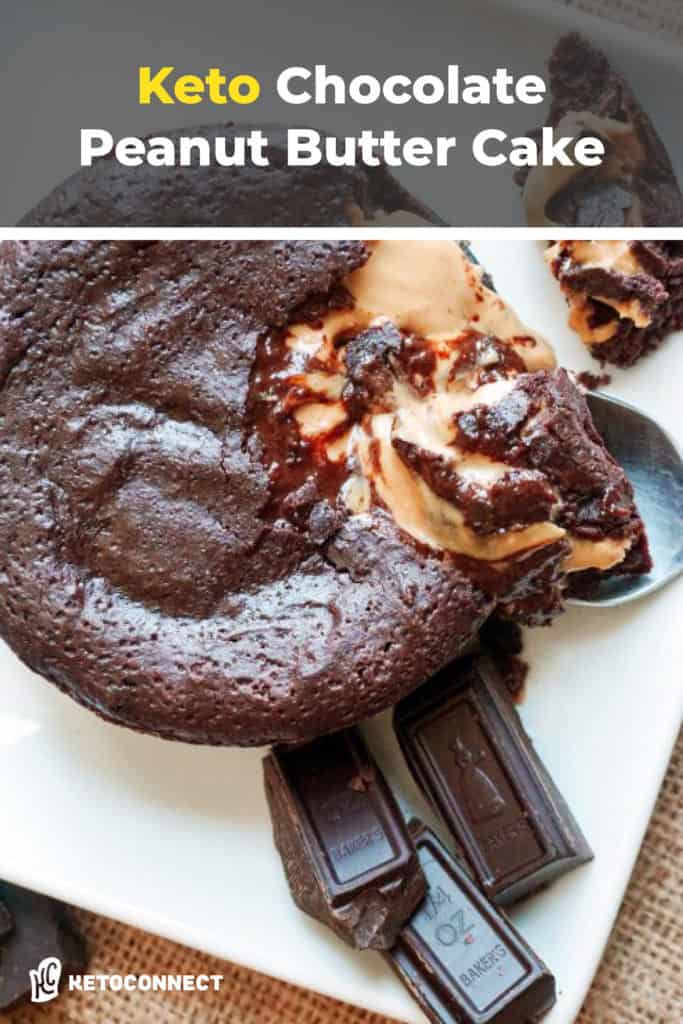 Recipe can be quickly added to MyFitnessPal – Search "KetoConnect – Chocolate Peanut Butter Cake"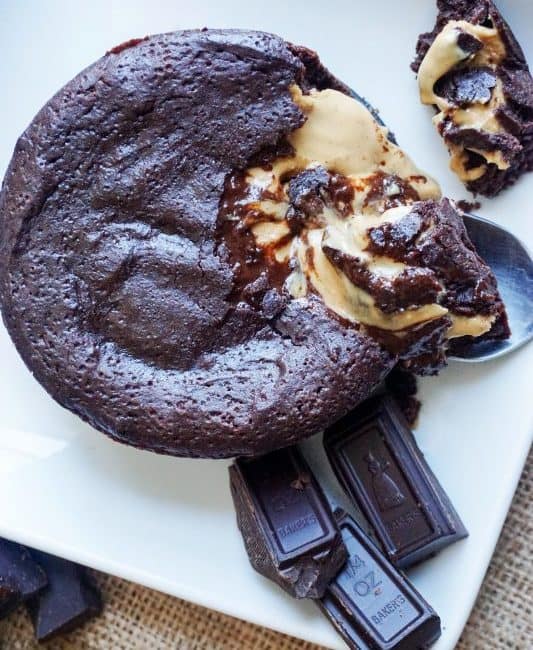 Keto Lava Cake Recipe | Chocolate Peanut Butter
Total Time 25 minutes
Servings 2 servings
Calories per serving 366kcal
Prep Time: 10 minutes
Cook Time: 15 minutes
Instructions:
Optional Make Ahead: In our video we made a frozen peanut butter disc to optimize peanut butter to chocolate ratio and it's also perfectly melty when you cut into the cake. You can also choose to dollop in 2-3 tbsp of peanut butter right into the middle. **To increase sweetness you may want to add 5 drops of stevia to the peanut butter.

Combine bakers chocolate and butter and melt in a microwave safe bowl in bursts of 30 seconds.

Add cream, egg and stevia drops to the chocolate and butter mixture. Set aside.

Combine all dry ingredients: erythritol, coco powder, coconut flour and baking powder in a separate bowl.

Mix the dry ingredients into the wet ingredients until you get a smooth uniform thick batter.

Pour half the batter into your greased ramekin or springform pan. We use a

4″ springform pan

for this.

Place the peanut butter right in the center without allowing it to run to the edges.

Pour the second half over the peanut butter.

Bake in a 400 degree oven for 13-15 minutes.

You'll know it's done when the edges have firmed and the center is still a little jiggly/not fully cooked seeming.

Serve immediately and enjoy!
Nutrition Facts
Keto Lava Cake Recipe | Chocolate Peanut Butter
Amount Per Serving
Calories 366 Calories from Fat 288
% Daily Value*
Fat 32g49%
Carbohydrates 10g3%
Fiber 6.5g26%
Protein 10g20%
* Percent Daily Values are based on a 2000 calorie diet.
Written By