Oh man, this Low Carb Cereal recipe is the recipe of my dreams. Cereal would be my number one cheat meal and it would include several different kinds, including Cinnamon Toast Crunch. We created the low carb, guilt free version of Cinnamon Toast Crunch! Watch me walk you through how to make it, step by step, below.
Making Cinnamon Crunch Toast Low Carb
Cinnamon toast crunch is the best cereal by a long shot and I can guarantee this by asking anyone and everyone if it was a part of their childhood, and even adulthood. It is, without fail, the cereal I see the most people purchase when I am at the grocery store. We knew that if we were going to attempt a low carb cereal we would need to pick one that everyone could undoubtedly agree upon as the best, so we decided on Cinnamon Toast Crunch.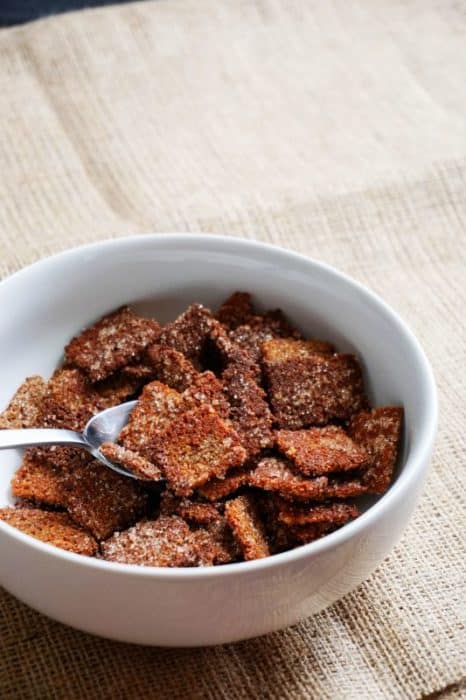 Low Carb Breakfast
When it comes to low carb breakfasts, it's easy to go the route of bacon and eggs. We all do it and it works great. It's filling, delicious and basically no carbs. But, some of us can get bored of that and want to change it up and that's where low carb cereals come into play. Now, I've tried many low carb cereals from Amazon and there are a few options, but they just aren't low carb enough. We wanted to change that, because as I've mentioned, cereal is my ultimate food. We even have a couple others recipes that utilize more than just the standard bacon and eggs. Give our Keto Oatmeal and Keto Macro Cakes a try!
Low Carb Cereal Recipe Ideas
You don't have to go the cinnamon sweet route with our cereal preparation. In fact, we've used the same ingredients and preparation method to make pork rind chips for our Pork Rind Nachos. You can even add:
Coconut flakes
Maple extract
Nuts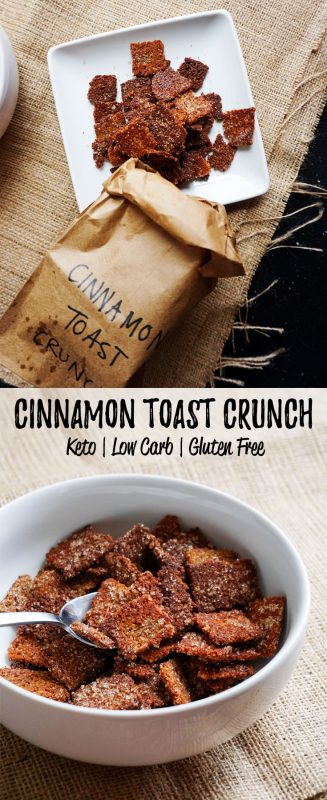 Recipe can be quickly added to MyFitnessPal – Search "KetoConnect – Low Carb Cereal"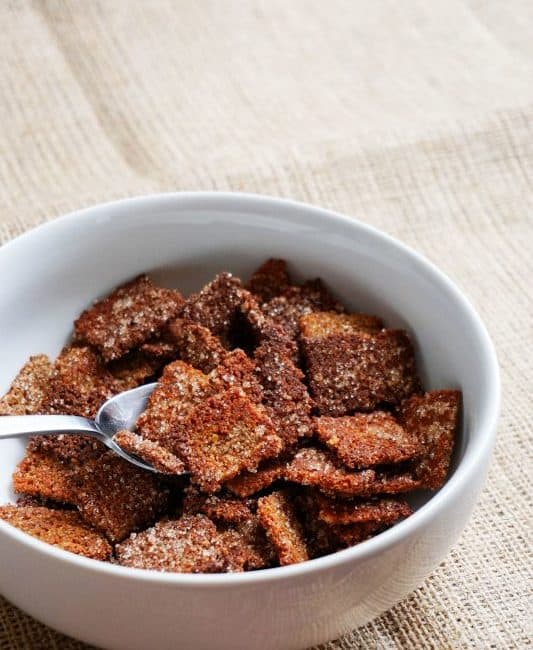 Low Carb Cereal
A sweet cinnamon cereal made from pork rinds and Queso Fresco!
Total Time 30 minutes
Servings 2 servings
Calories per serving 208.5kcal
Prep Time: 10 minutes
Cook Time: 20 minutes
Instructions:
Pulse cheese and pork rinds in a processor.

Add melted butter, cinnamon and stevia drops and pulse to combine.

Lay out the cereal mixture onto a greased baking sheet and spread as thin or thick as preferred. Make sure it is even to ensure even heating.

Lay another baking sheet on top and place it in to a 450 degree oven for 8 minutes.

Remove top baking sheet and bake for additional 2 minutes.

Remove pan and gently cut the layer into square pieces. It will still be soft so be careful when cutting.

Remove any fully cooked pieces (usually around the edge) and place back into the oven for additional 8-10 minutes.

Allow to cool and enjoy! Store in fridge.
Nutrition Facts
Low Carb Cereal
Amount Per Serving
Calories 208.5 Calories from Fat 131
% Daily Value*
Fat 14.5g22%
Carbohydrates 3g1%
Protein 16g32%
* Percent Daily Values are based on a 2000 calorie diet.