Bagels are one of my favorite foods, which means we had to make Low Carb Bagels so I could continue to enjoy them on a keto diet! Prior to turning to a keto lifestyle there was always some sort of guilt associated with eating a bagel, or sometimes two. Topping it with loads of cream cheese, which is a must, only made it worse. So we wanted to shy away from anything to heavy and dense so we packed this bagel with protein and made it flourless! No go make them and enjoy.
The Most Guilt-Free Bagels Recipe
We've all seen the those fathead dough bagels… and cinnamon rolls, pizza crusts, and anything else you can think of to make fathead dough into. What Matt and I don't like about that is all the cheese used in the food. If you're bagels are made out of 2 different cheeses and almond flour, and you top it with additional cream cheese it feels a little less healthy and guilt-free. But, the bagels we've made for you here are flour-less and have no cheese in the mixture so you can go wild with cheesy toppings!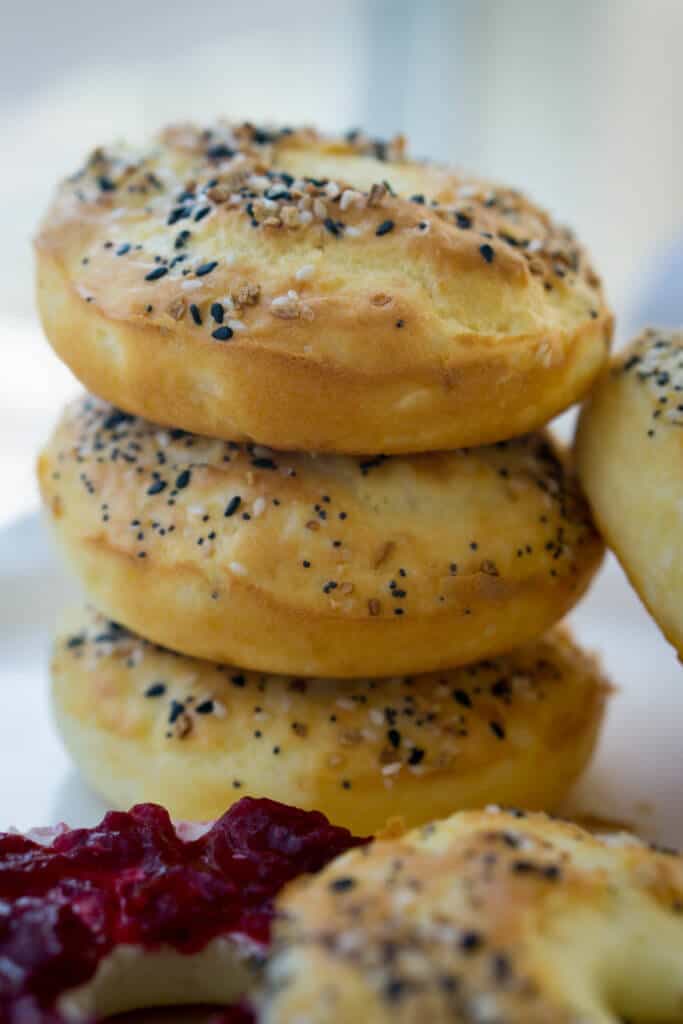 What Makes For A Good Keto Bagel?
Now that real bagels are out of the picture, and for good reason, what makes for a good keto bagel? Thinking back to eating carby bagels, I always felt uncomfortably full afterwards. They were delicious, but so heavy. So, when making these I thought something lighter in texture and feel would make for a good bagel, along with a good seasoning. Everything bagel seasoning can easily be made at home or bought in stores, but it really encompasses all flavors and textures. We also added some minced onion into the batter to give it some extra flavor. No one likes a bland bagel!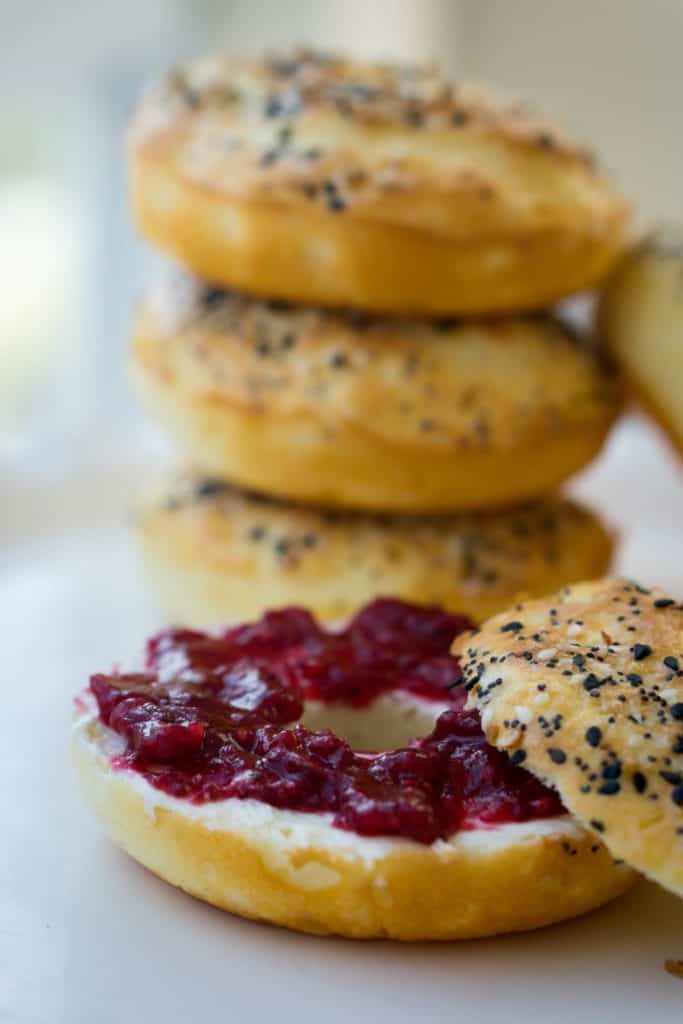 Everything Seasoned Low Carb Bagels
If you omit the minced onion, and everything seasoning on top you can easily transform these into whatever type of bagel you want! You can go a sweet route by adding cinnamon and liquid stevia to the bagel batter or mince up some jalapenos and toss in some cheddar for a spicy, cheesy take! When it comes to spreads, however, we have you covered with our home made peanut butter and decadent chocolate dream butter. Now that you have low carb bagels back on the menu, breakfast time, snack time, and sandwich time will never be the same!

Recipe can be quickly added to MyFitnessPal – Search "KetoConnect – Everything Bagels"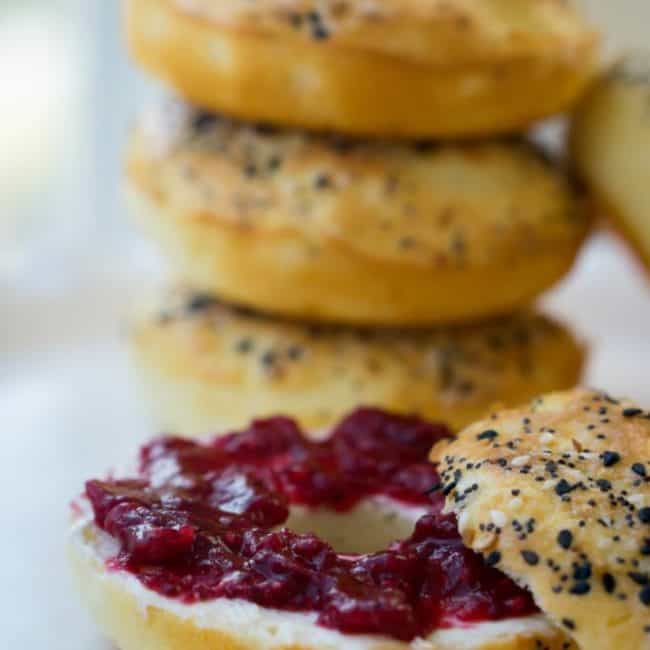 Low Carb Bagels | Everything Bagels!
We packed this low carb bagel recipe with protein and made it flourless and cheeseless so you can have fun with your favorite toppings or spreads.
Total Time 23 minutes
Servings 6 Bagels
Calories per serving 220.5kcal
Prep Time: 5 minutes
Cook Time: 18 minutes
Instructions:
In a large mixing bowl combine cream cheese, butter and eggs with a hand mixer.

Add salt, garlic, onion, baking powder and protein powder to the mixture and combine with a hand mixture.

Allow to cool for 10 minutes and enjoy.
Nutrition Facts
Low Carb Bagels | Everything Bagels!
Amount Per Serving
Calories 220.5 Calories from Fat 149
% Daily Value*
Fat 16.5g25%
Carbohydrates 1.8g1%
Protein 15.5g31%
* Percent Daily Values are based on a 2000 calorie diet.