Most of us can rarely find time on a weekday morning to cook an elaborate breakfast spread for the family, which is why we've created this 5 minute Keto Diet Breakfast Bowl! It's high in healthy fats, low in carbs, and will keep satisfied all throughout the busy day. But, the best part is how simple and quick it is to make. No matter your morning routines or how many kids you have to get ready, everyone will have some time for this quick and delicious breakfast bowl!
The Best Keto Foods To Add Into Your Bowl
We've given you the recipe for our favorite breakfast bowl makings, but that doesn't mean you can't go off on your own and get a little wild. I would personally start by changing up the meat! I'm a huge fan breakfast sausage so I would find a high fat to protein ratio sausage to add to my bowl. I may also swap in and out spinach depending on the day and I would most definitely add in a cheese like goat or sharp cheddar! There is no one best way to do it so have fun with your favorite keto foods.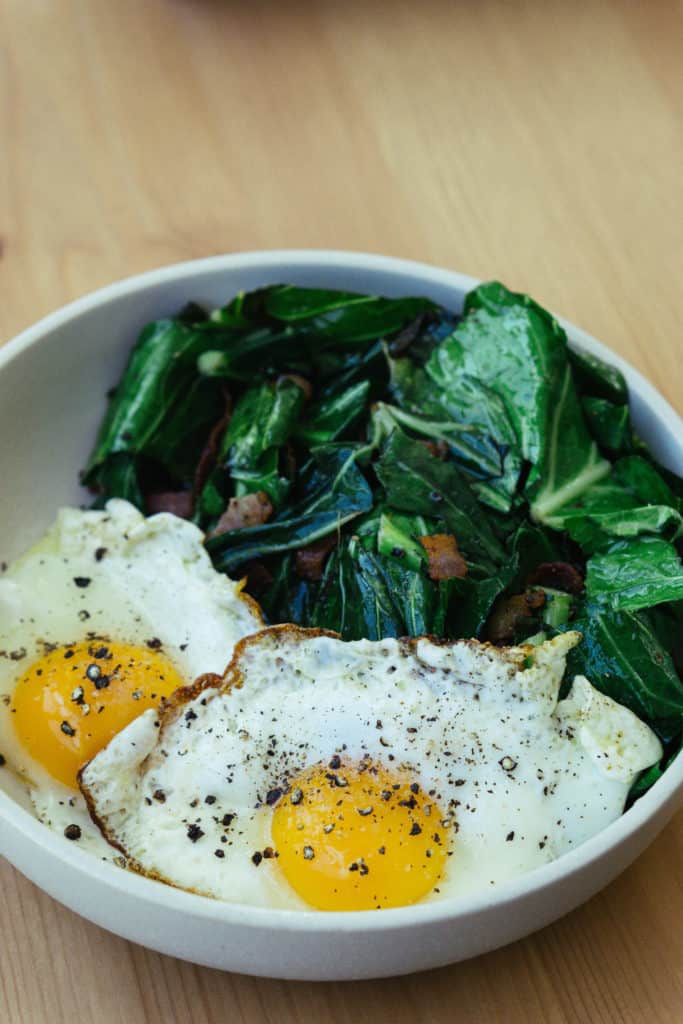 Our Favorite Low Carb Breakfast Foods!
Over the past several months we've converted into breakfast people. We no longer push our eating window off until 1pm because it feels more natural and satisfying to eat early on. Naturally, this means we've become huge breakfast lovers so coming up with some quick recipes and some extravagant weekend recipes was a must. For a quick weekday breakfast we love to make this bowl or our overnight oats so all the prep is done even before waking up. For the weekend when we have more time to dedicate we love to make our low carb breakfast casserole, macro pancakes or French omelet! The jury still may be out on whether or not breakfast is the "most important" meal of the day, but either way we still like to whip up a delicious meal to get our bodies and macros going on the right foot!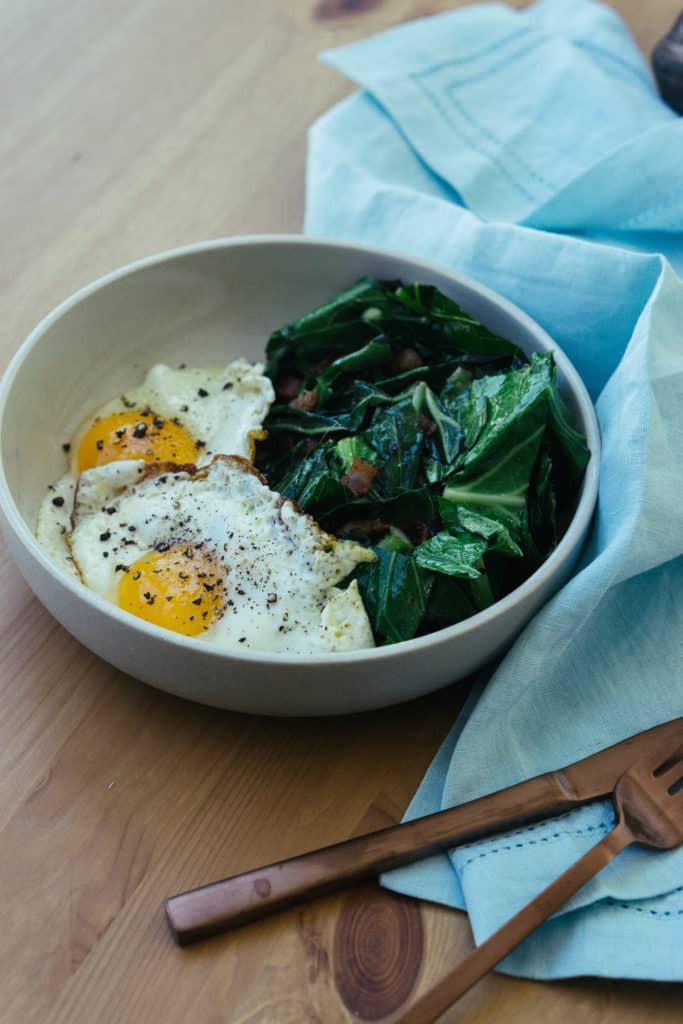 Keto Diet Breakfast Bowl
What makes a keto breakfast bowl one of our favorite meals? Well, for one it's single serve and really easy to prepare so if only one of us is eating there is no hassle of having leftovers or needing to clean the entire kitchen. It's also customizable to whatever you have in the fridge or are craving. Finally, although it may not look like the biggest serving in the world, it's both high in fat and protein which means this keto diet breakfast bowl will keep you full until you can find some more time to eat!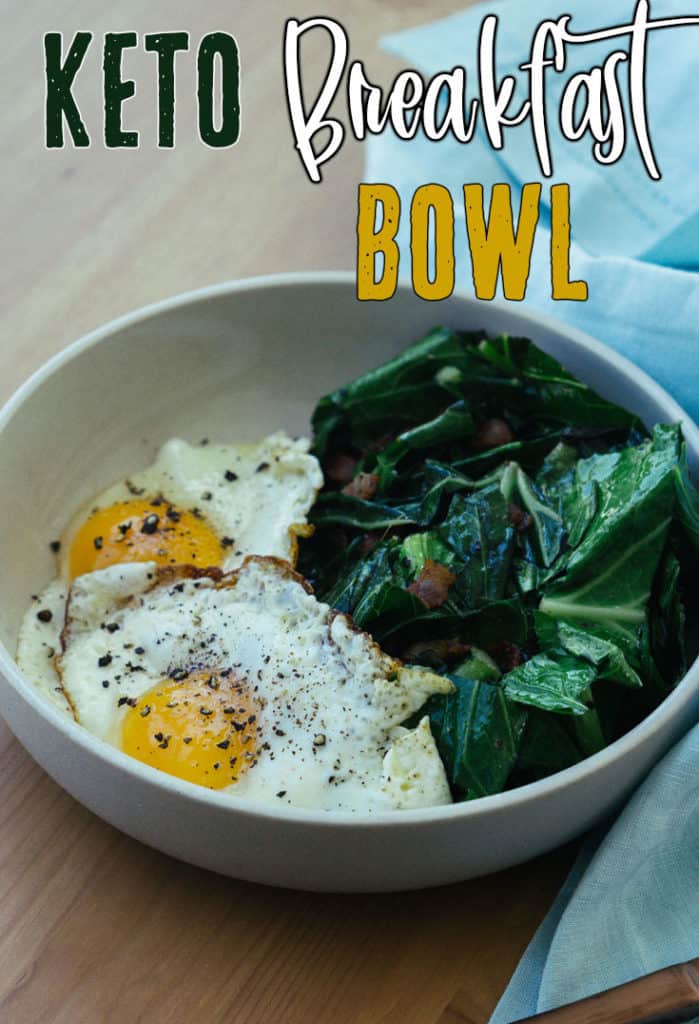 Recipe can be quickly added to MyFitnessPal – Search "KetoConnect – Keto Diet Breakfast Bowl"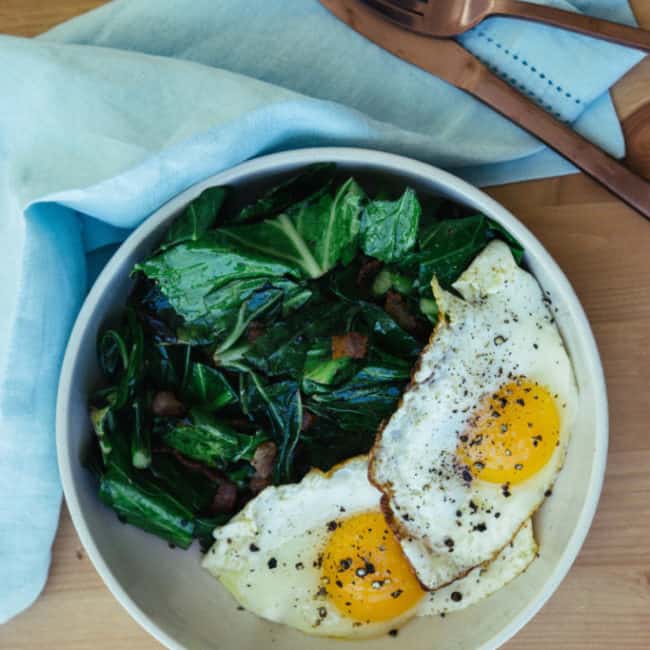 Keto Diet Breakfast Bowl
Total Time 5 minutes
Servings 1 Bowl
Calories per serving 402kcal
Instructions:
Heat a large skillet to medium-high heat and slice up the bacon into pieces. Add the bacon to the hot pan and allow to cook down.

Once the bacon is cooked to your liking add in the collard greens and season with garlic powder, salt and pepper. Cook the collards down to your liking and then transfer bacon and collards to a bowl.

Add the ghee to the hot pan and crack in the eggs. Let them fry up until the white is fully cooked through and season them with salt and pepper. Once the eggs are cooked add them to your bowl and enjoy!
Nutrition Facts
Keto Diet Breakfast Bowl
Amount Per Serving
Calories 402 Calories from Fat 297
% Daily Value*
Fat 33g51%
Carbohydrates 7g2%
Fiber 4g16%
Protein 24g48%
* Percent Daily Values are based on a 2000 calorie diet.