Did you know that you can make keto chicken cordon bleu and keep it low carb friendly? We couldn't wait any longer to share this recipe with you, it's hands down one of our favorite keto friendly recipes when it comes to dinner meals. Plus, your entire family will love it!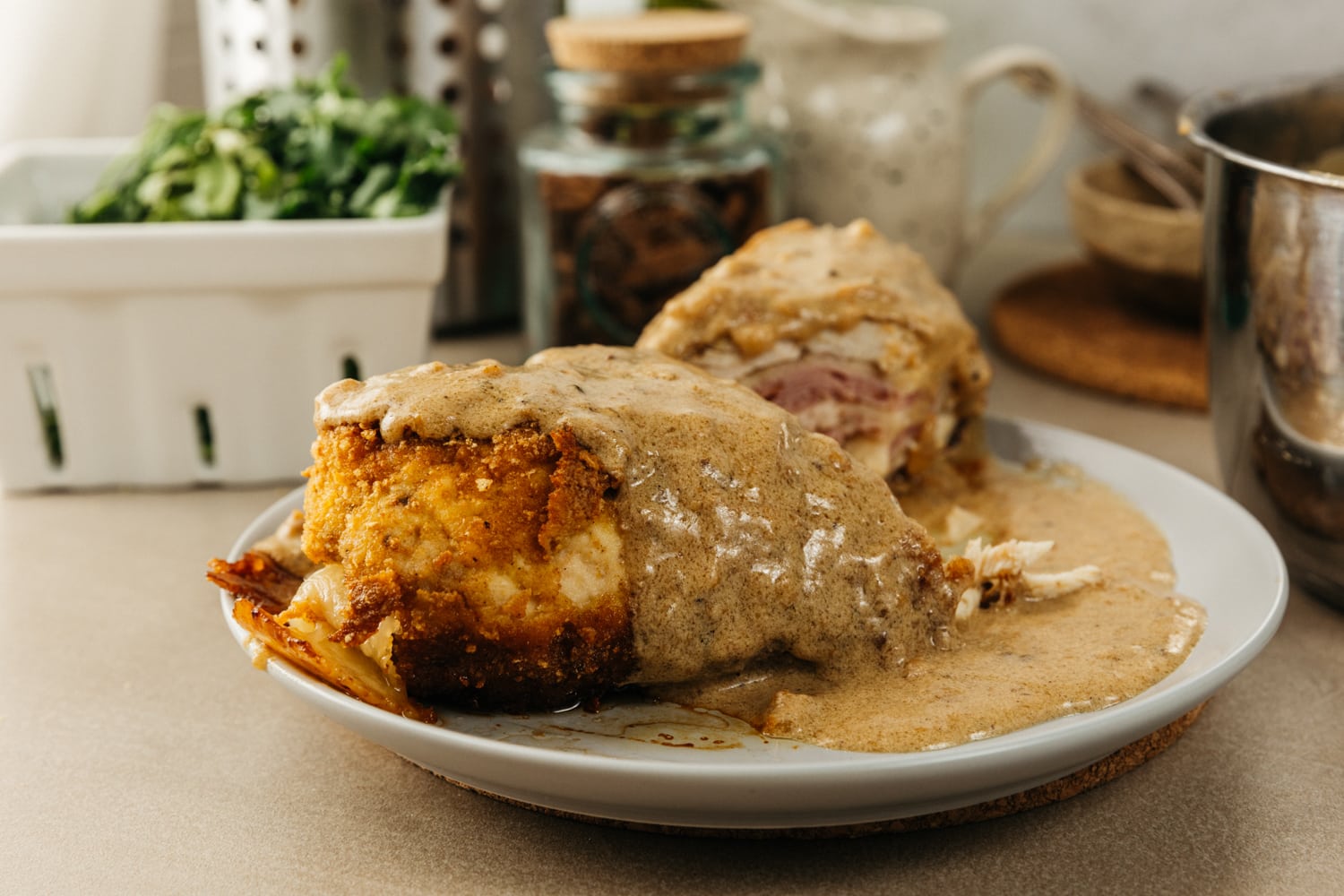 What is Chicken Cordon Bleu?
Although there is a lot of history surrounding this dish, let's focus on the recipe itself. Keto chicken cordon bleu is a comfort dish where a chicken breast is pounded thin and then filled with Swiss cheese and deli ham.
Then, it's covered in crushed pork rinds (traditional recipe calls for breadcrumbs) and later fried or baked in the oven. 
How to make Keto Chicken Cordon Bleu
Here is a brief list of all the ingredients you need to make our easy recipe for low carb chicken cordon bleu and the creamy dijon sauce:
Ingredients (for the chicken)
Boneless, skinless chicken breasts
Although Chicken Cordon Bleu has many versions, including one with veal, the most popular uses chicken breast. It's one of the best, leanest meats out there and a great source of protein. If possible, pick organic meat with a pink, fleshy colored hue.
Swiss cheese
This is the best type of cheese for any Chicken Cordon Bleu recipe because it melts, but also holds its shape at the same time quite well. You can substitute it with other cheeses, but keep in mind that it will change the taste and probably melt out of the Chicken Cordon Bleu.
Ham deli meat
Regular sliced ham is perfectly fine here – try to pick one that's organic and natural.
Almond flour & coconut flour
In this keto chicken cordon bleu recipe we combine both low carb flours to coat chicken so that the egg sticks to it better. No rocket science here, if you skip this step the full recipe will still come out just fine.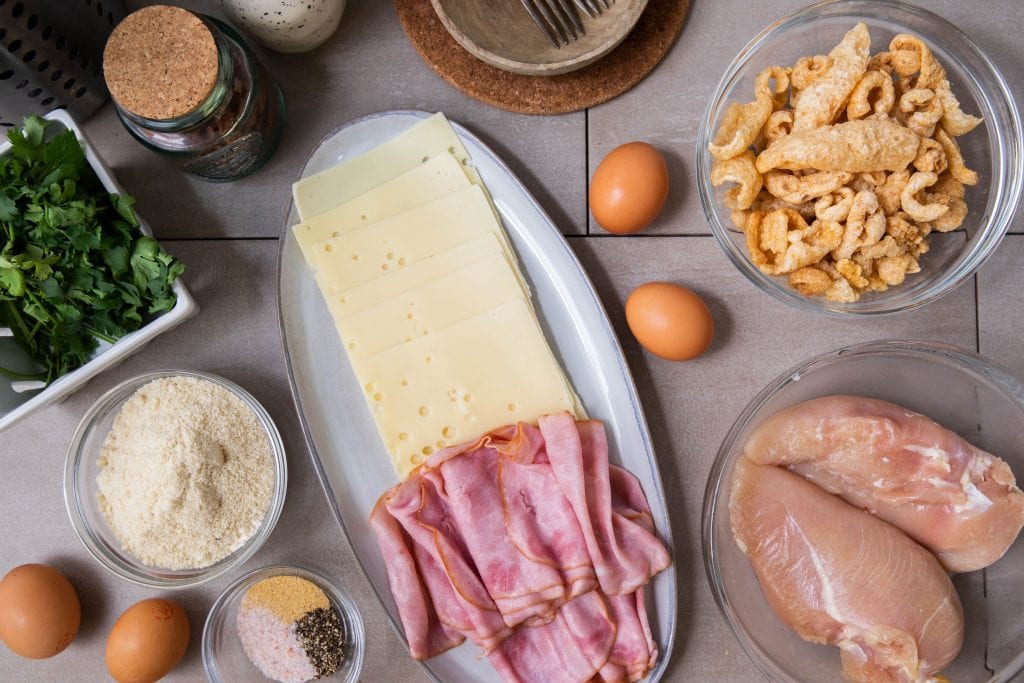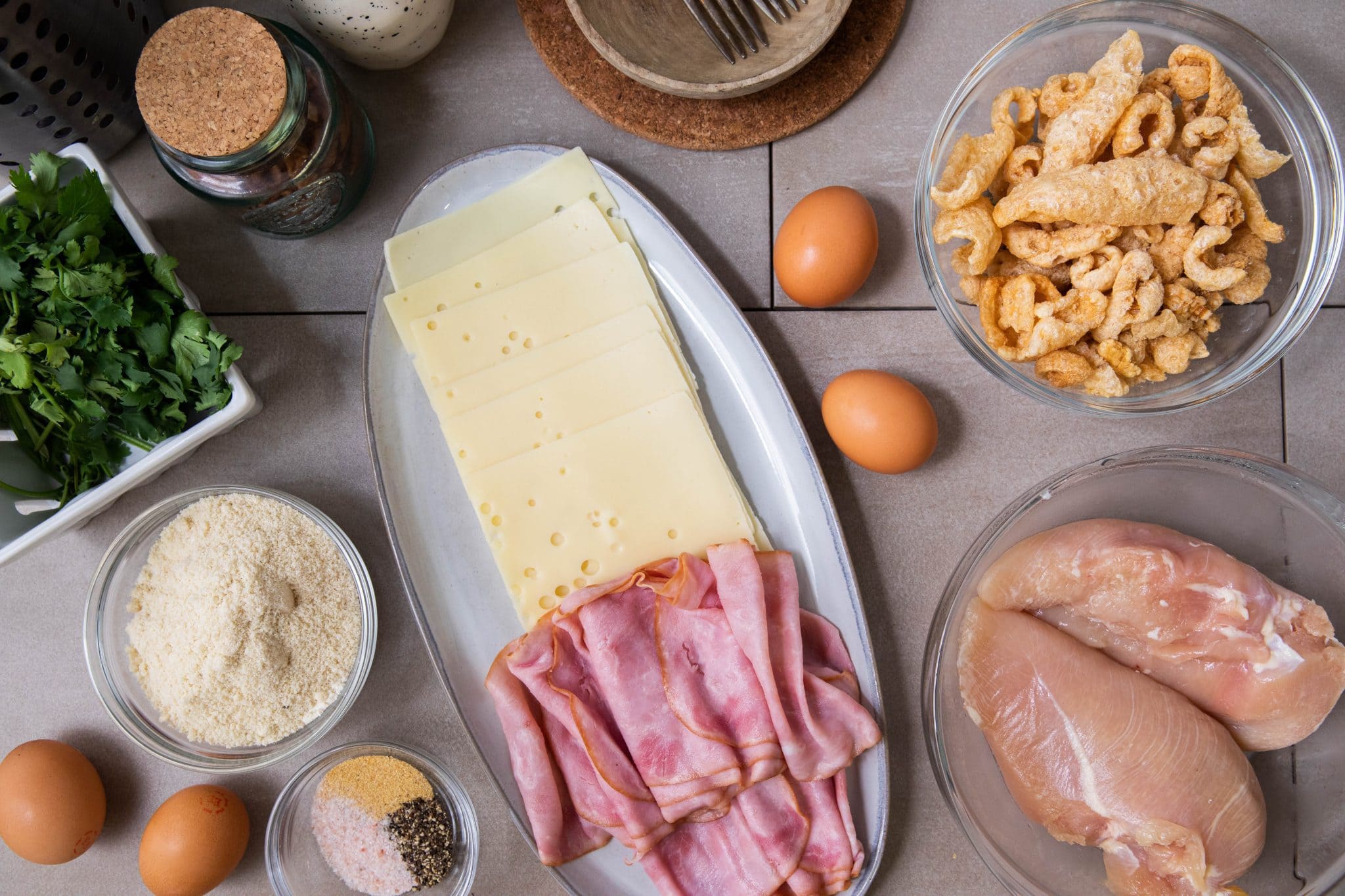 Eggs
Pick the best, organic eggs you can find at your local grocery store. These are a must in order for the pork rinds to stick around the chicken cordon bleu.
Pork rinds
Missing keto breading? Pork rinds are hands down our favorite alternative to breadcrumbs. They turn out to be crunchy, don't burn too fast, you can easily season them with spices to customize it to your liking.
Nothing else compares and if you haven't tried this keto breading alternative, I highly suggest you do ASAP. It's a life changer for sure!
Oil for frying
We used olive oil and that's an oil you should be using as well. I know it's a tad bit on the pricey side in comparison to other vegetable based oils, but it's significantly healthier. After all, vegetable oils are high in inflammatory omega-6s!
Spices
All you need is a bit of garlic powder, salt and pepper. These are our three staple spices in the house, and trust me when I tell you we buy garlic powder in bulk! It makes everything taste so much better.
Ingredients (for the sauce)
Butter – the base for all delicious sauces, it's meant to give the sauce a rich flavor and help to brown the garlic.
Minced garlic – more potent than garlic powder, this will set the overall taste for the whole sauce. I suggest using fresh minced garlic, it's much stronger in taste than the jarred one.
Xanthan gum – this ingredient is used to thicken up the sauce a bit without using any starches or all purpose flour.
Dijon mustard – key ingredient in the original sauce for the chicken cordon bleu, dijon mustard has a great way of intensifying the flavor of any dish.
Almond milk – the original recipe calls for milk, hence why we chose to use almond milk.
Parmesan cheese – I suggest you don't try to substitute any other cheese here, Parmesan has a distinct taste and no other cheese could measure up in this case.
Salt and pepper – adjust as you please! I actually like to add extra freshly cracked black pepper to almost all of my sauces.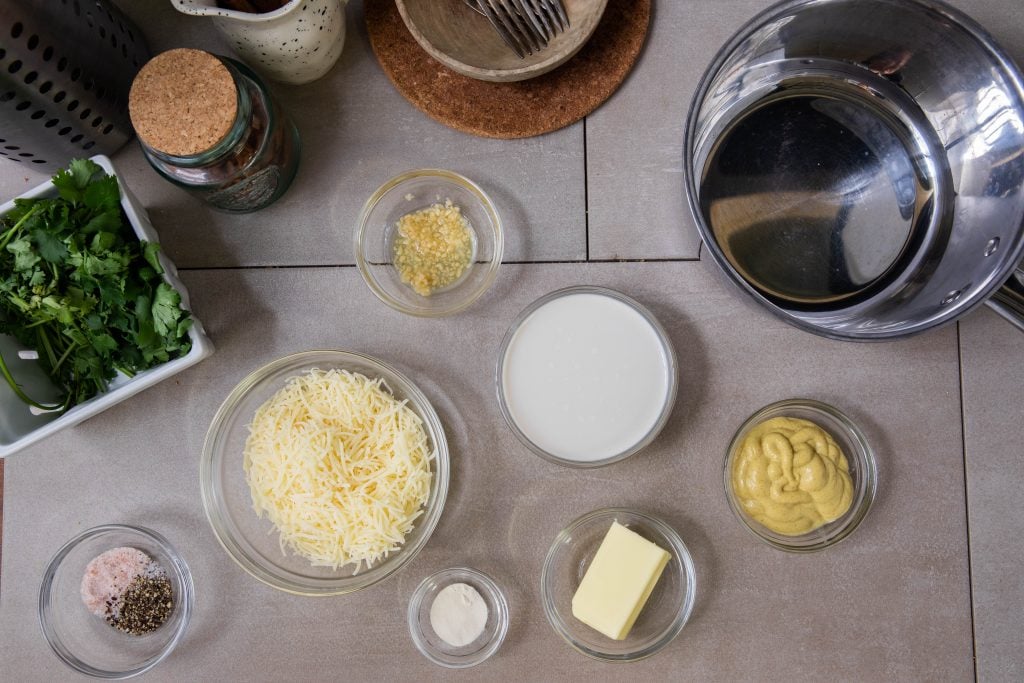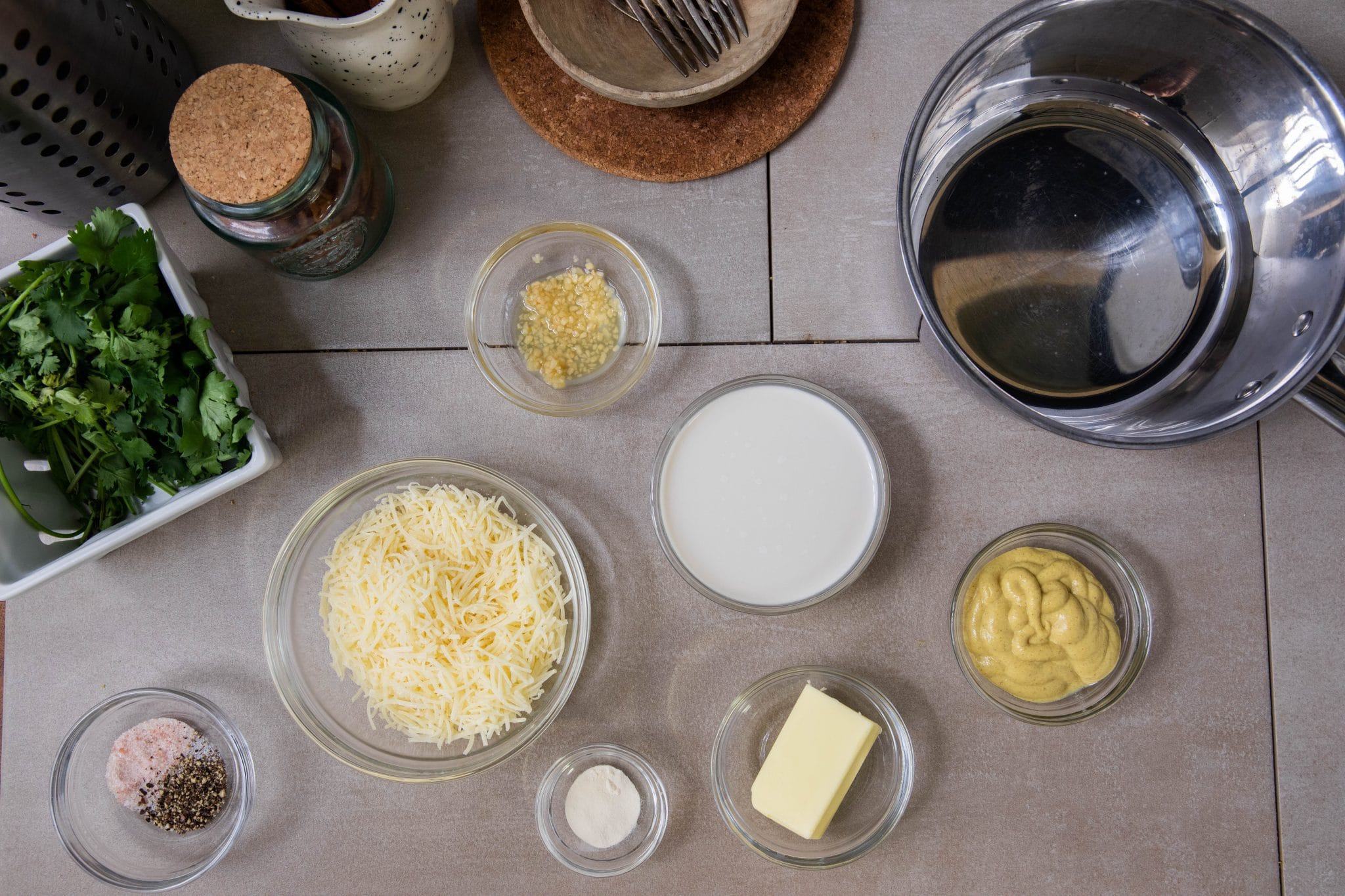 To make it into a full dinner meal, you can pair it up with our Keto Mashed Cauliflower and our Keto Broccoli Salad. However, I wouldn't even mind eating this keto chicken cordon bleu on it's own, it's absolutely delicious!
Quick directions
Step 1: Prepare pork rinds – using a food processor, make crushed pork rinds and set aside.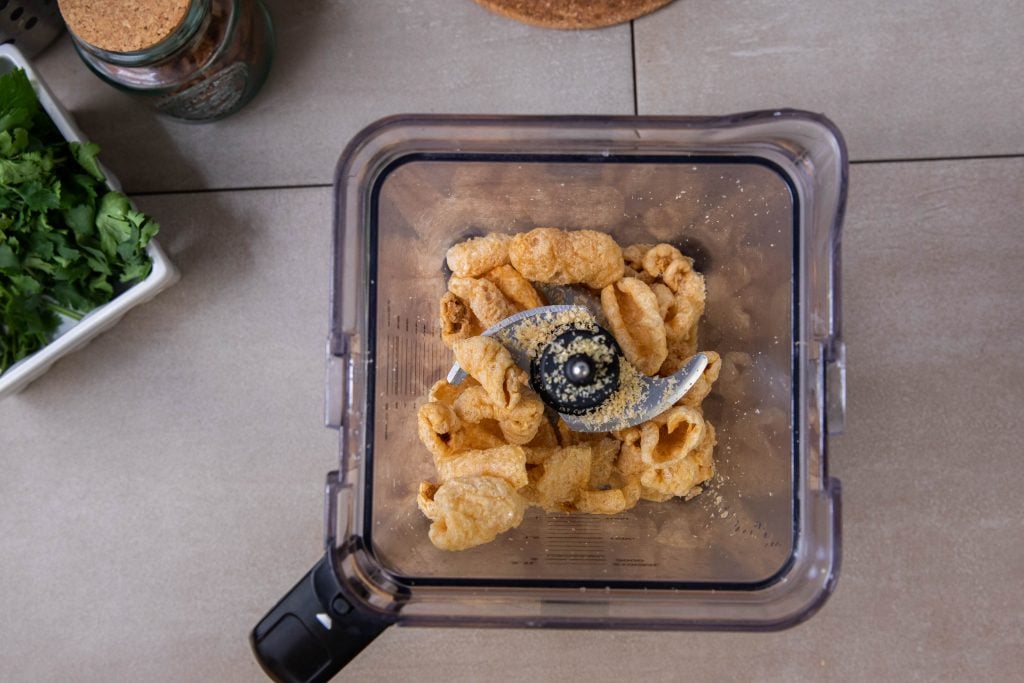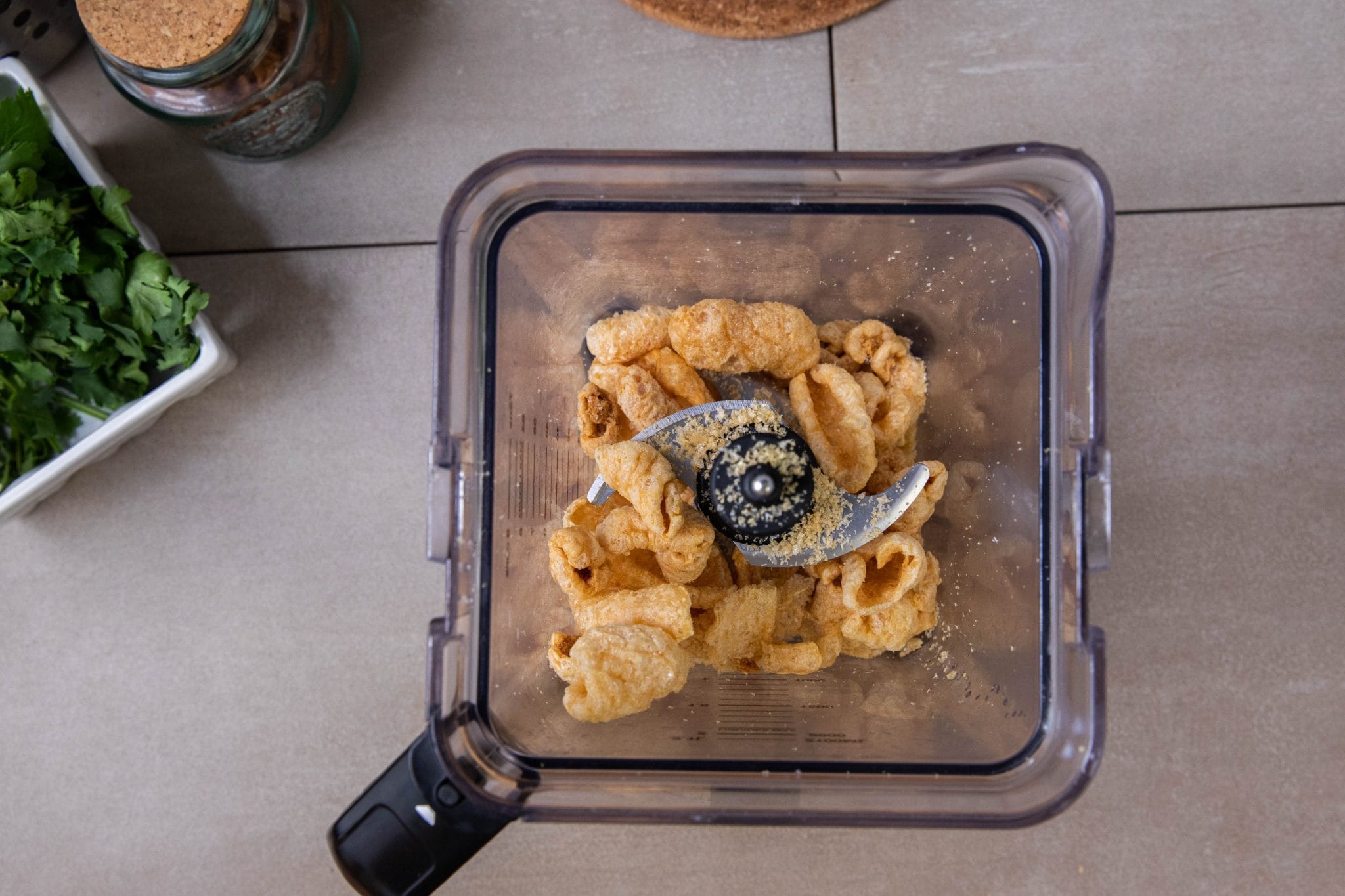 Step 2: Deal with chicken – season on both sides and then flatten the meat with a rolling pin or a meat mallet. It should be thin, but not see through.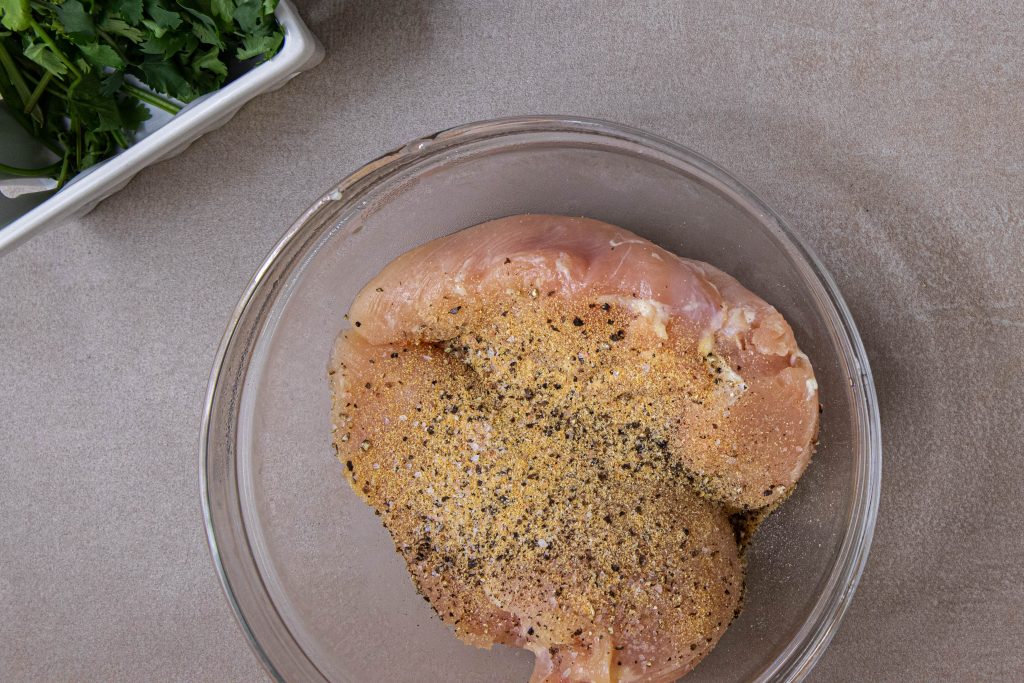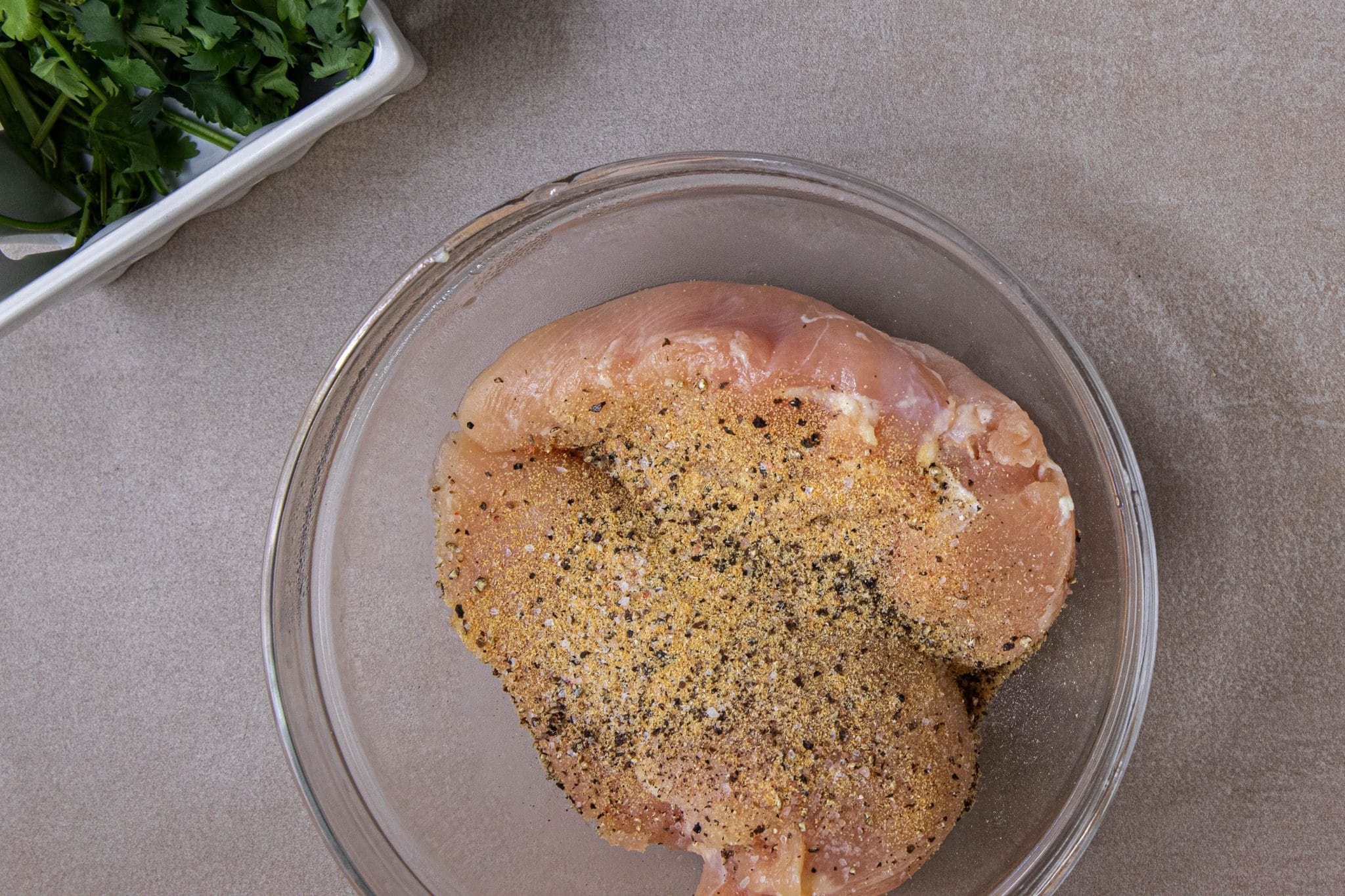 Step 3: Ham and Swiss cheese – take a piece of chicken and place 3 slices of Swiss cheese and half of the ham, then repeat. Roll it up and hold it together tightly using a plastic wrap. Transfer to the freezer for 30 minutes.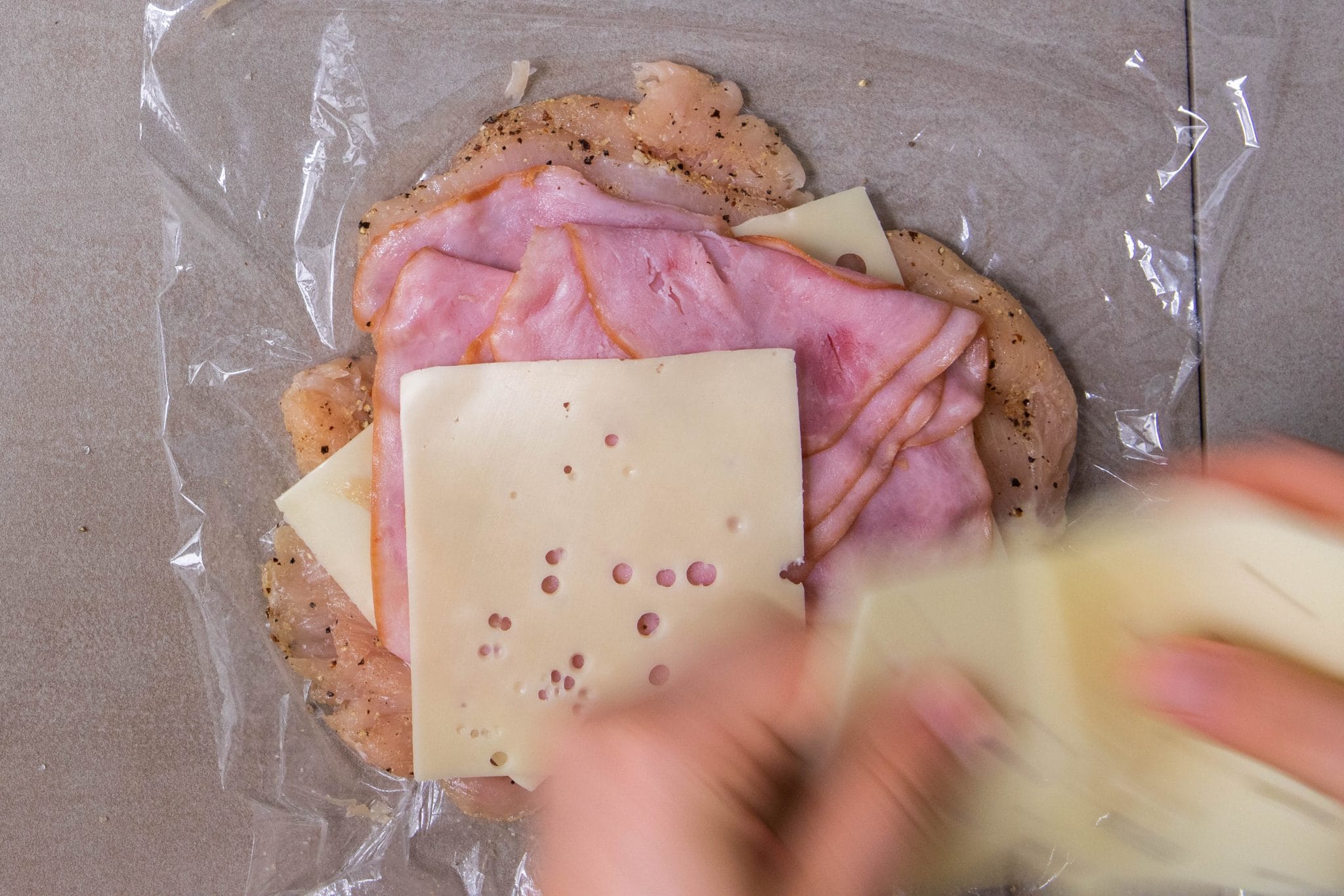 Step 4: Coat chicken – prepare 3 bowls. Put almond flour and coconut flour in one of them, whisked eggs in the second one and pork rinds in the third. Dredge the chicken in each in that order.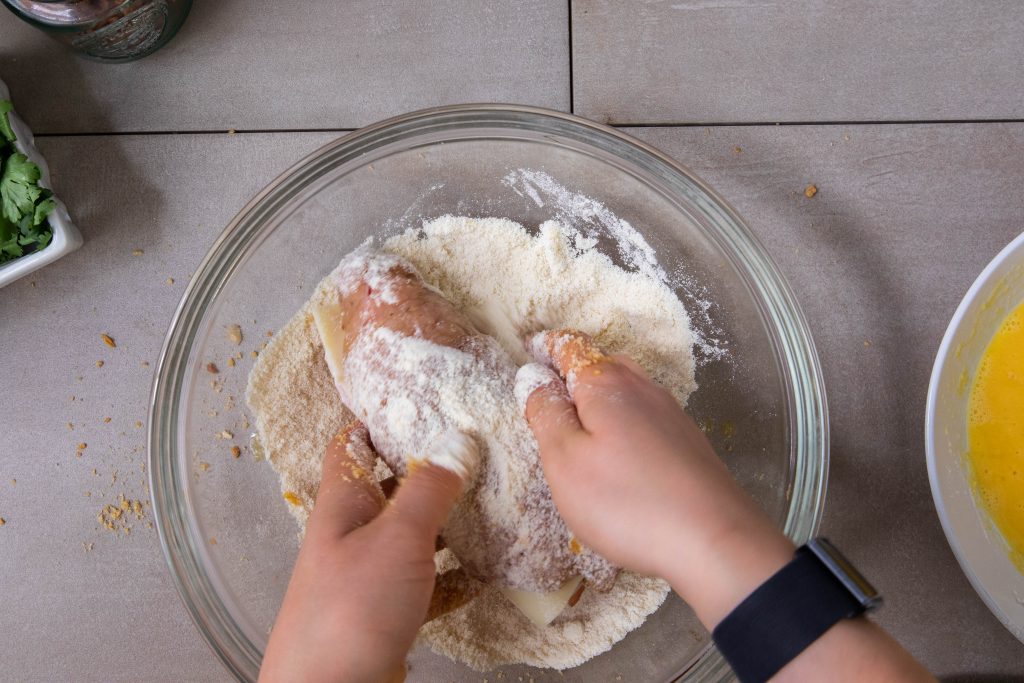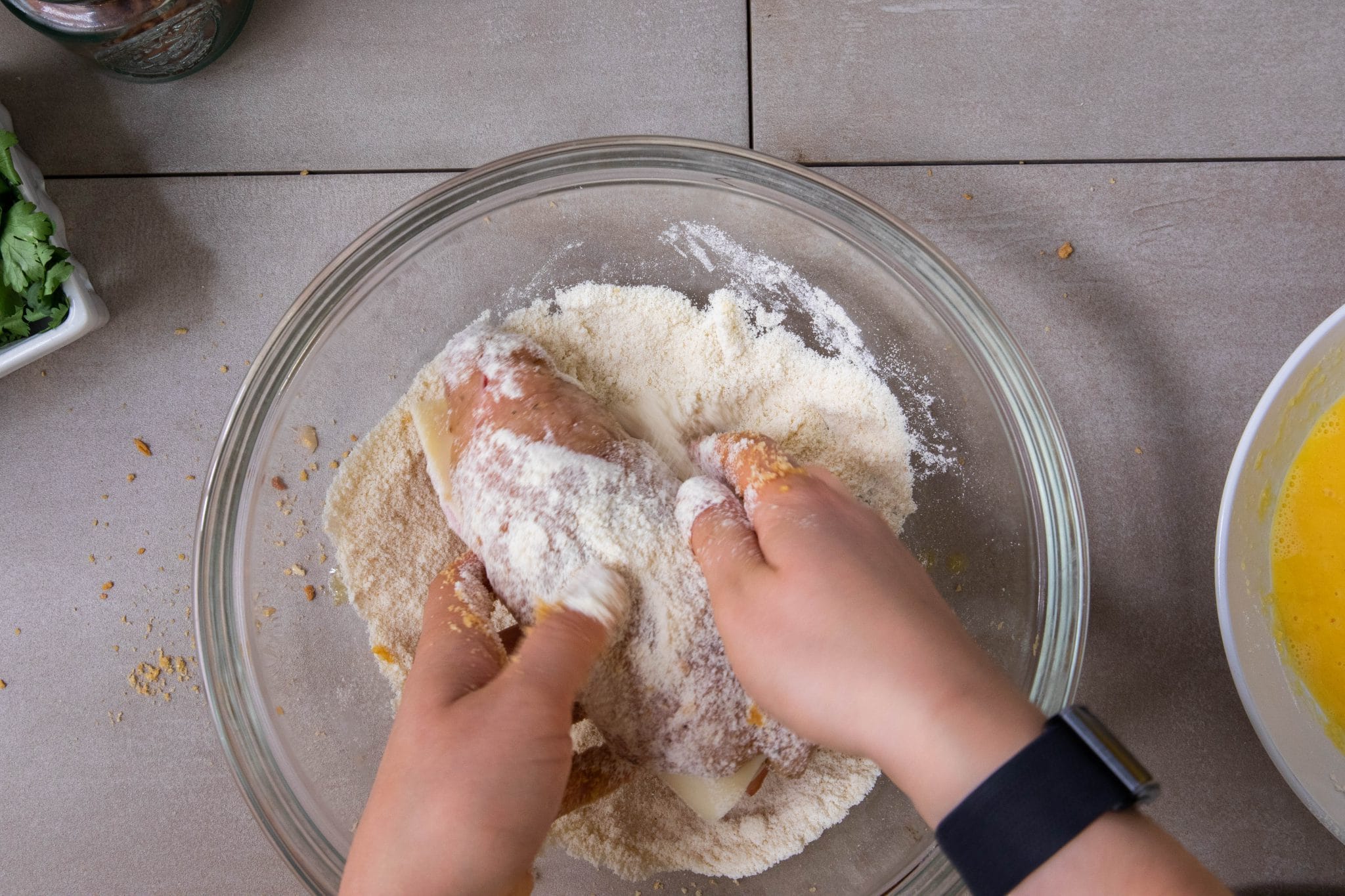 Step 5: It's frying time – fill up a large pot or a cast iron with a few inches of oil (temperature should reach around 325 degrees) and place the chicken inside. Fry it on each side for about 3-5 minutes and make sure the internal temperature reaches at least 165 degrees.
Step 6: Prepare the sauce – heat up butter, add garlic and brown. Add dijon mustard, almond milk and salt. Simmer on low. Then, add xanthan gum and wait until it thickens, 2-3 minutes. Then at the end, add Parmesan cheese.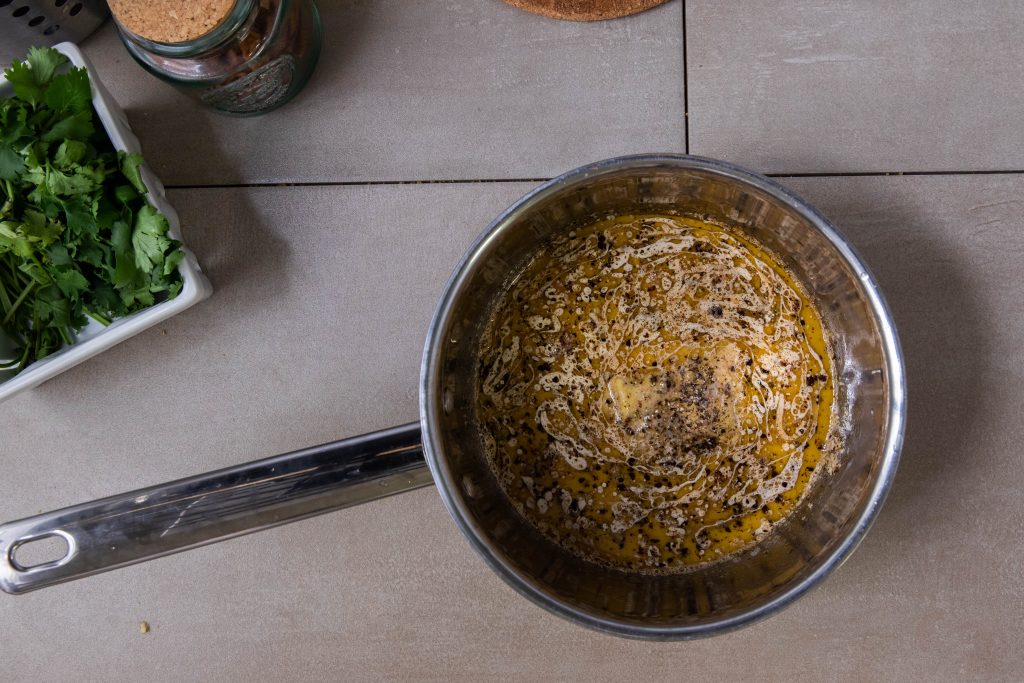 Step 7: Serve and enjoy!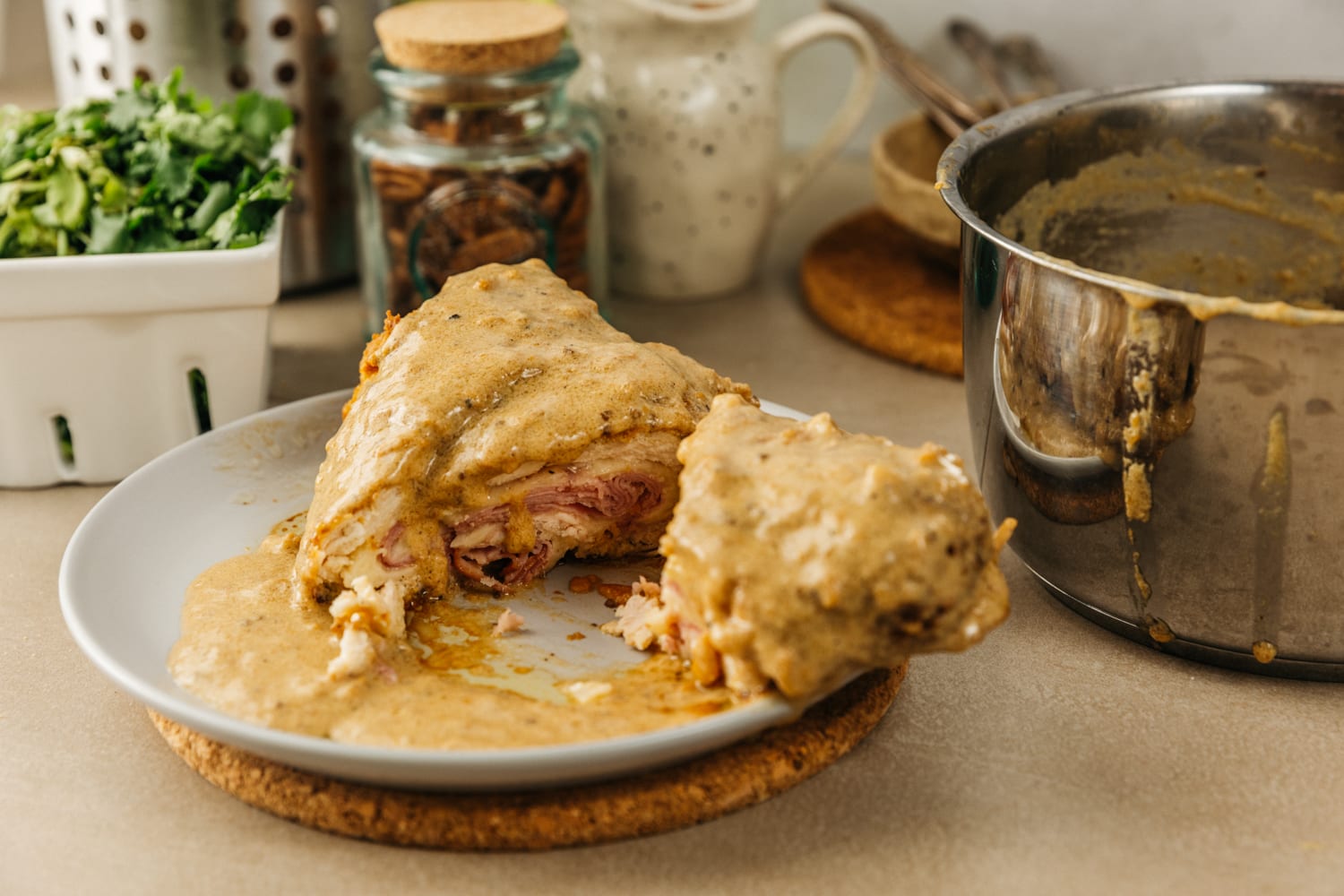 FAQs
Can I use cheddar cheese instead of Swiss cheese?
You can, however we wanted to do two things here – keep up with the original recipe which calls for Swiss cheese and pick a kind of cheese that will melt, but hold itself in place.If you want to use something else than Swiss cheese, you can go for cheddar, Gruyere or Gouda.
Can I use Parmesan cheese instead of pork rinds?
It might work, but we haven't tried it. The only issue is that this keto chicken cordon bleu needs to be fried in deeper oil and while it won't burn pork rinds, it might burn the Parmesan.If you don't have pork rinds, you can try using a blend of almond flour and Parmesan cheese together. It won't work as well as pork rinds, but it's a possible alternative for chicken cordon bleu coating.
Can I use vegetable oil for frying?
We strongly advise you against it. Olive oil tends to be less processed in comparison to vegetable oil, which is usually a blend of different oils that are highly processed.Vegetable oils are high in inflammatory omega-6s, whereas extra virgin olive oil is a great source of trace minerals, vitamins, antioxidants and other health promoting nutrients.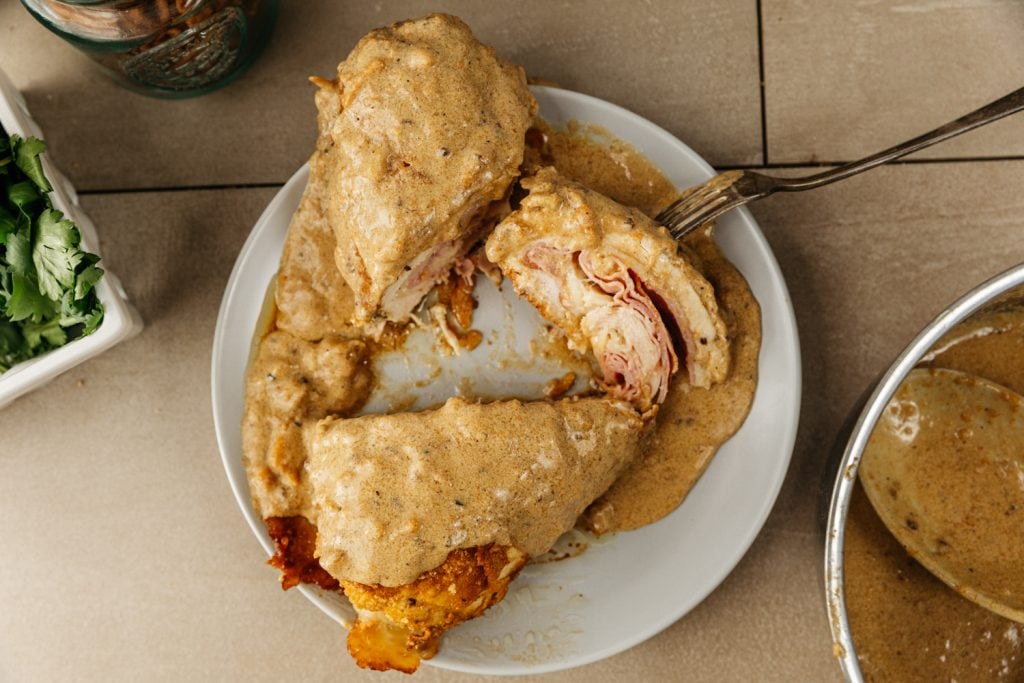 How can I store Keto Chicken Cordon Bleu?
Once its cooled down after frying, you can keep it in the fridge in an airtight container for up to 3 days. I know some people would hold it for longer, but when it comes to meat I don't like to keep it in the fridge for a long time.If you want to throw it in the freezer, simply prepare the chicken but don't fry it. Just cover it tightly with aluminum foil or a plastic wrap and freeze for up to 3 months. To prepare it again, thaw it in the refrigerator overnight.
Will this recipe work without xanthan gum?
We used Xanthan Gum in this recipe to thicken up the creamy dijon sauce. If you will use the exact ingredients we did but omit xanthan gum, your sauce will be very thin.If you don't have this ingredient, you can use softened cream cheese or heavy cream and reduce it until thickened.
Have you tried our keto chicken cordon bleu?
We love Chicken Cordon Bleu and couldn't wait to post it on our website and share it with you as well. Let us know in the comments if you enjoyed it! Also, if you have any suggestions, we'd love to hear your feedback.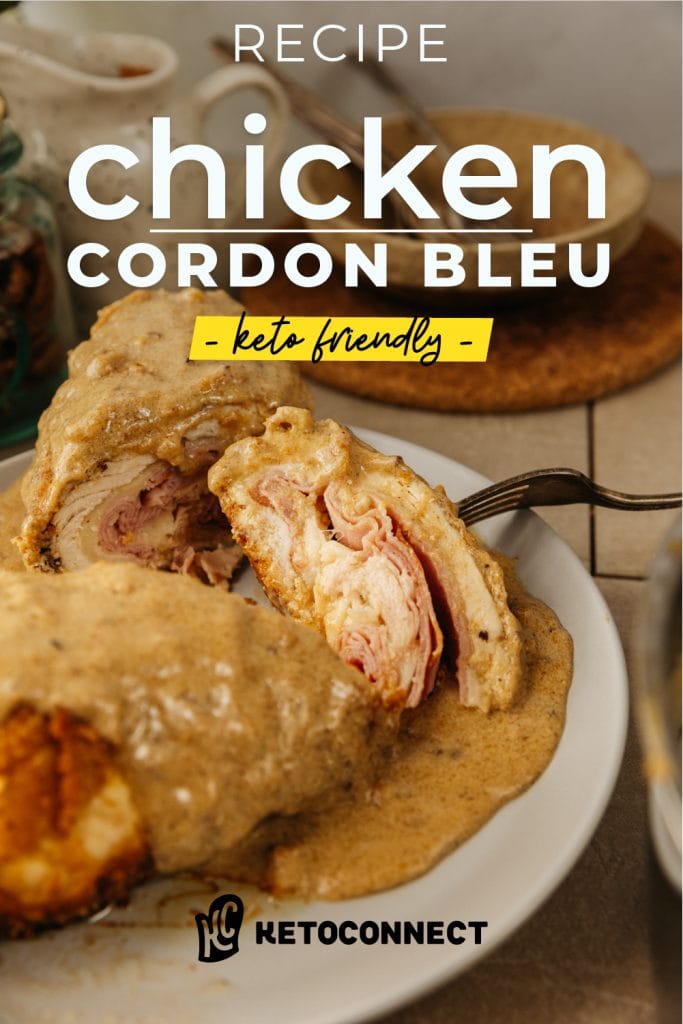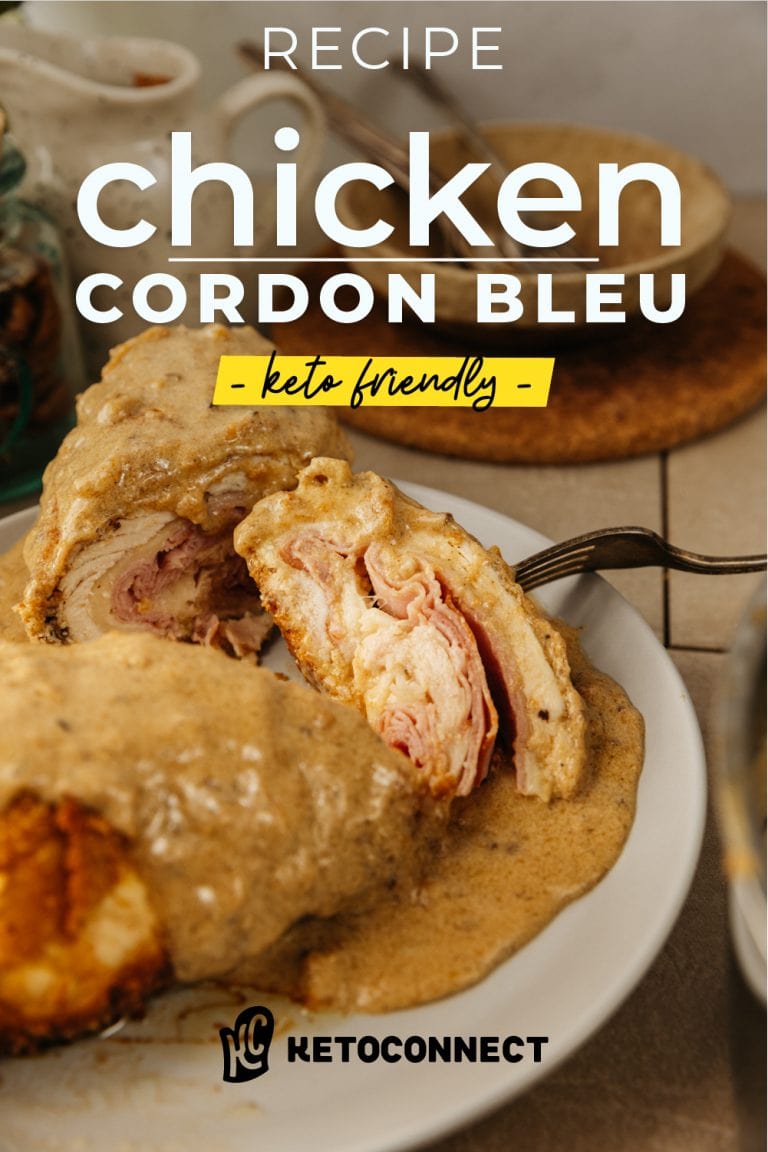 Keto Chicken Cordon Bleu
It is a comfort dish where a chicken breast is pounded thin and then filled with Swiss cheese and deli ham.
Total Time 35 minutes
Servings 4 servings
Calories per serving 836kcal
Prep Time: 20 minutes
Cook Time: 15 minutes
What You Need:
Food Processor

Rolling Pin or meat mallet

Plastic Wrap

3 Shallow bowls

Large pot or cast iron

Sauce pan
Ingredients:
Ingredients for the chicken
Instructions:
Blend the pork rinds into a powder. Pour into a shallow bowl and set aside.

Season the chicken breast with garlic powder, salt, and pepper.

Lay out plastic wrap and place a piece of chicken down. Cover with the plastic wrap loosely a beat using a rolling pin or meat mallet to flatten. It should be think but not see through.

Place three slices of swiss down and then half of the ham. Cover with three more slices of swiss and carefully roll the chicken back up. Use the plastic wrap to help with the initial fold.

Twist the ends and place the chicken into the freezer on a plate for 30 minutes. Repeat with the other chicken breast.

Prepare 3 shallow bowls. One with the coconut and almond flour combined, one with the 2 eggs whisked, and one with the pork rinds. Set them in this order.

Heat a heavy bottomed pot or cast iron on the stove and fill with a few inches of oil, enough to reach halfway up the chicken breast.

Dip the unwrapped chicken into flour, then egg, then pork rinds. Pressing in the pork rinds as you go. Repeat with the second piece of chicken.

Place the chicken into the hot oil (oil around 325 degrees), and cook until brown on one side. About 3-5 minutes. Flip the chicken and repeat on the other side. Check that the chicken is 165 degrees. If not, place the fried chicken onto a baking sheet and bake at 375 until done.

Repeat with both pieces of chicken and serve fresh and hot with the prepared dijon sauce.
Sauce Directions:
In a saucepot heat the butter and garlic to medium and slightly brown to a light toffee color.

Combine the mustard, almond milk, and salt with the browned butter and continue simmering on medium low.

Add in the xanthan gum and simmer for 2-3 minutes until thickened. Pour in the cheese and continue stirring, the mixture should get just a bit thicker.

Slice the chicken and serve with a drizzle of the dijon sauce.
Nutrition Facts
Keto Chicken Cordon Bleu
Amount Per Serving
Calories 836 Calories from Fat 522
% Daily Value*
Fat 58g89%
Saturated Fat 28g140%
Trans Fat 1g
Polyunsaturated Fat 4g
Monounsaturated Fat 15g
Cholesterol 253mg84%
Sodium 1846mg77%
Potassium 502mg14%
Carbohydrates 18g6%
Fiber 8g32%
Sugar 3g3%
Protein 61g122%
Vitamin A 1072IU21%
Vitamin C 1mg1%
Calcium 843mg84%
Iron 3mg17%
* Percent Daily Values are based on a 2000 calorie diet.
Written By