I Dip You Dip We Dip
Within the first 5 minutes of starting a ketogenic diet you will realize there is a startling lack of crispy dipping options. In fact, outside of these baked chicken skin-ny dippers are just about zero! Sure there is celery and and boring stuff like that, but who wants to be confined to celery and cucumber when you've got a big bowl of homemade guacamole in front of you? Let's collectively up our dipping game and share a big batch of crispy baked chicken skin-ny dippers!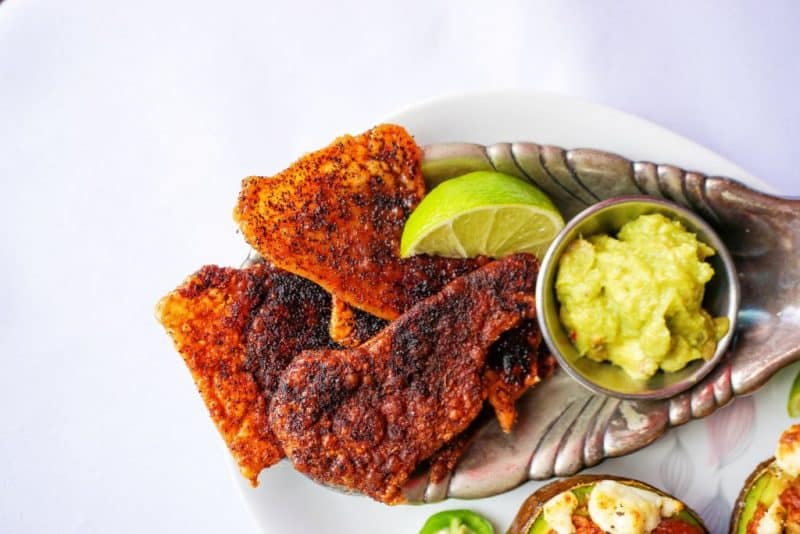 Remarkably Simple, Efficient and Tasty
The thing I love most about these baked chicken skin-ny dippers outside of the amazing flavor is the efficiency. Instead of buying boneless/skinless chicken all the time, which is often more expensive and less tasty, you can confidently buy the skin on chicken knowing you have this tried and true recipe to turn to. It's great! This works with whole chicken, thighs, breasts, legs, you name it. Start by removing the skin from the chicken you're working with. In this instance we were using thighs.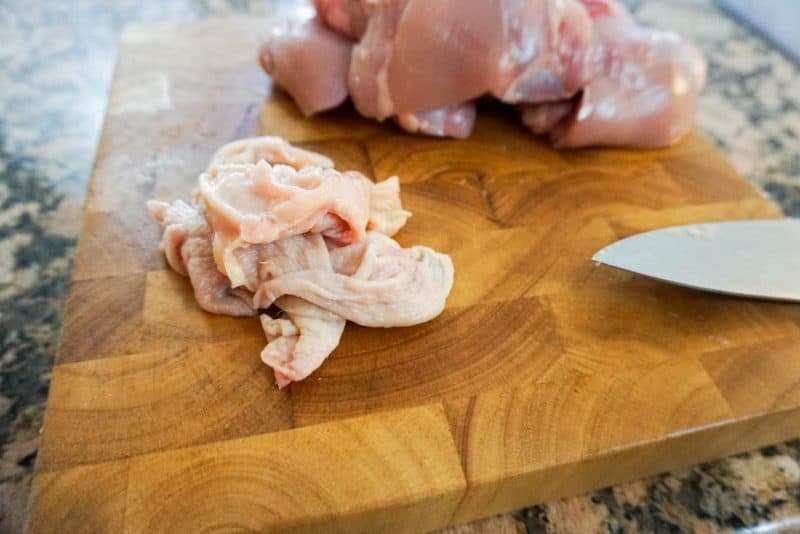 The Trick to a Big Dipper
If you just throw the skins in the oven without a protective shield they will shrivel up and be more like chicken prunes…and prunes don't go well with guacamole! To get a nice flat chicken skin that maintains about 50% of it's initial size you're going to want to cover the skins with another pan. This will ensure they come out flat and great for dipping.
Season Your Dippers
You can choose any seasoning you like for these. If you're dipping in guacamole I really like to use a bit of cayenne pepper and salt to contrast with the guacamole. One note on the seasoning is that a little goes a long way. Because these shrink a fair bit in the oven and they are already very thin to begin with, be sure to under season them. Seriously! The first time I made them I used what seemed like a normal amount of seasoning and they were incredibly spicy!!
Notes on Yield
As you can probably tell, the yield on these is not very high. The images shown depict what you can expect from 1.5 lbs of chicken. I find these baked chicken skin-ny dippers to be most practical when I'm meal prepping a few pounds of chicken for the week and have a good amount of skin. This recipe is probably not the most practical for anything less than 1 pound of chicken. Definitely give it a try! These are truly amazing paired with some homemade guacamole.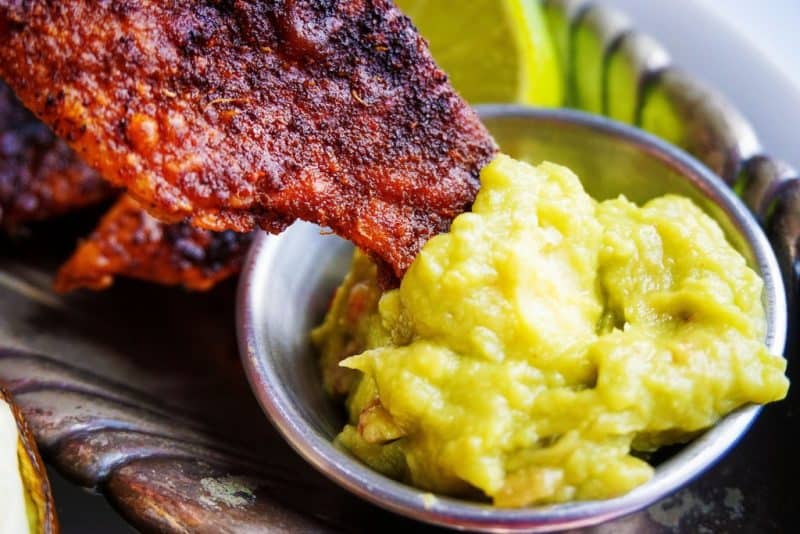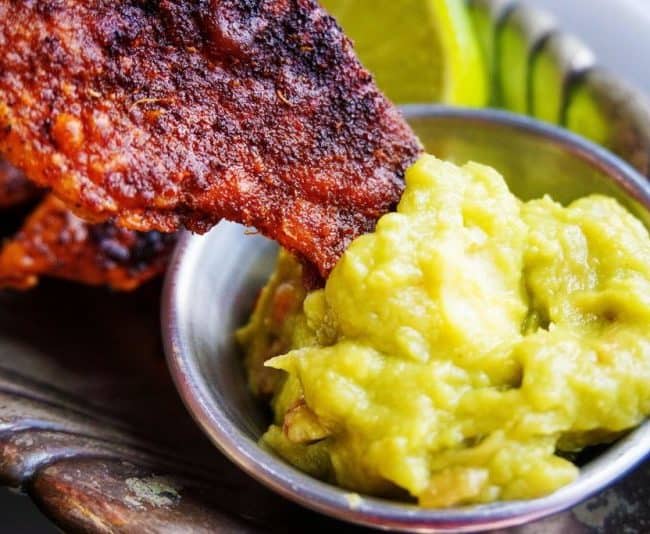 Baked Chicken Skin-ny Dippers
A keto chip perfect for dipping made out of crispy chicken skin.
Total Time 45 minutes
Servings 6 Dippers
Calories per serving 30kcal
Prep Time: 5 minutes
Cook Time: 40 minutes
Instructions:
Preheat oven to 350 degrees.

Remove skin from chicken. Place flat on a baking sheet. Season and place a baking sheet on top of skins to prevent them from curling up.

Bake at 350 for 40 minutes. Flip and remove covering after the first 30 minutes. Enjoy!
Nutrition Facts
Baked Chicken Skin-ny Dippers
Amount Per Serving
Calories 30 Calories from Fat 32
% Daily Value*
Fat 3.5g5%
* Percent Daily Values are based on a 2000 calorie diet.
Written By