Keto meal replacements are an effective way to get your fats, proteins and micronutrients without having to slave over a stove for 30 minutes.
But most companies add sugar, vegetable oil and other toxic ingredients to make their powders last longer and taste better.
Fortunately, Keto Chow uses keto-friendly, high-quality ingredients.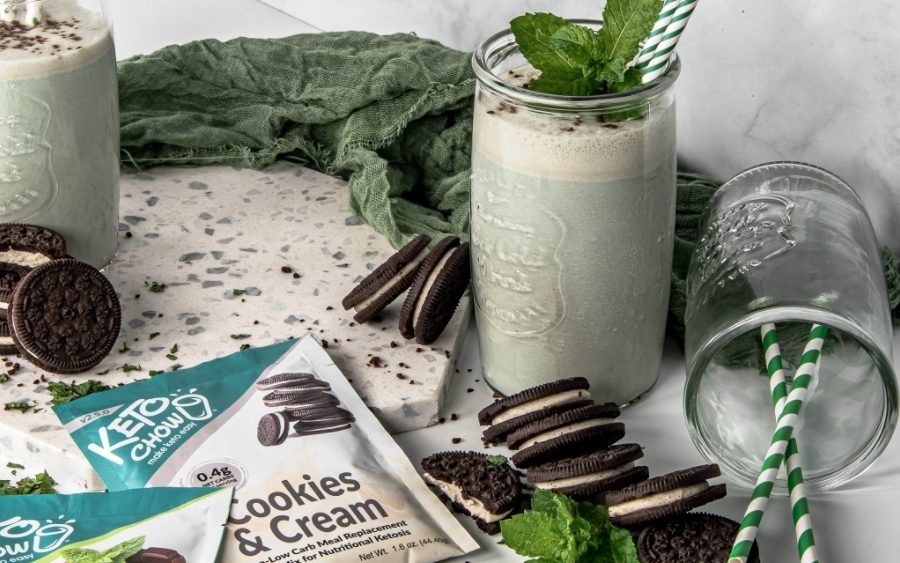 So I decided to sign up for the subscription. This way, I don't have to make breakfast in the morning.
In this Keto Chow review, I'll cover everything you need to know. I'll go through my experiences, favorite products, what I like and dislike about them and if it's worth your time and money.
What is Keto Chow and How Can It Benefit Keto Dieters?
Chris and Miriam Bair were first introduced to a keto diet after their son started having seizures.
When Chris wanted to lose weight, he also started eating low-carb. But he soon realized how complex and time-consuming meal prep and tracking macros were.
So they founded Keto Chow in 2014.
Keto Chow focuses on creating top-quality meal replacement shakes that contain high amounts of protein, micronutrients and electrolytes. Unlike other meal replacement companies that use sugar and additives, Keto Chow only uses healthy sweeteners.
When buying their meal replacement shakes, you'll find ingredients like:
Milk protein isolate
Acacia gum
Sunflower lecithin
Sea salt
Magnesium malate
So if you leave the house early or don't have time for lunch, whip out these keto-friendly bad boys. On average, it only contains 126 calories but has a wide variety of micronutrients like vitamin B, D, iron, calcium and potassium.
You can add a stick of melted butter with heavy cream to get additional fat and nutrients. I also like adding a tablespoon of MCT oil for extra ketones.
But if you're trying to lose weight, pour some almond milk since it has fewer calories.
Best Variety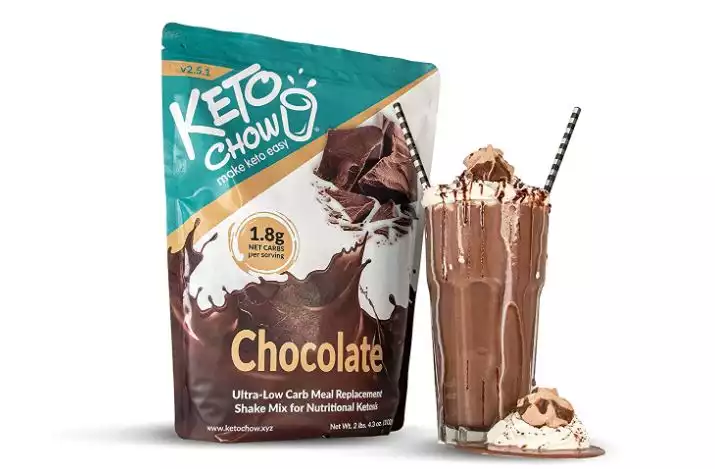 Keto Chow Meal Replacement
4.1
Keto Chow is the original keto meal replacement shake and is a favorite amongst veterans in the keto community. They have tons of different flavors so you'll never get tired of this meal replacement option.
Pros:
Tons of different flavors
Great reputation in the keto community
Cons:
Must add your own fat source
Check Price
We earn a commission if you make a purchase, at no additional cost to you.
Who is Keto Chow For?
Keto Chow can benefit the lives of:
Parents
People looking to lose weight
Anyone suffering from keto flu
Parents
If your little one doesn't like eating whole foods and you don't want to give them harmful formulas that contain vegetable oil, opt for Keto Chow.
It uses natural flavors that make it super tasty for children, and they'll be consuming nutrients essential for growth. Simply tell them you'll make a yummy milkshake if they finish their food, and you can add keto ice cream, MCT oil and berries to the Keto Chow powder.
This way, it'll give them an incentive to eat their keto-friendly foods like fish, vegetables and meat.
People Looking To Lose Weight
Because Keto Chow contains so few calories, you can drink a few servings per day and still lose weight.
The high protein and MCT oil content ensure you stay in nutritional ketosis while fueling your body with micronutrients needed to thrive. If you're just eating whole foods, it can be challenging to meet every nutrient requirement.
Anyone Suffering From Keto-Flu
Keto Chow purposefully designed its meal replacements to contain ample amounts of electrolytes. This is because electrolytes play an essential role in preventing keto flu. When transitioning to ketosis, your body loses more electrolytes, leading to fatigue and headaches.
In one serving of Keto Chow milkshake, you'll find:
1571 mg of potassium
750 mg of calcium
140 mg magnesium
So if you're new to the keto diet, you can easily defeat keto flu. Simply drink one shake a day, and you'll notice your keto flu symptoms start going away.
Now that we know who can benefit from Keto Chow, let's cover my favorite products.
My Favorite Keto Chow Products
Keto Chows sells some of the best keto meal replacement shakes available. However, there are a few products that stand out.
Keto Chow Shake Mixes
This powdered drink mix comes in a wide variety of flavors like:
Chocolate peanut butter
Orange cream
Mocha
Eggnog
So you don't have to drink the same flavor all the time. And because Keto Chow offers a 30-day money-back guarantee, simply return it if you don't like a particular flavor.
The 21-meal subscription is super convenient, and you won't have to order again when you run out. You also save 10% with the subscription, which is handy long-term.
Once Keto Chow delivers these products to your door, simply add a fat source like cream or butter with one scoop of powder, shake and enjoy!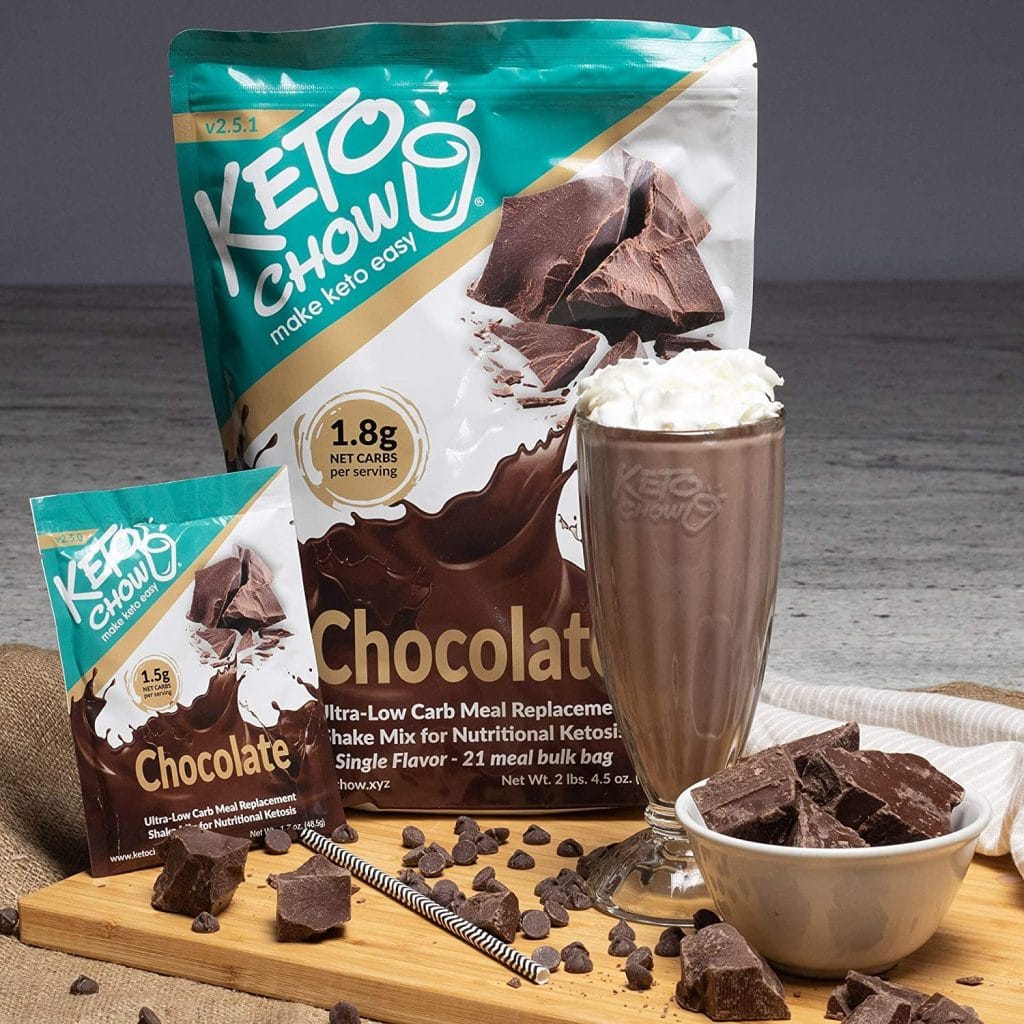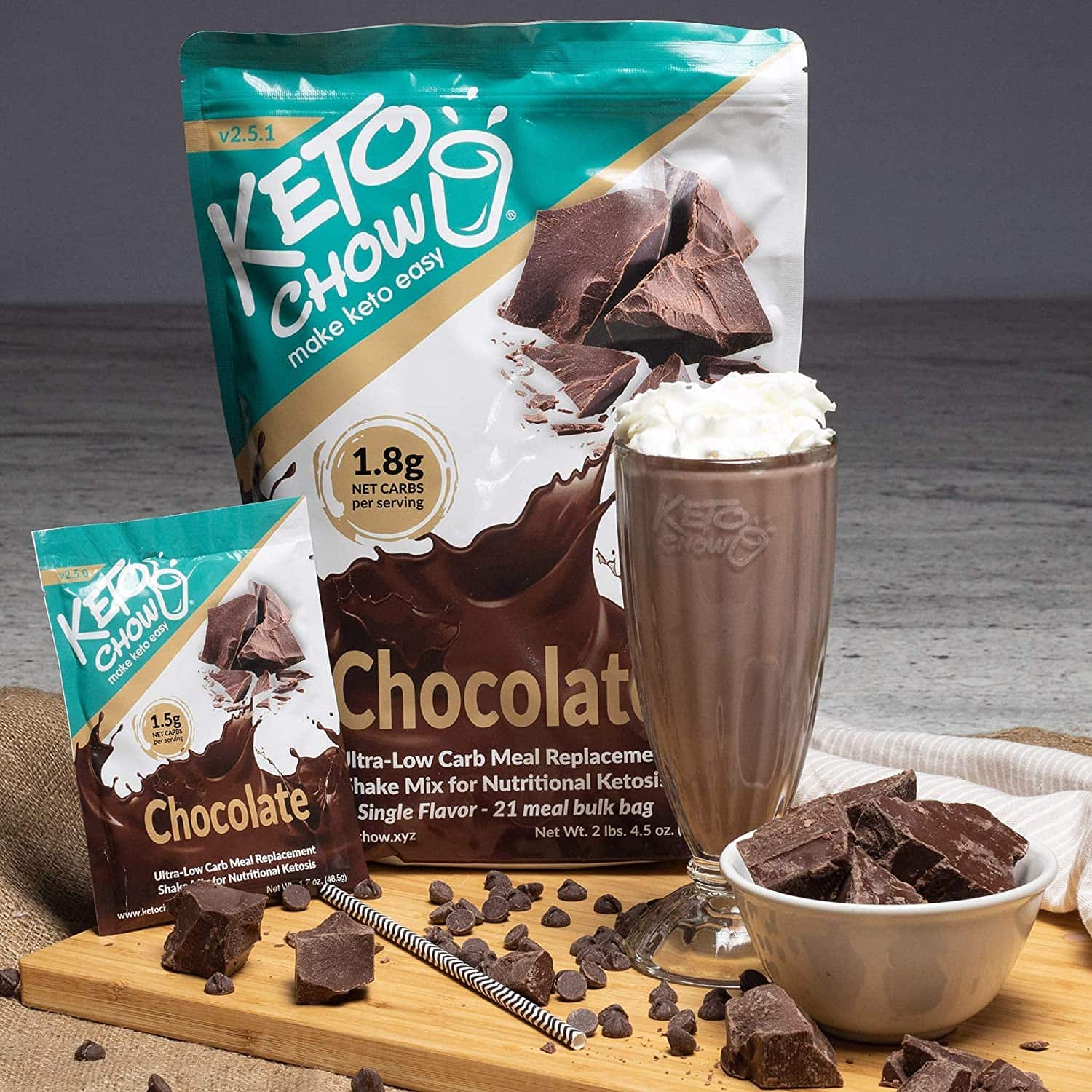 Keto Bundles and Starter Packs
But Keto Chow sells more than just meal replacement shakes. You'll find helpful keto bundles and starter kits on their online shop, which helps beginners kick start their keto journey.
Essentials Starter Kit is an affordable way to test Keto Chow products. You get six of your favorite flavors at a discounted price, and it comes with a shaker bottle.
Premium Starter Kit contains 16 meal replacements, a keto booklet that helps you on your keto journey, a blender bottle and ball, measuring tape and electrolyte drops. This is everything you need to upgrade your keto lifestyle.
Elite Starter Kit is similar to the premium version, but this variety pack contains 30 meals, fasting drops, magnesium supplements and daily minerals.
Pro tip: Add some electrolyte drops and MCT oil to your shake for extra electrolytes and ketones.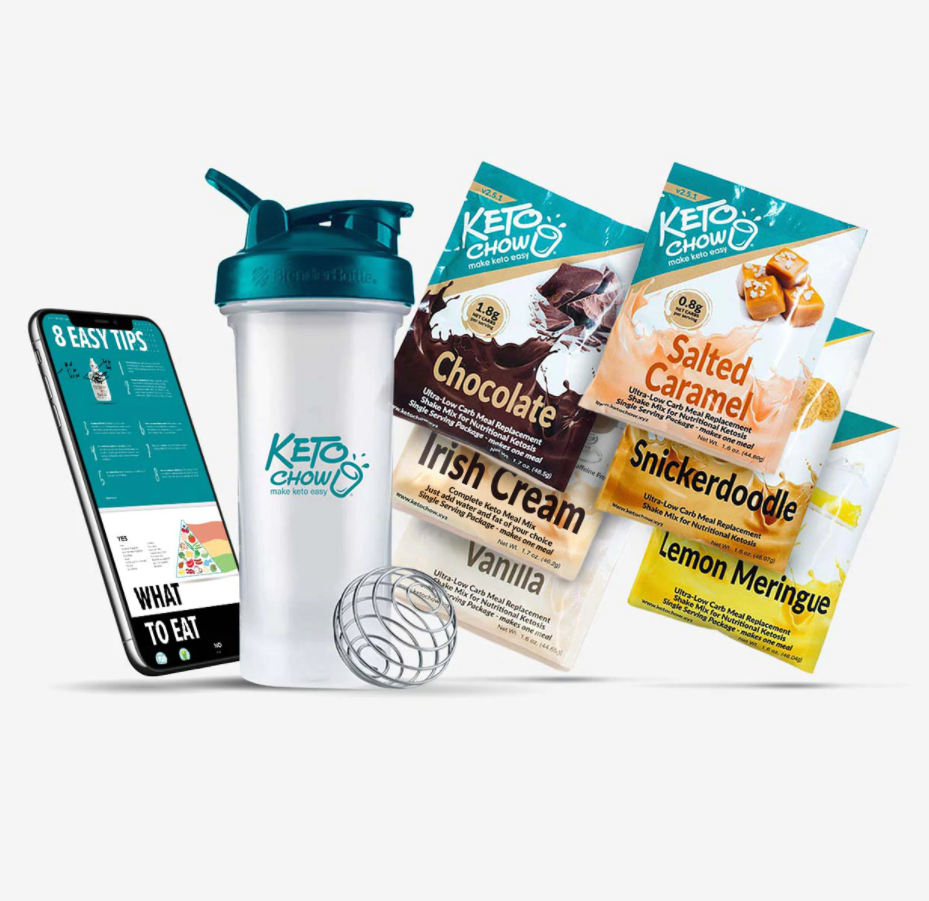 Keto Chow Electrolytes
Keto Chow sells some of the most electrolyte-dense drops on the market.
Designed to keep your electrolyte levels high, you can carry these pocket-sized bottles anywhere. One teaspoon contains:
250 mg of sodium
90 mg of magnesium
260 mg potassium
It comes with a little dropper that you can use to measure the amount of electrolytes you're consuming. So feel free to drop it directly on your tongue or in some coffee.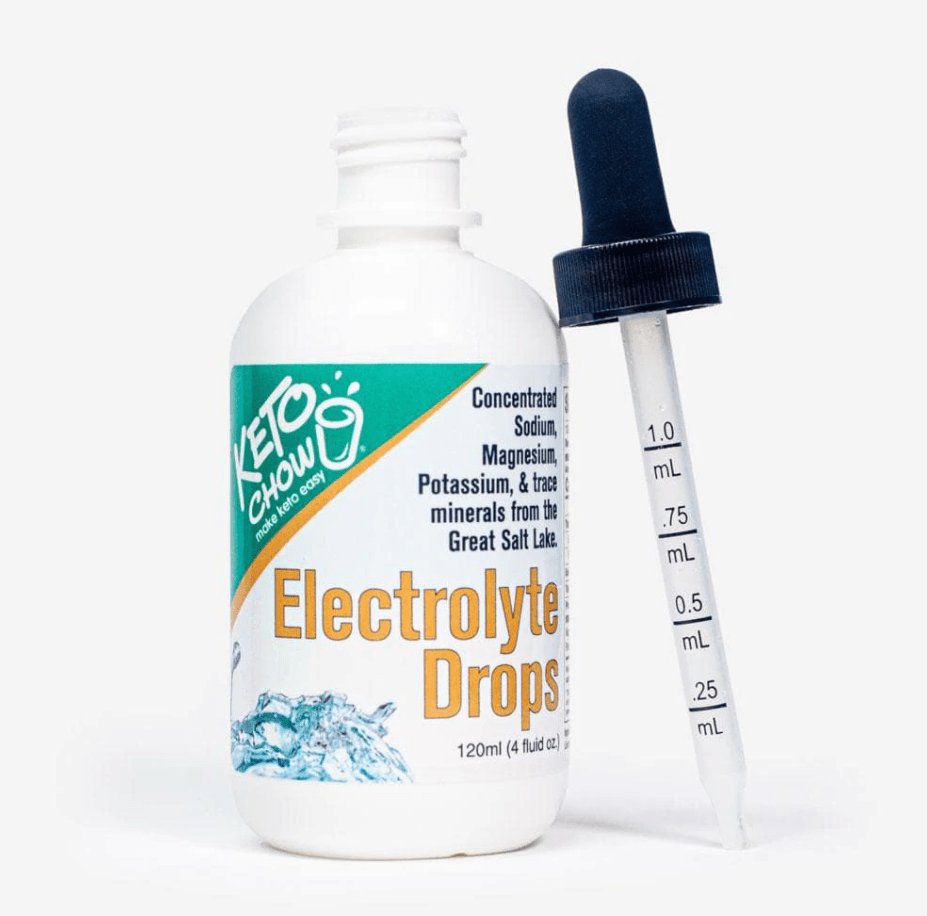 Is The Subscription Worth It?
After testing a few Keto Chow products, you might be wondering if the subscription is worth it.
Because you save money and don't have to order every time you run out, I think the Keto Chow subscription is worth it.
For example, with the 21-meal subscription, you'll have enough meal replacement shakes to last a while, depending on how often you drink them. You also won't run low on shakes because Keto Chow delivers your favorite products to your doorstep.
However, I suggest you avoid replacing every single meal with these shakes. Whole foods will always offer more complete nutrition than meal replacements. So a large part of your diet should consist of nutrient-dense foods like:
Meats
Vegetables
Fish
Organ meat
Pick a time of day where you're busy, for example, in the morning, and drink one shake during this time. On unusually hectic days, you can drink two shakes. But you should always eat at least one meal a day.
So while the subscription offers value for money, you shouldn't rely on it.
What I Like About Keto Chow
It Helps Children Eat Healthy
Keto Chow makes keto a lot of fun which is helpful if your child doesn't want to eat whole foods.
With Keto Chow shakes, you can add heavy cream, avocado oil and butter to boost fat content. If you're using it as a treat, get some keto ice cream, chocolate and cookies and put it on top. Your child will never know the difference between this healthy shake and a sugary milkshake.
Keto Chow Makes Life Easier
With Keto Chow shakes, you consume protein, fats and critical nutrients, and it only takes a few seconds to make.
For example, if your mornings are chaotic, make a Keto Chow smoothie before going to bed. Add heavy cream, MCT oil, butter, electrolyte drops and some fruit to spice it up. So when you wake up, you can drink your shake while preparing for work.
Or, if you're on the road all day, make a few shakes before you leave and drink them while sitting in traffic.
It Offers A Wide Variety Of Flavors
Keto Chow offers 34 flavors. Some are better than others, but the wide variety ensures there'll be something for you. If you're struggling to pick a flavor, consider the following:
Caramel macchiato
Cookies and cream
Irish cream
Gingerbread
Lemon meringue
So if you're tired of drinking the same shake, opt for other flavors. There's no risk on you because if you don't like it, return it within 30 days.
Pros
It helps children start keto
Keto chow is super convenient
The shakes contain several micronutrients
You can choose between 34 flavors
They sell electrolytes, fasting drops and other helpful supplements
Cons
The powder doesn't contain fat, so you need to add butter or heavy cream
My Testing Criteria
I looked at the quality of ingredients, variety, taste and convenience when deciding whether Keto Chow is a valuable option.
After thorough testing and research, I've concluded that Keto Chow is worth it if you're living a busy lifestyle and need a keto-friendly meal replacement.
Keto Chow only uses high-quality ingredients like whole eggs, natural sweeteners, and MCT oil. The variety of flavors is endless, and it tastes fantastic. My favorites are mint, mocha and eggnog. It's also super convenient because all you have to do is add some cream, melted butter and enjoy!
If you enjoyed this product review, be sure to read our full list of the best keto products.
Keto Chow Reviews: Why Trust Us?
I've been testing meal replacement shakes for a few months now. And Keto Chow makes the tastiest and most nutrient-dense shakes. It contains iron, calcium, vitamin A and different electrolytes. So you can increase nutrient consumption without having to cook a meal.
However, I don't like relying on these shakes since long-term dependence can lead to serious nutrient deficiencies.
Keto Chow Nutrition: Yay or Nay?
With Keto Chow, you can make quick, nutritionally complete shakes that act as convenient meals. This makes a ketogenic diet super easy to maintain. They also help you get your children to eat healthy because it's tasty and gives them the nutrients needed for growth.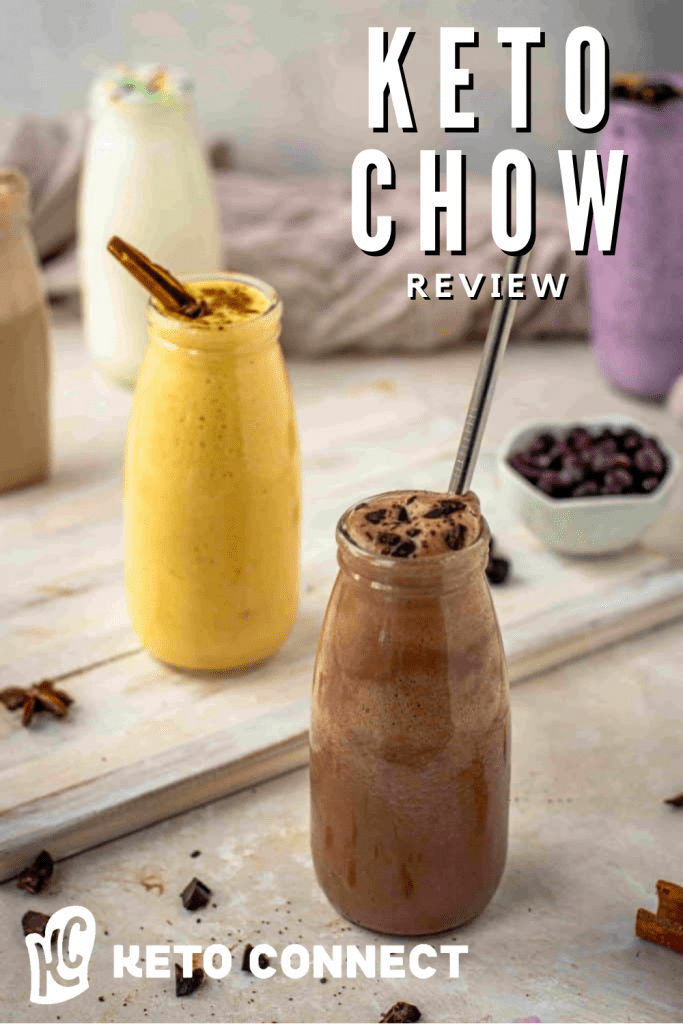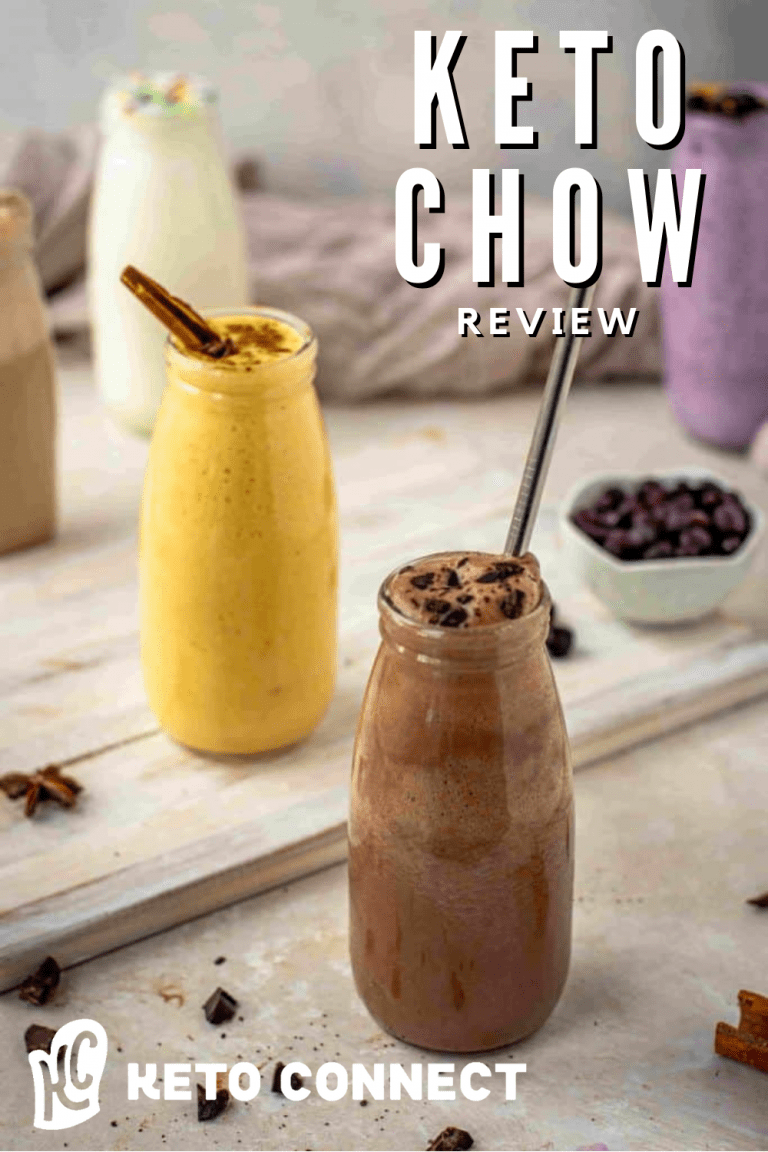 Written By