Match Made in Heaven
My last memory of eating tater tots is getting tachos (tater tot nachos) in a dingy bar in San Francisco, and the experience was glorious! The combination of spices, cheesy goodness and tots is a match made in heaven. Naturally, you're wondering how to re-create this experience on a keto diet… and the answer is cheesy cauliflower tots!
This is one of my favorite recipes to make because it is very hands on. You get shape the tots any way you like which means you can make smaller balls, large squares (like hash browns!) or stick to the original tot shape. We wanted to create as authentic of an experience as we could to our San Francisco tachos experience so we stuck to the tot shape: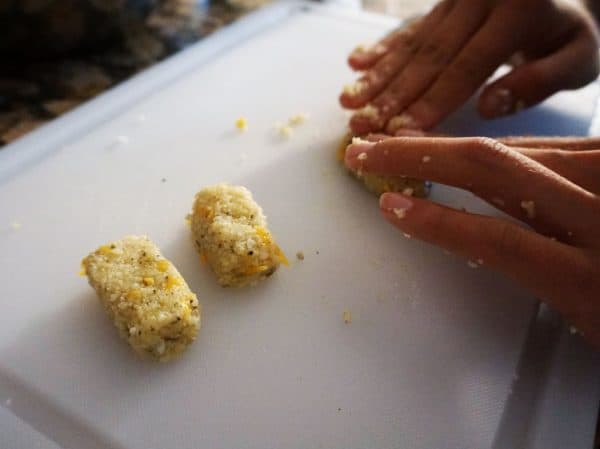 The Fun Part:
Placing them in the heated coconut oil and watching them cook up is the real fun part! Although they shrink a bit they hold their shape perfectly. They crisped almost immediately and as soon as I saw the golden brown color my mouth began to water! Just from the color you'll know when to flip them, but incase you are unsure give them about 3-4 minutes on each side. If you feel like going the extra mile you can stand them up on their sides to crisp up every inch of cauliflower!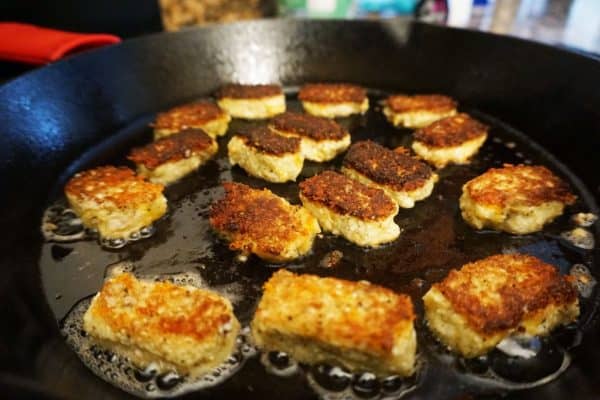 Cheesy Cauliflower Tots
As I'm sure you guessed, the best part was actually eating them while they were still hot. The cheesy cauliflower tots tasted as good as they looked and probably even better than you'd imagine so do yourself a favor and go make them! Let us know what you think and share with us any variations you make on this recipe – we'd love to hear from you
If you're ever in San Francisco and want to check out the bar that inspired this recipe head to Bullit for a good time!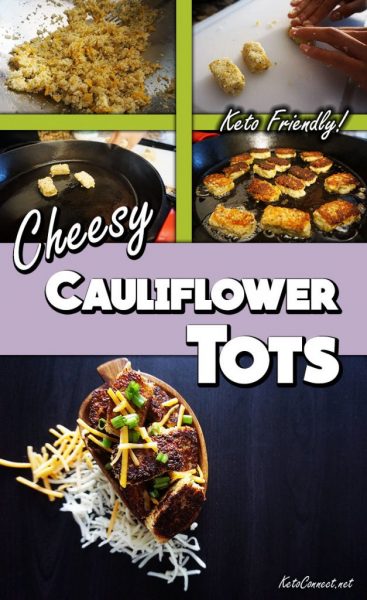 This recipe yields 20 tots at 2 servings(Calories include 2tbsp coconut oil used for cooking)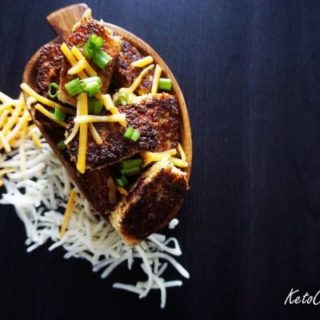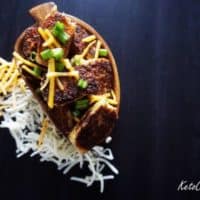 Cheesy Cauliflower Tots
A cauliflower low-carb version of crispy tater tots.
Total Time 40 minutes
Servings 2 servings
Calories per serving 279kcal
Prep Time: 30 minutes
Cook Time: 10 minutes
Instructions:
Break up cauliflower into chunks and pulse in a food processor

Place pulsed cauliflower into a bowl and microwave the cauliflower for 2-3 minutes. Let cool and squeeze out excess water using hand towel.

Now, combine all the ingredients.

Using your hands create tots to your preferred size

Heat skillet or pan to medium-high heat and drop in two tablespoons of coconut oil

Gently place all your tots in the heated oil. Cook for 3-4 minutes on each side until crispy.

Enjoy while still warm!
Nutrition Facts
Cheesy Cauliflower Tots
Amount Per Serving
Calories 279 Calories from Fat 207
% Daily Value*
Fat 23g35%
Carbohydrates 5.5g2%
Fiber 2g8%
Protein 12.4g25%
* Percent Daily Values are based on a 2000 calorie diet.