A Night on the Town and a $100 Gift Card
My girlfriend and I decided to take a break from the kitchen for a night and put the $100 gift card to use that's been on our refrigerator door for a month. Now we aren't the type of couple that goes out and blows a Benji on dinner very often, so this was a special occasion and we were excited for the menu at the place we selected. Barbuzzo! After a good hours worth of online research, we basically had our entire meal picked out before we walked in the door. The lighting was drab, I could barely see my fork. The waitress' attitude paired perfectly with the gloomy overtones of the interior as if she was hand picked by a master sommelier. We weren't discouraged. We executed our order just as rehearsed:
Olive and Marcona Almond bowl
Burrata Salad
House-Made Charcuterie Board
House-Made Sardines
Steak Medallions
Pulled Pork Stuffed Giant Meatballs
Of course we couldn't just enjoy our meal… We spent a majority of the time discussing how we could make most of the items we ordered. We particularly liked the meatballs, but stuffing meat with meat sort of just achieves a homogeneous mass of meat making it hard to notice the textural and flavor differences between the stuffing and the meatball. As we stumbled out of Barbuzzo, half due to alcohol consumption and half due to the 14th century lighting techniques they decided to outfit their restaurant with, we hatched the plan for this glorious recipe. Maybe I'm being a bit harsh, the food was actually great and I would recommend Barbuzzo to anyone with 20/20 vision and/or night vision goggles!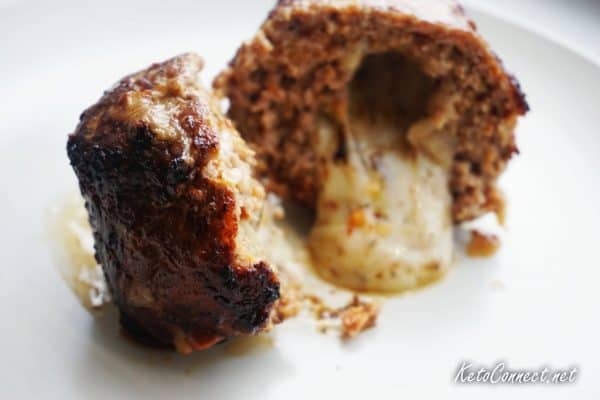 If You Don't Need a Knife…
Then you're eating the wrong meatball my friend. It's a fugazi! These Giant Stuffed 3 Cheese Meatballs are not only massive and delicious, but they also deliver a lava-like flow of cheese from their tender center. Enough of the bite-size Spaghetti-O meatballs. 'Round here a pound of meat makes 4 meatballs tops. Opting for a massive meatball serves 2 purposes. First, it keeps the interior of the meatball nice and tender as compared to smaller meatballs which will dry out much faster during cooking(especially since we're leaving out the breadcrumbs). Second, it allows us to jam as much cheese as humanly possible inside. Have I sold you? Ok then, here's how we achieve maximum cheese jammage.
Cheese Meatballs!
We're going to mix all of the ingredients for the filling together first. This should be done before dealing with the meat since we will be freezing the filling for 30-60 minutes. Melt the butter and combine with the cheeses and seasonings.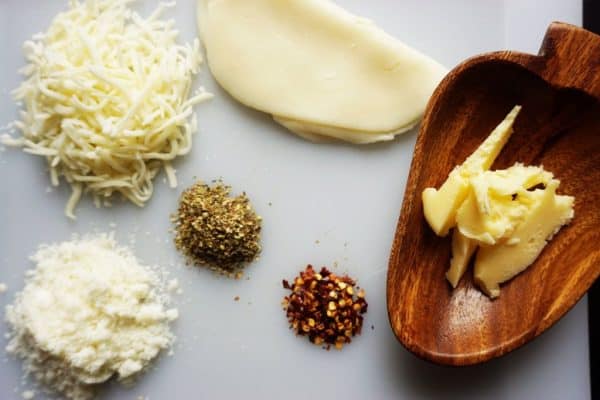 Next, divide the filling into 6 even portions and place onto plastic wrap. Twist the plastic wrap up nice and tight, being sure to make the balls as densely packed as possible. We're going for maximum cheese per cubic millimeter! Throw the cheese balls into the freezer for 30-60 minutes.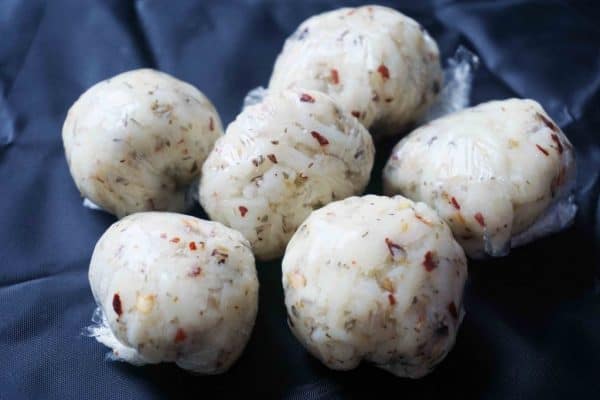 The Meatball
You're going to want to go with 2 different types of meat. I opted for 2 parts Ground Sirloin to 1 part Spicy Italian Turkey Sausage for this recipe. I recommend using some kind of ground beef(Ground Sirloin, Ground Chuck etc.) and an additional pre-seasoned sausage for a nice depth of flavor. Some options I would look for are:
Spicy Italian Chicken/Turkey/Pork Sausage(recommended)
Sweet Italian Chicken/Turkey/Pork Sausage(check the ingredients for sugar!)
Ground Bacon
Chorizo
Make sure you're getting 85/15 ground meat at minimum. 80/20 is my preference, and what I used for this particular recipe. Using 80/20 these meatballs are perfect for Keto as they are comprised of 70% calories from fat, with virtually no carbs.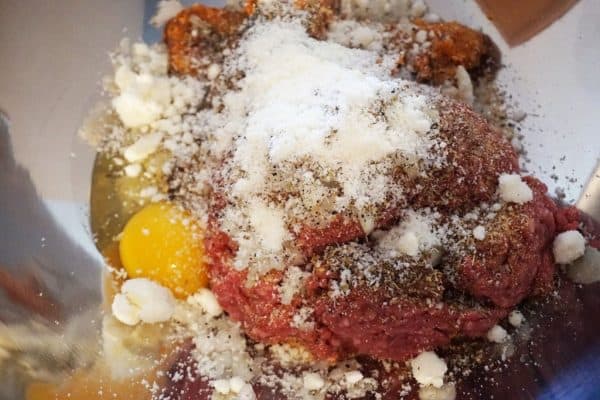 Combine all the wet ingredients, and don't be afraid to get in there with your hands. Everyone can tell the difference between a meatball mixed with the loving touch of the chef's hand and one that's been mixed with a heartless metal utensil. Divide the meat mixture into 6 equal portion and press into the shape of a hamburger patty. Now it's time to introduce meat to cheese. I've got a feeling they're really going to hit it off!
Giant Cheese Meatballs Assembly
Now for the fun part. Place the frozen cheese ball atop the perfectly seasoned meatball patty, then enclose the meat around the cheese. The meat will act as a forcefield, allowing the flavor and moisture of the cheese to be sealed inside.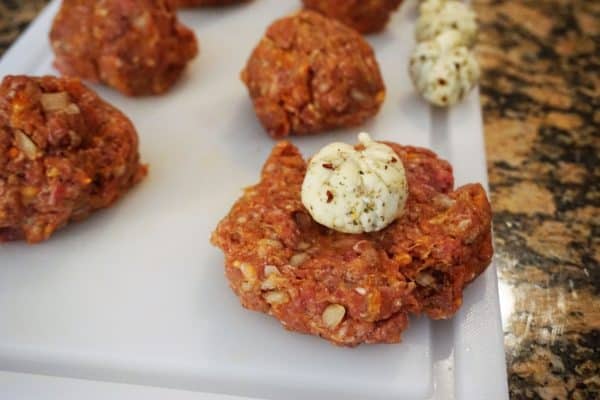 Do your best to get the cheese centrally located within the meat so it doesn't leak out during the cooking process(although if you don't have at least 1 leaker you're probably not jamming enough cheese inside!).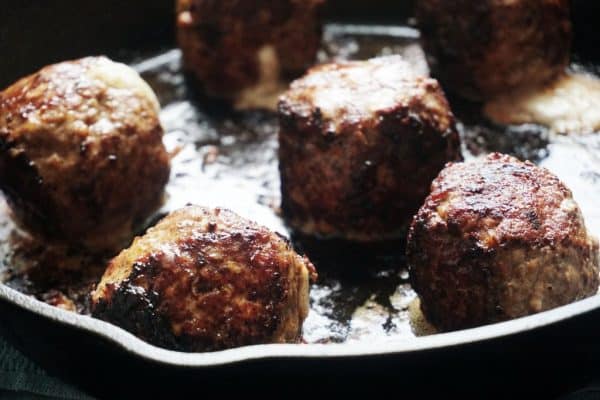 Cook the meatballs in a cast iron skillet on high for 2 minutes per side(12 minutes total), then place in the oven on 350 for 20 minutes. Allow to cool for 5 minutes(or as long as you can make it) and enjoy!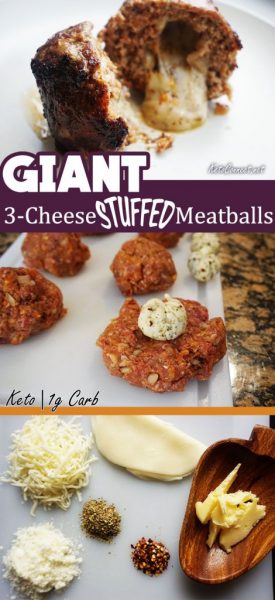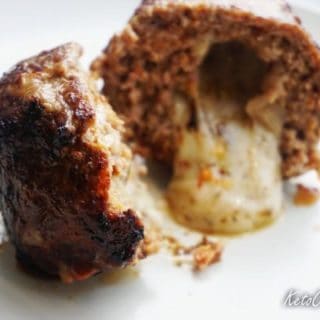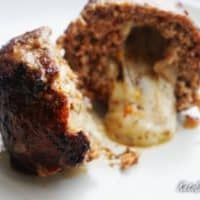 Giant Stuffed 3 Cheese Meatballs
Giant meatballs stuffed with three different kinds of cheese!
Total Time 1 hour 10 minutes
Servings 6 Giant Meatballs
Calories per serving 341.3kcal
Prep Time: 10 minutes
Cook Time: 30 minutes
Ingredients:
Meatball
1 lb Ground Sirloin 80/20
1/2 lb Spicy Italian Turkey Sausage
1/4 Cup Onion Finely Chopped
1 Egg
1 tsp garlic powder
1/4 Cup Parmesan cheese
1 tsp Oregano
Instructions:
Combine all ingredients for Cheese Filling and mix thoroughly.

Portion 6 equal amounts onto individual pieces of plastic wrap. Tightly wrap each portion of cheese filling and place in freezer for 30-60 minutes.

Preheat oven to 350.

Combine all ingredients for the Meatballs. Once evenly mixed, portion into 6 4oz hamburger patties.

Remove the cheese balls from the freezer and unwrap them.

Place 1 cheese ball onto each hamburger patty and form a meatball shape around the cheese center using both hands. Try to get the cheese centrally located within the meat so that it doesn't leak out during cooking.

Place meatballs into a cast iron skillet on high heat. Sear on each(6) side for 2 minutes. (Use any pan you have available. If it is not oven safe, transfer meatballs to a baking sheet after searing and place in oven.)

Place meatballs in oven on 350 for 20 minutes.

Remove Giant Stuffed 3 Cheese Meatballs from the oven and allow to rest for 5 minutes. Cut open, admire, enjoy!
Nutrition Facts
Giant Stuffed 3 Cheese Meatballs
Amount Per Serving
Calories 341.3 Calories from Fat 234
% Daily Value*
Fat 26g40%
Carbohydrates 1.3g0%
Fiber 0.2g1%
Protein 26.3g53%
* Percent Daily Values are based on a 2000 calorie diet.