Syrups make everything taste better.
Unfortunately, companies add high-fructose corn syrup and copious amounts of sugar to make their syrups taste nice. Eating this can lead to serious health problems like type 2 diabetes, heart disease and even Alzheimer's.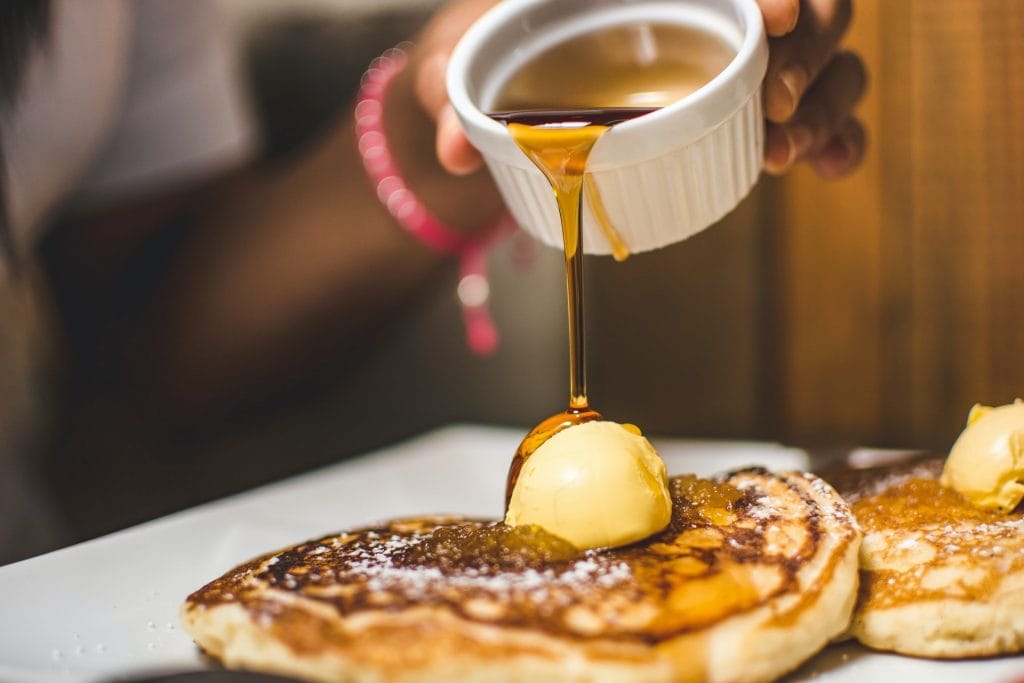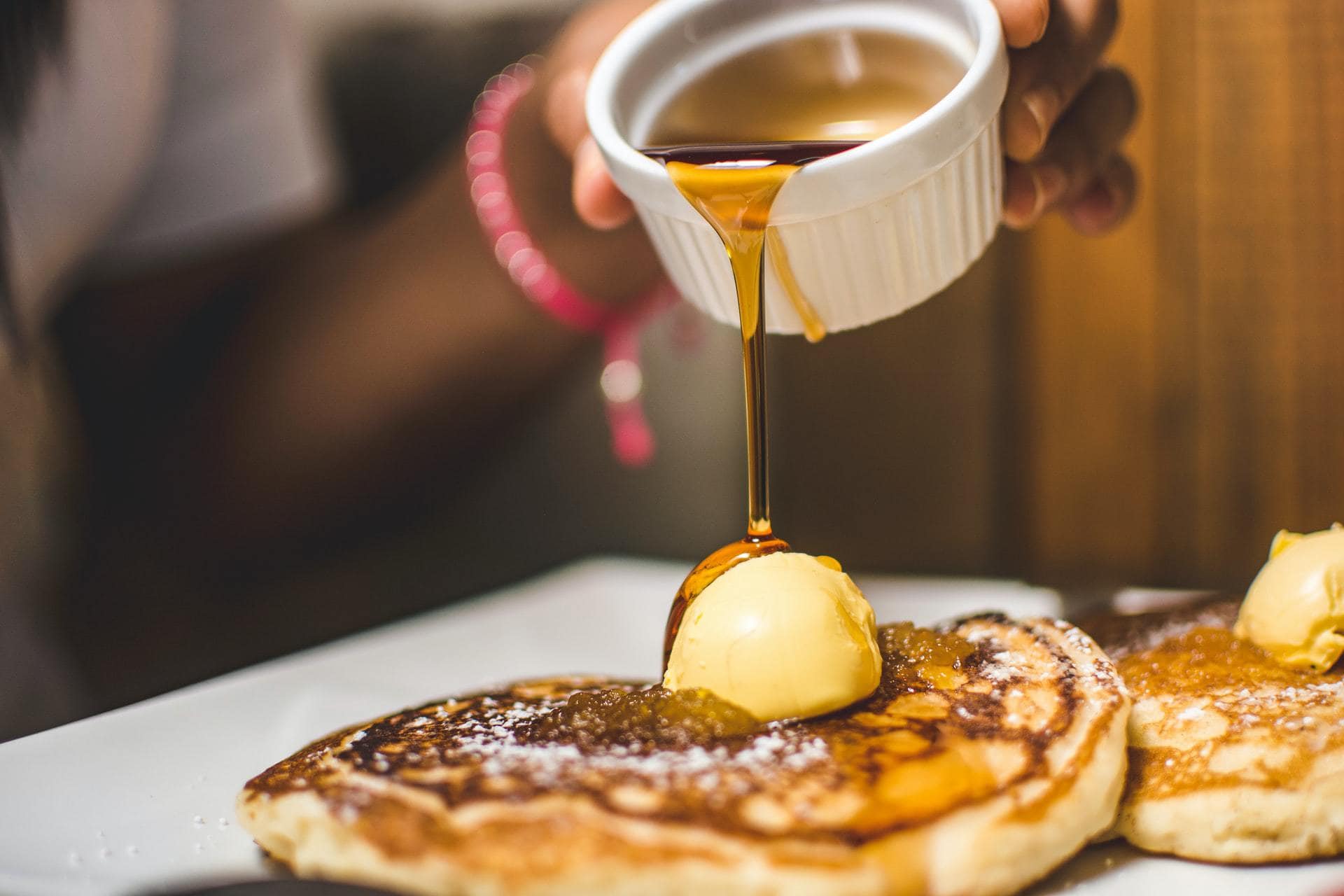 But several brands make high-quality syrup that taste yummy and are healthy.
So in this post, I'll cover the 10 best sugar-free syrups while going over the pros and cons of each.
Lakanto Sugar-Free Maple Syrup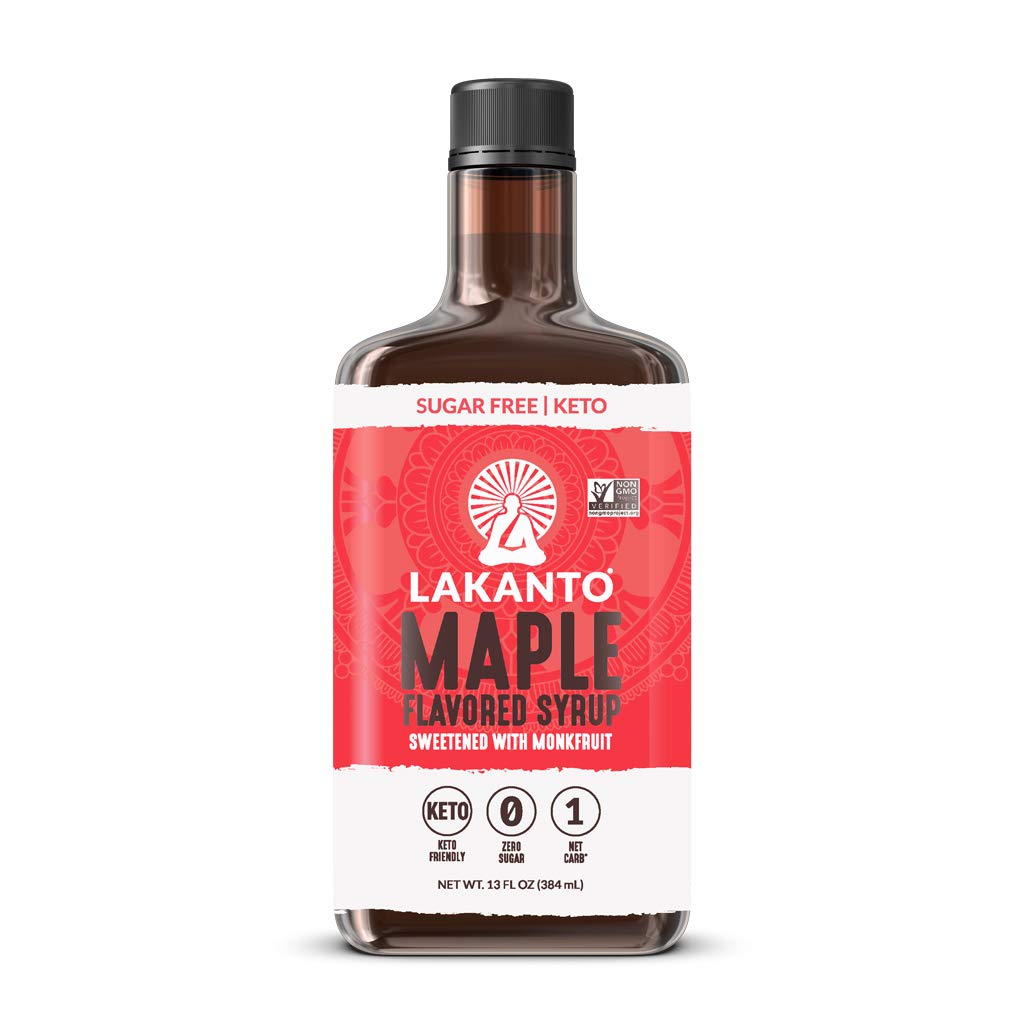 Best For: Keto dieters who don't mind the taste of monk fruit and are looking for the cleanest possible syrup.
Lakanto Maple Syrup is a keto-friendly syrup sweetened with monk fruit extract. Containing only one net carb per serving, Lakanto is the perfect syrup to add to your keto pancakes and flapjacks.
It uses clean ingredients like:
Non-GMO Lakanto monk fruit extract
Natural flavors
Sea salt
Purified water
Natural citrus extract
Tapioca fiber
Each serving has five grams of sugar alcohols, two grams of fiber, one gram of net carb and 40 grams of sodium. You'll also find trace amounts of vitamin D, potassium, iron and calcium.
But you must refrigerate Lakanto syrup immediately after opening because it isn't like regular syrup that contains preservatives.
When I first opened the bottle, I noticed it had a distinctive coffee syrup smell. The taste also resembles coffee. So if you're making a keto cake or dessert that has a coconut aftertaste, use Lakanto syrup to mask it.
Pros
It only contains high-quality ingredients
The coffee taste gives it a unique flavor
It comes in maple and cinnamon maple flavors
Lakanto won't spike blood sugar levels or trigger inflammation
Cons
The syrup is quite watery and monk fruit sweetener can taste weird at first
Mrs. Butterworth's Sugar-Free Syrup


Best For: Anyone looking to lose weight and enjoy a thick keto-friendly syrup
Mrs. Butterworth's offers a thick and rich sugar-free syrup that's low in calories and carbs. It's also accessible because you don't have to order it online. Mrs. Butterworth's sugar-free syrup is available in most grocery stores across the US.
This syrup contains ingredients like:
Sorbitol
Natural flavors
Cellulose gum
Sea salt
One serving of Mrs. Butterworth's has 20 calories, zero net carbs and no fats or proteins. It's GMO and gluten-free, making it a tasty option for dieters managing celiac disease or leaky gut.
77% of customers who bought Mrs. Butterworth's sugar-free syrup gave it a five-star rating. Most people, including me, love how consistent and thick the syrup is when you pour it. You'll also notice that this syrup doesn't have that artificial taste you get when using most sugar-free syrups.
Pros
It's thick, rich and creamy
The syrup is kosher
It's available at most grocery stores across the US
It doesn't have that artificial sugary taste you get with other syrups
Cons
Mrs. Butterworth's syrup uses artificial sweeteners
Cary's Sugar-Free Syrup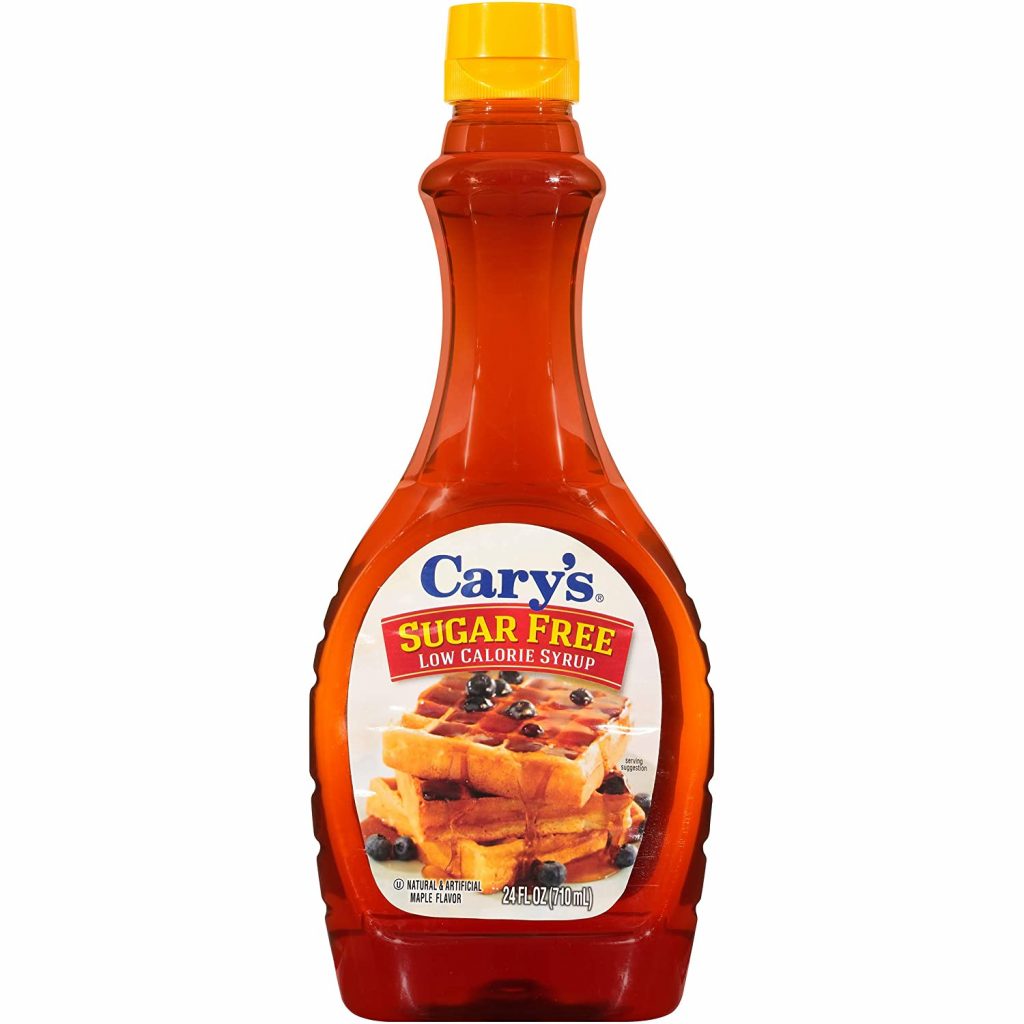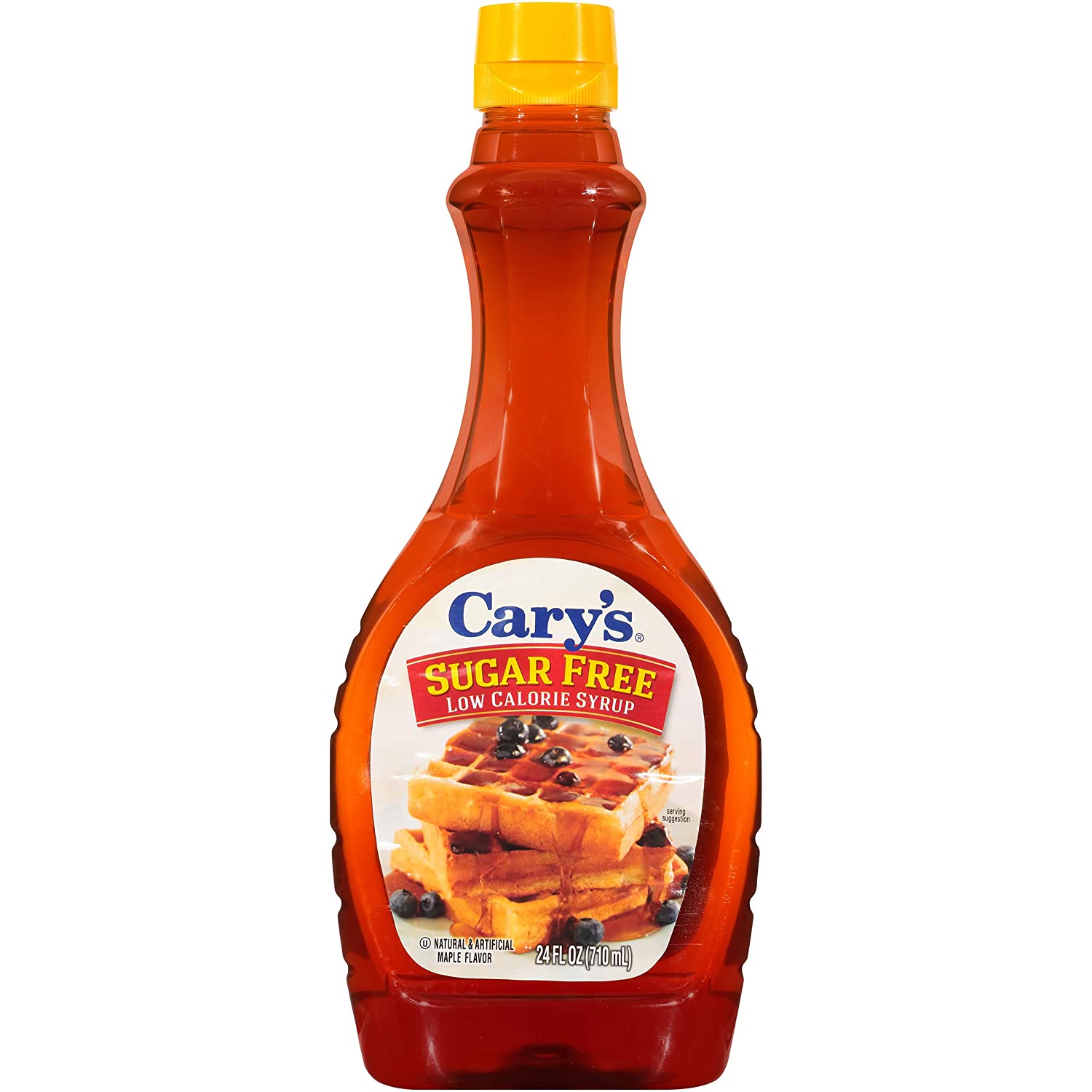 Best For: Those who don't mind eating sucralose and sorbitol.
Cary's sugar-free syrup uses sorbitol and sucralose to add flavor. And since Cary's started making maple syrup over 100 years ago, they know how to make tasty syrups.
Many keto dieters might not like sucralose and sorbitol. Some studies show sucralose to have an impact on blood sugar levels. But this effect is minimal since sucralose has a GI score of zero, and sorbitol's score is only 9.
So although sucralose might raise glucose and insulin levels a little when consumed in large amounts, it's nothing compared to high-fructose corn syrup. You also won't be eating liters of Cary's syrup in one sitting.
This syrup contains:
15 calories
110 mg of sodium
Five grams of sugar alcohols
Zero grams of fiber
But the main reason why thousands of keto dieters adore Cary's syrup is that it tastes just like pure maple syrup. It has that high-fructose syrupy taste you get with most syrups without containing toxic ingredients.
Pros
It's a low-calorie option for those trying to lose weight
The sodium helps you beat keto flu
Cary's syrup tastes just like regular maple syrup
Cons
It contains sucralose and sorbitol
Choc Zero's Maple Syrup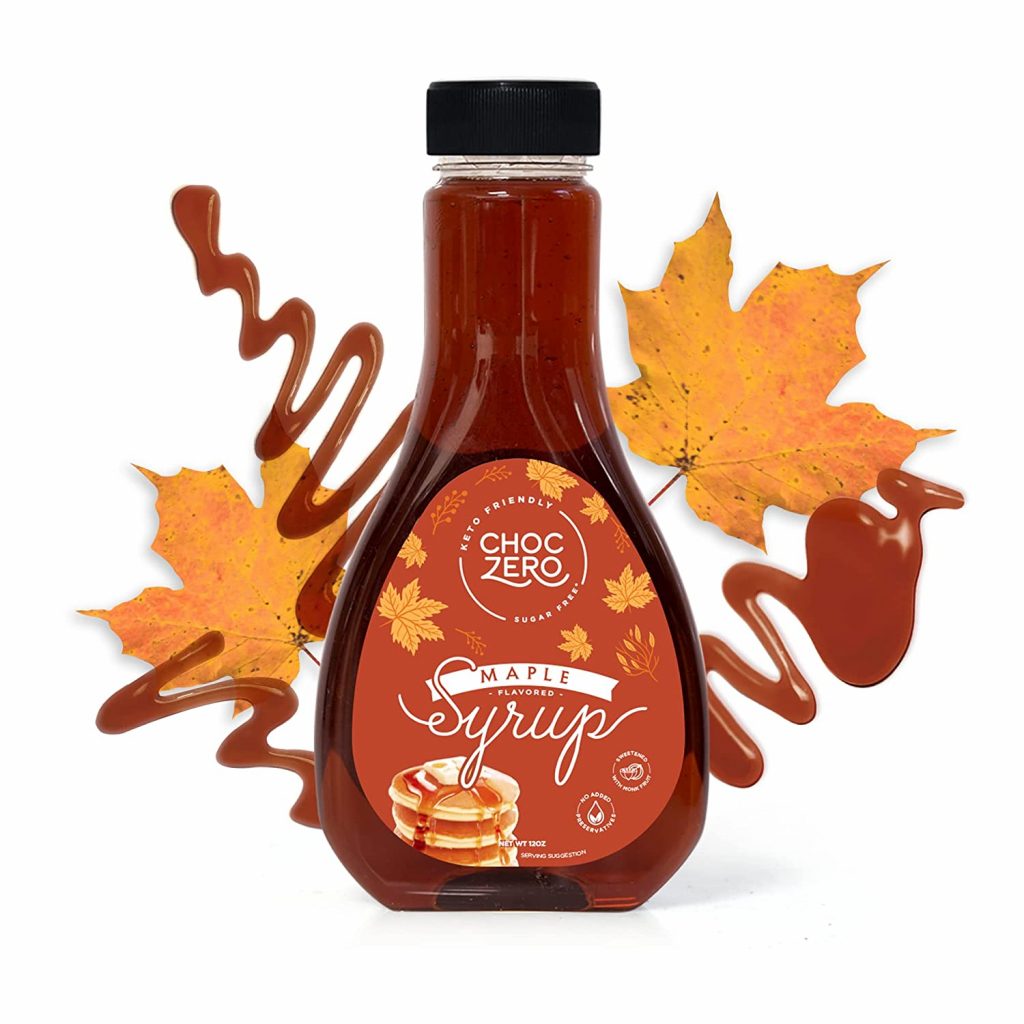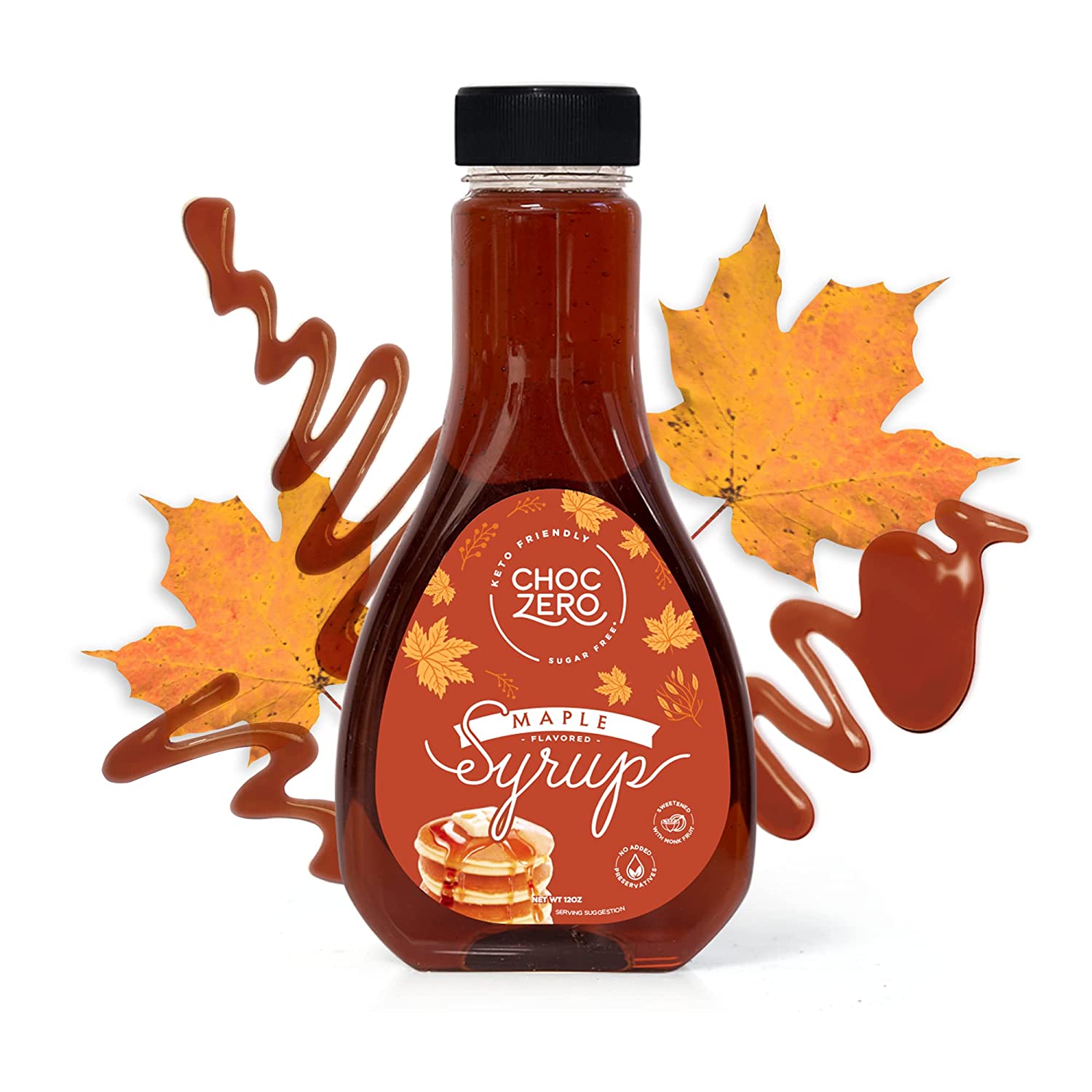 Best For: Anyone looking to gain weight and don't mind eating a higher-calorie syrup.
Like Lakanto, ChocZero uses monk fruit extract to sweeten its syrup.
Although monk fruit sweetener has an unpleasant aftertaste, you won't notice it once you get used to it. Monk fruit also offers the benefit of keeping your blood sugar and insulin levels stable, making you feel fuller for longer.
ChocZero is one of the thickest sugar-free syrups available because it doesn't use water to distill the syrup. It also avoids harmful preservatives, so you must refrigerate it immediately.
One serving of Choc Zero's sugar-free syrup contains:
Two grams of net carbs
32 calories
Zero grams of protein or fats
15 grams of fiber
15 mg of potassium
You'll also find ingredients like monk fruit extract, soluble corn fiber and natural flavors on the label.
You can even buy different flavors like mango, chocolate, vanilla, blueberry, raspberry and peach syrup.
Pros
It only contains two grams of carbs
There are different flavors to choose from
It's thick and rich
Cons
You must use it within 90 days
Pyure Organic Maple Syrup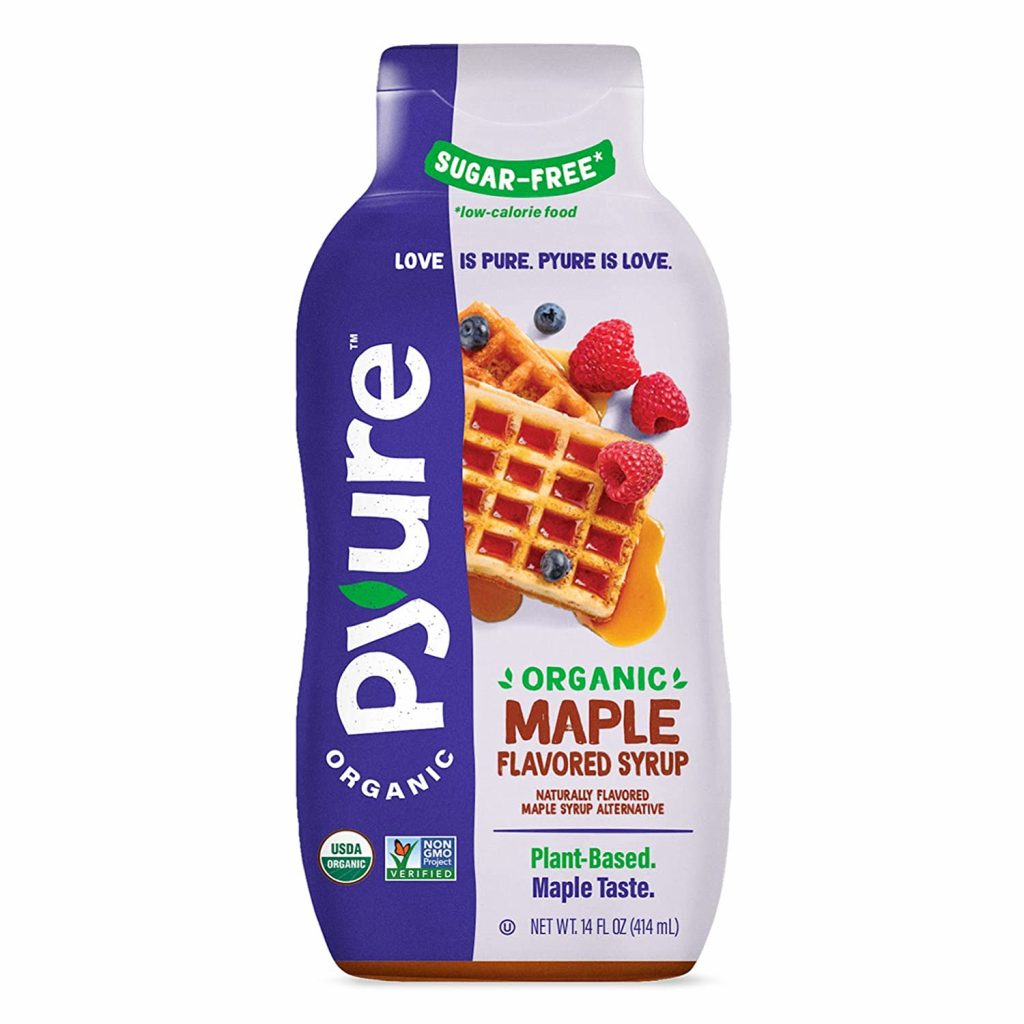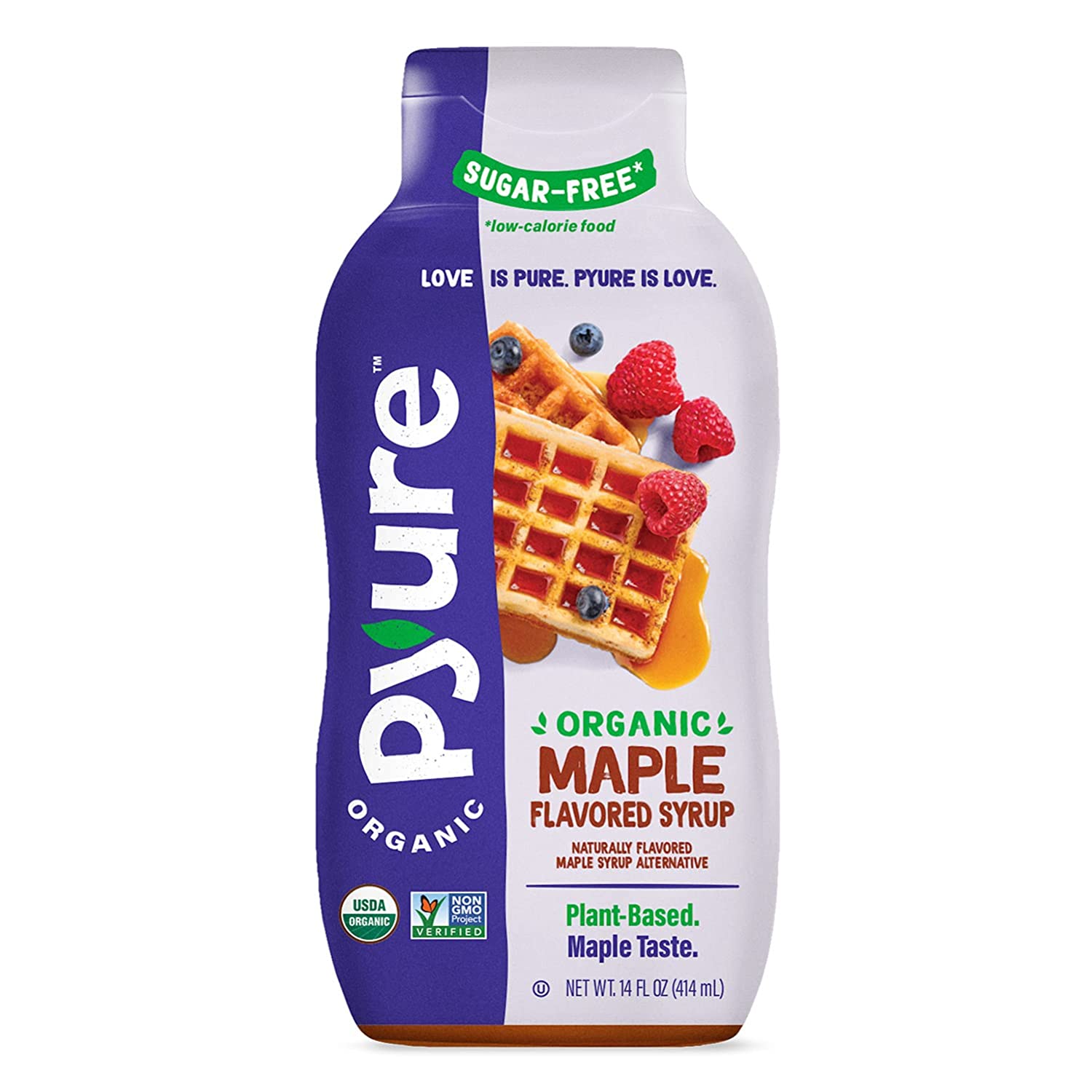 Best For: Those that want to improve dental health while enjoying natural maple flavor.
Pyure uses the sugar alcohol, erythritol, instead of sugar.
Like xylitol, organic erythritol is a tasty sugar substitute that offers benefits like improved dental health. A 2016 study even found erythritol to be more effective at preventing dental cavities and gum inflammation than xylitol.
Combined with erythritol, Pyure also uses organic stevia extract to add more flavor.
Pyure aims to create an organic product that tastes like traditional maple syrup and offers a thick consistency. One 60 ml serving contains:
13 grams of dietary fiber
10 grams of erythritol
Zero grams of fat and protein
Pyure also uses keto ingredients like organic soluble tapioca fiber, erythritol, caramel flavoring and xanthan gum. This makes it a tasty syrup to pour over your flapjacks and pancakes.
Pros
The erythritol fights cavities and gum disease
Stevia leaf extract gives this keto syrup a unique taste
It's a tasty option for weight loss
Cons
It doesn't contain fat or protein
So Nourished Pancake Maple Syrup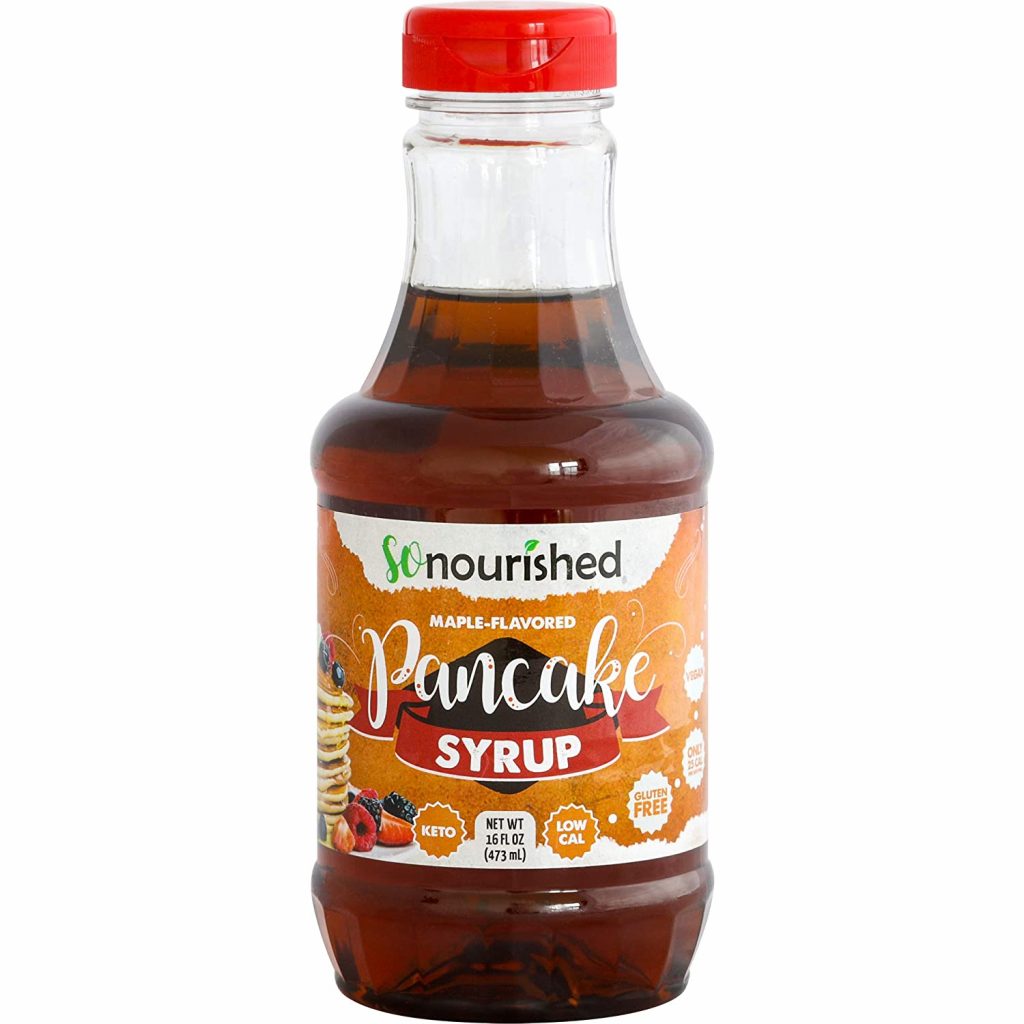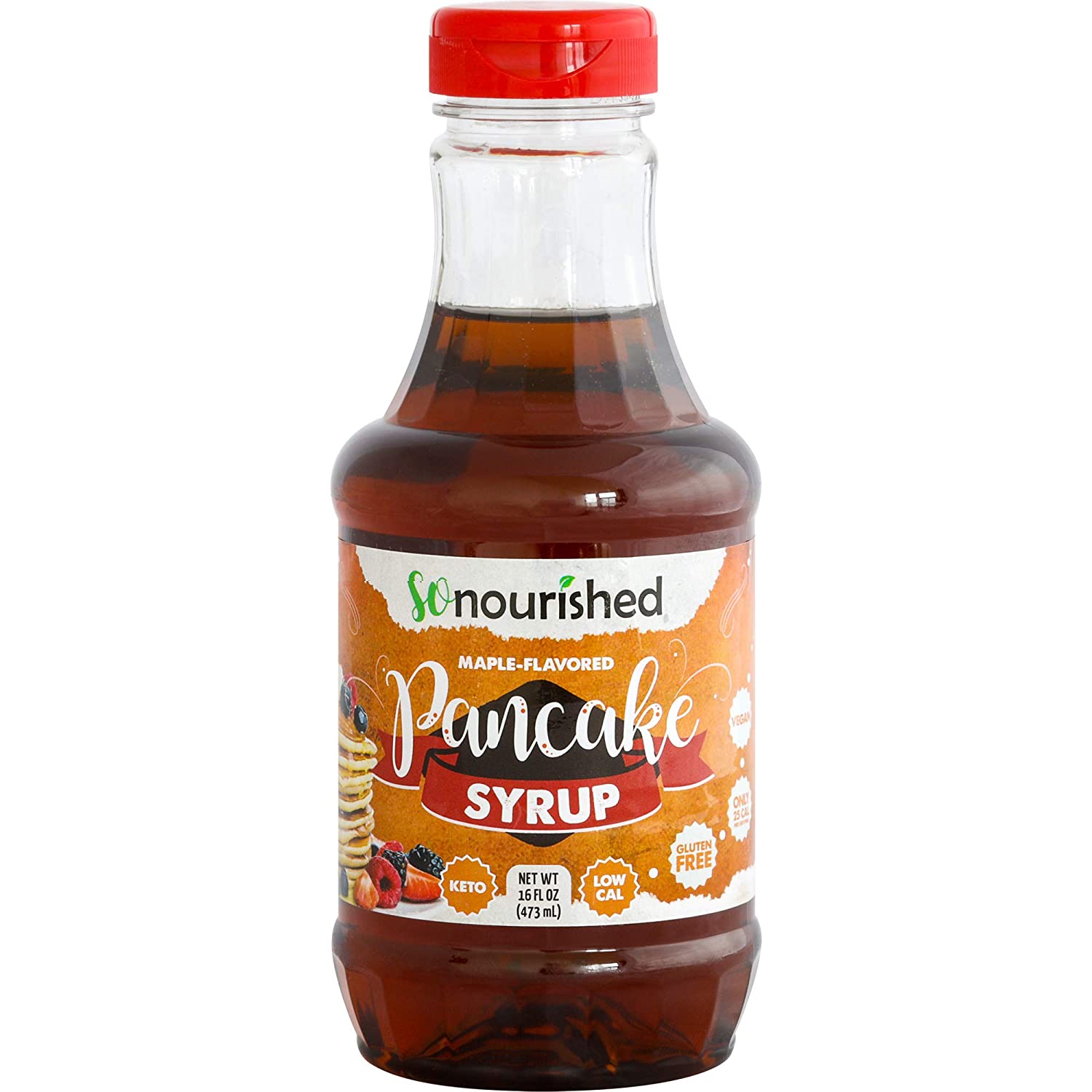 Best For: New keto dieters looking to defeat keto flu
With only one net gram of carb, this keto pancake syrup is designed for keto dieters looking to quit sugar. It contains a high sodium content to help you through the dreaded keto flu. So Nourished uses different sugar alcohols like erythritol, monk fruit sweetener and stevia leaf extract.
This maple flavored syrup uses chicory root fiber, erythritol, cellulose gum, stevia leaf extract and natural flavoring.
One serving contains:
60 mg sodium
Six grams of fiber
Five grams of erythritol
20 calories
Pros
The high sodium content helps beginners fight keto flu
It only contains 20 calories per serving
So Nourished uses natural flavoring
Cons
It doesn't sell a wide variety of flavors
Maple Grove Farms Vermont Sugar-Free Syrup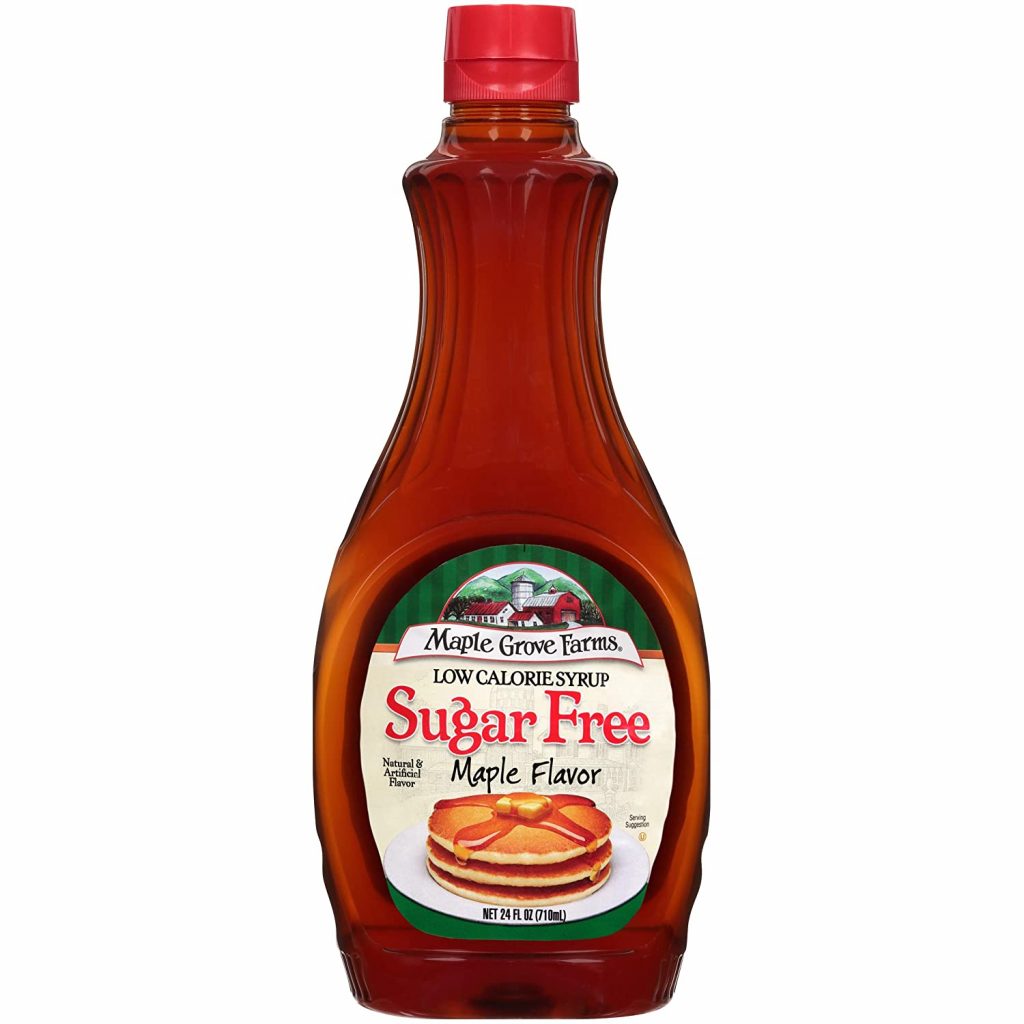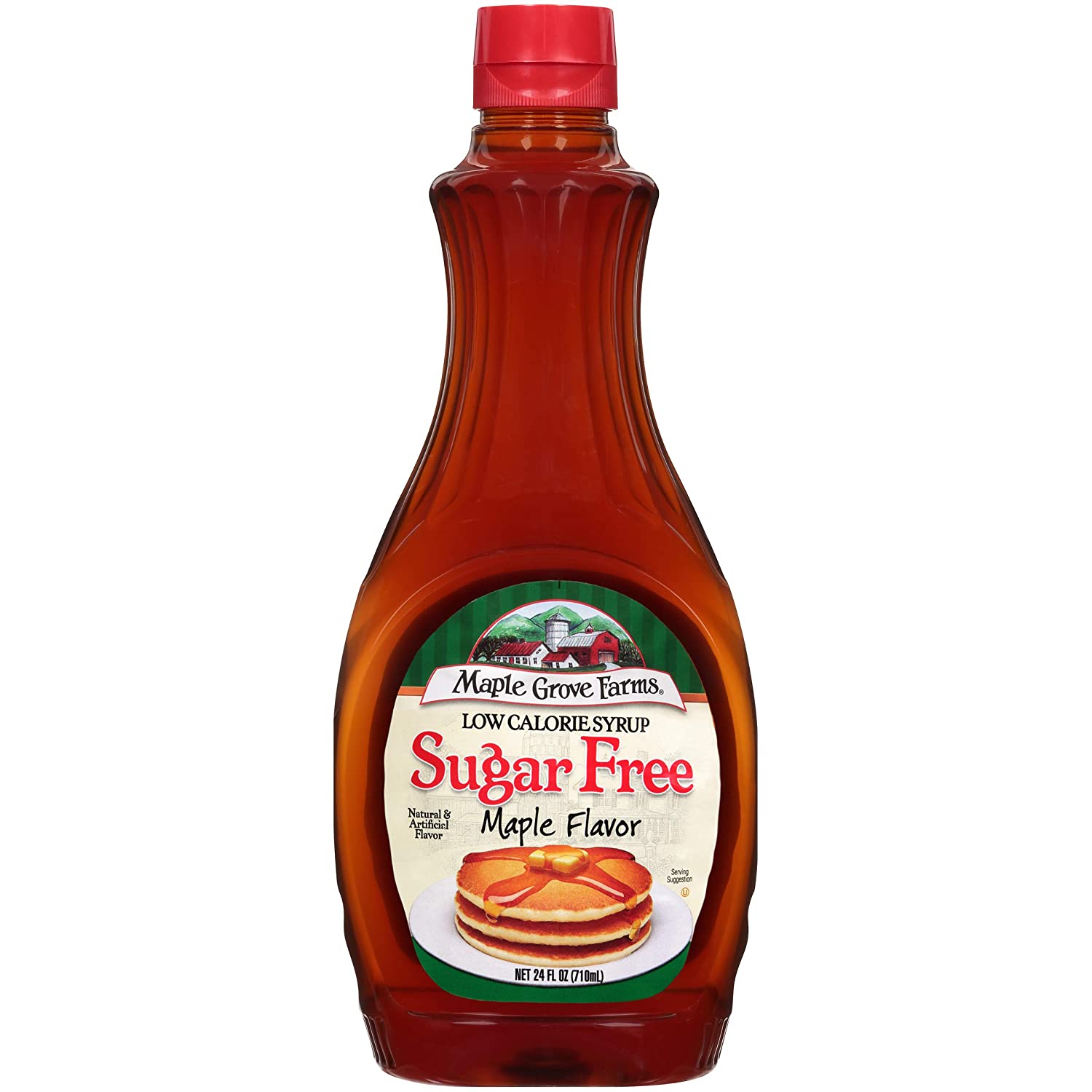 Best For: Dieters who aren't sensitive to artificial sweeteners like sucralose.
Maple Grove Farms is the biggest packer of pure maple syrup, so you can bet they make yummy sugar-free syrups.
This syrup tastes just like regular maple syrup. However, they use artificial sweeteners like aspartame, sucralose and sorbitol. Even though it's keto-friendly, these sweeteners can affect your health.
For example, if you're sensitive to aspartame, you'll experience symptoms like:
Nausea
Vomiting
Abdominal pain
Diarrhea
Bloating
If you notice any of these symptoms after eating this sugar-free syrup, avoid it and opt for a cleaner product like Lakanto.
A serving of Maple Grove sugar-free syrup contains:
Five calories
55 mg of sodium
Three grams of total carbs
Two grams of sugar alcohols
One gram of net carb
Pros
You only consume five calories per serving
It tastes like real maple syrup
You can eat a tasty syrup without being knocked out of ketosis
Cons
It contains aspartame which can affect some negatively
Wholesome Yum Keto Maple Syrup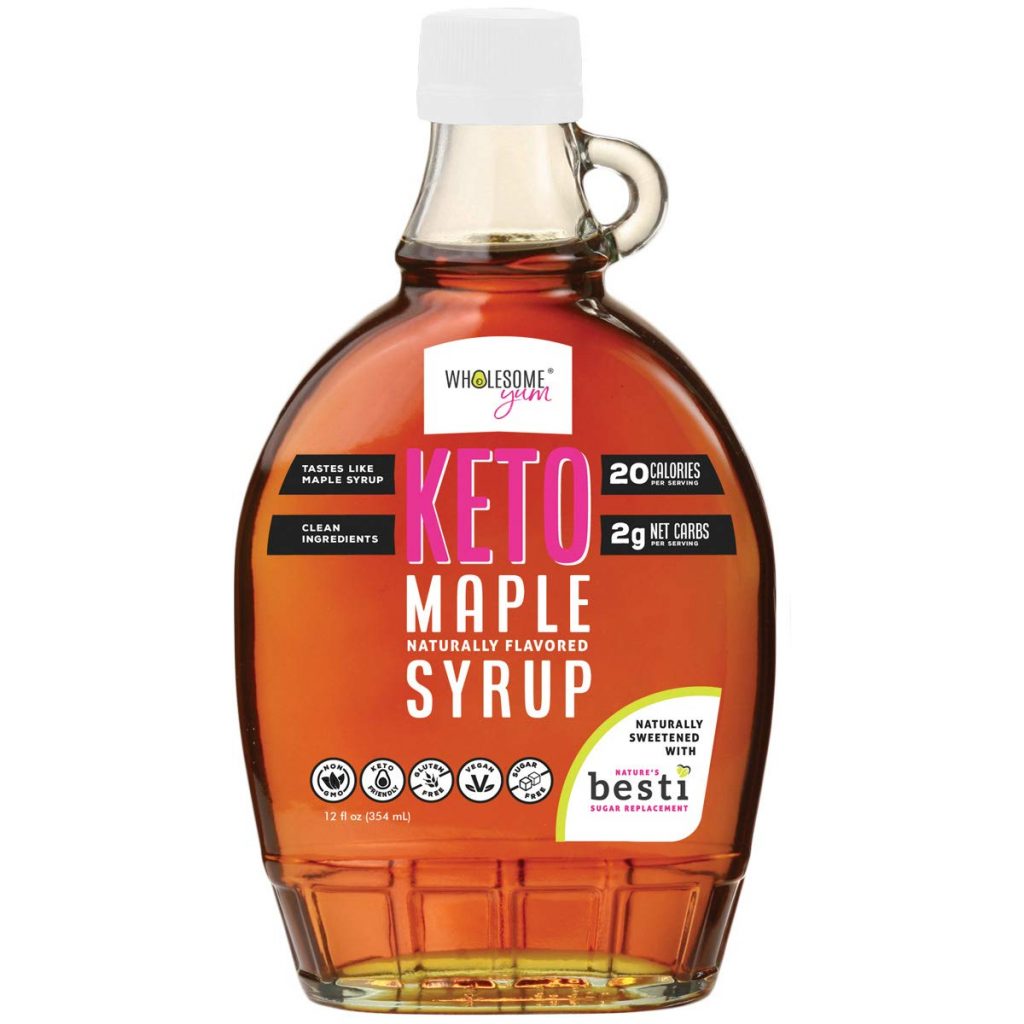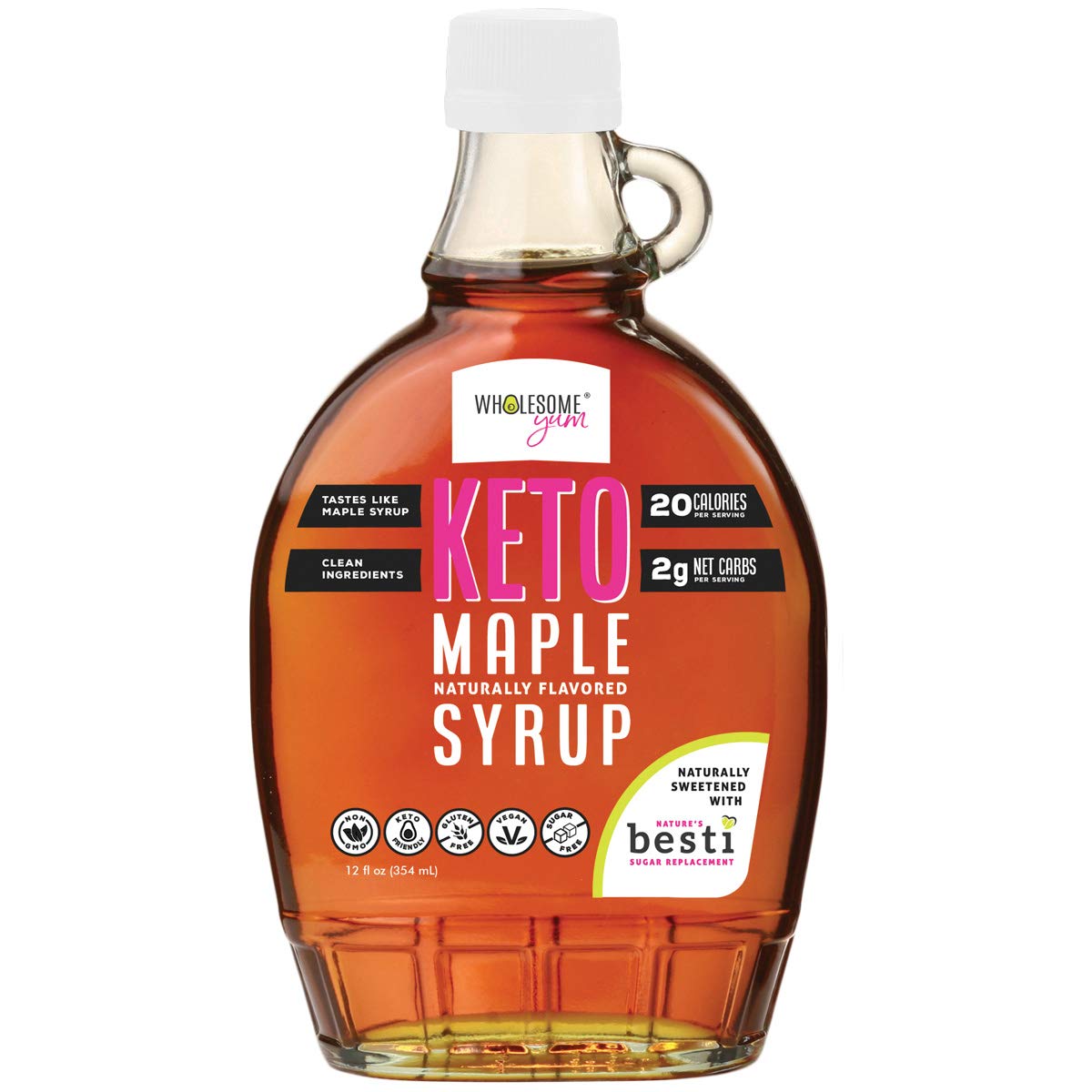 Best For: Anyone looking to lose weight on a keto diet
Wholesome Yum uses monk fruit extract and allulose to make its sugar-free syrup taste and look like real maple syrup.
Allulose comes from dried fruits like figs and raisins, giving it a unique taste.
It's around 70% as sweet as table sugar and has a similar taste. Studies even found that consuming allulose decreases body fat, body fat percentage and body mass index or BMI. This makes Wholesome Keto syrup a delicious option for those looking to lose weight.
However, one study found that some individuals may react negatively to allulose. Symptoms include:
One Wholesome Yum sugar-free syrup serving contains 20 calories and two grams of net carbs.
Pros
It's 70% as sweet as table sugar
Allulose can make it easier to lose weight
It only uses natural sweeteners
Cons
It can cause bloating, gas and nausea
All-U-Lose Natural Maple Flavored Syrup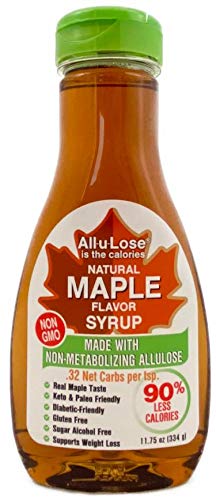 Best For: Dieters who want to choose from a wide variety of sugar-free syrups.
All-U-Lose contains zero net carbs and calories, so you can add as much as you'd like to pancakes, ice cream and coffee.
It uses allulose so your blood glucose and insulin levels won't spike.
All-U-Lose markets itself as a syrup that's gluten-free, GMO-free, keto-friendly, diabetic-friendly and low in calories.
It also offers different flavors like:
Natural honey
Wild strawberry
Vanilla bean
Blueberry
Maple
And if you can't choose between these flavors, consider the variety pack where you get a little from everything.
One serving has two calories, 5.5 grams of allulose and zero grams of carbs.
Pros
The low-calorie count makes it easy to lose weight
It's available in several different flavors
All-U-Lose contains no carbs
Cons
Some of the flavors have a bitter aftertaste
Birch Benders Magic Syrup
Best For: Veteran keto dieters who don't mind the taste of monk fruit.
Birch Benders syrups come in a 13-ounce bottle that uses monk fruit extract to create sugar-free maple syrup. This keto syrup only contains one gram of net carb and zero grams of sugar.
It's available in three options:
Classic Maple
Maple Bourbon
Mind-Body Maple
Mind-Body Maple is my favorite since it contains grass-fed collagen and MCT oil. This way, you can enjoy yummy maple syrup while consuming healthy proteins and fats.
The grass-fed collagen improves skin, increases hair growth, prevents bone loss and relieves joint pain. The MCT oil is also beneficial. It lowers your risk of developing Alzheimer's disease and boosts brainpower.
When visiting their website, you'll find affordable pancake and waffle mixes that go well with the maple syrup. It's keto-friendly and comes in flavors like choc chip, banana and blueberry.
Pros
The MCT oil helps boost brain power
Birch Blenders sell pancake and waffle mixes
The collagen content improves skin and hair growth
Cons
Not all its products are keto
Final Thoughts On The Best Sugar-Free Syrup
Sugar-free syrup allows you to improve the taste of flapjacks, waffles and ice cream while staying in ketosis.
The syrups on this list resemble the maple syrup we grew up eating as kids. It's tasty, healthy, and contains erythritol, MCT oil, and collagen that offer potent benefits like improved brain function and healthier teeth.
Written By