Non-stim pre-workouts allow you to hit the gym hard without the sudden caffeine crash afterward.
But many non-stim powders don't give you that kick you get with caffeine.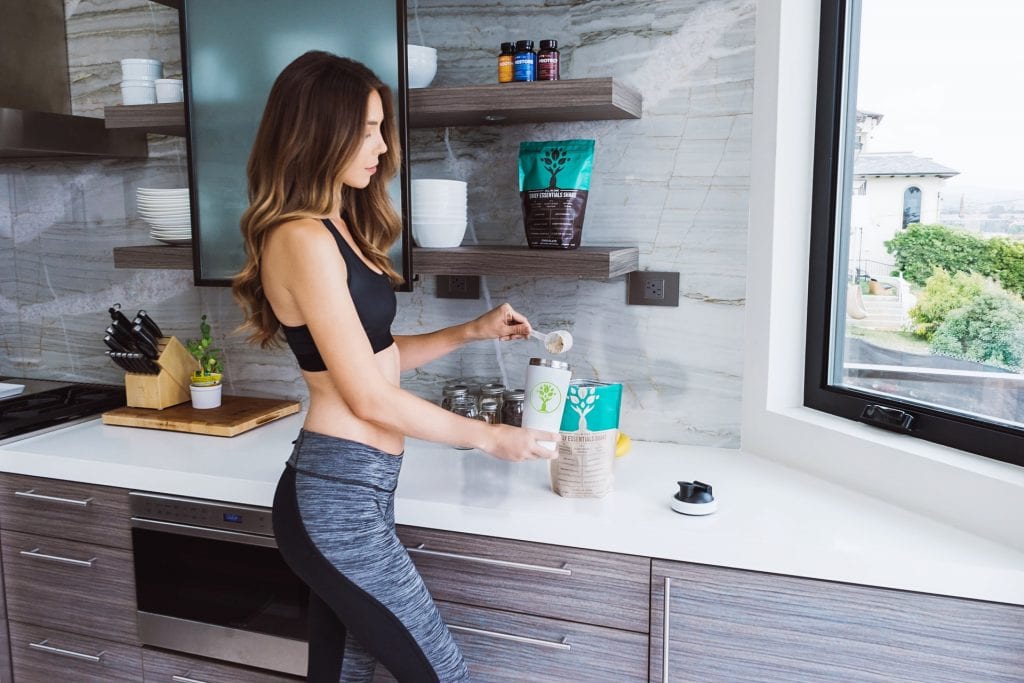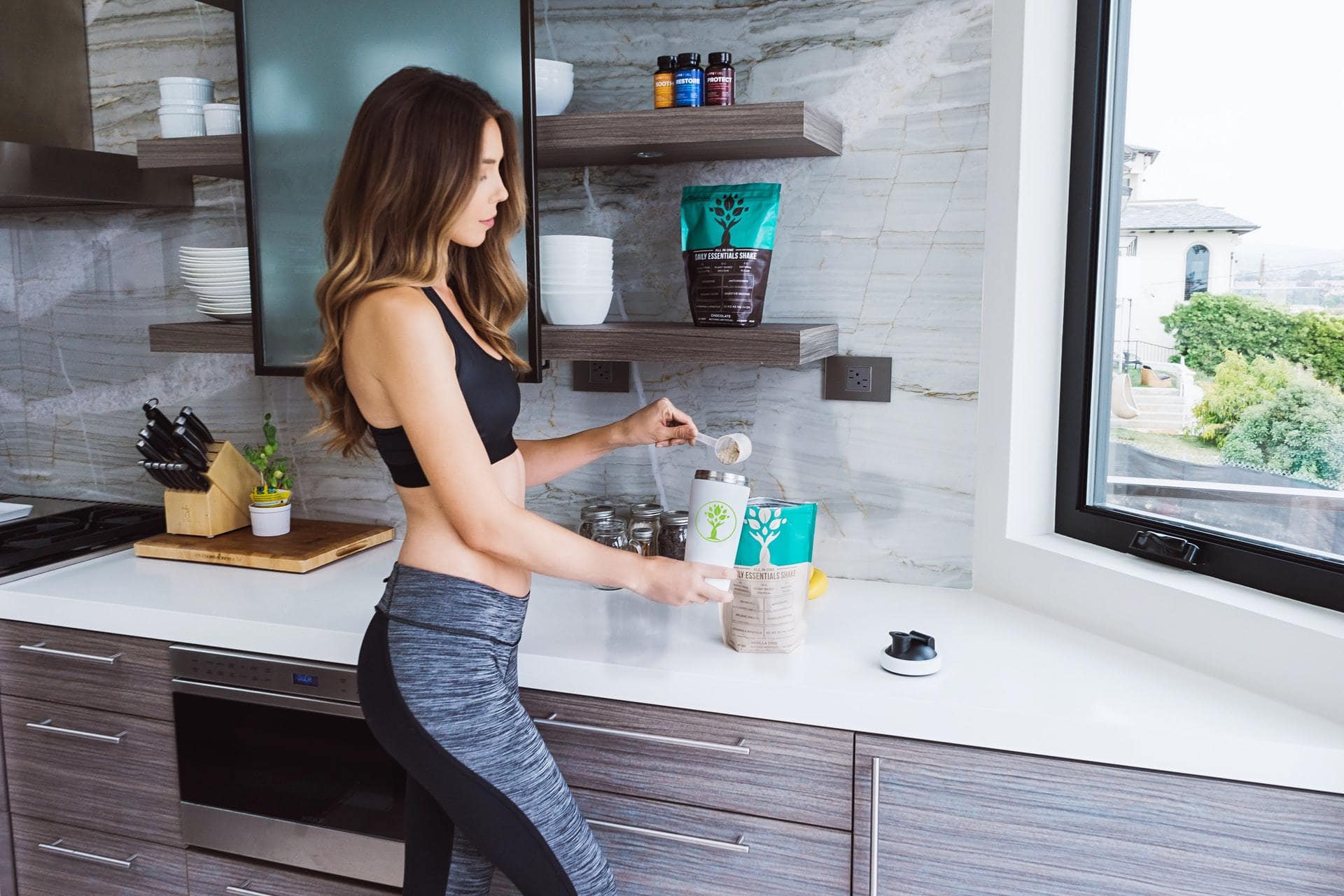 Fortunately, this post covers the 10 best non stim pre workout powders. These pre-workouts ensure more energy, longer-lasting pumps and faster recovery.
Genius Pre Workout Powder
Best For: Health nuts looking for a powder containing all the necessary ingredients for increased energy.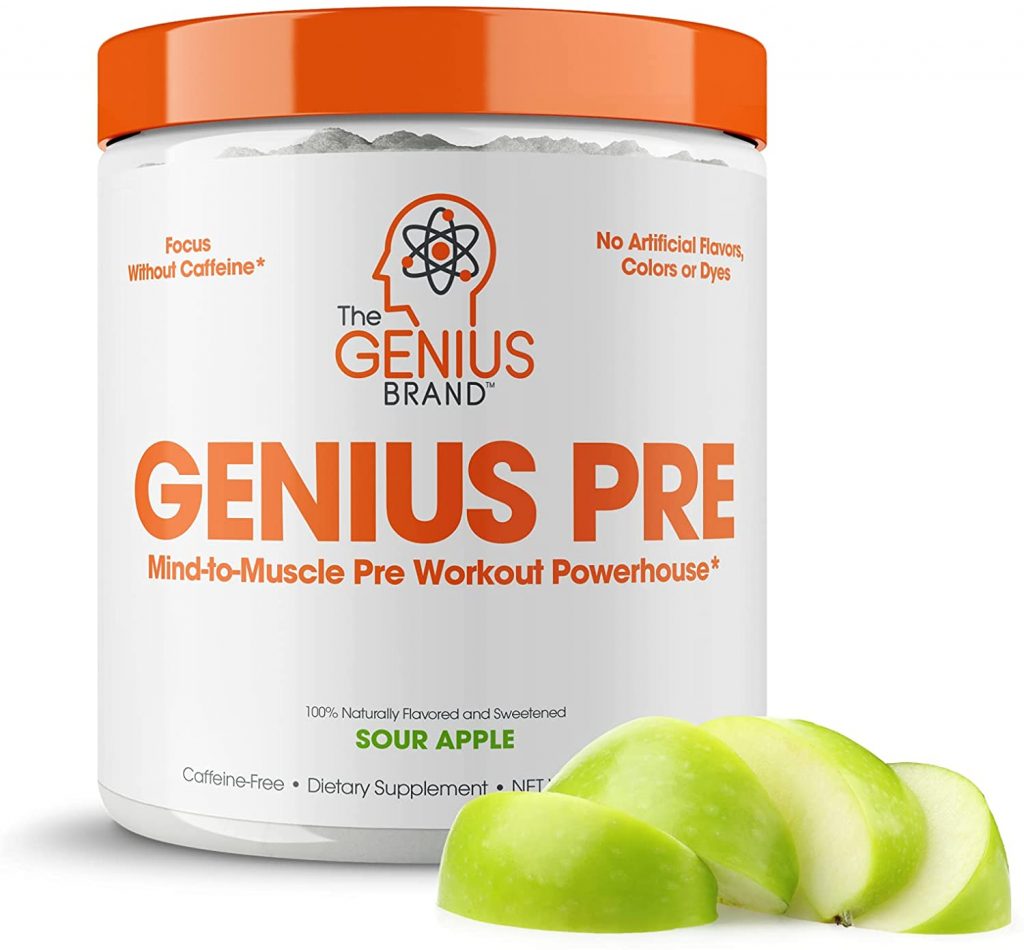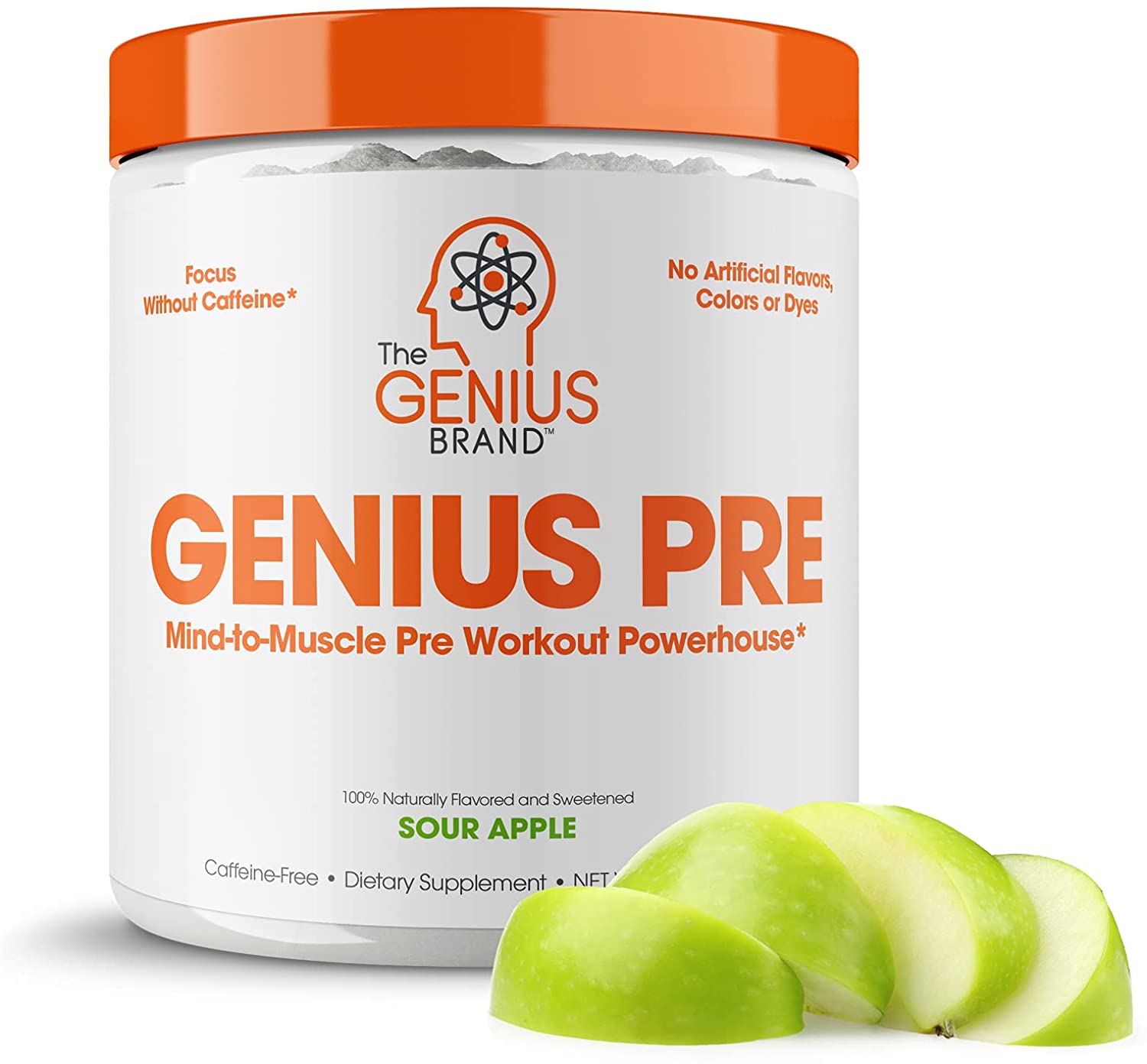 The Genius Brand is a nootropic company, meaning it creates products that improve cognition.
This is what attracted me to Genius Pre Workout. When drinking stimulant pre-workout supplements, I'll have almost no energy after working out. So, I'll need to take a nap, or my work productivity will go down the drain.
This is where Genius saved the day.
With tasty flavors like grape limeade, sour apple and blue raspberry, I can push myself during workouts without crashing afterward. It only contains natural ingredients like:
L-citrulline
Beta-alanine
Taurine
L-tyrosine
L-arginine
All these essential amino acids optimize workouts without stimulants like caffeine. For example, L-arginine and beta-alanine increase strength and muscle growth, making it perfect for active individuals.
But what stands out to me is Genius took the time to research and read medical studies when developing this product. It contains the perfect amount of each ingredient, optimizing the benefits.
Simply take one scoop 30 minutes before a workout, and you'll have all the amino acids needed to beat lifting plateaus.
PUMPSURGE Caffeine Free Pump & Nootropic Pre Workout
Best For: Weightlifters who want to improve focus in the gym and at work.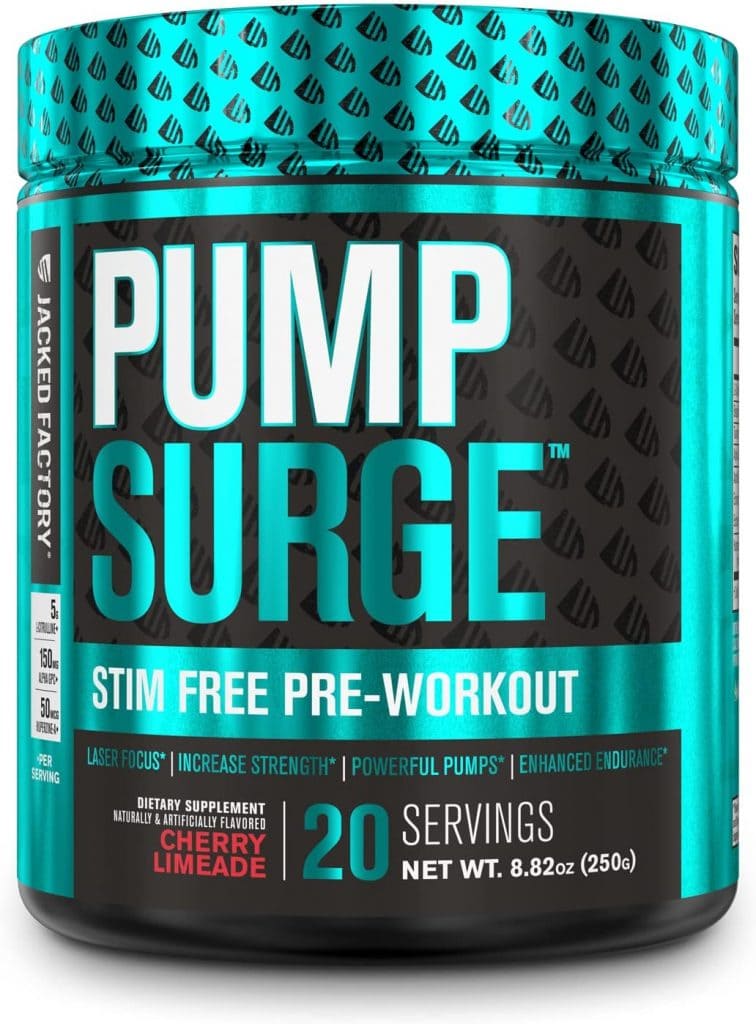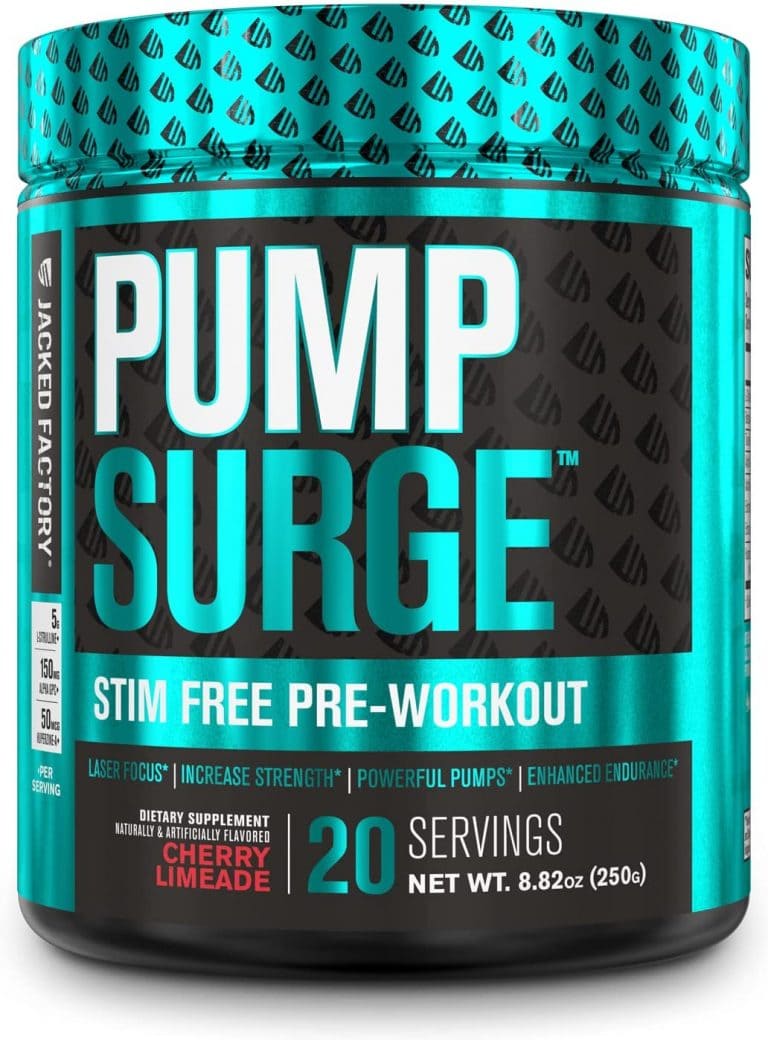 Jacked-Factory's PUMPSURGE pre-workout is another practical option for those who don't like caffeine. Marketed as a pre-workout for laser focus, muscle growth, powerful pumps and endless endurance, PUMPSURGE offers delicious flavors like:
Cherry limeade
Blue raspberry
Watermelon
Strawberry lemonade
Cucumber lime
If you're struggling to pick a flavor, try cherry limeade. It tastes just like Cherry Coke and is surprisingly sweet for a pre-workout that doesn't have sugar.
Instead of caffeine, PUMPSURGE opts for L-citrulline, an amino acid found in watermelon. Studies show L-citrulline improves blood flow and circulation, explaining the insane pumps you get after drinking this pre-workout. Jacked-Factory uses other ingredients like:
Extract betaine anhydrous
Taurine
AstraGin
Huperzine A
Alpha-GPC
These amino acids improve performance and focus, which is essential when lifting heavy weights.
You'll also notice PUMPSURGE doesn't contain artificial colors. Instead, it opts for fruit and vegetable juice. However, you might want to avoid this pre-workout if you're sensitive to sulfate potassium or sucralose.
Legion Pulse Caffeine Free Pre Workout
Best For: Gym goers who want a sweet pre-workout drink without sugar or other harmful ingredients.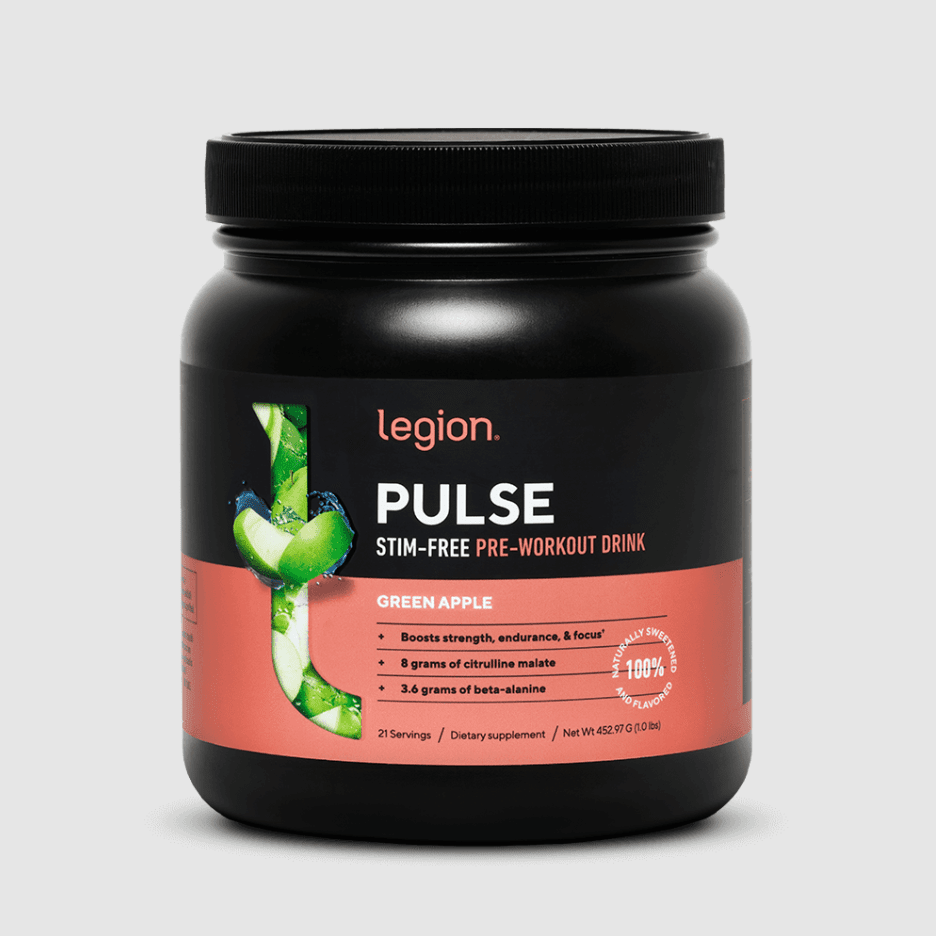 Labdoor ranks Legion Pulse as the best pre-workout. Labdoor is an independent company that buys supplements and tests them in chemistry labs. So when you buy Legion Pulse, you know you're getting the best.
The main reason for this is due to the quality of ingredients in Legion Pulse. You'll only find energy-boosting amino acids and compounds like:
Citrulline malate
Beta-alanine
Erythritol
Red beet
L-theanine
Betaine
Like PUMPSURGE, Legion Pulse contains citrulline malate to open the blood vessels and improve blood flow. L-theanine is also found to enhance mood, while betaine increases strength levels.
For flavor, Legion Pulse uses erythritol. Not only does this taste just like sugar, but it helps with cavities and gum disease. Your pre-workout is still tasty, but you won't have to sacrifice your teeth.
This powder has red beet coloring instead of artificial colorants, which is good news if you're sensitive to food colorants.
You'll find yummy flavors like:
Fruit punch
Blue raspberry
Green apple
Tropical punch
This way, you won't get bored of one specific flavor.
Check out this guide to the best keto protein powders and discover which one works best for you and your goals!
ProSupps Dr. Jekyll Signature Pre-Workout Powder
Best For: Anyone looking to consume MCTs and creatine with their pre-workout.
ProSupps Dr. Jekyll Signature is a stim-free pre-workout powder designed to enhance muscle endurance and promote thermogenesis. This makes it a popular choice amongst keto dieters looking to reduce caffeine consumption.
ProSupps Dr. Jekyll Signature is unique because it uses ingredients like:
MCT or medium-chain triglyceride oil
Creatine
Potassium
Beta-alanine
Ashwagandha extract
Your body quickly absorbs medium-chain triglycerides into the bloodstream via the gastrointestinal tract. This way, you get a quick boost of energy.
You'll find this powder in flavors like:
Blueberry lemonade
Watermelon
Blue razz popsicle
It also contains zero sugar, calories, carbs or gluten, making it perfect for keto dieters and those with gluten intolerance.
Looking for some energy drinks for keto dieters? Read our guide to find out what type of energy drinks you can have while still being in ketosis.
Pump-N-Grow Muscle Pump and Nitric Oxide Boosting
Best For: Keto dieters who want to maintain high electrolyte levels while optimizing workout performance.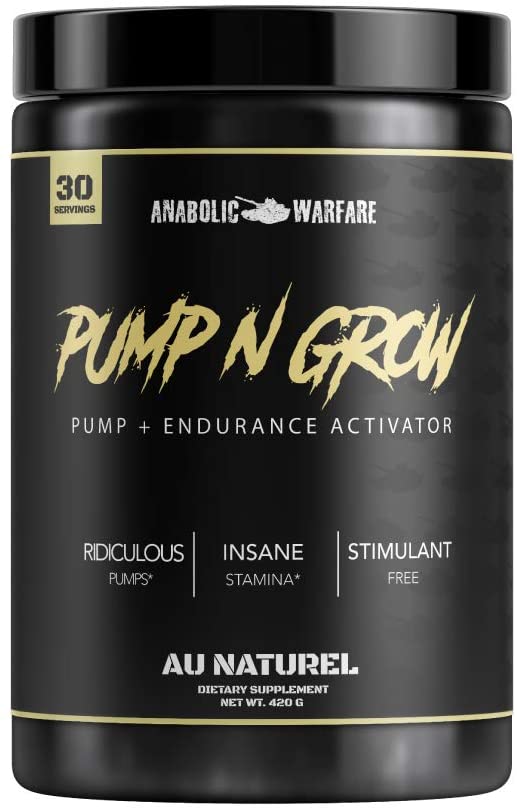 To get the best out of Pump-N-Grow powder, mix one scoop with six ounces of water and drink it 30 minutes before your workout.
One serving contains:
15 calories
Three grams of carbs
Zero sugar
20 mg of potassium and sodium
Pump-N-Grow Muscle Pump uses ingredients like nitric oxide and nitrosigine to boost performance.
When you lift weights, your muscles need more oxygen delivered to them. This is what nitric oxide is good at. It transports oxygen to your muscles, helping you beat plateaus and set new personal records.
The electrolytes also boost physical and mental performance. When you sweat during strenuous workouts, you lose electrolytes, and a deficiency leads to poor performance. With the electrolytes in Pump-N-Grow, you give your body a quick boost before each workout, ensuring electrolyte levels stay high.
PEScience High Volume Nitric Oxide Booster
Best For: Anyone looking to take their muscle pumps to the next level.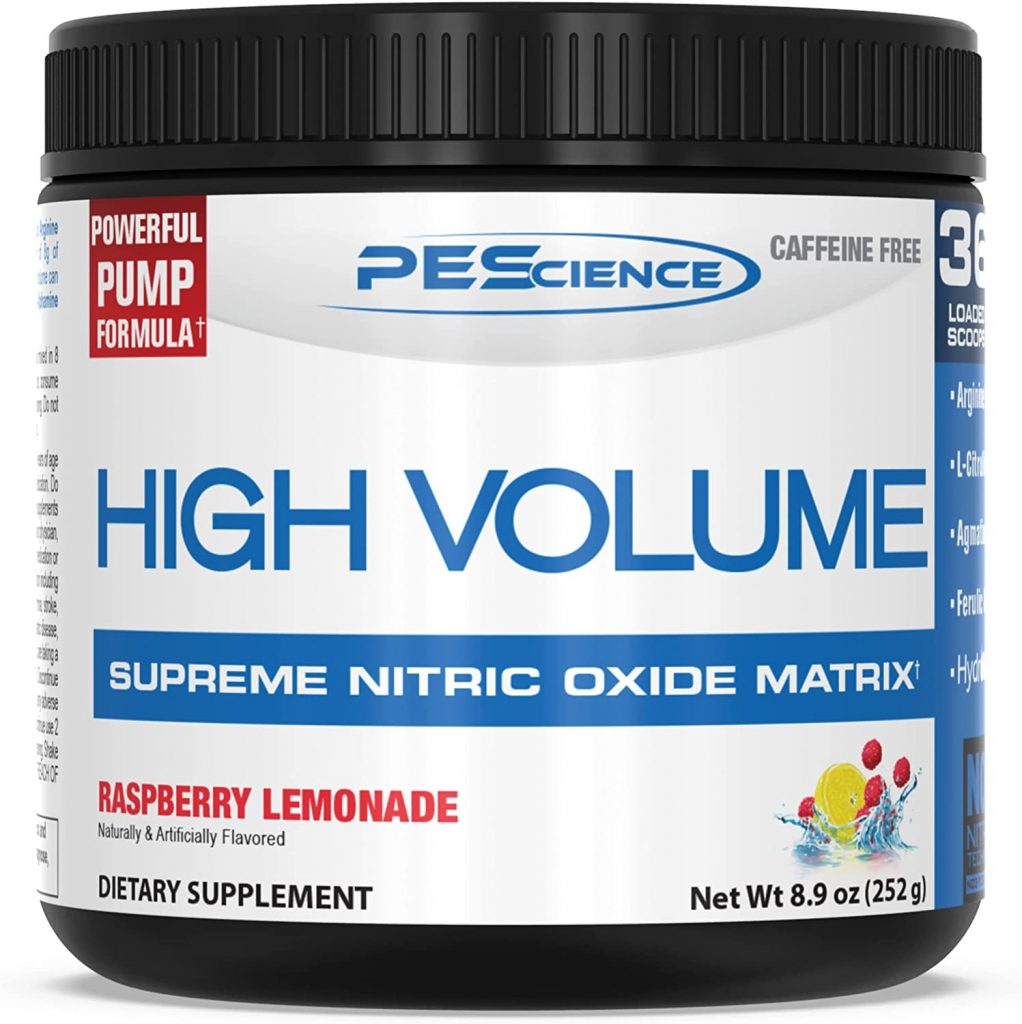 PEScience High Volume pre-workout is specially designed for more powerful and longer-lasting pumps. It uses many ingredients that dilate blood vessels and improve blood flow. This include:
Vitamin C
Ferula asafoetida
Taurine
L-citrulline
This makes it perfect for drinking before an arm workout since it'll give you sleeve tearing pumps.
For example, studies show vitamin C protects proteins from oxidative damage during training. This allows you to push harder and recover faster.
Also, ferula asafoetida is a potent vasodilator. This means it opens blood vessels, improving blood flow. Since pumps occur when your body sends more blood and nutrients to the target muscle, expect to experience bigger pumps.
The taurine and L-citrulline also dilate blood vessels while improving performance.
You'll find exotic flavors like:
Sour peach candy
Melon berry twist
Blue frost
Cotton candy
Strawberry kiwi
The only drawback is we don't know how much of each ingredient this pre-workout contains because it's in a proprietary blend. This means brands must disclose what they're using but don't have to state the exact amount.
This is worrying because consuming too much taurine can lead to toxicity and health effects like muscle weakness and eye damage.
If you are still looking for ways to promote the growth of muscle, consider reading our guide to different keto pre workout mixes!
Zhou Lite Up Non-Stimulant Pre Workout
Best For: New gym-goers looking for a basic, caffeine-free pre-workout that offers a subscription.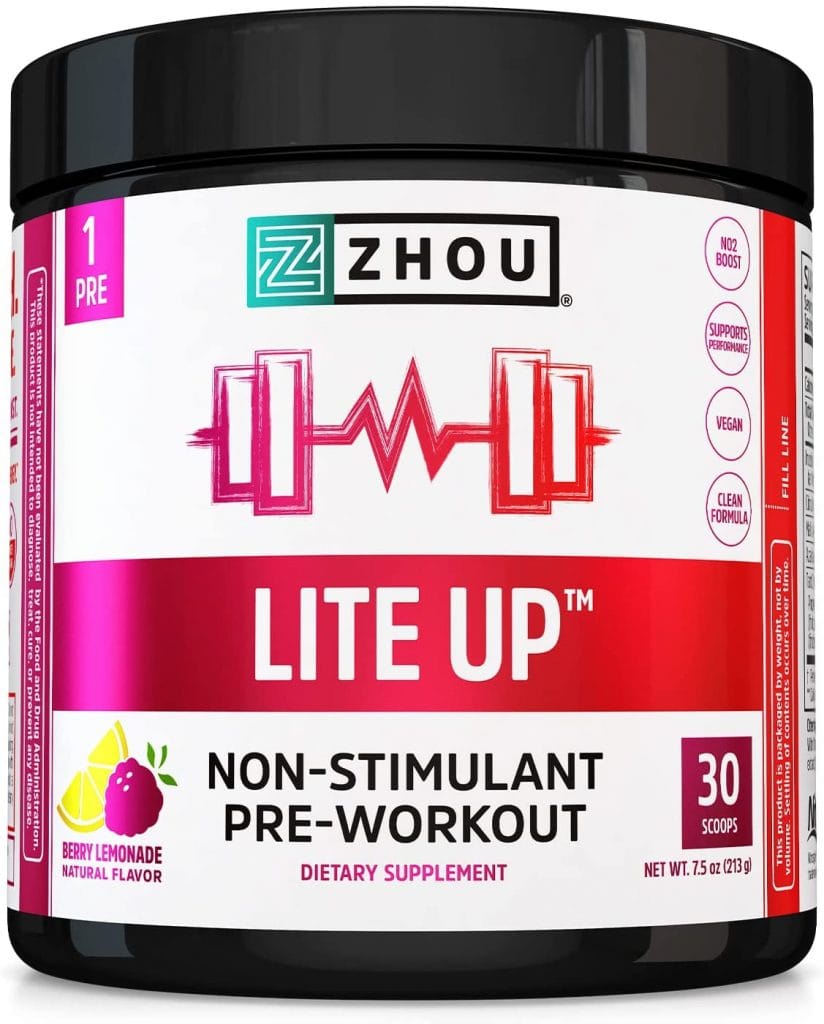 Zhou Lit Up is another pre-workout supplement that delivers more energy and endurance using nitric oxide instead of caffeine. It's also lab-verified by a third-party. So you know what you read on the label is what you're drinking.
Zhou uses ingredients like:
Arginine silicate as nitrosigine
Citrulline malate
Malic acid
It has natural sweeteners like stevia extract and mixed berry lemon to give your drink extra flavor.
You'll find Zhou Lite Up in flavors like:
Berry lemonade
Cherry limeade
Black cherry
However, I feel like the ingredients in this powder are a bit too basic and generic. It doesn't use unique amino acids or nutrients like vitamin C, taurine or ferula asafoetida, which can give it an edge over other products.
But the best part about Zhou is it offers flexible subscription plans so you can save money. This allows you to buy pre and post-workout supplements at a discount, making it a practical option for fitness junkies looking to reach their gym goals on a budget.
You won't have to go online and order all the time. Simply set up and customize your subscription, and you're good to go.
Amplify Caffeine Free Pre Workout for Men and Women
Best For: Active individuals who want a pre-workout that doesn't use proprietary blends.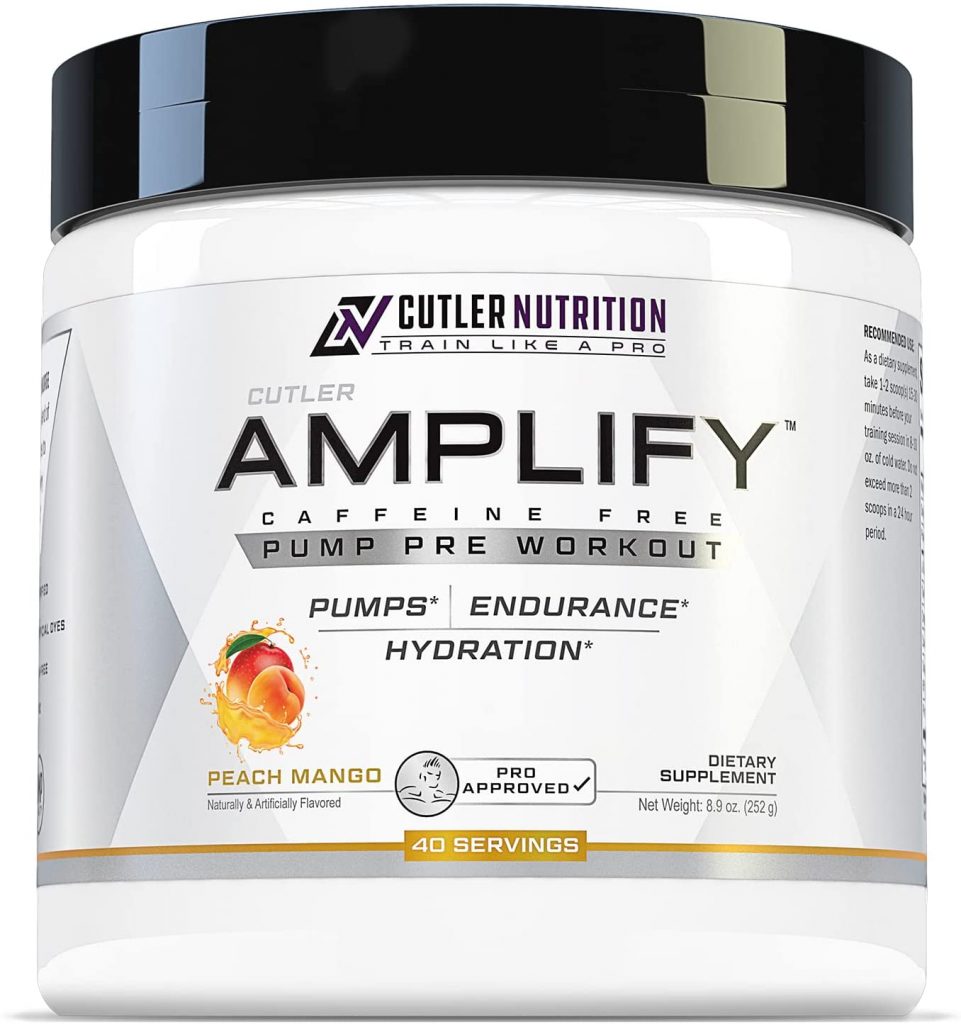 Developed by legendary bodybuilder Jay Cutler, Amplify Caffeine Free pre-workout is a well-researched product that uses optimum amounts of amino acids and electrolytes.
With a massive 5,000 mg of L-citrulline in two scoops of powder, you'll feel the same boost you get with caffeine. It also has other ingredients like:
Magnesium
Sodium in the form of pink Himalayan salt
Potassium
Creatine
Coconut water powder
These compounds ensure you're getting the most out of your workouts. But the main reason why this pre-workout is so popular amongst gym-goers is because of the large number of quality ingredients.
For example, it uses 100 mg of magnesium, 100 mg of potassium, 1500 mg of creatine and 1000 mg of taurine. This just shows Cutler Nutrition did their homework when developing this pre-workout. These amounts give your body the correct quantity to ensure workouts are productive.
Amplify also doesn't use proprietary blends. So you know how much of each ingredient you're getting. You'll find a variety of flavors like:
Peach mango
Sour lemonade
Watermelon
Unflavored
The only drawback is Amplify uses artificial sweeteners like sucralose and acesulfame potassium. So if you're sensitive to these ingredients, opt for the unflavored version.
PMD Sports Ultra Pump Fuel Caffeine Free
Best For: Those who aren't on a keto or low-carb diet.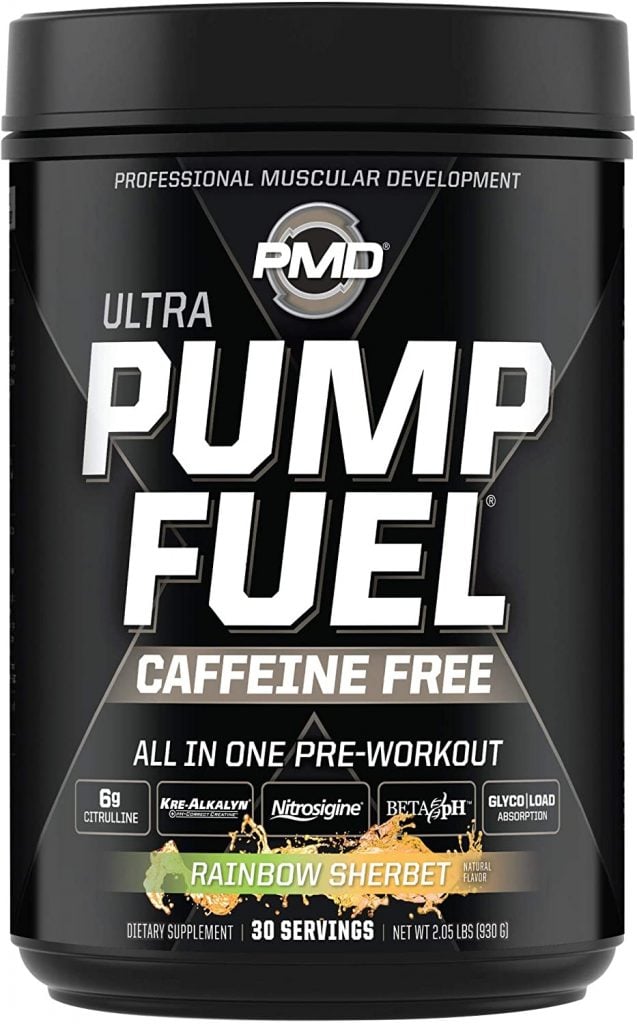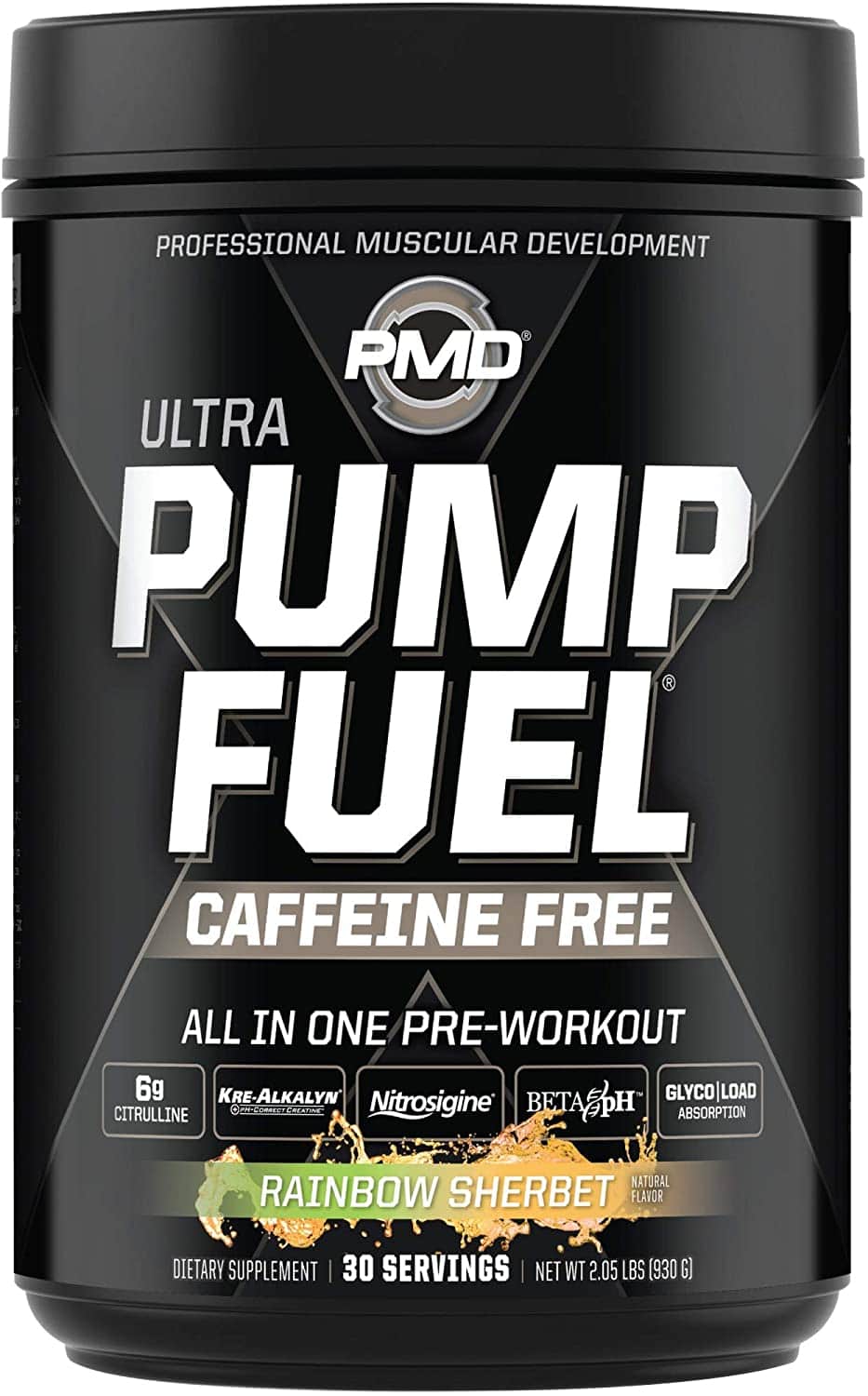 A GNC brand called Performance Muscular Development or PMD created this non-stim pre-workout, and it's becoming increasingly popular amongst weightlifters.
One tub contains 30 servings and zero gluten, lactose, aspartame or yeast. This makes it a good option for anyone with celiac disease, lactose intolerance or artificial sweetener sensitivity. PMD Pump Fuel uses common pre-workout ingredients like:
Citrulline malate
Nitrosigine
BetalpH
Kre-alkalyn
Each serving has 50 calories and 12 grams of carbs. So if you're doing a ketogenic diet, you might want to stay away from this powder since it's high in carbs. If you use two scoops in your pre-workout, that's 24 grams of carbs. This quickly kicks you out of ketosis.
I also noticed PMD uses four proprietary blends in this powder, so you never know the number of amino acids or electrolytes you're drinking. But it does come in flavors like:
Rainbow Sherbet
Island Punch
Cherry Bombsicle
NutraBio PRE Stim Free
Best For: Anyone who wants to try new, exotic flavors like Dragon Fruit Candy and Grape Berry Crush.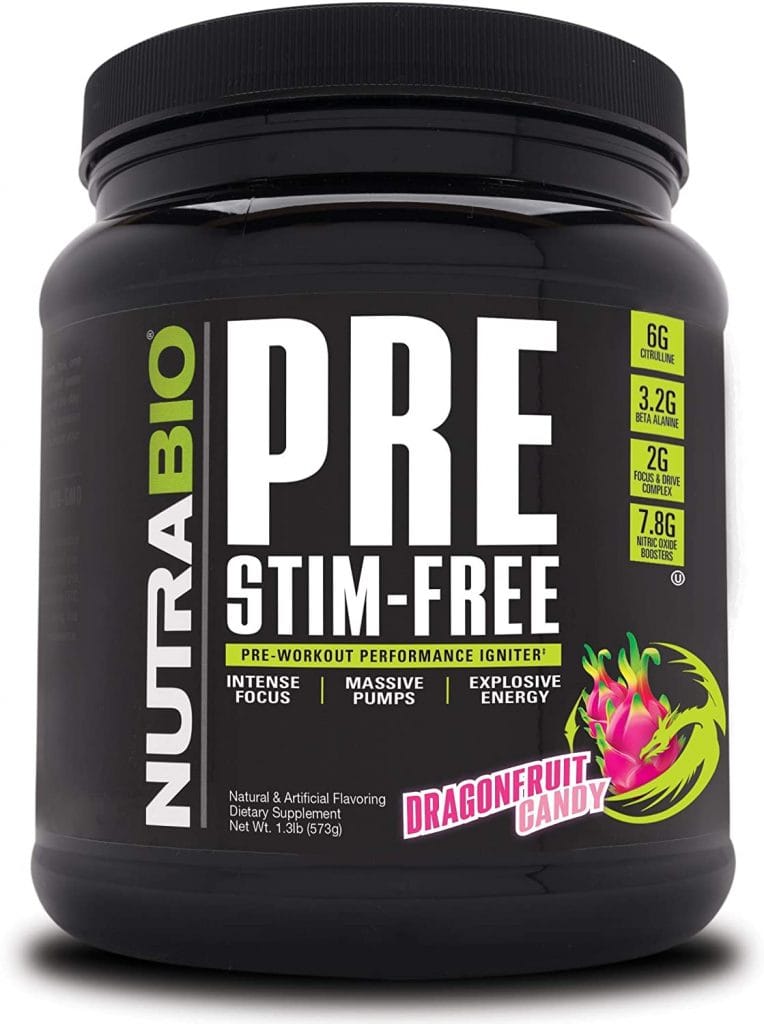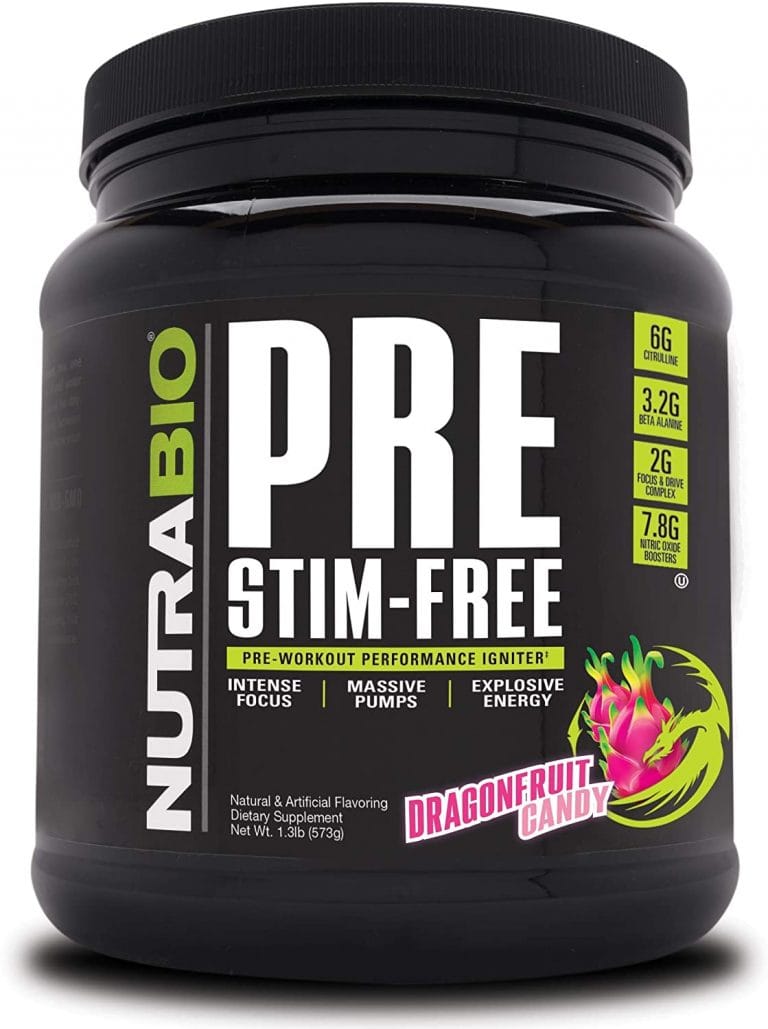 NutraBio designed this stimulant-free pre-workout to enhance endurance and improve focus. It uses large amounts of amino acids like:
L-leucine
Nitrosigine
Malic acid
L-tyrosine
Beta-alanine
You'll also find electrolytes like sodium, magnesium and potassium, boosting performance.
Due to the long list of amino acids, hydration optimizers and electrolytes, you'll notice it gives a similar boost compared to stim powders. But the effects don't last as long. So if your workouts are longer than two hours, you might need to take two scoops or drink another serving during your workout session.
It comes in flavors like:
Dragon Fruit Candy
Grape Berry Crush
Watermelon
Final Word On Best Stim-Free Pre Workouts
If you find yourself crashing after drinking caffeine-based pre-workouts, consider caffeine-free pre workouts. The amino acids, electrolytes and other ingredients give you the energy and focus needed to push yourself when lifting heavy weights.
These stimulant-free pre-workouts also come in several flavors, so you'll never get tired of one taste.
If you're looking for an effective non-stim pre-workout, consider Genius, PUMPSURGE Caffeine Free or Legion Pulse. It's affordable and contains ingredients like L-citrulline, beta-alanine and taurine to ensure you're getting the most out of your workouts.
Written By