We get a lot of requests to do more vegetarian and vegan recipes, but we also know they aren't the most favored by all keto-ers. So, we went ahead and made a Vegan Protein Breakfastthat would satisfy vegans, vegetarians and meat eaters alike! It's filled with nuts, nibs and hemp hearts all atop delicious, chocolate, protein packed…. tofu! Yes, I said tofu, and I'll be honest, I was skeptical at first, but Matt made a believer out of me! Watch him make it below and give it a try at home. I dare you!
How To Make High Protein Vegetarian Meals?
Vegetarians may find it difficult to get a substantial amount of protein in compared to the average meat eater, but we want to let you know that there are plenty of great options! For instance, this recipe uses tofu to create the thick, smoothie like consistency, which is always a great go-to protein source. For vegetarians, eggs and cheese are also great sources of protein and for vegans, and all alike, there are many vegan protein powders that can provide you a good source of protein!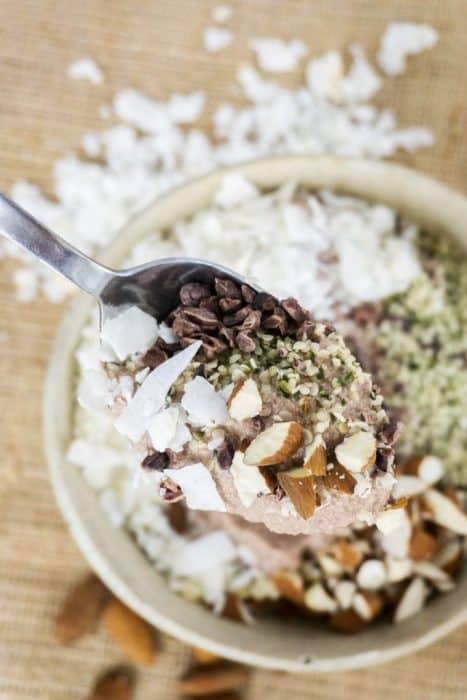 All Types Of Breakfast Bowls!
Bowls filled with different foods and toppings is one of my favorite ways to eat my meals, especially for breakfast! I enjoy starting my day off with a mix of foods to keep me satisfied and energized as I work until my next meal, and this bowl does just that! The protein from the tofu, and nuts, along with the crunch and different flavor profiles excites me to get up and get the day started. Other breakfast bowls you could make are our Mexican Breakfast Bowls, Keto Oatmeal, and Breakfast Skillet, but this vegan bowl has to be my favorite since it's basically feels like eating dessert for breakfast!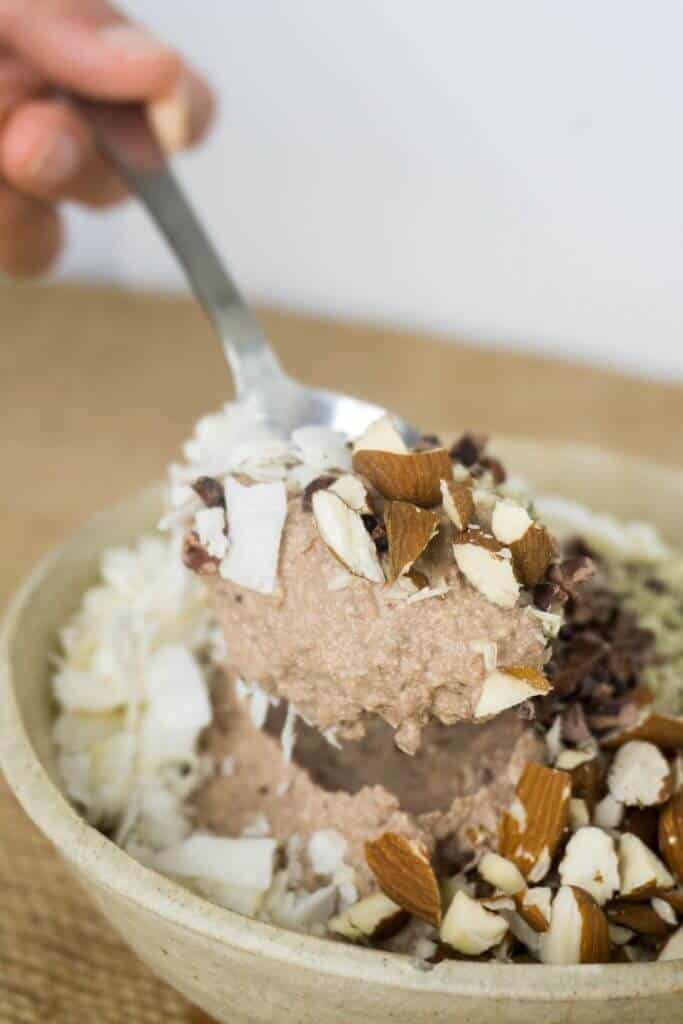 Vegan Protein Breakfast
Whatever your status – vegan, vegetarian, pescatarian, hard core meat eater – this protein bowl makes for a great breakfast! All the flavors and mouth feels you get from this one bowl of delicious food will have you throwing out your old status and wanting to take on "vegan protein breakfast for life" as your new status! It's also great for preparing ahead of time. Don't feel like you are limited to what we provide for you below – make this protein vegan breakfast bowl your own by tossing in some chocolate chips, pumpkin pie spice or berries!

Recipe can be quickly added to MyFitnessPal – Search "KetoConnect – Vegan Protein Breakfast"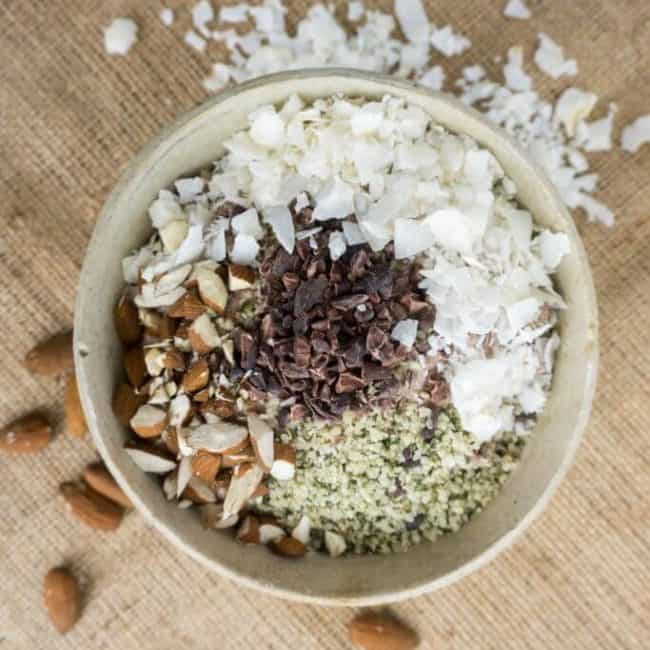 Vegan Protein Breakfast
A quick and filling vegan protein breakfast.
Total Time 5 minutes
Servings 2 servings
Calories per serving 337kcal
Instructions:
Combine all the above ingredients into a blender and combine until you get a thick, uniform consistency.

Store in fridge up to one week. Enjoy!

Optional: Top your bowl with almonds, hemp hearts, cocoa nibs, and/or cocoa powder.
Nutrition Facts
Vegan Protein Breakfast
Amount Per Serving
Calories 337 Calories from Fat 185
% Daily Value*
Fat 20.5g32%
Carbohydrates 12.5g4%
Fiber 8g32%
Protein 28g56%
* Percent Daily Values are based on a 2000 calorie diet.