Take a trip down your fast food memory lane and order some keto Taco Bell. Flour tortillas and rice aren't necessary when it comes to grabbing a quick, Mexican meal. There are countless keto fast food options out there and Taco Bell has some delicious keto-friendly meals to offer.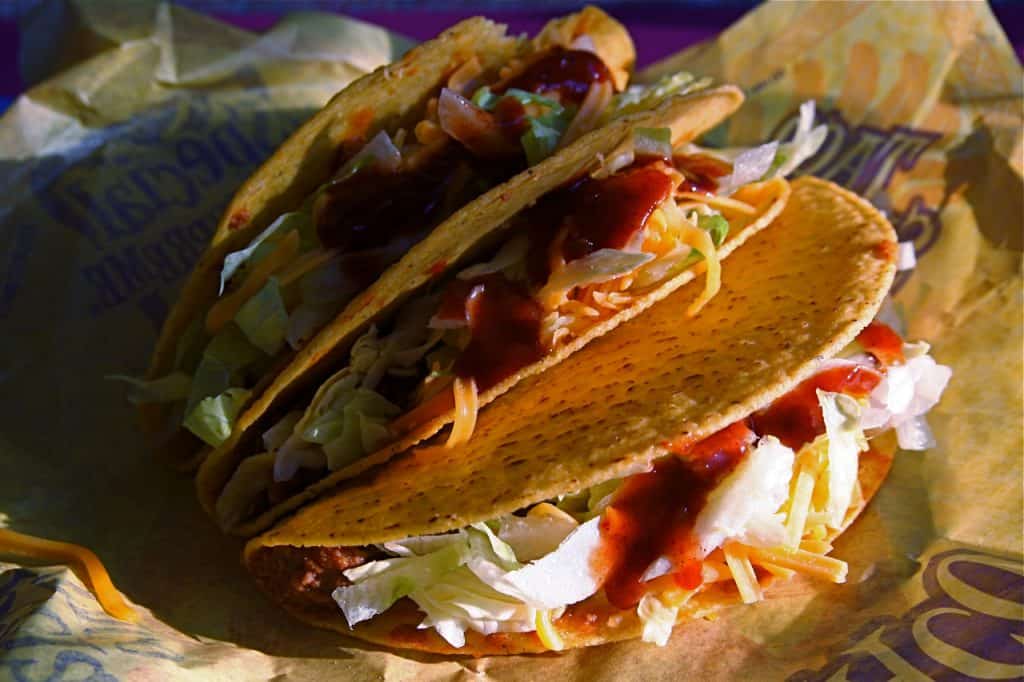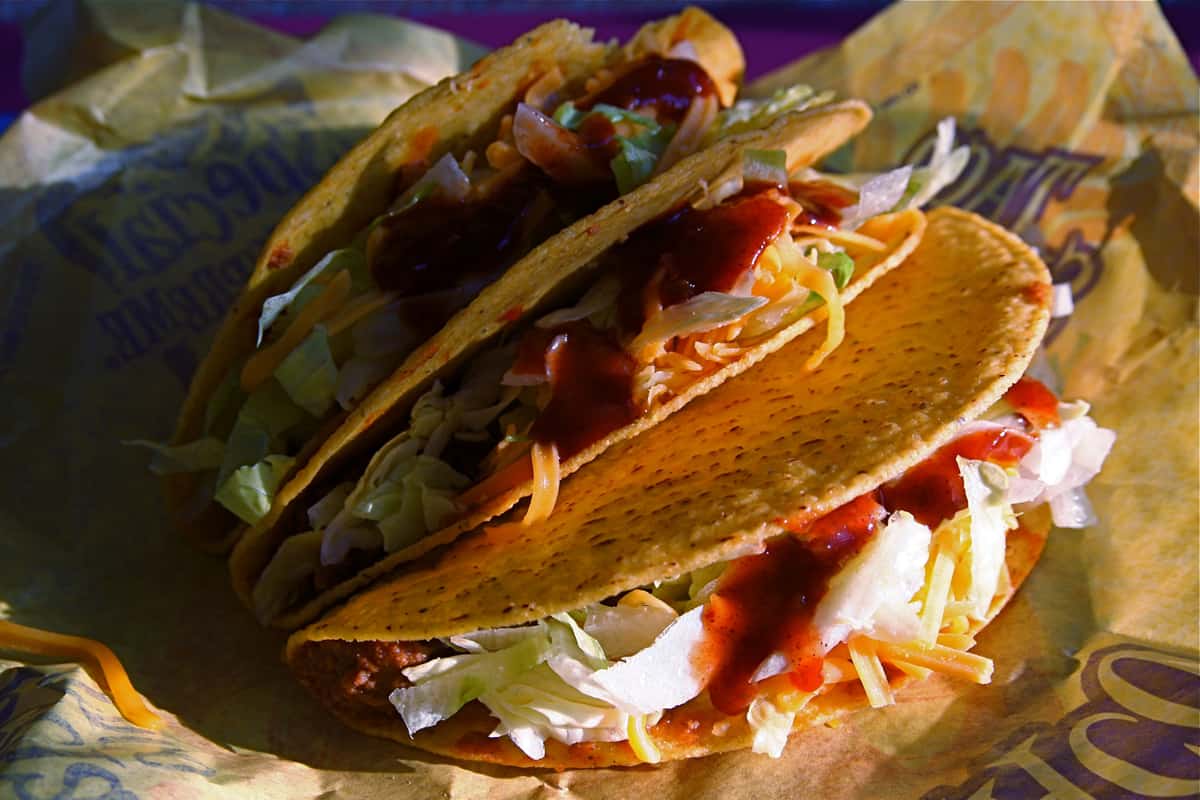 YES! You can order Keto from Taco Bell, and it can be a healthy, satisfying meal. Just stick to these guidelines and ordering a low carb meal will be simple.
A few of our other favorites are McDonald's, Starbucks, and Chick-Fil-A. Read our Keto Dining Guide for more info on how to order from your favorite fast food restaurant.
4 Tips for Eating Keto Taco Bell
We all find ourselves in tight situations on the keto diet, whether you're in a hurry and need a quick meal, or on the road and don't have any keto snacks packed in the car. Use these keto fast food tips to stay on track.
Ask for any breaded items (chicken) to be grilled instead. 
Avoid all rice and tortillas. Ask for extra veggies or a side salad instead.
Most of their sauces are keto-friendly, but salsa and sour cream will be the healthiest options.
How Many Carbs in a Taco Bell Taco?
On a keto diet, people should stay within the 20-50g range per day, so a Taco Bell taco is most likely off limits. Here are the carb counts for Taco Bell's most popular items.
Taco Bell Keto Hacks
Taco Bell is open to menu modifications. In fact, they invite you to "customize" any of the items on their menu, so don't be afraid to get creative with your order.
1. Add Fat to Your Meal
Taco Bell has a variety of tasty ways to add fat to your meal. This will help you hit your keto macros for the day and keep you fuller for longer. Add any or all of the following to your meal:
Shredded Cheese
Sour Cream
Low-Carb sauces (see below)
Guacamole
2. Enjoy Taco Bell Keto Sauces
Creamy Jalapeno Sauce – 1g carb
Guacamole – 1g net carb
Nacho Cheese Sauce – 1g carb
Creamy Chipotle Sauce – 0g carb
Avocado Ranch – 1g carb
Spicy Ranch – 1g carb
Red Sauce – 2g carb
3. Avoid these Ingredients
The base of most Taco Bell menu items is high carb, but it's not difficult to swap the tortillas and rice for salad or extra protein. Avoid the following:
Beans
Fritos
Potatoes
Seasoned Rice
Black Beans
Taco Shells and Tortillas
Nachos
Fries
4. Order a La Carte
Whenever you're in doubt at a restaurant, just order individual items that you know are keto. This is especially easy at Taco Bell. Similarly to eating Keto Chipotle, you can create a bowl using the following keto items.
Lettuce
Beef, chicken, eggs, bacon…etc.
Cheese
Veggies
Sour Cream
Guacamole
Low-Carb Sauces (see list above)
What Can I Eat Keto at Taco Bell?
While Taco Bell offers a variety of ways to eat keto on-the-go, it's important to remember not everything on the menu is optimal for your health. The low-carb sauces are most likely made with unhealthy vegetable oils and there could be added preservatives in the meat and dairy.
Remember, cooking healthy keto recipes at home with simple ingredients is always our number one option, but a fast food meal is totally find when you're in a pinch. Here is how to order keto Taco Bell.
Taco Bell Low-Carb Menu – Five Orders
These five Taco Bell orders are totally keto friendly and easy to customize. Add more guac or omit the cheese. Douse it in hot sauce if that's your style. Get creative!
1. Mini Skillet Bowl – 5g net carbs
Order the Mini Skillet Bowl, but replace the potatoes with a meat of your choice. Up the fat with some guacamole, extra cheese, or a drizzle of any of the low-carb sauces.
Bowl: Eggs, steak, cheddar cheese, sour cream, guacamole, creamy chipotle sauce.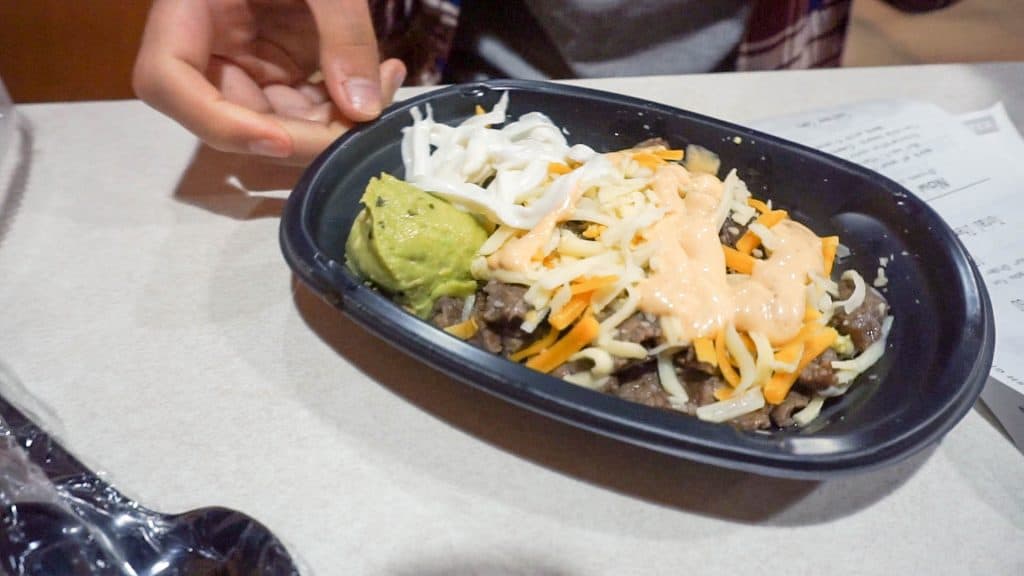 2. Fiesta Taco Salad with Chicken – 10g carbs
Order the Fiesta Taco Salad and ask for no beans, no rice, no shell, and no Red Stripes (chips). This ensures your salad is filled with only the good stuff – lettuce, cheese, chicken, sour cream, tomatoes and salsa. Don't forget to add guac if you want more fat.
Bowl: Lettuce, chicken, cheddar cheese, sour cream, guacamole, tomatoes, salsa.
3. Power Menu Bowl – 6g net carbs
Power up with a keto version of the Power Menu Bowl. Omit the rice and beans and you're left with a high fat, high protein keto Taco Bell lunch. We added lettuce and bacon for more volume. Wash it down with water or any of the diet sodas available for purchase.
Bowl: Lettuce, shredded chicken, cheddar cheese, bacon, sour cream, guacamole, bacon, Avocado Ranch Sauce.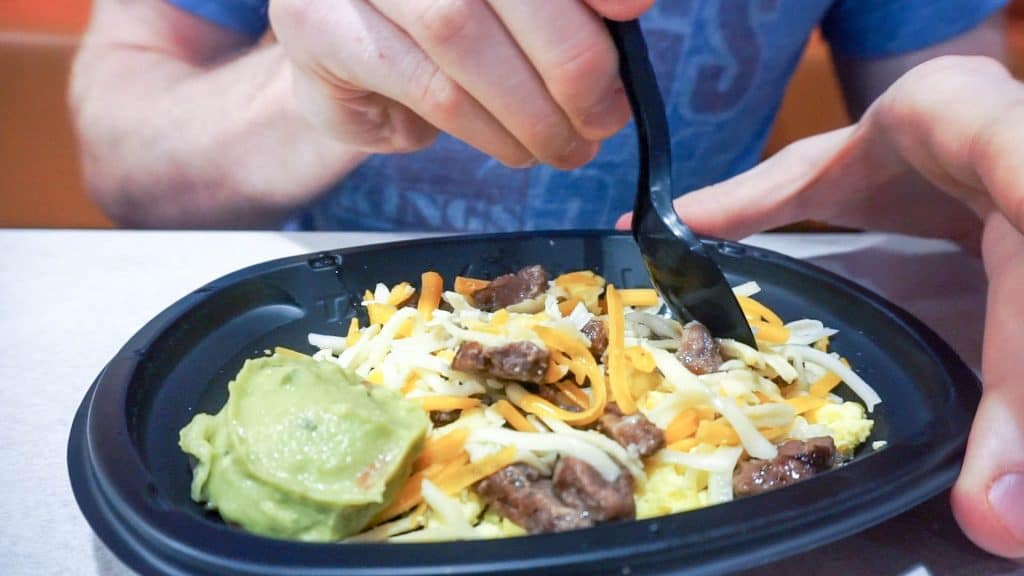 4. Grande Scrambler Burrito – 7g carbs
Order a Grande Scrambler Burrito as a breakfast bowl instead of a burrito and ask for no potatoes. This is a quick and easy keto breakfast you can top with guacamole, tomato, or salsa.
Bowl: Pico de gallo, sour cream, cheddar cheese, and a choice either bacon, sausage, or steak.
5. Beefy 5-Layer Burrito – 6g net carbs
As per usual, you're going to ask for this burrito to be a bowl. This will eliminate the carb-heavy tortilla and and beans. You will be left with meat, cheese, tomatoes, and jalapeños.
Bowl: Nacho cheese, seasoned ground beef, grated cheddar cheese, sour cream. Optional: lettuce, guacamole, salsa.
Homemade Keto Mexican Food
Keto Taco Bell is a great option when you're on the road or in a hurry, but nothing is as tasty or as nutritious as our homemade Mexican recipes.
Check out our full Keto Fast Food guide for our top five favorite fast food joints, or browse the guides below.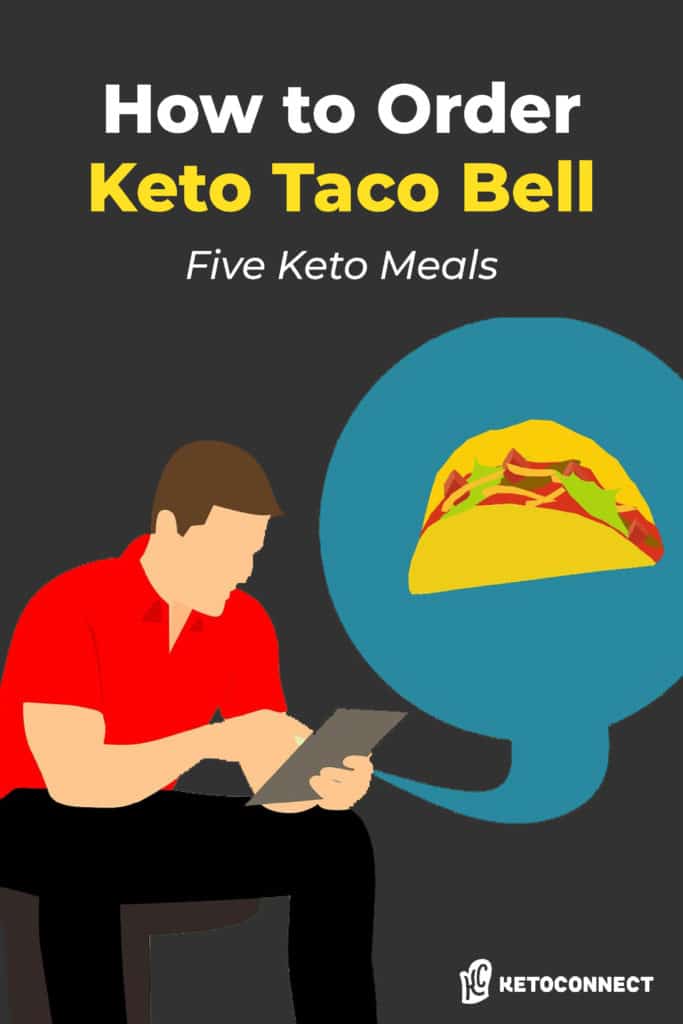 Written By