Growing up I always asked for a carrot cake for my birthday cake and my love for carrot cake has not ended since going keto. This Carrot Cake Cookie Recipe is exactly what you've been looking for if you're a carrot cake lover just like me! It's simple to make and a great recipe to put your own tweak on with the addition of different nuts and spices. We kept it simple with a sweet maple flavor and crunch from carrots and walnuts.
Everyone Loves Carrot Cake…
And everyone also loves cookies so why not combine the best of both worlds and make carrot cake cookies! Once you make them you'll find that they truly are a combination of cake and cookie in one. They aren't hard or crunchy like a traditional cookie, but they aren't super soft like cake. You'll be able to relive your love for carrot cake once again while maintaining your low carb life style. Many of you may not be the biggest fans of walnuts or carrots so leave them out completely and still be left with a great cookie or swap them out for your favorite add ins to suit your cookie needs!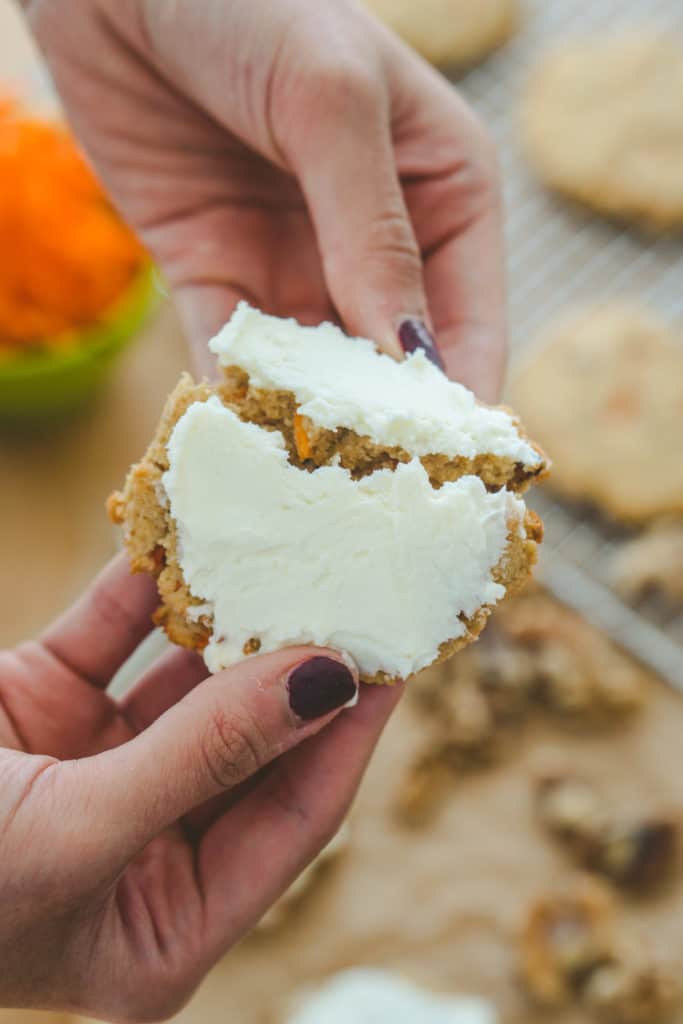 Cream Cheese Frosting To Top!
We intentionally made these cookies less on the sweet, and the reasons are the following: 1. Carrot cake is generally sweet, but not as sweet as traditional birthday cake, and 2. We wanted this to be a good option for those who are looking for a breakfast cookie that don't want dessert in the morning. For those reasons we created a cream cheese frosting to top them with and if you are a dessert lover the frosting is a must! It's rich and thick, and the perfect complement for these carrot cake cookies. You can also up the amount of erythritol you use in the cookies to make them sweeter. Other great desserts that would make for a good breakfast or be great with a cream cheese frosting are our high fiber muffins and keto protein cake!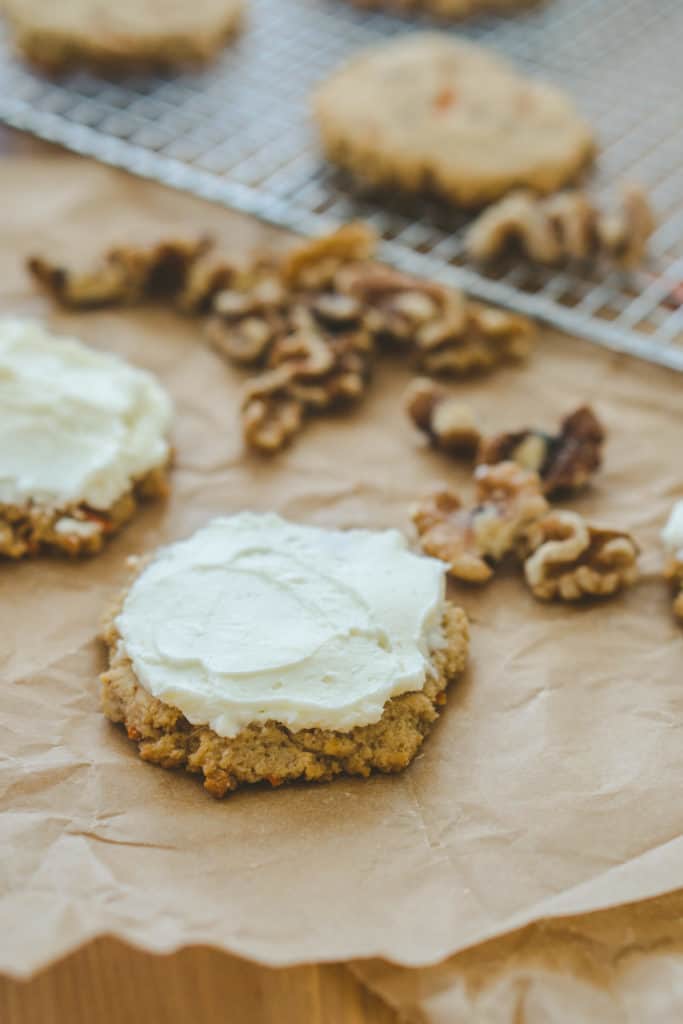 Keto Carrot Cake Cookie Recipe
This recipe is truly the perfect replacement for carrot cake in a low carbers life. You can literally have your cookie and eat it too! It's the perfect balance of sweet maple and crunch from the walnuts and carrots. You could probably make a carrot cookie cake out of this recipe if you have a family member or friend who loves carrot cake and has a birthday coming up! If you do make this carrot cake cookie recipe don't forget the cream cheese frosting!
Recipe can be quickly added to MyFitnessPal – Search "KetoConnect – Keto Carrot Cake Cookies"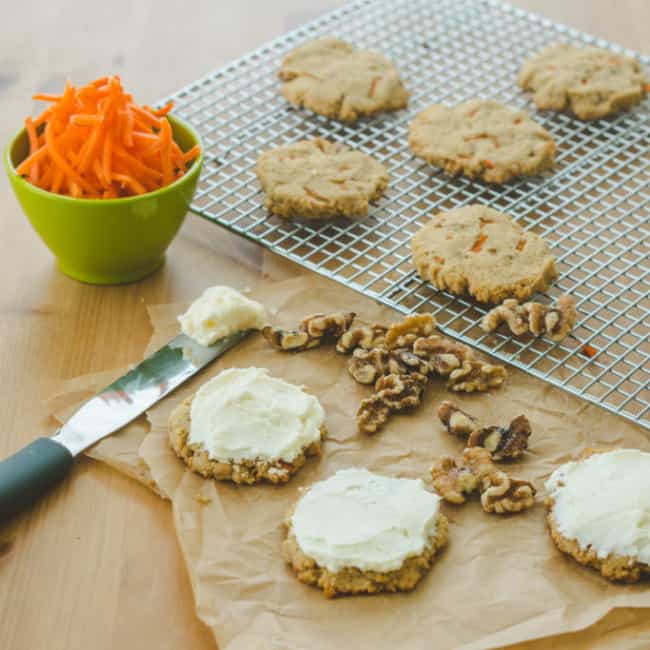 Carrot Cake Cookie Recipe | Cream Cheese Frosting!
Total Time 40 minutes
Servings 12 cookies
Calories per serving 113kcal
Prep Time: 10 minutes
Cook Time: 15 minutes
Instructions:
Preheat your oven to 350 degrees and line a baking sheet with parchment paper.

In a medium bowl combine the almond flour, coconut flour, baking soda and salt. Mix with a whisk and set aside.

In a large mixing bowl add the butter and melt in the microwave.

Add the erythritol to the melted butter and whisk to combine. Add in the egg and maple extract and combine.

Add the dry ingredients into the wet in two batches and whick to combine until you get a dough.

Roughly chop up the walnuts and carrots and add to the dough.

Using a spatula fold everything together evenly.

Using a 1 inch cookie scooper, scoop out 12 cookies on to the baking sheet. Flatten them out with your hand to the size of your liking (they will not spread in the oven).

Bake for 12-14 minutes until slightly browned.

Allow to cool for 15 minutes prior to handling. Enjoy!

Store in a zip top bag in the fridge up to 2 weeks.

Tip: Make our cream cheese frosting to top!
Nutrition Facts
Carrot Cake Cookie Recipe | Cream Cheese Frosting!
Amount Per Serving
Calories 113 Calories from Fat 90
% Daily Value*
Fat 10g15%
Carbohydrates 3.5g1%
Fiber 1.9g8%
Protein 3g6%
* Percent Daily Values are based on a 2000 calorie diet.
Written By