Oh man, this recipe is going to blow you away! If you love pizza and muffins, and you're looking for a two in one, this is it! These Pepperoni Pizza Zucchini Muffins are great for on the go and can be tailored to your liking! They are moist, dense and extremely filling! Watch me make them below so you can make these today.
Why We Love Easy Muffin Recipes!
Why are savory muffins so easy to make? Well, all you have to do is combine everything, plop it in a muffin tin and bake away. You'll get a perfectly constructed and delicious muffin every time. These zucchini muffins in particular have a great base of egg, zucchini and cheese that allows you to flavor it with whatever additions and seasonings! We went pizza style, but you can do it caprese style with mozzarella, chicken and cherry tomatoes or like your favorite hamburger with mini pickles, ground beef and bacon. The possibilities are endless!
No One Likes Dried Out Muffins!
You may not know it, but this recipe gives you the secret to moist muffins every time, and the secret is zucchini! Grated zucchini bakes into the perfect muffin and bread, minus the flavor of zucchini, plus the moist texture of the best baked goods! And, it works for savory and sweet. You've got pepperoni pizza zucchini muffins on one end and brownies on the other end - equally as moist, equally as delicious!
Pepperoni Pizza Zucchini Muffins
Bite sized anything is pretty much a huge hit in our household. We are more easily able to track our overeating that way haha. We've even got Keto Muffins for the perfect on the go breakfast, and No Bake Cashew Cheesecake for an easy, bite sized dessert when you don't want to risk eating an entire recipe! Sweet treats are always fun to have around, but not always the best if you're working on your eating habits. So, if you are looking for something to fill that muffin void be sure to give these pepperoni pizza zucchini muffins a try!
Nutrition (per muffin)
Calories: 101.5
Fat: 6.2g
Protein: 6.2g
Carbs: 6
Fiber: 2.3
Net Carbs: 3.7g
Recipe can be quickly added to MyFitnessPal - Search "KetoConnect - Zucchini Muffins"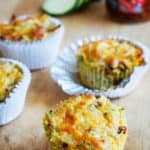 Pepperoni Pizza Zucchini Muffins
Servings

Prep Time

6

muffins

15

minutes
Servings

Prep Time

6

muffins

15

minutes
Pepperoni Pizza Zucchini Muffins

Servings

Prep Time

6

muffins

15

minutes

Servings

Prep Time

6

muffins

15

minutes
1

medium

zucchini

2

large

eggs

1/4

cup

Shredded mozzarella cheese

1/4

cup

Shredded Cheddar Cheese

1

oz

sun dried tomatoes

8

slices

pepperoni

3

tbsp

Coconut flour

We use this!

1/4

tsp

Baking powder

We use this!

1/2

tsp

Oregano

We use this!

1/4

tsp

garlic powder

We use this!

1/4

tsp

salt

1/8

tsp

black pepper
Grate zucchini into a bowl and remove any excess liquid in the bottom of the bowl from the zucchini. Add the eggs and combine.

TIP: You can also squeeze out the liquid from the zucchini with your hands for a less densely moist muffin!

Chop up the sun dried tomatoes and pepperoni and add them to the zucchini along with all the seasonings and cheese. Combine well.

Add coconut flour and baking powder and combine.

Grease a muffin tin and scoop some of the mixture into each muffin tin, filling it to the rim. Sprinkle with additional cheese.

Bake at 400 for 20-22 minutes. Allow to cool for 15 minutes and enjoy!

Store in sealable container for up to 5 days.