One of the foods Matthew and I bonded over early on in our relationship was Cinnabon, so we had to recreate our love in a sugar free donuts version! Yes, I'm talking about the cinnamon rolls that should be illegal to make because of how consuming the smell and taste are, but also the same cinnamon rolls that we thank the dessert lords for everyday! It is undeniable that Cinnabon is the ultimate food, which is what makes this dessert recipe the ultimate keto food!
Fried, Homemade Donut Recipe!
Who doesn't love fried food? If you said "me" then this recipe may not be the one for you. The perfectly round, cinnamon sugar, heavenly bites are deep fried in coconut oil and it's the only way these should be made! Well, you could possibly bake them if you wanted, but we didn't go that route. We filled a pot with coconut oil so that the donuts would be able to fully submerge and cranked the heat to high. We used a thermometer to track the level of heat and once it hit anywhere from 320-350 degrees we dropped in the donuts and they did the rest of the work! Check out the video above to see them flip in the oil when they are ready to be cooked on the other side - it's the cutest!
How To Make A Glaze For Your Donut Holes.
I always find that glaze is essential to finishing off any donut the right way. It could be plain, chocolate, pumpkin pie spice or in this case cinnamon and cream cheese! The cream cheese provides the perfect thickness for the glaze making this the most decadent dessert we've made up until this point. Without the glaze the donuts are good, even great, but with the glaze they are phenomenal. MAKE THE GLAZE!
Sugar Free Donuts
I suppose it's possible that Cinnabon isn't your favorite food, which would mean it's not your favorite form of donut. If that is the case, not to worry because we have other donut recipes for you to try! You could give our keto donut holes, made using carbquick a try, or go big with our chocolate protein donuts with glaze! However, I think it's impossible for these sugar free donuts not to win you heart over in the end!
Note: Since the donuts are deep fried the fat content will vary, but protein and carbs will remain the same. Also, take into consideration that we have made more than enough icing to coat all the donuts so that will change the full macros of the iced donut holes!

Nutrition (per serving - 5 donut holes)
Calories: 463.5
Fat: 41g
Protein: 8.5g
Carbs: 17
Fiber: 12
Net Carbs: 5g
Recipe can be quickly added to MyFitnessPal - Search "KetoConnect - Sugar Free Donuts"
Nutrition (all of the icing)
Calories: 344
Fat: 35g
Protein: 2g
Carbs: 5g
Fiber: 0g
Net Carbs: 5g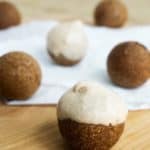 Sugar Free Donuts | Cinnabon Donut Holes!
Servings

Prep Time

Makes

- 11 donut holes

10

minutes
Servings

Prep Time

Makes

- 11 donut holes

10

minutes
Sugar Free Donuts | Cinnabon Donut Holes!

Servings

Prep Time

Makes

- 11 donut holes

10

minutes

Servings

Prep Time

Makes

- 11 donut holes

10

minutes
2

tbsp

cream cheese, room temperature

1/2

cup

powdered erythritol

We Use This!

5

tbsp

Heavy Whipping Cream

1

tsp

ground cinnamon

We use this!
Servings:
- 11 donut holes
Add enough coconut oil to a saucepan so that the donut holes can fully submerge. Turn the heat to high and place a thermometer in the coconut oil to get it to the perfect temp for frying the donuts - 330 to 350 degrees.

Add all your dry ingredients to a bowl, combine and set aside.

In a separate bowl combine all the wet ingredients. Mix using a hand mixer and add the dry ingredients to the wet mixture in two parts as you mix.

Allow the mixture to rest for 3-5 minutes. The final dough should be able to easily be formed by your hand without it being too sticky.

Pre roll all your donuts and place them on a plate while your coconut comes to full heat. Plop in half the batch and allow them to cook for 6-8 minutes. They will turn on their own when they are ready to fry on the opposite side!

Place all the fried donuts on a paper towel and allow to cool.
Cream the room temperature cream cheese in a bowl. Add the erythritol, heavy whipping cream and cinnamon and combine with a hand mixer.

After the donut holes have cooled, ice them to your liking! Enjoy!