Keto Roll Revisited
We liked the first Keto Roll we did so much we decided a remix was in order! After making the Philly Cheesesteak Keto Roll we started coming up with ideas for other variations we could try. When the dust settled at the KetoConnect corporate headquarters(the couch in our 1BR apartment) we had a clear winner. Tikka Masala Keto Roll! Megha has an amazing Low Carb Tikka Masala recipe that she made a few days prior which was still sitting in the fridge, so that made the decision a little easier.

The Keto Roll
The basics of a Keto Roll are the filling, the wrapper, and the breading. The finished product faintly resembles a Fried Spring Roll, but with way more fat, protein, and oh ya..flavor!

Start by laying out a couple of pieces of sliced deli meat on a piece of plastic wrap. 3-5 pieces will usually do the job. Be sure to overlap them in such a way that there are not many holes showing through. We're using regular old Oven Roasted Chicken this time. If you're lucky enough to stumble upon some Indian spiced deli meat, definitely grab that instead. That's part of the fun of Keto Rolls. Once you have the basics down there are no rules! You can switch out ingredients however you like. Now pile on the Chicken Tikka Masala. We're also going to add in some red onion, but cilantro, or an Indian chutney would also go great in here.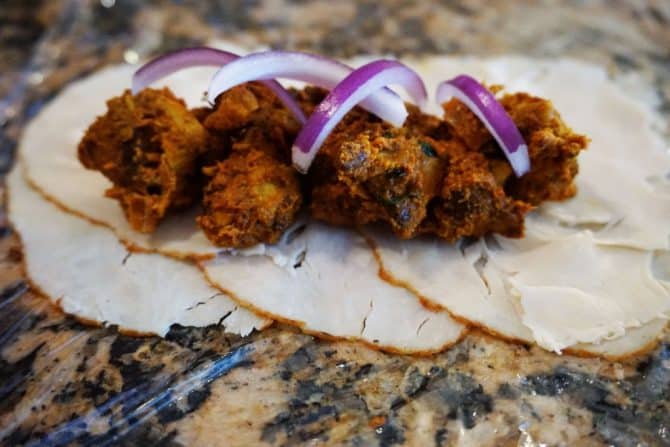 Once all the ingredients are assembled we can roll it up. It's easier than it seems. Just lift the plastic wrap with one hand and tuck in all the loose ends with the other. Eventually it should look like this: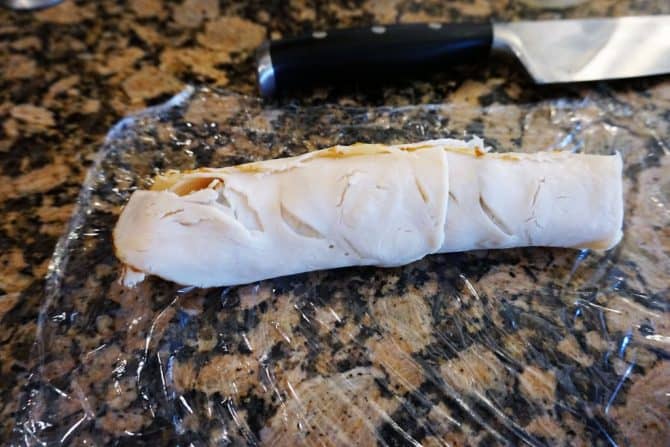 On to the breading. 3 simple stations are needed to get the crispy exterior we are looking for. Coconut flour flavored with curry powder, egg wash, and ground pork rinds. For the pork rinds you can use a food processor if you have one, otherwise a ziploc bag and some elbow grease will do just fine. Follow the order of coconut flour > egg > pork rinds.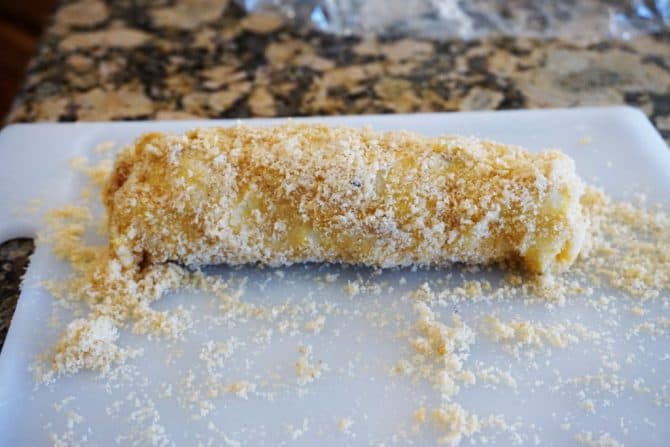 Now all that's left to do is to pan fry this monstrosity. I like to use a smaller pan, therefore using less oil.
We use a 7 inch stainless steel skillet
. Put a few tablespoons of
coconut oil
in the pan. The amount of oil varies depending on pan size. What you really want is about 1cm of oil in the pan. When the oil is up to temperature place the Chicken Tikka Masala Keto Roll in.
Pro Tip:
Use tongs to hold the roll and fry the 2 ends for 1 minute each first. This will create a seal so none of the interior goodness falls out into the pan.
Cook on each(4) side for 3-4 minutes on medium high heat. After a total cooking time between 10-15 minutes, remove the Chicken Tikka Masala Keto Roll from the pan and place onto a paper towel to cool for 5 minutes. Cut in half and enjoy!
Get Our Top 10 Recipes of 2016 E-CookBook Free!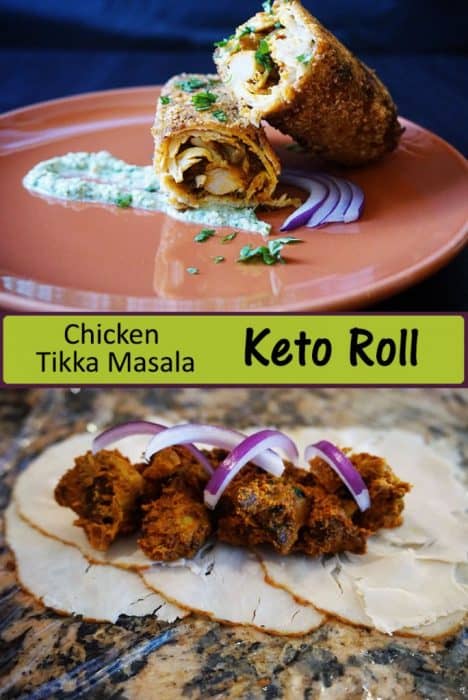 Nutrition(per large roll)
Calories:576
Protein: 33g
Fat: 46.5g
Carbs: 13g
Fiber: 4g
Net Carbs: 9g
---
Check Out Our Other Keto Recipes!
Keto Cheddar Jalapeno Biscuits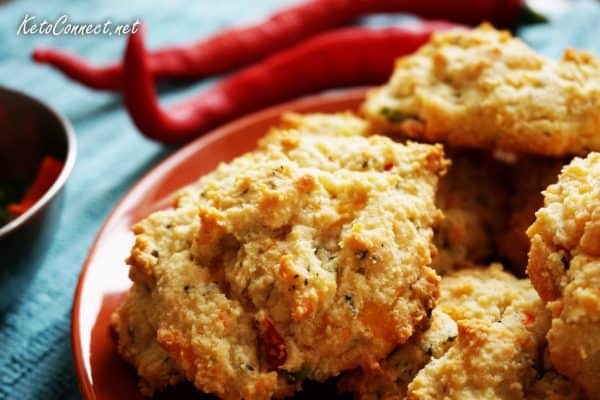 Low Carb Caprese Chicken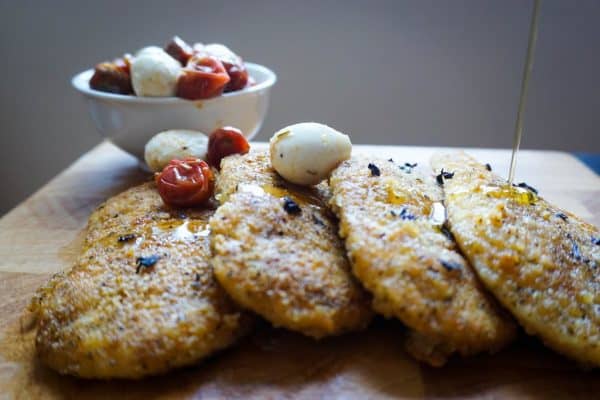 ---
Lay the Sliced Chicken down on a layer of plastic wrap. Overlap each piece slightly.

Place the Chicken Tikka Masala and Red Onion on top the the Sliced Chicken. Place it towards one side so it's easier to start rolling.

Now form the roll. Lift up the plastic wrap with 1 hand while making sure none of the ingredients fall out with the other. If you just keep lifting the plastic wrap it should form a nice roll.
Stick 2oz(about 8 Pork Rinds) into a food processor. Blend until a fine powder is formed. You can do this by hand by placing the Pork Rinds in a ziploc bag and smashing with a rolling pin or wine bottle.

Lay out 3 stations. 1) Coconut Flour/Curry Powder, 2) Egg Wash, 3) Pork Rind dust. Dip the roll into each of them following the order 1-2-3. Allow to sit for 1-2 minutes so the breading settles into the roll.

Heat a non-stick pan to medium heat. Add 2 tbsp of coconut oil and allow it to rise to temperature.

Place the roll into the pan. Start by using tongs and cooking the ends of the rolls for 1 minute each. This will create a seal preventing the ingredients from leaking out.

Cook on each side for 2-3 minutes. Flip 4 times, for a total cooking time of 10-12 minutes.