Pumpkin Pie Meets Pancake
And they get along just fine! I don't know about most of you, but I'm a big fan of the oven baked pancake. This recipe is a modification on our Dutch Baby Pancake recipe we posted a few months ago. This one comes out even more custardy and delicious due to the added moisture and richness in the pumpkin puree. You're not going to find a better fall brunch recipe than this! This pumpkin pie pancake is crisped on the stovetop for just a few minutes before being baked in the oven to perfection.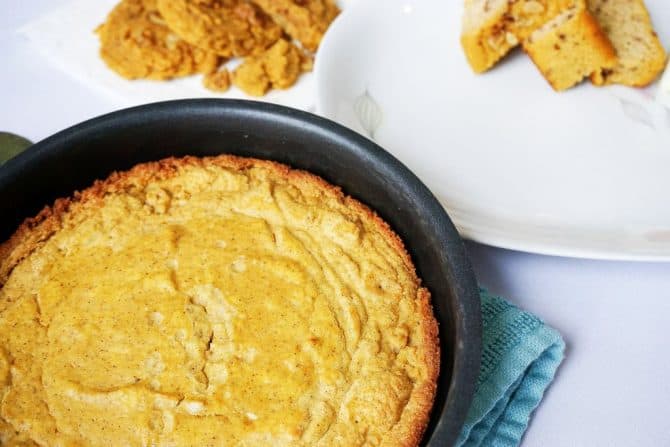 The One Bowl Batter
Making the batter couldn't be easier. You basically just toss everything into a food processor and mix it together. Start with the wet ingredients, process those all together until well-mixed, then add in the dry stuff. It helps if you mix the dry ingredients together separately just because the almond flour is usually pretty clumpy to begin with. Add in the dry ingredients and process the mixture again until you have a batter. The batter should be thinner than standard pancake batter, more like a crepe batter.
Get Our Top 10 Recipes of 2016 E-CookBook Free!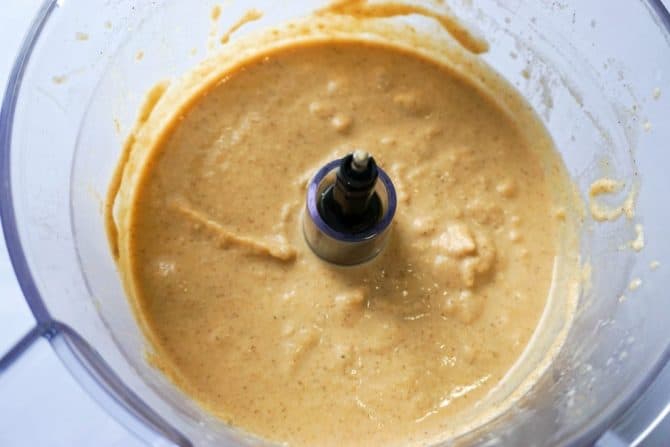 2 Step Cooking Process
There are 2 steps to successfully cooking this pumpkin pie pancake. The first step is to heat a skillet on medium heat on the stovetop. This recipe is sized specifically for a 7 inch skillet. We use this one and we're very happy with it so far. Any skillet will do the job, just make sure you do some conversions on the recipe if you use a bigger/smaller skillet. The only key attribute your skillet needs is the ability to be put in the oven. Heat 2 tbsp of ghee in the skillet and pour all the batter when the ghee is up to temperature. The ghee will be pushed to the sides and even on top of the batter in some places, this is fine! This gives the pumpkin pie pancake it's signature crispiness in certain spots, while being custardy and pumpkin pie-like in other places. Cook on the stove top for 90 seconds, that's all! After 90 seconds place it in the over for 28-30 minutes at 425 degrees.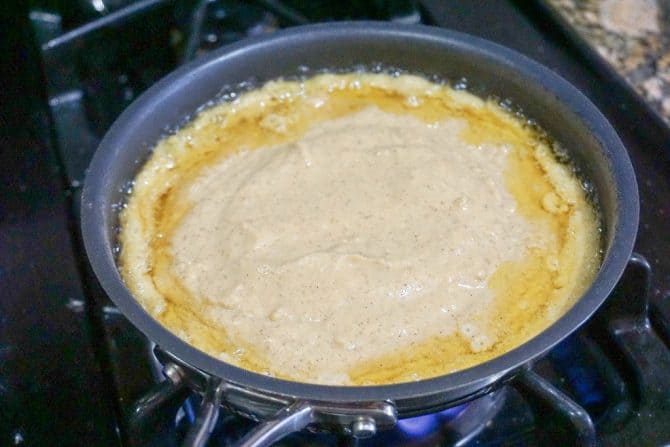 This Pumpkin Pie Pancake is a Crowd Pleaser
I love making this for brunch get-togethers because it takes 5 minutes to mix and cook on the stovetop. Then you just throw it in the oven and it comes out perfect every time. Another reason this recipe is perfect for hosting is that it is extremely easy to pull off a crowd pleasing presentation. When it comes out you can flip it over onto a cutting board. It will be steaming and look incredible. Take it over to the center of the dinner table and allow your guests to shower you with compliments. When the compliments subside you can slice into it and serve. I like to top it with some butter and cinnamon, but whipped cream will also go great.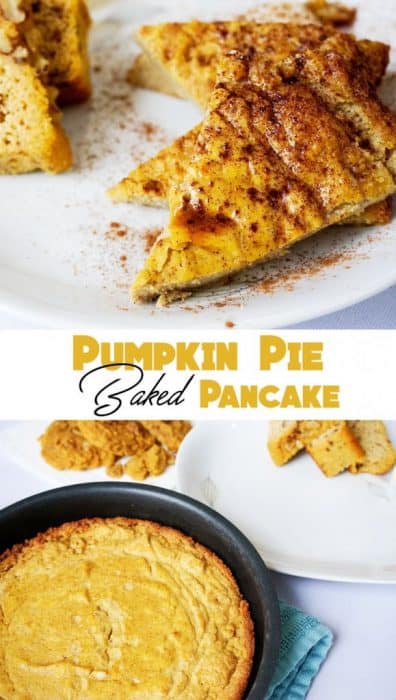 NUTRITION (per serving – 1/4 recipe)
Calories: 187cals
Fat: 16g
Protein: 6g
Carbs: 7g
Fiber: 3.5g
Net Carbs: 3.5g

Preheat oven to 425 degrees

Mix the wet ingredients in a food processor or hand mixer. (Eggs, cream, vanilla, almond milk, stevia, pumpkin puree)

Add the dry ingredients to the wet and continue to mix until evenly combined. (Almond flour, coconut flour, salt, pumpkin pie spice)

Heat a 7 inch skillet over medium heat. Add 2 tbsp of ghee. When the ghee is up to temperature pour all of the batter into the pan. Cook on the stovetop for 90 seconds.

Place in oven for 28-30 minutes. Remove and allow to cool for 5-10 minutes. Flip over onto a cutting board or slice directly out of the skillet. Serve and enjoy!