Instincts

We all have instincts within us that kick in at certain times. It could be a maternal or paternal instinct, a competitive instinct, or something I'm sure we've all experienced – the stress triggered fight or flight instinct. They, in some way, make us who we are. When I set out to cook this dish it wasn't just because I was hungry for Indian food. I was raised in an Indian household, taught how to cook at a young age and often feel the urge to fulfill this practiced behavior even after moving out of my childhood home. Additionally, being Keto doesn't mean ignoring my instincts, it means evolving them to fit my keto lifestyle. So, the combination of my old instincts and my new led me to cook a Low Carb Chicken Curry!

Fortunately, I had just visited my mom over the weekend and raided her kitchen for all the indian spices I could find. (HINT: If you go to an Indian grocery store you can get all the spices for a lot cheaper than you would find at any other grocery store!) With everything I needed the process of cooking wasn't going to be very tough. Cooking Indian food looks harder than it is, but it does require a lot of tasting as you go. This is what made figuring out exact measurements a little tougher than I'd expected. Having a good taste and feel for the spices allows you to easily eyeball the amounts of each spices needed. But rest assured, I have the exact measurements below for you!

First, the Chicken!


With this dish you can either make the curry and then add the chicken or you can marinade and cook the chicken separately with spices for added flavor. Can you guess which way we did it?!? Yup, we marinated our chicken! Normally, we would opt to use yogurt for the marinade but we went with sour cream this time for a lower carb count and it turned out great. We cooked up the chicken and after trying about two… maybe eight pieces we set it to the side.

Next, the Curry!
The curry can be done a variety of ways using either tomato paste, tomato sauce or fresh tomatoes. Since we had "no sugar added" tomato sauce in the cupboard thats what I used in this recipe. But, before we dive that deep we need to make the spice base – a little garam masala, turmeric, coriander, cumin, ginger and garlic heated and mixed in ghee will fill your house with an aroma that will take you back to Mumbai, India (even if you've never been)! You'll be surrounded by stray cows and children begging for money at your feet, but you'll be totally unfazed by this and instead, immersed in the spice market you're surrounded by. Once you come back to reality and you've cooked down your spices the tomato sauce goes in and you're in the homestretch! How much easier can it get??

Get Our Top 10 Recipes of 2016 E-CookBook Free!
For the final step, lets combine!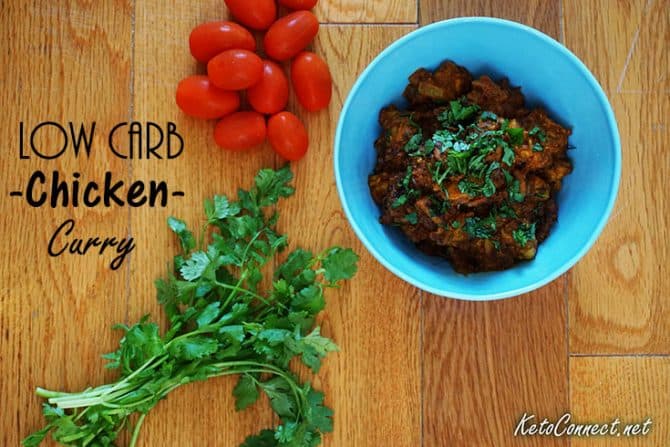 Once you're curry has cooked down for a while so the tomato sauce has fully absorbed the spices and lost it's bland tomato taste, you can add the chicken! Three easy-to-do steps and you're an Indian chef. So at last, after traveling from your kitchen to India and back to your kitchen, we are left with a delicious low carb chicken curry!

Nutrition
(Per Serving)

Calories: 337.5cals
Fat: 23g
Carbs: 12g
Fiber: 2g
NET CARBS:8g
Protein: 23.4g

5

thighs

chicken

(skinless, boneless)

1/2

cup

sour cream

1 1/2

tsp

garam masala

1 1/2

tsp

tumeric

1

tsp

coriander

1/2

tsp

garlic

(minced)

1/2

tsp

ginger

(grated)

1/2

tsp

salt

1/4

tsp

pepper

1/2

tsp

chili powder

(optional)

1

tbsp

ghee
3

tbsp

ghee

(coconut oil and butter work also!)

1/3

cup

Onion

2

tsp

garlic

(minced)

1

tsp

ginger

(grated)

2

tbsp

garam masala

2

tbsp

tumeric

1/2

tsp

black pepper

1

tsp

Cumin

15

ounce

tomato sauce

(no sugar added)

1/2

cup

Heavy Whipping Cream

1/2

cup

Water

1

tsp

lemon juice

cilantro
Pat the thighs dry and cut into bite size pieces

Combine sour cream and all spices in a bowl to create a marinade

Generously coat the chicken in the marinade

Place marinated chicken into the fridge for 2-3 hours

Heat 1 tbsp of ghee in a medium heat pan and add the refrigerated chicken to the heated pan

Cook for about 20 minutes or until fully cooked through and place to the side
Heat 3 tbsp of ghee in a medium heat saucepan

Add onions and all the spices. Allow to cook down for about 3-5 minutes, stirring occasionally.

Add canned tomato sauce and combine well

After about 5 minutes add the heavy whipping cream, water and lemon juice.

Cook on low for about 20 minutes uncovered. Taste and add salt as needed.

After the sauce has cooked for about 20 minutes add the chicken and allow to cook for another 10-15 more minutes. The sauce may reduce.

Fold in some finely chopped cilantro at the very end (optional)